In the world of bedding, memory foam is everywhere. Mattresses, mattress toppers, bed pillows, and travel pillows made with memory foam are easy to come by, both online and in stores.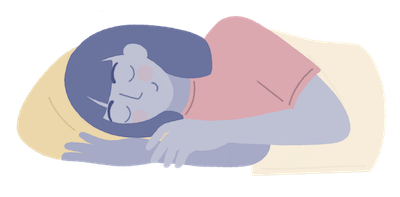 There is a good reason for this popularity. Memory foam — also called temper foam — is a unique, dense foam that is known for cushioning the body and relieving pressure. It was originally developed by NASA in 1966 to help absorb shock and increase protection and comfort in NASA's airplane seats, according to NASA. These qualities make it valuable in many ways, including improving our sleep experience.
It's important to know that different sleep positions require different types of pillows to keep a sleeper's head and neck in a neutral alignment with his or her spine (don't want to wake up with a stiff neck!). Despite its many positive qualities, one type of memory foam pillow does not fit all. Memory foam is used in a variety of ways to fill pillows, including solid pieces molded into specific shapes or shredded memory foam pieces with a zipper to add and remove as much filling as desired.
After hours of research and testing (okay, snoozing), we've found the best pillows on the market and now we've put together our list of the best memory foam pillows. We'll also answer some of the most common questions about memory foam, like why it sleeps hot and if pillow density is something to consider.
Read on for everything there is to know about buying the best memory foam pillow.
Best Pillow For Back Sleepers

GhostPillow Memory Foam

The GhostPillow Memory Foam is a comfortable pillow that offers great contouring and support. It also sleeps surprisingly cool for a memory foam pillow.

Shredded Foam Chunks

Coop Home Goods Original

The Coop Home Good's Original pillow is filled with large chunks of memory foam and comes overstuffed - a terrific fit for side sleepers. Click the button to the right for the best deal on this pillow!

Plush Foam

ISO-COOL Traditional Pillow

ISO-COOL Traditional Pillow

The core of the ISO-COOL Traditional pillow is a single piece of solid plush memory foam with Phase Change Material added. For the best price, click the CHECK PRICE button!

Memory Foam/Kapok Fiber Mix

Layla Kapok

The Layla Kapok pillow is a mix of memory foam chunks for support and natural and organic Kapok fibers for smoothness and added plush feel. Get the best deal on this Layla pillow by clicking the CHECK PRICE button!

Cooling Gel Panels

TEMPUR-Cloud Breeze Dual Cooling

TEMPUR-Cloud Breeze Dual Cooling

The TEMPUR-Cloud Breeze Dual Cooling is all about its significant solid core made of proprietary memory foam called TEMPUR material. The best price on TEMPUR-Pedic's current lineup of pillows can be found by clicking the CHECK PRICE button!

Layered Foam

Casper Foam

Casper's Foam pillow features a 3-layer foam core that is comprised of two plush outer layers and a firmer center core. Get the best deal on Casper's pillows with a click of the button to the right!
Pillow Details
Those who are interested in more details on the pillows from our list should look below! Each description also has a link to a full review for even more information.
Best Pillow For Back Sleepers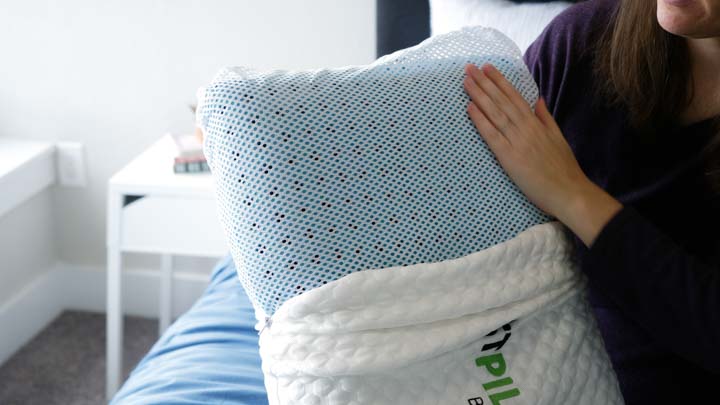 GhostPillow Memory Foam
The GhostPillow Memory Foam pillow is, surprise, a memory foam pillow. It features a solid piece of aerated Gel Memory Foam, a cooling cover, and Phase Change Material as well. 
While it is a memory foam pillow, the GhostPillow shouldn't have issues with trapping heat. The gel infusion will help with heat dissipation and the cover is cool to the touch. Phase Change Material is an advanced feature that will really draw the heat away from your body. Hot sleepers take note! 
The GhostPillow could work for some side sleepers, but we think it is best for back sleepers. Your head will sink into the pillow just the right amount, and you should feel the memory foam really conform to your head. 
Pillow Details:
As of now, only one size is available and the dimensions are 16″ x  23″ x 6″
Cover: Ghost Ice Fabric Zippered Cover – made out of 53% polyethylene and 47% polyester
Core: A solid piece of aerated Gel Memory Foam with Phase Change Material on one side.
The memory has a plusher, slow-moving feel.
The cover is removable and washable (line dry only)
GhostBed offers a 101-night sleep trial and 5-year warranty
Check out our full review of this GhostPillow (and the Faux Down option).
Shredded Foam Chunks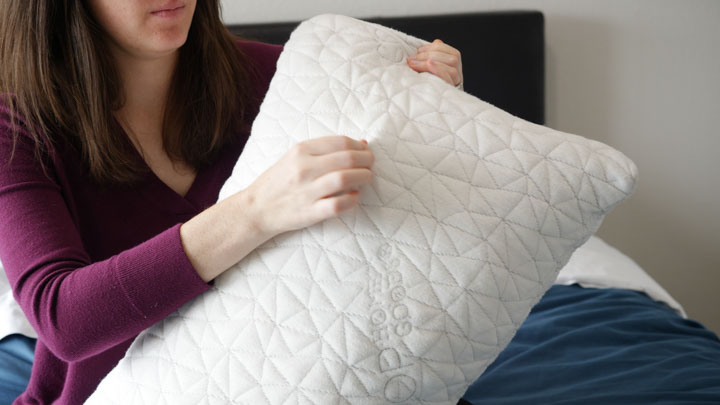 Coop Home Goods Original
With so many side sleepers out there (half the adult American population!) there are lots of calls for amazing foam pillows for side sleepers. Well, look no further than the Coop Home Goods Original pillow. This pillow is all about its shredded memory foam core and super soft bamboo-knit cover.
The pillow has large chunks and comes basically overstuffed, making it the perfect height and support for side sleepers. It's also adjustable and features a zipper that allows the sleeper to access the shredded foam filling and add/remove as much as desired.
To keep the pillow lofted and firm, people will need to put it in the dryer and fluff it on occasion. It comes in two sizes, Queen and King and customers can expect to pay around $60 for the Queen.
Pillow Details:
The cover is 60% Polyester and 40% Bamboo-Derived Rayon – designed to keep sleepers cool through the night
Made in the USA
Comes in: Queen and King
5-year limited warranty
Shredded memory foam mix for comfort and shape-ability; will not go flat
Machine washable
Hypoallergenic and dust mite-resistant
$49.99 (Standard)
Read our full Coop Home Goods pillow review. 
Plush Foam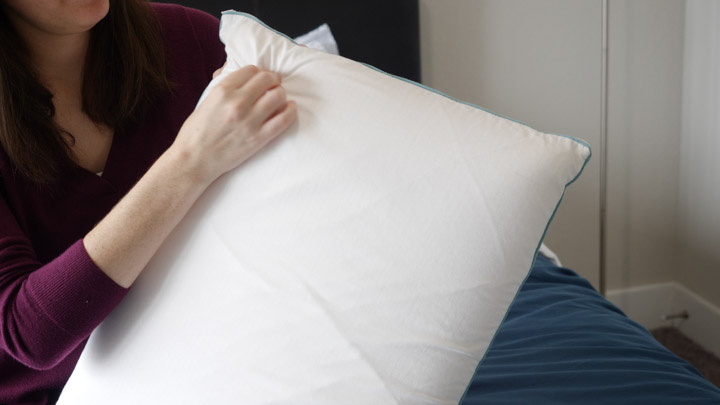 ISO-COOL
The ISO-COOL pillow comes in many different shapes, so I always like to highlight that this is the Traditional version. Overall, it's a flatter and plusher memory foam pillow that I often suggest to stomach sleepers who love foam.
It's a simple pillow in terms of its design, but the cotton cover also contains a layer of Phase Change Material (PCM) which helps absorb body heat and promote temperature regulation. This helps combat the trapped heat that can come from a solid foam pillow and truly will help stomach sleepers keep cool all night. The pillow is available at a variety of retailers and for a Standard/Queen size expect to pay around $40.
Pillow Details:
100% machine washable cotton cover
300-thread count, 100% cotton cover with Outlast Adaptive Comfort material has microscopic phase change material (PCM) beads that absorb heat and feel cool or release heat and feel warm
Visco-elastic memory foam filling in a plush design
Traditional shape measures 18″ x 24″
Hypoallergenic
Made in the USA and imported
5-year limited warranty
Endorsed by American Sleep Association (ASA)
Check out our complete Iso-Cool review. 
Memory Foam/Kapok Fiber Mix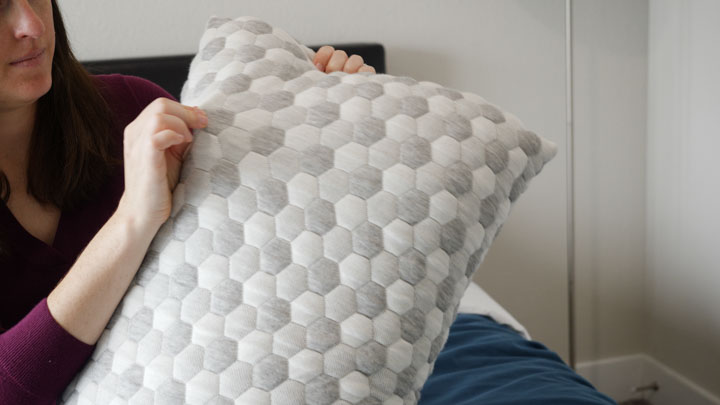 Layla
At Mattress Clarity, we're big fans of the Layla Kapok pillow for many reasons. It made our list of Best Memory Foam pillows because it takes some of the best characteristics of memory foam – its support and pressure relief – and mixes it with a natural and sustainable Kapok fiber for extra smoothness.
I love this pillow for combination sleepers because they need a versatile option, and this one is truly it. The cover is exquisitely soft, a mix of 66% polyester, 30% viscose, 4% poly/lycra woven with CuTEC Yarn (copper-infused performance fiber) so stomach sleepers and side sleepers will absolutely love that.
The biggest part of its versatility focuses on its adjustable nature, there is a zipper along the side that lets the customer add or remove his or her desired amount of filling, enough to meet their personal sleep needs. At its fullest, it's probably best for back and side sleepers and the more that comes out the better it will be for stomach sleepers of all sizes.
The pillow is hypoallergenic, comes with a 120-night trial and is available in two sizes – the Queen is $99 at full price.
Pillow Details:
Dimensions: 18″ x 26″ x 4″ (Standard) and 18″ x 32″ x 4″ (King)
Filling: natural, organic, and pesticide-free Kapok fibers plus pieces of responsive memory foam
Cover: Blend of polyester, rayon, viscose, and Lycra. Woven with copper fibers to add coolness and antimicrobial protection
Hypoallergenic
Potentially suitable for all sleep positions
Made in the USA
5-year prorated warranty and a 120-night trial
To learn more, check out the full review of the Layla pillow.
Cooling Gel Panels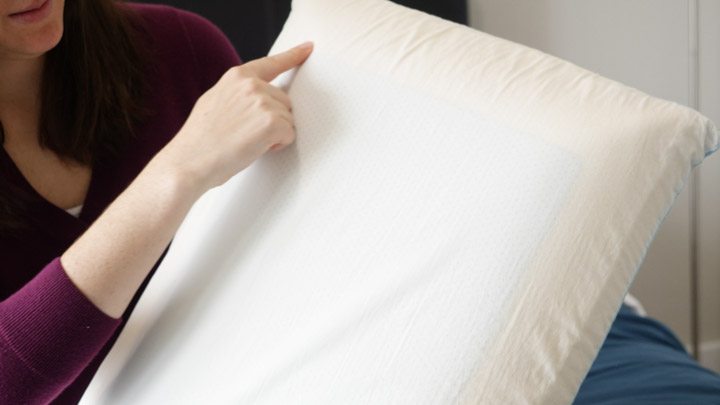 TEMPUR-Cloud Breeze Dual Cooling
The TEMPUR-Cloud Breeze Dual Cooling pillow is easily one of my favorite pillows from the gang at TEMPUR-Pedic. The pillow is beyond durable, supportive and truly cooling. There is a thin 100% cotton cover but the star of the show is the solid piece of TEMPUR material (proprietary memory foam) that features two cooling gel panels on each side.
This design allows the pillow to stay tall and supportive (it weighs about 7 lbs) but remains cool at the same time. Side sleepers and heavier sleepers will love this pillow; it comes in two sizes and a Queen is $169.
Pillow Details:
Dimensions (Queen): 27″ x 19″ x 6.4″
Removable Cover: 100% cotton
Core: TEMPUR® material and TEMPUR-Breeze® Gel Layer on both sides
Plusher feel
Available in Queen and King sizes
Removable/washable cover
Full price: $169
Check out more on this pillow in our full review.
Layered Foam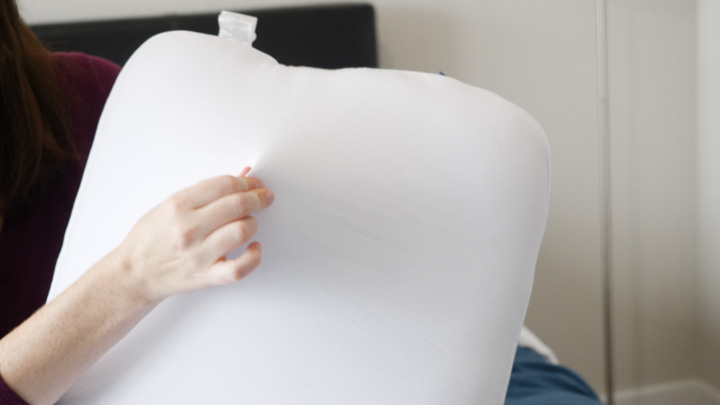 Casper Foam
This is Casper's newest pillow and it has that classic memory foam feel but with a supportive and firmer overall feel. The pillow follows a similar design philosophy to their down and signature pillows; the foam core is made with three separate layers of foam, two plush outer layers, and a firmer middle layer.
As a result, sleepers will feel their heads slowly sink into the foam pillow but it won't go too deep. The pillow truly is medium-firm, making it good for side sleepers and those who love the feel of memory foam but don't want to feel the sides of the pillow moving up around their heads.
The thick polyester knit fabric cover keeps things a little softer and can be removed to easily clean. The pillow comes in two sizes and customers can expect to pay $89 for a Standard.
Pillow Details:
Comes in two sizes: Standard and King (I reviewed the Standard)
Standard dimensions are 16″ x 24″ with a 2″ gusset with a 6" height level
The cover is a knit combination of 88% Polyester and 12% Spandex fabrics
The core is unique – it's three ventilated pieces of foam that are 77% Polyurethane Foam, 23% Viscoelastic Polyurethane.
The supportive inner layer contours to the head and neck in all sleep positions, while plush outer layers offer nice comfort.
The inner liner is 90% Polyester and 10% Spandex
Designed in the USA, assembled in China
To clean the cover, remove it from the pillow and machine wash cold on a delicate cycle. Dry flat, and do not bleach or iron
Pricing is Standard: $89 King $119
Go in-depth with this pillow in the complete review. 
Marten's Take
Finding the perfect pillow can be so personal – a lot of it depends on the person, including their individual weight and body type. I'm 5′ 7″ and about average body type and my review can be insightful, but it's always better to add another opinion into the mix. I asked Marten, who is 6'7" and weighs 250 lbs, to offer his take on which of these memory foam pillows would be best for heavier sleepers.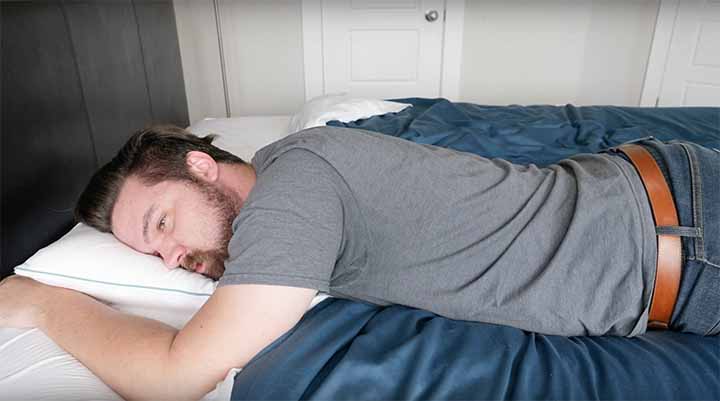 Coop Home Goods Original: What I like about this one is that it's got a fluffy feel in addition to that supportive memory foam feel, and the pillow's overall firmness level makes it a great fit for back sleepers and side sleepers like me.
TEMPUR-Cloud Breeze Dual Cooling: I'm a hot sleeper and I love the way the dual gel panels on the side of the pillow feel against my face, super cool. In terms of positions, it's great for me side sleeping because I can feel the gel against my face but I like it for back sleeping, too.
ISO-COOL Traditional: I'm not much of a stomach sleeper but when I do turn around onto my stomach this pillow is a very good match for me. I like that my head is supported without sinking right through to the bottom.
Why Does Memory Foam Sleep Hot?
One of the chief complaints about memory foam, both as a mattress and a pillow, is that it can retain heat and cause people to sleep hot — not an enjoyable experience. Memory foam can absorb and retain heat, making the sleeping surface hot – this tends to happen later into the night, once a person has been sleeping in the bed for a while.
Companies use a variety of different techniques to help customers stay cool while using memory foam mattresses and pillows: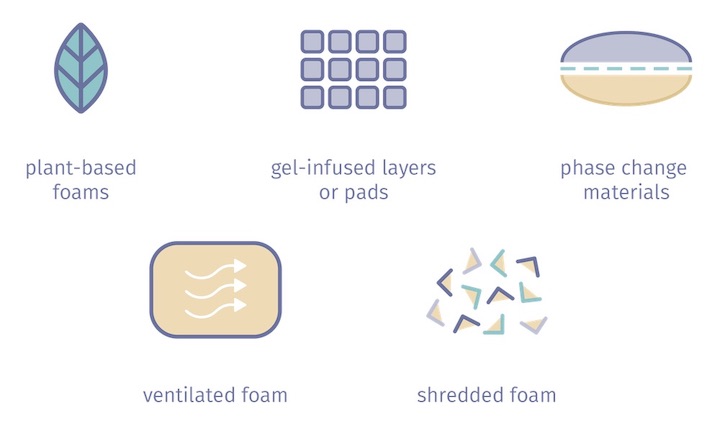 Plant-based foams: plant-based memory foam uses a portion of plant-based ingredients (typically soy)
Gel-infused layers or pads: adding a gel layer onto or into foam products may make them cooler, but there is still some debate as to whether gel memory foam is effective.
Phase change materials (PCM): Customers will also see companies using phase change materials alongside memory foam. PCMs are designed to absorb body heat that is released during the night
Ventilated foam: Typically, solid pieces of molded memory foam will have small holes cut out to promote airflow within the foam
Shredded foam: Shoppers may see many types of shredded memory foam pillows on the market. The idea is that air will move between the foam pieces and keep the pillow from getting too hot
Does Density Matter?

Density does matter when it comes to memory foam, but it may be a bigger difference when shopping for a memory foam mattress rather than a memory foam pillow.
While it can get a little complicated, we have found (and studies show) that the higher the density, the following is true:
The price goes up: More materials go into a higher density foam, so sleepers almost always can expect a correlation between density and price
Increased durability: Generally, the higher the density, the longer the pillow (or mattress) will last
Added support/pain relief: More density means more support. Higher-density foam does a better job of contouring to someone's body. Those who have neck pain, for example, will want a higher density foam pillow.
Should I Worry About The Smell?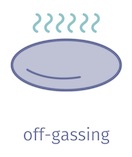 No matter the brand or how eco-friendly a product is, all memory foam is made from petrochemicals. As a result, customers may notice a slight chemical smell when unboxing the new memory foam pillow – this term is typically called off-gassing.
Before enjoying the pillow overnight, it's best to let it breathe in a ventilated space until the off-gassing smell is gone. While there is some debate on this topic, it's generally believed that the volatile organic compounds (VOCs) released during the off-gassing should not impact a person's health.
Final Thoughts
Memory foam pillows are a great option for any type of sleeper. It's all about finding the one that is designed around an individual's particular sleep needs. Our advice would be to narrow down one's personal preferences and search for a pillow that offers trial periods so there is ample time to decide what's a good fit at little to no financial risk.
FAQs
What's the best memory foam pillow?
There is no single "best" memory foam pillow - not all memory foams are created equal, even! Memory foams have different densities, the higher the density usually the more material it has in it, and the more durable it will be and the more supportive it will be as well - it'll also be higher in price. Some memory foams are proprietary blends (like TEMPUR-Pedic) and may offer a slightly different feel. They may also come in a solid piece, ventilated pieces or even chunks or shreds.  The truth is that what's going to ultimately be the best fit is really up to the individual.
What is the best memory foam pillow for side sleepers?
Side sleepers, in general, need the most loft (height) and overall support as compared to back and stomach sleepers. For this reason, solid and firmer memory foam pillows tend to be the best, providing enough height but also not letting the head fall too far or sink too far in, while also providing the neck with great support.
Why are memory foam pillows good?
Memory foam pillows are really good at cushioning the body and providing a contouring feel and pressure relief - who doesn't like that? They're not everyone's preference but those who are trying to relieve tension or stress in their muscles and joints may want to consider it.
Are memory foam pillows good for neck problems?
Memory foam pillows can be very good for neck problems, specifically because of their contouring and pressure-relieving characteristics. If positioned correctly for the person, they can take a lot of strain off of someone's neck.
Katie Golde
Katie manages the day to day operations of the Mattress Clarity news site and reviews sleep products in addition to writing and editing sleep news. She hails from Austin, where she lives with her growing family. She is a Certified Sleep Science Coach and has a master's degree in Journalism from Northwestern University and has a background in health and science content. Her work can be found in print and online publications like Discover Magazine, USA Today and The Huffington Post.