Cotton sheets are considered a timeless and classic staple in many homes – they're soft, durable, and lightweight. Plus, the sheets are sold in a variety of differing thread counts, weaves and colors that suit nearly all bedrooms. While bed sheets produced with 100% cotton face some more modern competition – namely from cotton/polyester blends and bamboo fabrics – they're still a significant player in the bed sheet market.
We've purchased and personally reviewed numerous sets of 100% cotton sheets and are pleased to announce the four best cotton sheets available today. They each feature important attributes – cooling, eco-friendliness, affordability, and opulent luxury! There's no doubt most sleepers will be able to select an excellent set of sheets from our list.
Check out the video for an in-depth view at each set and continue reading for additional details about each set, including what to look for and consider before making a purchase. Don't forget to comment on the YouTube video if any questions pop up!
Editor's Pick

GhostSheets

The GhostSheets feature high-quality Supima cotton along with Tencel fibers to help keep you cool during the night. 

Best for Hot Sleepers

Casper Supima Cool Sheets

Casper Supima Cool Sheets

Casper's Supima Cool sheets feature a long-staple fiber, high-quality percale cotton that is lightweight, breathable and comes in 14 gorgeous colors.

Most Eco-Friendly

Brentwood Home Luxury Organic Sheets

Brentwood Home Luxury Organic Sheets

Brentwood Home's Luxury Organic Cotton Sheets are 100% organic cotton and are manufactured in India. They feature two thread count options - 400 and 600 - and come in four natural colors. 

Most Affordable

California Design Den

California Design Den's 100% cotton sheets come in more than 25 color options and a huge range of sizes. They're super affordable and will work on most budgets without skimping on quality. 

Most Luxurious

Pure Parima Yalda Sheets

Pure Parima's premiere Yalda sheets are 100% extra-long-staple Giza Egyptian Cotton and also 100% certified Egyptian Cotton by the Cotton Egypt Association. They feature a 400 thread count and luscious sateen wave.
Look below for further details on the 4 Best Cotton Sheets – including details on thread counts, weaves, color options and more.
Editor's Pick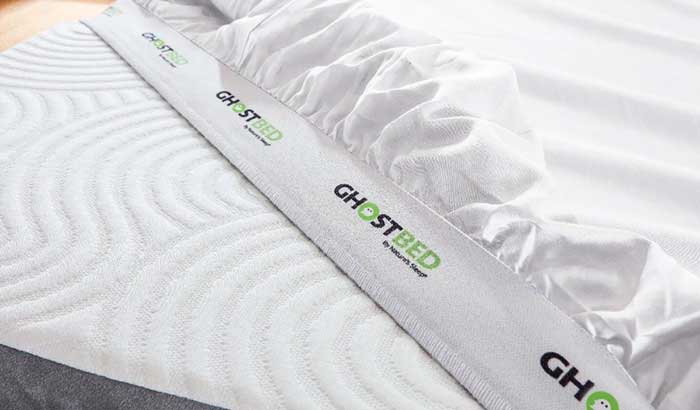 GhostSheets
GhostBed is a company known for its comfortable and cooling mattresses such as the GhostBed, GhostBed Luxe, and GhostBed 3D Matrix. They also offer a wide range of accessories including the GhostSheets. 
The GhostSheets are made with Supima cotton, a high-quality material. The sheets also feature Tencel fiber, an eco-friendly and cooling material. It helps dissipate heat and, together with the breathable cotton, will keep you from overheating during the night. 
Supima cotton is also extremely durable. This means that, even after a number of wash cycles, the GhostSheets should stay cool and comfortable!
Sheet Details:
GhostSheets set come with pillowcases, top sheet, and fitted sheet
2 color options – White and Grey
Made with Supima® cotton and Tencel® fiber
GhostGrip band keeps sheets secured to the mattress
3-year warranty
Machine wash cold or warm with like colors. Line dry.
Queen size sheet set $185 at full price 
Best for Hot Sleepers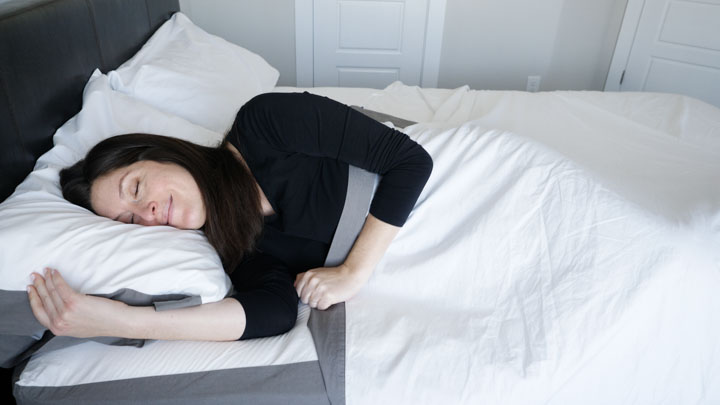 Casper
Casper is already well known for their mattresses but how favorable are their sheets? They currently offer three options and I am enamored with the brand's Supima Cool sheets! They're woven with 100% long-staple Supima cotton and they highlight how lightweight and breathable cotton can be.
Supima is a long-staple fiber, meaning it produces higher-quality fabrics, similar to Egyptian cotton which some may be familiar with. This particular sheet set is 400 thread count and two-ply, so sleepers will feel some thickness. Plus, it features a percale weave, which means it has a classic crisp, hotel cotton sheet-type feel. I love that it comes in 14 different colors and a 100-night trial period.
The sheet set costs around $120 at full price but be on the lookout or sales during major US holidays!
Sheet Details:
King and Cal King sheet sets come with King pillowcases and all other sizes come with standard pillowcases.
100% Supima® cotton from California
400 two-ply thread count
Percale weave
Designed in the USA. Spun, woven and sewn in India.
OEKO-TEX® 100 certified — the highest standard that guarantees the sheets are safe enough for babies and children.
1-year limited warranty
Machine wash cold on a gentle cycle with like colors. Use only non-chlorine bleach when needed. Tumble dry low.
Queen size sheet set $120 at full price – 14 color options!
Most Eco-Friendly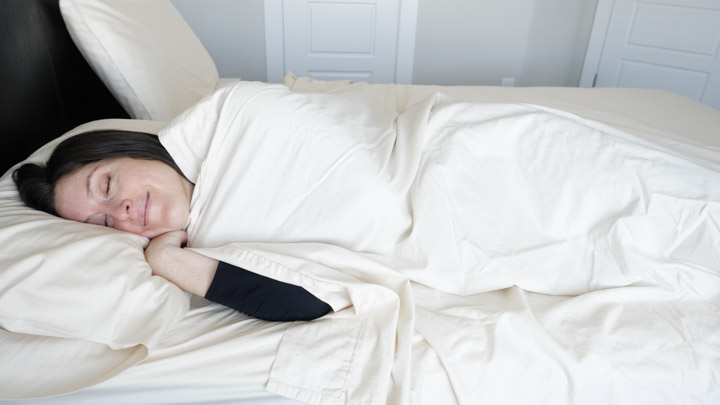 Brentwood Home
The 100% organic cotton sheets from Brentwood Home are incredibly soft, non-toxic and come in beautiful colors and a range of thread count options – there is plenty to love!  
The Luxury Organic Sheets are made with 100% organic cotton from India – cotton grown without chemical pesticides or fertilizers. The sheets even come pre-washed and processed to maintain a neutral pH level, providing safe touch to the skin, according to the brand. 
Individuals can choose between two different thread counts – 400 or 600  – I reviewed the 600 thread count. Both feature a luminescent sateen weave, a type of weave that produces a more buttery soft and slightly heavier feel to the cotton sheet, but the single-ply thread is keeping the sheet's weight lighter in comparison to others; they'll fit mattresses up to 16″ deep as well.
There are four color options available, I reviewed the Natural color. I was instantly pleased with the feel and the overall neutral look that it brings to the bedroom. Expect to pay $179 for a Queen set in 600 thread count and $99 for a 400 thread count set. 
Sheet Details:
100% organic India cotton
Cotton is grown without chemical pesticides or fertilizers.
Queen sheet sets include 1 flat sheet, 1 fitted sheet, 2 pillowcases
Available in a single-ply 400 or 600 threads per inch (TPI)
I got 600 TC in Natural color – one of four options
Single-Ply Weave; Sateen Finish
100-night trial and a 1-year warranty
Price $179 for 600 TC in Queen but $99 for 400 TC 
Most Affordable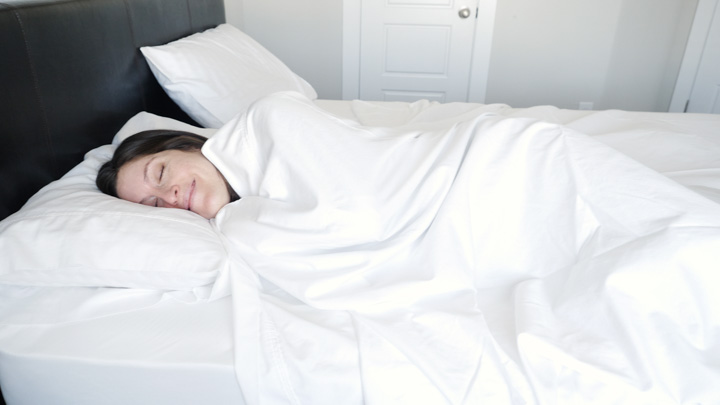 California Design Den
Those who find themselves in search of an affordable set of good quality cotton sheets – that can be delivered quickly – need to look no further than the California Design Den (CA Design Den) cotton sheets. 
These cost-effective 100% cotton sheets are available at several online retailers that offer speedy delivery – establishments like Amazon, Target and Wal-Mart all keep them in stock – and for good reason!
They're great quality sheets, with long-staple 100% cotton, 400 thread count and a sateen weave all produced in India. They fit mattresses up to 16" deep, which is thick enough to easily cover most mattresses. One bonus feature is the indicator tag on the bottom of the fitted sheet that lets the sleeper know that a particular side faces the head/foot of the bed.
Those with specific color or pattern requirements will be beyond pleased – CA Design Den does not disappoint with more than 25 colors and styles to choose from. Plus, the brand offers a massive range of sizes including Twin XL and 6 piece sets.
A Queen set will cost around $40 and return policies will vary by the retailer – make sure to inquire about that prior to purchasing!
Sheet Details:
100% long-staple pure cotton
Sateen weave; 400 thread count
Certified "Made in Green" in India
Queen size sheets include 1 flat sheet, 1 fully elasticized fitted sheet, and 2 standard pillowcases
Fits mattresses up to 16″ deep 
Fitted sheet features a labeled "head/foot" tag to indicate the width side of the bottom fitted sheet
Recommended for a regular wash for superior softness
CERTIFIED STANDARD 100 by OEKO-TEX®
Comes in 26 different sizes and patterns
6 piece sheet sets available (extra pillowcases)
Queen size around $40 for entire set
Most Luxurious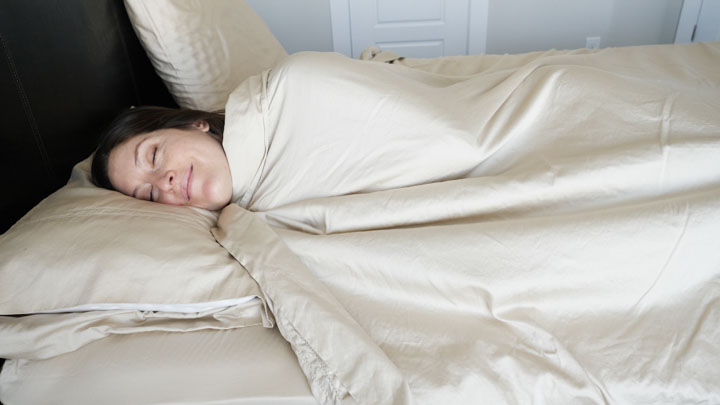 Pure Parima
The Yalda sheets from Pure Parima are heaven in a delicate gorgeous bundle! For those who want to bypass American Pima or Supima cotton and go straight to the cream of the crop when it comes to extra-long-staple fiber cotton, welcome to Pure Parima! The brand's sheets are certified 100% extra-long-staple Giza Egyptian Cotton straight from the Fertile Nile River Valley, it's pretty much the pinnacle of quality in terms of 100% cotton sheets.
This set features a 400 thread count, which is more than sufficient thanks to the extra-long fibers, and a sleek and lustrous sateen weave. This specific weave enhances the color of the Tan sheets I reviewed and promotes an elegant silky look and superbly soft feel. The double-hem stitch design doesn't hurt the overall appeal, either.
Luxurious sheets should fit luxurious mattresses, right? These will fit mattresses up to 18″ deep and come in seven different colors, including this rich-looking Tan.
I think the price matches the value of these sheets with ease – plan to pay $230 for a Queen set from Pure Parima's site or a little bit more from Amazon.  
Sheet Details:
Made with Certified 100% Extra Long-Staple Giza Egyptian Cotton from the Fertile Nile River Valley
Sheet set includes: 1 flat sheet, 1 fitted sheet, and 2 pillowcases
Twin XL comes with 1 pillowcase
Split King comes with 2 Twin XL fitted sheets
OEKO-TEX® Certified Non-Harmful Chemicals
Cotton Egypt Association™ Certified 100% Egyptian Cotton
Sateen weave; 400 thread count
Elegant Double-Hem stitch design on pillowcases and flat sheet
Fitted sheet fits mattresses up to 18″ thick
Pillowcases use envelope closures to keep pillows in place
Care: Machine wash cold, tumble dry low
7 colors to choose from
Price: $230 for Queen set, ranges from $150-$260 total
What To Consider Before Buying 100% Cotton Sheets
There is more to determining the quality of 100% cotton sheets outside of their thread count. Below I've listed exactly what to look for before handing over the credit card and making that purchase.
Fiber Length
The length of the fiber in a cotton sheet set is essential to revealing its overall quality and lifespan. Long-staple or extra-long-staple cotton fibers are preferable over regular lengths. Simply put, the longer the fiber, the better the quality in terms of durability and feel. This translates to a softer feel, enhanced durability (less pilling) and a higher level of quality across the board.
Supima/Pima and Egyptian cotton are the two main types of long and extra-long staple fibers on the market today. 100% Supima Cotton or 100% Egyptian Cotton sheets are the labels to look for when shopping if fiber length is a priority (and I encourage it to be just that!).
Thread Count
Thread count refers to the number of threads per square inch of fabric. The thread count can vary within the world of cotton sheets. It's typically found in a range from 200 to 800 but what is critical above the number is actually the length of the fiber woven into the sheets themselves. For example, long-staple fibers in a 400 thread count will feel wonderful, even compared to a higher thread count with shorter fibers.
Those purchasing 100% Supima/Pima Cotton or 100% Egyptian Cotton sheets should be more than pleased with 400 thread count and don't need an excessively high thread count to reap the benefits of the higher quality thread.
Weave
There are two main weaves available with cotton sheets: Percale and Sateen. Percale is a simpler weave that offers a more crisp, lightweight and "starchier" feel that's reminiscent of hotel sheets. Meanwhile, sateen has a satin-like feel, is buttery and more luxurious looking, and better for those who don't sleep hot.
Ready to learn more? Check out my whole video on the differences between these weaves!
Final Thoughts
Those are the complete details and features of my four favorite 100% cotton sheets! All the sheets will securely fit mattresses up to 16″ deep – one as thick as 18″ – and can be found in a multitude of colors, weaves and a range of special features.
Whether it's a simple sheet set to throw on a guest bed or a dive into true luxury with some exquisite Egyptian Cotton sheets, there's a perfect sheet set for everyone on this list!
FAQs
What are the best quality sheets?
When it comes to 100% cotton sheets, the best quality sheets are ones that utilize the longest cotton fiber possible. Supima or Pima cotton or Egyptian cotton sheets are those certified to have longer fibers and are associated with higher quality and a softer feel. Keep an eye out for wording that says "long-staple fibers" over high thread count numbers.
What is the best thread count for 100% cotton sheets?
To reiterate what I said earlier, thread count isn't the single most important factor to consider when purchasing a new set of cotton sheets, but it's worth considering.
Thread count is essentially the number of threads per square inch of fabric. A 400 thread count manufactured with long-staple cotton fibers will equate to excellent quality and perhaps a better durability than a shorter fiber with a higher thread count.
Is 100% cotton good for sheets?
I would recommend 100% cotton sheets to those who desire the feel of crisp and cool cotton and want something lightweight and breathable.
Polyester/cotton blends have their own benefits – they're often less expensive and may feel a little softer thanks to their synthetic blend and may wrinkle less, but they're more likely to start pilling in a fewer number of washes.
Do cotton sheets keep you cool?
Yes, other sheet fabrics may feel cool but cotton has an excellent reputation for promoting airflow through the fabric, therefore breathing well and offering a cool set of sheets for hot sleepers.
Polyester/cotton combination sheets or microfiber blends may feel soft but are more inclined to trap heat and prevent some from sleeping cool.
Katie Golde
Katie manages the day to day operations of the Mattress Clarity news site and reviews sleep products in addition to writing and editing sleep news. She hails from Austin, where she lives with her growing family. She is a Certified Sleep Science Coach and has a master's degree in Journalism from Northwestern University and has a background in health and science content. Her work can be found in print and online publications like Discover Magazine, USA Today and The Huffington Post.