Do you frequently wake up with neck and shoulder pain? If so, it could be time to upgrade your bedding. To ensure your neck stays in the proper alignment, look for an orthopedic pillow.
These pillows aren't just comfy — they also help alleviate the pain! Here are our picks for the best orthopedic pillows of 2023.
If you need help shopping for a pillow, check out our best orthopedic pillows of 2023 buyer's guide below. We'll go over all of the different aspects to consider when purchasing an orthopedic pillow.
Our Top Picks for the Best Orthopedic Pillows
Best Overall- TEMPUR-Neck
Who is it for?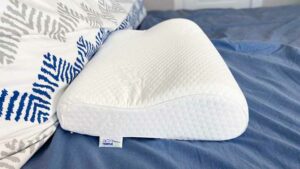 If you suffer from chronic back or neck pain, then you know how hindering it can be to your day-to-day life. And in some instances, having the wrong pillow can be what's causing that pain. So, look at the TEMPUR-Neck pillow to help out!
Right off the bat, you'll see that this pillow is different from others thanks to its curved, ergonomic shape on one side. This contoured shape will fit your head, neck, and shoulder rather comfortably!
Because this pillow fits right into your shoulder and neck, it will keep your neck in a neutral position, and keep your head from craning downwards, which is one way neck pain develops over time.
It is made from a single piece of dense, firm TEMPUR material, which is TEMPUR-Pedic's proprietary memory foam.
What Makes the TEMPUR-Neck Pillow Stand Out?
The ergonomic design will keep your neck in a neutral position, which will help prevent and alleviate neck pain.
TEMPUR also sells this pillow in a cooling version made with gel-infused foam and a breathable cover for hot sleepers.
It's made of firm, dense foam that has some give but overall is very supportive.
Read about the most popular TEMPUR-pillows!
Best for Back Sleepers- Brooklyn Bedding Talalay Latex Pillow
Who is it for?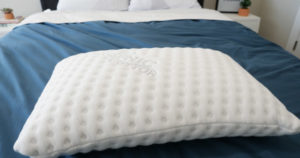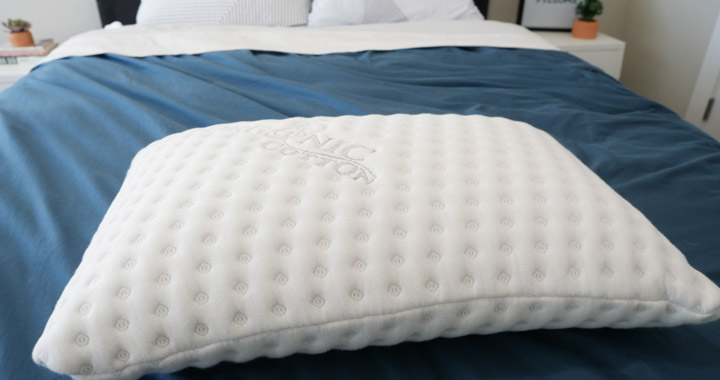 When it comes to sleeping with a pillow to alleviate any kind of pain, we often talk about a pillow needing the correct loft, or height. For back sleepers, pillows should be not too tall, and not too low. I'd recommend anywhere between 3" to 5" at max for back sleeping.
One such pillow that falls in that sweet spot for all back sleepers is the Brooklyn Bedding Talalay Latex pillow. This pillow comes in two loft options, a low and a high; the low loft is 4", the high 5" tall. Lightweight back sleepers should find comfortable sleep with the low loft, while average to heavyweight back sleepers should opt for the high.
This pillow is made from a single slab of Talalay latex foam, which feels very soft, but responsive and supportive as well. It will keep your head from going too far back, or too far forward, which is ideal for back sleeping.
What Makes the Brooklyn Bedding Talalay Latex Pillow Stand Out?
This pillow's two loft options make it ideal for back sleepers of all body types.
The Talalay latex has been perforated with holes so it won't trap heat.
Brooklyn Bedding offers deals year-round, making this a very affordable pillow.
Read our full Brooklyn Bedding Talalay Latex pillow review.
Best Adjustable- Lagoon Fox
Who is it for?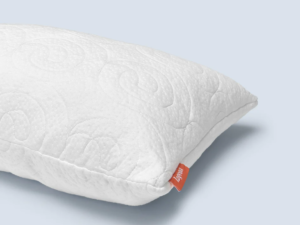 Don't know exactly what you need from a pillow? In that case, you'll want to check out the Lagoon Fox.
This adjustable pillow is filled with shredded memory foam, providing a soft yet supportive feel.
To change the loft, sleepers can either remove the filling or add more shredded foam. This should help them achieve a loft that's comfortable for them, helping relieve pain and keeping the spine in alignment.
And if you're a hot sleeper, this pillow will definitely help you out. Its cover has naturally cooling bamboo, and the shredded memory foam allows for airflow. So, it won't trap heat like other memory foam pillows do.
What Makes the Lagoon Fox Pillow Stand Out?
The foam in this pillow is CertiPUR-US certified.
Lagoon offers a 100-night trial and a five-year warranty.
If you're still not sure about what pillow you want, you can take a personalized quiz on Lagoon's website.
Read our Lagoon Pillow reviews.
Best Latex- Saatva Natural Latex Pillow
Who is it for?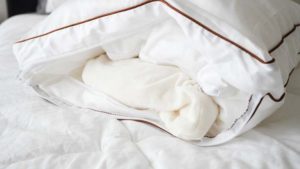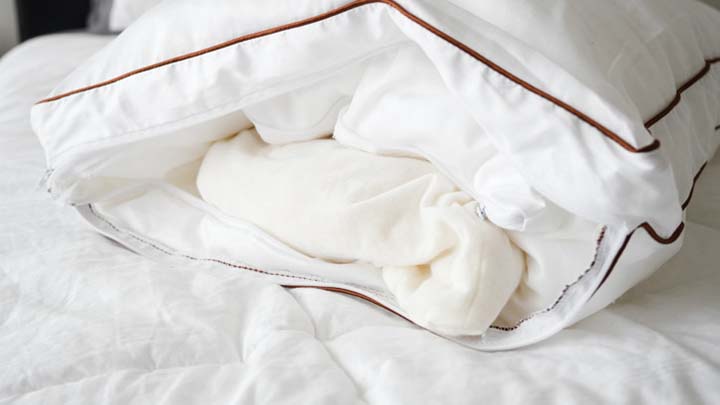 The Saatva Latex has many impressive features. It feels lofty and luxurious, and that's thanks to its unique latex construction.
The core consists of shredded Talalay latex foam, which provides ample support and durability. This material feels much softer than traditional latex, and it's great at relieving pressure, making it a great orthopedic pillow.
You'll also notice its soft cover made out of organic cotton. When you unzip the outer pillowcase, you'll feel plush microdenier fiber sewn all around the edges. This gives the pillow the fluffy feeling of down feathers.
With a medium firm feel, this pillow will work well for back and side sleepers.
What Makes the Saatva Latex Pillow Stand Out?
The Saatva Latex pillow has a unique construction that feels like down feathers.
It has a medium firm feel, so it's great for back and side sleepers.
The high-quality and luxurious materials make the pillow extra durable.
Learn more in our Saatva pillow review.
Best for Side Sleepers- Eli & Elm Side Sleeper Pillow
Who is it for?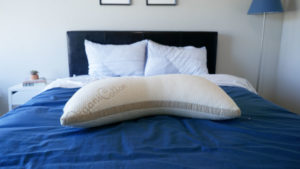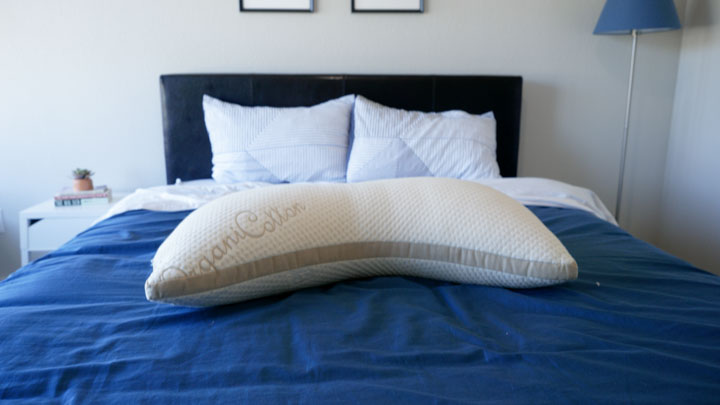 Side sleepers – take note! Eli & Elm's popular cotton pillow has a special U-shape design, which helps people maintain the proper spinal alignment in this sleeping position.
This pillow has a thin cotton cover, so it shouldn't make sleepers overheat at night. In the filling, you'll find two materials: soft polyester fiber and responsive latex noodles. The interior fluff gives the pillow a balanced feel.
To make things even better, this pillow is especially versatile. You can easily remove some of the filling to adjust the loft. This means it will work well for both small and large people.
Plus, you can remove the cover and wash it on the cold cycle. It's easy to maintain and should last for many years.
What Makes the Eli & Elm Side Sleeper Pillow Stand Out?
It has a special U-shape design, which helps side sleepers maintain the proper spinal alignment.
The pillow has a soft cotton cover that's breathable and machine washable.
You can easily remove the interior filling and adjust the loft.
Read the full Eli & Elm Side Sleeper Pillow Review.
Best Cooling- Purple Harmony
Who is it for?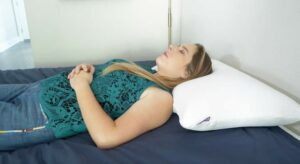 If you're a hot sleeper, you know that the wrong pillow can make you overheat just as much as the wrong blanket. Pillows that don't feature breathable or moisture-wicking materials aren't great for temperature regulation. But that's where the Purple Harmony pillow really shines.
This pillow has a thin, breathable polyester cover that has been combined with a thinner version of the gel grid that you find in Purple mattresses. This open structure of the grid has plenty of room for air to flow through, but it doesn't stop there.
The grid surrounds a springy, responsive piece of latex foam that has been perforated with holes. Latex is a great material for hot sleepers because it is incredibly breathable and won't trap heat like traditional memory foam.
And it's this combination of the grid and latex that will give you ample support and pressure relief, so you can say goodbye to aches and pains, all while staying cool.
What Makes the Purple Harmony Pillow Stand Out?
This pillow comes in three different loft options–low, mid, high–making it suit all sleeping positions and a variety of body types.
The open structure of the grid and the perforated foam ensures that this pillow won't trap heat.
Both the grid and the latex used in this pillow are durable materials, so this pillow will last you quite a while!
Read our full Purple Harmony pillow review.
Best Value- Sutera Pillow
Who is it for?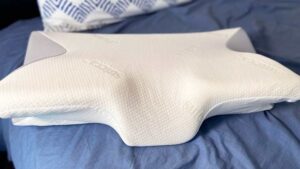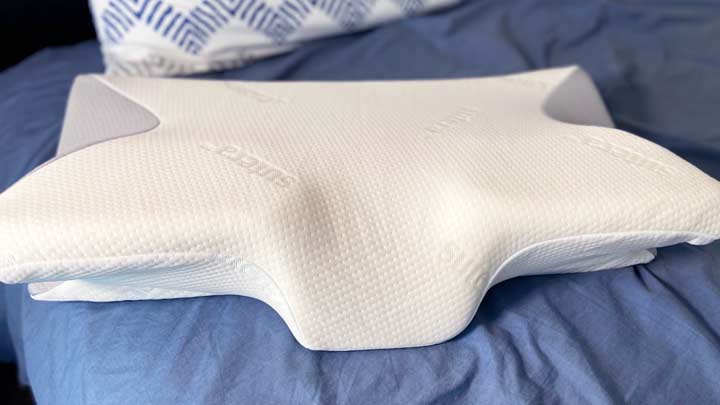 Striving to be pain free shouldn't hurt your wallet in the process. Many orthopedic pillows can run upwards of $150. But Sutera makes a more budget-friendly pillow, and you can even find it on Amazon, too!
Sutera designed this pillow specifically for orthopedic needs, and it has a unique shape to reflect that.
On the sides of this pillow, you'll find what Sutera calls "butterfly wing" cut outs. These cutouts will accommodate your arms if you're a side or stomach sleeper! Or even if you're a back sleeper who finds yourself with your arms above your head while you sleep, that's what these are for.
In the middle of the pillow, there's something called a "neck nook" which is where you will place your head. The pillow is taller on this side, and slopes downward, which will keep your head and neck in a neutral position while you sleep.
What Makes the Sutera Pillow Stand Out?
It's a fairly affordable pillow, in comparison to some others on this list.
It's made of a single piece of dense, firm foam that is responsive and will keep you in a neutral position while you sleep.
The pillow has been designed to fit orthopedic needs.
Full review to come!
Best Travel – NekGenic Neck Pillow
Who is it for?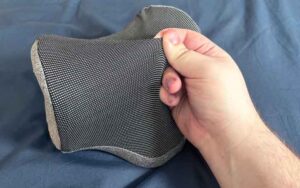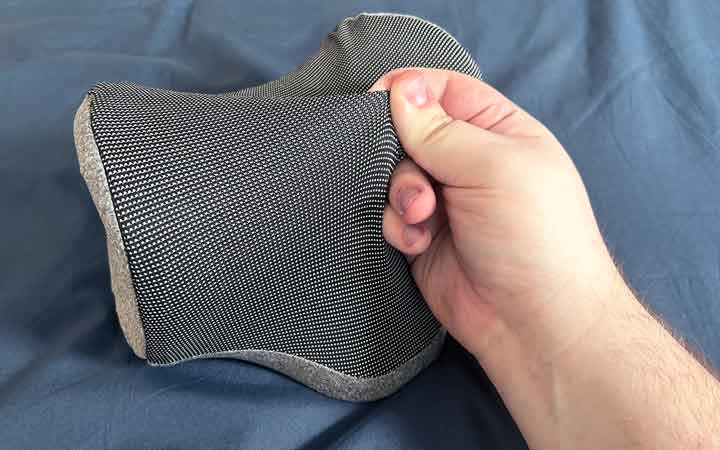 Neck pain doesn't stop when you're on the go, and finding the perfect pillow to help ease your symptoms might feel like a challenge, so we've got you covered. The NekGenic Neck Pillow is a therapeutic pillow specifically made for shorter sleep periods which makes it a great option for a quick and painless nap during travel.
The removable outer cover of this pillow is made from a polyester material called "magnetic therapy cloth." The material is infused with magnetic particles that help blood circulate, reduce inflammation, and help soothe neck aches.
The core of the pillow is made from an extra firm and dense piece of of polyurethane foam that's made to fit the curvature of your neck. There are also raised massage bumps in the center of the foam to help target pressure points. The pillow is 4" tall which makes it great for back sleeping, but may not work too well for side or stomach sleeping.
What Makes the NekGenic Neck Pillow Stand Out?
ZAMAT, the brand who makes the NekGenic pillow offers a 10-year warranty on the pillow, so it should last you a very long time!
ZAMAT claims that you only need to nap for 10 minutes to feel the effects of this pillow.
The NekGenic pillow should feel great for all sleepers: heavyweight, lightweight, and average weight.
Check out our NekGenic Neck Pillow review.
What is an Orthopedic Pillow?
Pillows that feel too firm or flat can cause neck tension and shoulder pain. Orthopedic pillows, however, help ease the discomfort by promoting a neutral alignment.
Side sleepers reach a neutral alignment when their ears line up with their shoulders. If you're a back or stomach sleeper, you'll want your chin to align with your sternum.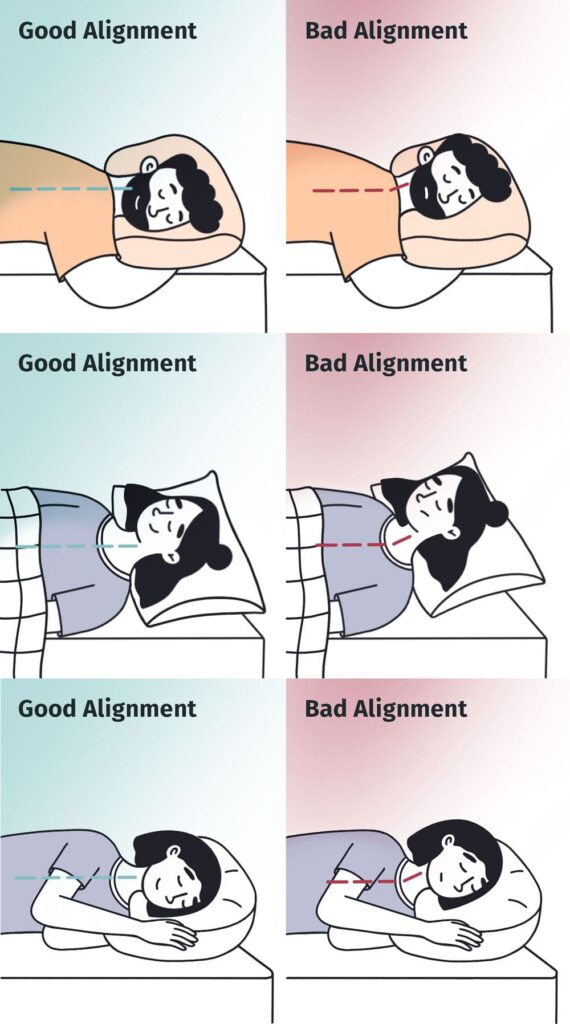 Choosing the Right Orthopedic Pillow
With so many different pillows on the market, it can feel exhausting to sift through them all. To make the selection process easier, we outlined the most important things to consider when buying an orthopedic pillow.
Firmness
A pillow's firmness level will greatly affect how comfortable it feels. Most pillows feel medium firm, which works well for back sleepers. However, stomach sleepers greatly benefit from a soft pillow that easily compresses. If you don't quite know what firmness level you need, opt for a customizable pillow. With these types of pillows, you can easily remove or add filling to adjust its firmness.
Sleeping Position
Not every pillow will work for each sleeping position, so it's especially important to figure out how you rest at night. If you're a back sleeper, you'll need a soft pillow with decent support. If the pillow feels too firm, you may feel your neck craning out of alignment. Side sleepers will want to look for a firm and supportive pillow. You don't want it to deflate or sag as the night goes on! Stomach sleepers should look for a pillow that is almost completely flat. This will help the chin stay in line with the sternum.
Feel
This one is ultimately up to your personal preference. Do you like the fluffiness of a down feather pillow? Or do you prefer to feel memory foam cradle your head? No matter what you choose, you'll find a pillow that works for you.
Shape
Side sleepers often prefer U-shaped pillows because they create extra room for shoulders. Traditional rectangular pillows will work better for back and stomach sleepers. Ultimately, it comes down to what you think looks and feels best.
Cover
Many companies sell pillows with washable covers, so you don't even need to purchase a pillowcase. But with some pillows, the filling sits directly inside the outer cover. This makes it especially difficult to wash because you have to remove all of the fluff before putting it on the cold cycle. This may not be a deal breaker for some, but it's an important element to consider.
Budget
Pillow prices range from cheap to expensive. Usually, you get what you pay for. We always recommend people consider their budgets before springing for brand new pillows.
Durability
You'd hate to shell out money for a new pillow, only for it to disintegrate after a year. If you want your pillow to stand the test of time, look for something made with high-quality materials. Custom-cut foams and Talalay latex typically have longer lifespans than other materials. And, as always, make sure to follow the washing directions carefully. Otherwise, the pillow's covers may lose their luster.
Types of Orthopedic Pillows
As you can see, there are so many different kinds of orthopedic pillows out there. We broke down the most popular models below, so you can easily find the right product for you.
Dual Profile
These pillows have several different loft options. Typically, they come with foam inserts that you can place inside the cover. This allows sleepers to find the perfect height for their body weight and sleeping position.
Adjustable
Adjustable pillows share many similarities with dual profile pillows. They're both customizable and easy to change. But unlike dual profile models, adjustable pillows don't have foam inserts. Instead, sleepers can add or remove the filling from the interior of the pillow.
Memory Foam
If you want your pillow to gently cradle your head, opt for something made out of memory foam. This slow-moving material helps relieve pressure, and it's super comfortable. However, classic memory foam also has the tendency to trap heat. If you already wake up feeling hot at night, you'll want to make sure your orthopedic pillow has some cooling features built in.
Look for something made with open-celled memory foam, because this will promote airflow and breathability. Gel, copper, and graphite infusions also help pull heat away from the body and keep you cool.
RELATED: Best Memory Foam Pillows
Microfiber
Pillows stuffed with microfiber pieces typically feel soft and fluffy. Even though it's an entirely synthetic material, microfiber still feels super luxurious and comfortable. Also, microfiber pillows tend to cost less than down and memory foam models. If you're on a budget, this could be a great choice.
Neck Pillow
Typically used while traveling, these small U-shaped pillows help cradle the neck and ease pain. They work well for short naps, but they're not recommended for everyday use.
RELATED: Best Travel Pillows
Down Pillow
Down pillows are filled with the back, wing, and chest feathers from geese and ducks. This creates an airy and malleable feel, so they can work well for stomach sleepers. However, due to its materials, down pillows often attract allergens and dust mites. They also cost a bit more than other types of pillows. If you love the way these pillows feel, you may also want consider getting something that's stuffed with down-alternative.
RELATED: Best Down Pillows
Final Thoughts
Once again, here are our top picks for the best orthopedic pillows of 2023.
FAQs
Before we wrap up, we'll answer the most frequently asked questions about orthopedic pillows.
What is the best orthopedic pillow?
As you can see, there are so many great orthopedic pillows on the market. Ultimately, it depends on what you need. Stomach sleepers will love the low loft Brooklyn Bedding Latex pillow. Heavier people should consider the Purple Harmony pillow.
What is the best pillow for neck pain?
If you frequently suffer from neck pain, you'll want to get a pillow that will help you get back to neutral alignment. In our experience, the TEMPUR-Neck pillow really helps support and cradle the head and neck.
What is the best pillow for back pain?
When back pain strikes, it's tough to focus on anything else. We recommend switching to the Saatva Latex pillow if your pain becomes severe. This pillow has a unique construction that creates both comfort and support -- which is exactly what you need if you're frequently feeling back pain.
What does an orthopedic pillow do?
Orthopedic pillows help sleepers maintain the correct spinal alignment. For side sleepers, this means the pillow is supportive enough to keep the ears in line with the shoulders. Back and stomach sleepers should find a pillow that helps their chins stay in line with their sternums.