Oh Purple, always coming up with something new and squishy! The Purple Harmony pillow is the latest addition to the growing line of pillows from the well-known mattress brand. Just like the signature Purple pillow, the Purple Harmony has some of the company's proprietary Hyper-Elastic Polymer grid in it. This time it's featured in the removable cover, while the core is a solid piece of latex foam.
In this Purple Harmony Pillow review, we'll cover what the pillows feel like and who is it going to work for. Stick around to check out my video review below or keep scrolling for more details. Comment below with any questions!
View Latest Deals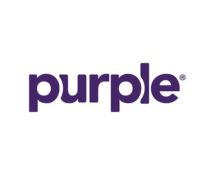 The Purple Harmony pillow combines a solid and bouncy feel - thanks to its ventilated latex core - with the squishy nature of the Hex Grid that's made with the brand's Hyper-Elastic Polymer. 
Key Features
Dimensions: 26″ x 17″x 6.5" for Standard and the Tall option is 2″ longer and 1″ taller
Weighs about 4.5 lbs (Standard, Tall is a little bit more)
Cover: cool-to-the-touch, moisture-wicking Breeze Mesh cover:

88% Polyester, 3% Nylon, 9% Spandex Mesh
There is also a layer of Purple Grid™: Hyper-Elastic Polymer Purple Grid

Core: Ventilated Talalay Latex with Polyester Knit Cover
Moisture-wicking treatment
Hypoallergenic
Cover care: Machine wash the cover on cold, separately. Lay flat to dry.
Core care: Spot clean only
100-Night trial and a one-year limited warranty
Both profiles are $159 at full price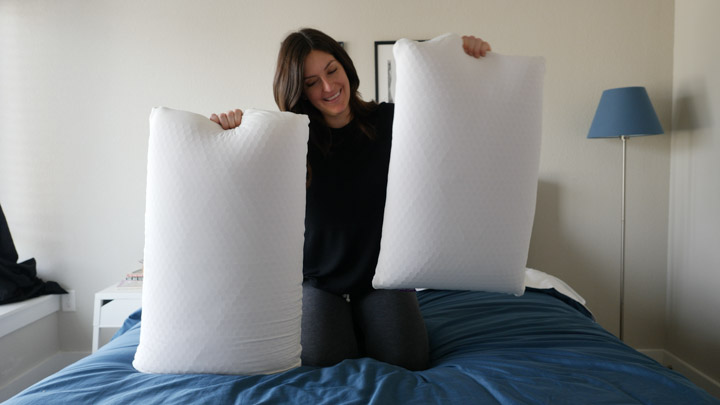 What is Purple Grid Hex Technology?
Here's what Purple says about their innovative technology:
Unique to the Purple Harmony Pillow, the Geluxe Hex Grid is specially formulated and engineered for head and neck support. The soft hexagon-shaped air channels optimize the dynamic response and airflow for unbelievable comfort.
The grid gives the pillow a unique but extra squishy/supportive feel on the cover.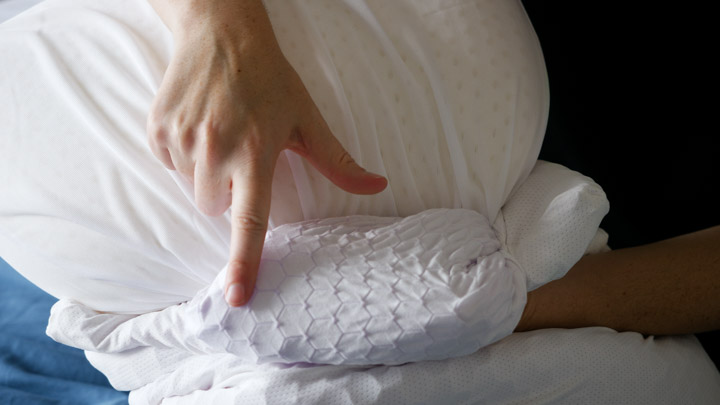 Pros
The Purple Harmony with its innovative Purple Grid Hex is a great addition to their line of pillows
The latex core provides good support and is a nice option for those who aren't into memory foam
Two different height options is a big plus
The pillow won't go flat or change shape overnight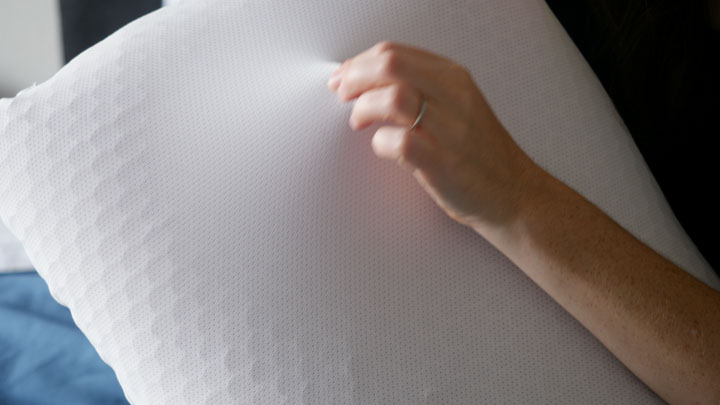 Cons
The price may be a budget-buster for some
Not recommended for those who like the slow response or feel of memory foam
The cover must be line-dried which makes it slightly high maintenance
RELATED: Purple Mattress Review – Is The 2019 Update An Improvement?
Best Sleeping Position
The real winner here is the two different height profile options within the Purple Harmony. The Standard size is 6.5″ tall and the Tall option is an inch taller at 7.5″ tall. While these may seem too high for stomach sleepers, heads will sink far enough into the latex core that it's surprisingly comfortable in all three sleep positions.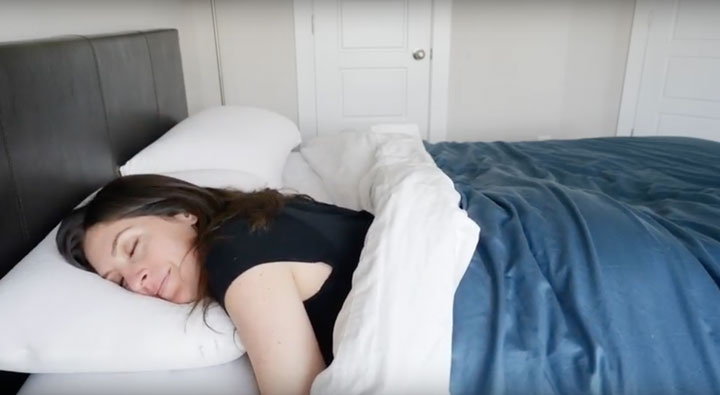 Here's my recommendation: Average-sized back sleepers and stomach sleepers will enjoy the Standard option, while average-sized back sleepers and side sleepers will enjoy the Tall option. Petite stomach sleepers may find the Standard size slightly too supportive but that's the beauty of the 100-night trial – there's a chance to test it out.
Large body frames or broader-shouldered individuals will want to keep scrolling for Marten's Take on the pillow below!
Marten's Take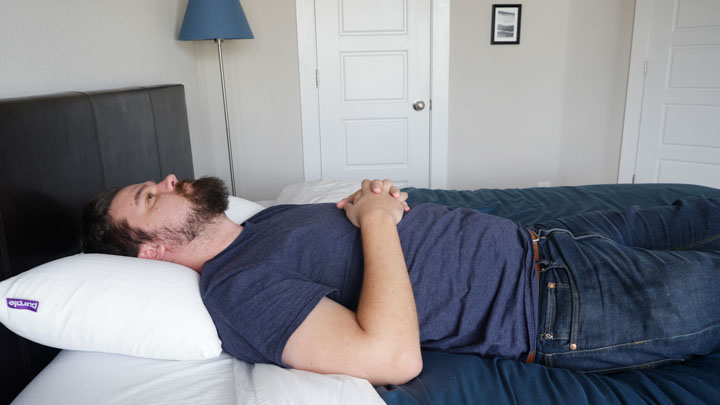 I am a larger person than Katie and I also sleep primarily on my side. She asked me to come in and try out the Purple Harmony pillow for myself and give the perspective of a larger person.
As Katie mentioned, the Purple Harmony comes in two versions: Standard and Tall. Being a larger person who sleeps on his side, I usually opt for a thicker pillow, so the Tall model sounded just right for me.
Back sleeping on this model, I feel perfectly supported, and my head sinks in just the right amount. When I am side sleeping, the Tall model of the Purple Harmony is fittingly supportive.
However, when I move to my stomach, this model is too firm for me, and I feel like my head is being pushed up at an angle. Also, when I switch to the Standard model, it is still too firm and thick for stomach sleeping.
Purple Harmony Vs. Purple Vs. Purple Plush – How They Compare
As I mentioned earlier, Purple now offers three pillows: the Original Purple, Purple Plush, and the Purple Harmony. All three are distinctive and innovative – there is something here for everyone.
The Purple Harmony has features from both the signature Purple pillow and the Purple Plush, but I wouldn't go so far as to say that it's a hybrid of the two. The Purple Hex Grid is made with the same Hyper-Elastic Polymer that can be found in the core of the original Purple pillow. However, the main feel of the Purple Harmony really comes from the solid ventilated latex core, and the Hex Grid makes up a small part of the pillow's overall feel.
The Purple Harmony and the Purple Plush share the same traditional pillow shape and both come in two different size options. Their outer covers and fillings are very different, so that's where their similarities really end.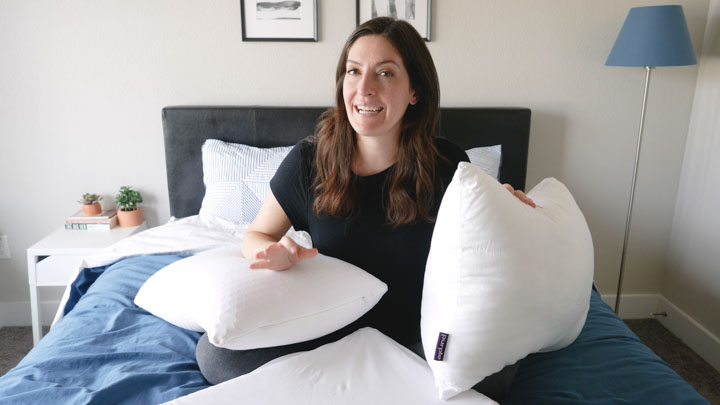 Here's my recommendation for each pillow based on primary sleep position:
Back Sleepers: The Purple, Purple Plush and Purple Harmony (Standard size) should all work for this position
Side Sleepers: Purple Plush and Purple Harmony will work here
Stomach Sleepers: The original Purple and the Purple Harmony should work for stomach sleepers
Final Thoughts
Kudos to Purple for coming up with a new way to enjoy their Hyper-Elastic Polymer. The Purple Harmony is a new spin on a Talalay Latex pillow, with all the bounce and support and a little extra "squish." The Harmony will be a good fit for any sleep position, just make sure to choose the right height profile. Those who want support and a pillow that won't change shape or go flat but doesn't have the "sinking in" feeling that comes from memory foam will also enjoy the Harmony. Is it pricey? Yes, but with 100-nights to try it out, those interested should be able to figure out if it's the right pillow for them.
FAQs
What's inside the Purple Harmony pillow?
The Purple Harmony pillow is made up a Breeze Mesh cover with the Purple Gelux Hex Grid and a solid core of ventilated Talalay Latex inside.
Are Purple pillows good for side sleepers?
Yes, the Purple Plush and the taller Purple Harmony pillow could be good choices for an average-sized side sleeper.
Is the Purple Harmony pillow washable?
Only the cover is machine washable and it must be line-dried (don't throw it in the dryer!).
The following two tabs change content below.
Katie Golde
Katie manages the day to day operations of the Mattress Clarity news site and reviews sleep products in addition to writing and editing sleep news.She hails from Austin, where she lives with her growing family. She is a Certified Sleep Science Coach and has a master's degree in Journalism from Northwestern University and has a background in health and science content. Her work can be found in print and online publications like Discover Magazine, USA Today and The Huffington Post.
Latest posts by Katie Golde (see all)