Oh Purple, always coming up with something new and squishy! The Purple Harmony pillow is the latest addition to the growing line of pillows from the well-known mattress brand. Just like the signature Purple pillow, the Purple Harmony has some of the company's proprietary Purple Grid Hex technology in it. This time it's featured in the removable cover, while the core is a solid piece of latex foam.
In this Purple Harmony Pillow review, we'll cover what the pillows feel like and who is it going to work for. Stick around to check out our video review below or keep scrolling for more details. Comment below with any questions!
Up To 10% Off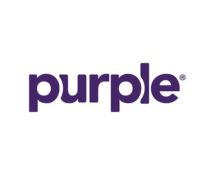 The Purple Harmony pillow combines a solid and bouncy feel - thanks to its ventilated latex core - with the squishy nature of the Hex Grid that's made with the brand's Hyper-Elastic Polymer. Save up to 10% when you bundle with other Purple products. 
Purple Harmony Pillow Overview
The Purple Harmony Pillow has a lot to offer, both in terms of its construction and the height options offered by the brand. Sleepers can choose between a Standard or a Tall version of the pillow, with a 1″ height differentiation between them.
The Purple Harmony doesn't leave out Purple's signature Smart Grid material but this time instead of being the focus of the pillow's core – like in the signature Purple Pillow – it's incorporated into the Breeze Mesh cover. Inside the pillow is a ventilated piece of Talalay latex, which means the pillow has a lot of resilience and bounce to it.
Average-size back and side sleepers will like the Standard size while side sleepers may be more inclined to go with the Tall option. both come with a 100-night trial, a one-year limited warranty and cost $159 at full price.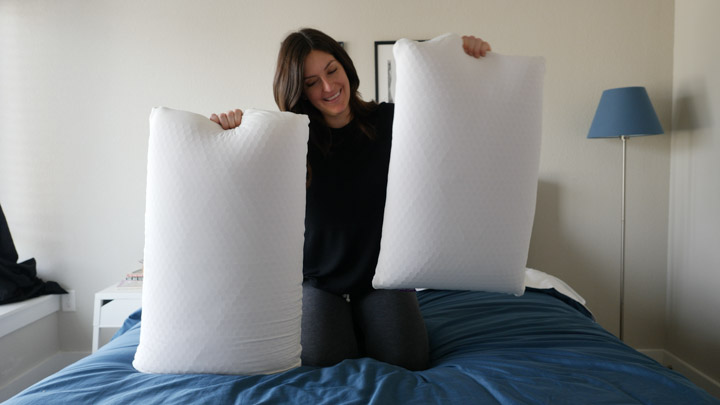 Who Might Like the Purple Harmony Pillow?
Sleepers who prefer the feel of a resilient latex foam
Those who like pillows that don't change shape and won't fall flat
Heavier sleepers
Who Might Not Like the Purple Harmony Pillow?
Customers on a tight budget
Those who like that slow response of a memory foam pillow
People who want a smooth pillow cover with no detectable texture
RELATED: Best Pillows 2020 – Our Top 10 Favorites!
Purple Harmony Pillow Video Review
It's one thing to read about a pillow but our in-depth video will give sleepers a detailed look at the pillow, including how it really looks and feels in various sleeping positions.
Purple Harmony Pillow Firmness & Feel
With so many pieces of technology and innovation within a single pillow, it's natural to wonder how firm it is and what exactly it feels like when all the components come together. We've got an exhaustive break down of these details below.
How Firm is the Purple Harmony Pillow?
The Purple Harmony Pillow is far from firm. The core is a solid piece of Talalay Latex foam that provides great support and lightening quick response, but it really holds up when pressure is applied to it. The height profiles are 6.5″ and 7.5″ which is quite tall but sleepers can expect their heads to sink decently far in but feel quite supported by the foam. On a scale from 1 to 10, we'd give the Purple Harmony Pillow a firmness rating right down the middle, around 5 out of 10 for the average sleeper.
Sleeping On the Purple Harmony Pillow (Sleeping Positions)
Based on our experience with both the Standard and the Tall versions, we feel certain that average-sized back sleepers and stomach sleepers will enjoy the Standard option, while average-sized back sleepers and side sleepers will enjoy the Tall option.
More likely than not, petite stomach sleepers may find the Standard size slightly too supportive but that's the beauty of the 100-night trial – there's a chance to test it out.
What Does the Purple Harmony Pillow Feel Like?
The combination of materials that makes up the Purple Harmony Pillow gives it quite the one-of-a-kind feel. Without a doubt, there's a strong connection to latex foam pillows because the ventilated core is 100% Talalay latex. But the Breeze Mesh cover and the Purple Hex Grid technology that's built into it gives an added sense of that squishy support we often use to describe Purple pillows and mattresses.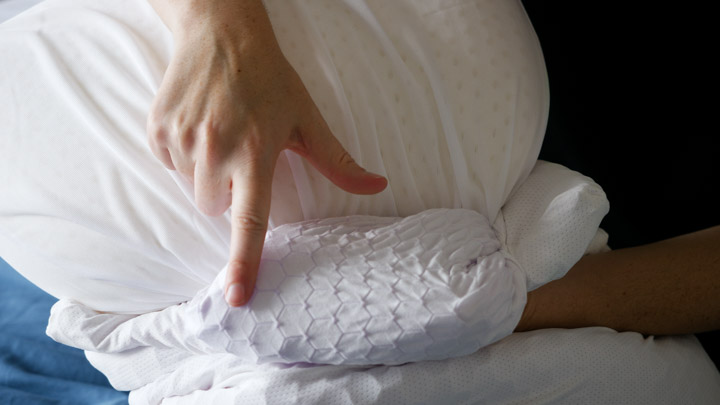 Here's what Purple says about their innovative technology:
Unique to the Purple Harmony Pillow, the Geluxe Hex Grid is specially formulated and engineered for head and neck support. The soft hexagon-shaped air channels optimize the dynamic response and airflow for unbelievable comfort.
These hexagon-shaped air channels are noticeable but not necessarily aggressive against the side of one's face. They're simply present and comprise part of the overall feel of this unique pillow.
Average Weight Sleepers – 130lbs – 230lbs
Katie had a chance to personally test and review this pillow. She's 5′ 7″ and average body type. According to Katie, the real winner here is the two different height profile options within the Purple Harmony. The Standard size is 6.5″ tall and the Tall option is an inch taller at 7.5″ tall.
While these profile options may seem too high for stomach sleepers, heads will sink far enough into the latex core that both pillows are surprisingly comfortable in all three sleep positions. Average sized stomach and back sleepers should look to the Standard option while side sleepers will want to go with the Tall.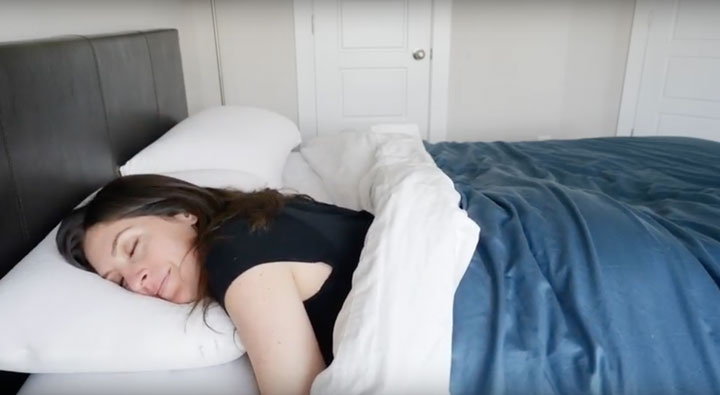 Heavyweight Sleepers – Over 230lbs
Marten also had an opportunity to experience the feel of the Purple Harmony Pillow in all three sleep positions. Marten is a larger person than Katie and he also sleeps primarily on his side. Being a larger person who sleeps on his side, Marten usually opts for a thicker pillow, so the Tall model sounded just right to him.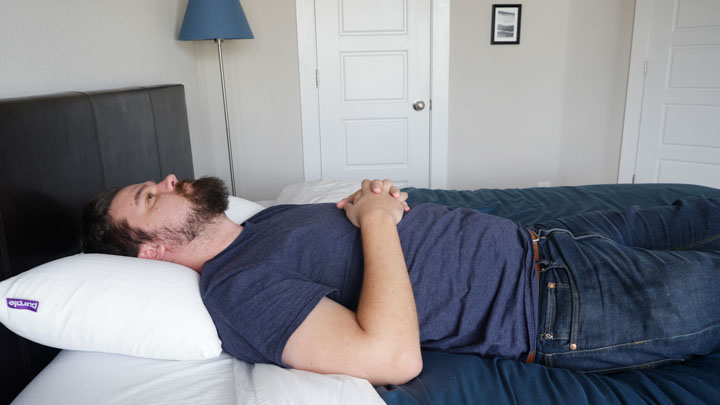 Back sleeping on this model, Marten felt perfectly supported, and his head sinks in just the right amount. When he was side sleeping, the Tall model of the Purple Harmony was supportive.
However, when Marten moved to his stomach, this model was too firm for and he felt like his head is being pushed up at an angle. Also, when he switched to the Standard model, it was still too firm and thick for stomach sleeping.
Lightweight Sleepers – Under 130lbs
Smaller body types can still find the Purple Harmony Pillow quite enjoyable. They'll definitely want to stick with the 6.5″ tall Standard option, which should be plenty of height and support for most lightweight back and side sleepers. Based on Katie and Marten's experiences, they're inclined to think that lightweight stomach sleepers may find even the Standard size to be too tall and supportive to be comfortable. Smaller body types may not be able to achieve a neutral spine alignment in a stomach sleeping position.
Purple Harmony Pillow Construction
Between the dual-layered outer cover and solid core, there are numerous materials and components that come together to make up the Purple Harmony Pillow.
| | |
| --- | --- |
| Dimensions | Standard size: 26″ x 17″ x 6.5″; Tall size: 28″ x 17″ x 7.5″ |
| Weight | Standard: 4.5 lbs; Tall: 5.4 lbs |
| Cover Material | 92% Nylon Fiber, 8% Spandex Fiber with a Moisture-wicking treatment; a layer of Hyper-Elastic Polymer® Purple Grid™ |
| Core | Ventilated Talalay Latex with Polyester Knit Cover (hypoallergenic) |
| Loft/Height | Standard: 6.5″; Tall 7.5″ |
Dimensions
The Purple Harmony Pillow comes in two size options, the Standard and Tall. The Standard size is 26″ x 17″ x 6.5″ and the Tall size is 28″ x 17″ x 7.5″. The Tall option is slightly longer and 1-inch taller than the Standard option; both pillows are quite tall at 6.5″ and 7.5″ in height.
Cover Material
There is a lot going on with the cover of the Purple Harmony Pillow. For starters, sleepers will notice the Breeze Mesh fabric, made up of 92% Nylon Fiber, 8% Spandex Fiber with a Moisture-wicking treatment. This gives the pillow a soft feel but definitely more of a performance-like fabric.

Underneath that Breeze Mesh, sleepers will be able to not only feel but also see the honeycomb-shape of the Purple Grid Hex technology. It's essentially a thinner layer of this proprietary hyper-elastic polymer that's incorporated into the cover of the pillow but doesn't give the pillow an entire Purple Grid feel like the Original Purple Pillow does.
Weight
The Hyper-elastic Polymer gel is heavy but the thinner layer here prohibits this pillow from getting too heavy. The Standard size weighs 4.5 lbs, while the Tall weighs just about a pound more, at 5.4 lbs. For comparison, the Original Purple Pillow, made up of a solid core of Purple Grid material, weighs just over 10 lbs.
Core
The core is simply a solid piece of hypoallergenic ventilated Talalay latex foam. This type of foam stands apart from more traditional memory foam because it has a much quicker overall response and feels lighter in weight. One's head will certainly still sink into this pillow but it won't be the same slow, quick-sand like feel that memory foam is.
Latex foam is known for being incredibly pressure-relieving and supportive. This, combined with the Purple Grid Hex layer, makes for a really nice contouring overall feel.
RELATED: Purple Mattress Review – Is The 2019 Update An Improvement?
Height/Loft
There's no question about it, these are two very tall pillows. The Standard is 6.5″ tall and the Tall is a whopping 7.5″ tall. This works because the foam core allows for heads to sink several inches in once it hits the pillow. This lowers the chances of neck strain to sleepers but it's especially nice for back and side sleepers who tend to need pillows with a little more height.
Purple Harmony Pillow Size Options, Price & Care
Purple Harmony Pillow comes in multiple sizes but only one price and one trial period. We always recommend following the pillow's care instructions as carefully as possible to ensure that the pillow is performing as it should and the pillow's warranty does not become void.
Size Options, Pricing & Trial Period
The pillow comes in Standard and Tall sizes, which differ in dimensions but remain the same in terms of price and trial period offered.
| | | |
| --- | --- | --- |
| Size Options | Pricing | Trial Periods |
| Standard | $159 | 100-night trial |
| Tall | $159 | 100-night trial |
Care Instructions
It's always important to follow the care instructions. In this case, the latex core should be spot cleaned only – please avoid putting the foam in the washing machine.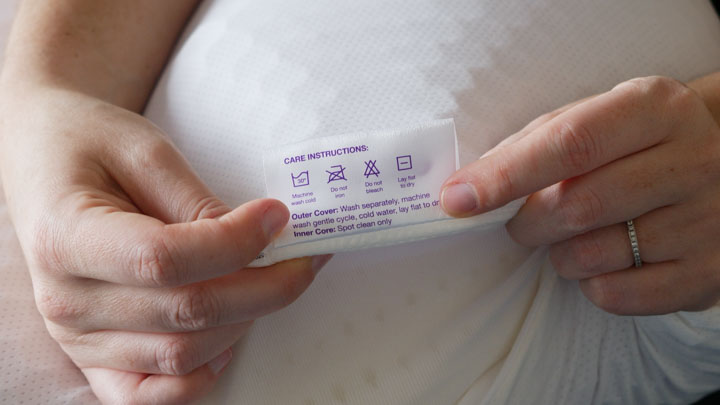 However, the cover can be removed and machine washed cold, separately and lay flat to dry (which may require some extra time, depending on ventilation).
Purple Harmony Pillow Performance
The Purple Harmony Pillow is touted as being the best balance of coolness, softness and responsiveness. But how does it stack up based on our experience? We've laid out all the details in the following sections.
Sleeping Hot or Cold
The Purple Harmony Pillow does sleep on the cooler side. We wouldn't go so far as to call it a "cooling" pillow but the Breeze Mesh and the ventilated foam core keep air flowing within the pillow and stop heat from getting trapped. This keeps the pillow overall cool and breathable, but it's certainly not cool to the touch the way other pillows may be. Hot sleepers should find this pillow to be totally comfortable overnight.
Responsiveness
Thanks to its latex core, the Purple Harmony Pillow is extremely responsive. This means that as soon as someone lifts his or her head or his or her hand off of the pillow, it immediately regains its shape. The pillow won't change shape or fall flat overnight and will maintain its shape for its entire lifespan thanks to the properties of this Talalay latex foam core.
Durability
The Purple Harmony Pillow should be extremely durable and hold up well if cared for properly. It comes with a 1-year warranty but should last several more years. Talalay latex is a highly durable material, as well as the hyper-elastic polymer gel that makes up the Purple Grid Hex. As long as the cover is not torn or left uncleaned, the pillow should last for years.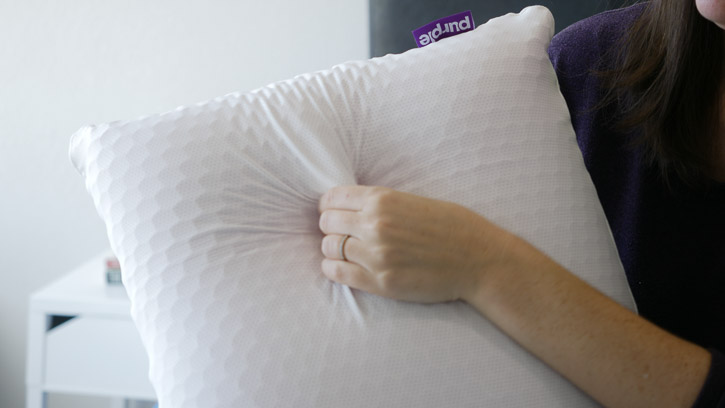 Off-Gassing
There is some off-gassing in this pillow, although it is minimal. The off-gassing will come from the Talalay latex as well as the thin layer of Purple Grid Hex. The pillow isn't compressed upon arrival – but it is covered in plastic – so there won't be a concentration of gas that needs to be released but we would still recommend ventilating the pillow for a day or two after receiving it.
Additional Features
The Purple Harmony Pillow is made in the USA and comes with free shipping in addition to the 100-night sleep trial and 1-year warranty. Additionally, the foam core is hypoallergenic.
How Does the Purple Harmony Compare to Other Pillows?
Let's see how the Purple Harmony stacks up against other Purple Pillows and some of the other most popular pillows on the market today.
Purple Harmony Vs. Purple Vs. Purple Plush
As we mentioned earlier, Purple now offers three pillows: the Original Purple, Purple Plush, and the Purple Harmony. All three are distinctive and innovative – there is something here for everyone.
The Purple Harmony has features from both the signature Purple pillow and the Purple Plush, but we wouldn't go so far as to say that it's a hybrid of the two. The Purple Hex Grid is made with the same Hyper-Elastic Polymer that can be found in the core of the original Purple pillow. However, the main feel of the Purple Harmony really comes from the solid ventilated latex core, and the Hex Grid makes up a small part of the pillow's overall feel.
The Purple Harmony and the Purple Plush share the same traditional pillow shape and both come in two different size options. Their outer covers and fillings are very different, so that's where their similarities really end.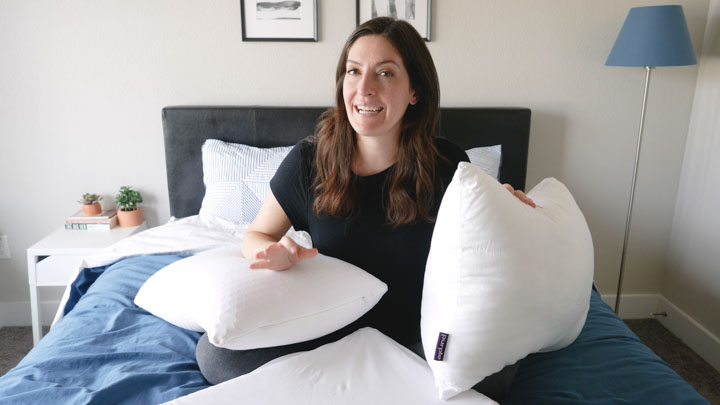 Here's our recommendation for each pillow based on primary sleep position:
Back Sleepers: The Purple, Purple Plush and Purple Harmony (Standard size) should all work for this position
Side Sleepers: Purple Plush and Purple Harmony will work here
Stomach Sleepers: The original Purple and the Purple Harmony should work for stomach sleepers
Purple Harmony vs. Casper Pillow
Purple and Casper are stiff competitors in the mattress world, so why would it be any different in the world of pillows? They both offer three options, and the Purple Harmony Pillow and the signature Casper Pillow stand pretty far apart in terms of construction and overall feel. Let's break down their details:
Casper's Pillows
Original Casper Pillow
Casper Down
Casper Foam
Purple's Pillows
Purple Signature Pillow
Purple Plush
Purple Harmony
Casper's original pillow focuses on its "pillow-in-a-pillow" design, where a smaller firmer inner pillow can be found inside the outer pillow, which also acts as the pillow's cover. This provides a level of adjustment and customization that means it will work for virtually all sleep positions.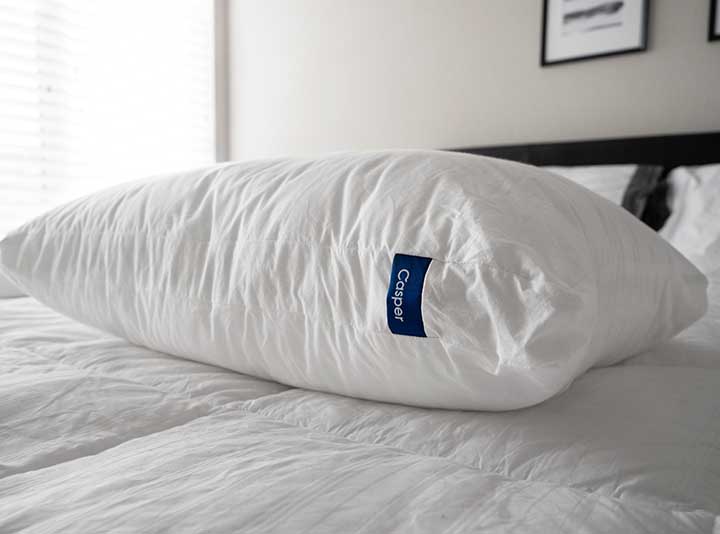 Meanwhile, the Purple Harmony pillow has the textured surface of the Purple Grid Hex and the bouncy, supportive core of the ventilated Talalay latex. It's also slightly adjustable since people can choose between a Standard and a Tall option, but it'll really be too much height and support for stomach sleepers.
There are minimal similarities between these two, even the covers are made with different materials (Breeze Mesh for Purple and 100% Supima cotton for Casper). However, they both have covers that can be removed and washed separately from their cores and they each come with a 100-night sleep trial.
Casper's signature pillow costs $65 for a Standard and $85 for a King at full price; Purple Harmony is $159 at full price for either size option.
Purple Pillow FAQs
Let's take a look at some commonly asked questions about the Purple Pillow.
FAQs
Here we'll talk about the most commonly asked Purple Harmony pillow questions!
What's inside the Purple Harmony pillow?
The Purple Harmony pillow is made up a Breeze Mesh cover with the Purple Gelux Hex Grid and a solid core of ventilated Talalay Latex inside.
Are Purple pillows good for side sleepers?
Yes, the Purple Plush and the taller Purple Harmony pillow could be good choices for an average-sized side sleeper.
Is the Purple Harmony pillow washable?
Only the cover is machine washable and it must be line-dried (don't throw it in the dryer!).
Up To 10% Off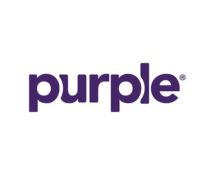 The Purple Harmony pillow combines a solid and bouncy feel - thanks to its ventilated latex core - with the squishy nature of the Hex Grid that's made with the brand's Hyper-Elastic Polymer. Save up to 10% when you bundle with other Purple products. 
Company Info
Purple is an extremely popular mattress brand that is known for incorporating its proprietary Purple Grid. This hyper-elastic polymer material provides Purple products with a supportive, pressure-relieving material that is unlike foam, or frankly anything else, on the market.
Purple currently offers three main mattresses, the Purple, Purple Hybrid and Purple Hybrid Premiere. In addition, they have three main pillows, the Original Purple, whose core is the Purple Grid, the Purple Plush made without the signature material at all and now the Purple Harmony that incorporates the Purple Grid into the cover but has more of a latex foam feel.
Katie Golde
Katie manages the day to day operations of the Mattress Clarity news site and reviews sleep products in addition to writing and editing sleep news. She hails from Austin, where she lives with her growing family. She is a Certified Sleep Science Coach and has a master's degree in Journalism from Northwestern University and has a background in health and science content. Her work can be found in print and online publications like Discover Magazine, USA Today and The Huffington Post.