When it comes to upgrading your mattress, many people go from a queen to a king, especially if you have a partner. But upgrading the size of your mattress can also mean it's time to upgrade to new pillows to match.
If you're on the hunt for pillows to match your king-size bed, I've compiled a list of the best king-size pillows! I've tested tons of pillows, so I've got something for just about everyone. Keep reading to see my picks!
Our Top Picks for the Best King-Size Pillows
Best Overall – Saatva Latex Pillow
Who's it For?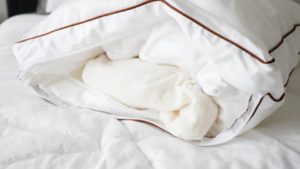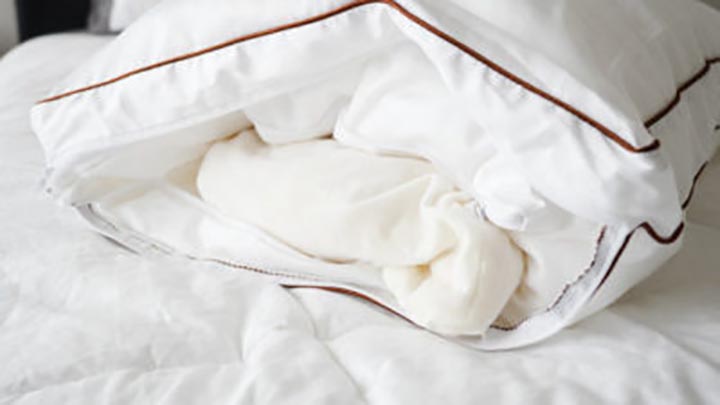 The Saatva Natural Latex pillow is a stand-out amongst many pillows for a number of reasons. This pillow has layers of high-quality comfort to it. On the outside, there's a soft, cotton sateen cover that houses a plush down-alternative fill. This all surrounds a shredded latex core that feels very supportive and responsive.
Though this pillow is soft, that supportive latex core makes it really easy to move around on, making it a great match for all sleeping positions. It also features gussets on its outer cover to help the pillow keep its shape.
The cotton and latex are both breathable, so if you're a hot sleeper, you won't feel hot and stuffy on this pillow. And to round it out, it's 100% hypoallergenic to fight off allergens and dust mites in your sleep environment!
What Makes the Saatva Latex Pillow Stand Out?
This pillow combines a soft, fluffy down alternative outer chamber that surrounds supportive shredded latex that works well for many sleepers.
It has many breathable components to it so it won't trap heat.
Saatva uses high-quality and responsibly sourced materials to make this pillow.
Read our full Saatva Latex pillow review!
Best for Side Sleepers – COOP Sleep Goods
Who's it For?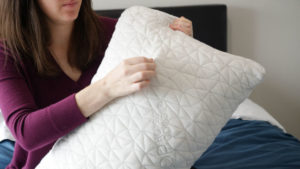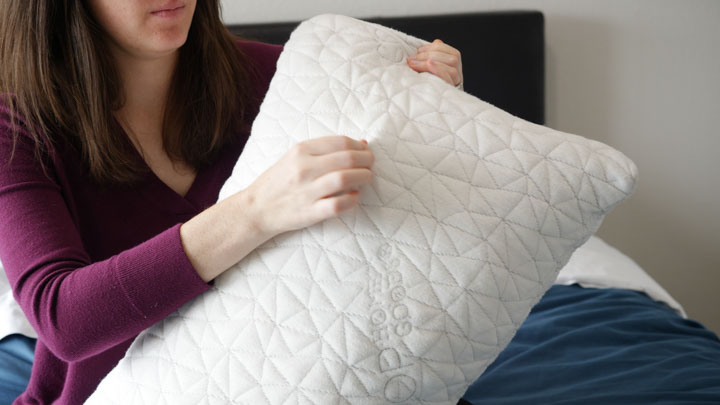 Side sleepers need tall pillows to keep their heads and necks elevated. This will prevent your head from craning downward, which can cause neck pain. One of my favorite pillows for side sleeping is the COOP Home Goods Original pillow.
This is a shredded memory foam pillow that feels very soft and slow-moving. And while firm pillows could be better for side sleepers, not everyone loves a firm pillow. What makes this pillow stand out for side sleepers is its adjustability.
COOP Home Goods designed this pillow to be adjustable, meaning you can take out or add in the memory foam fill. However, the company also provides extra fill for you to put in the pillow. Side sleepers can take this extra fill, stuff it into the pillow, and get the tall loft that they need to sleep comfortably.
What Makes the COOP Sleep Goods Pillow Stand Out?
It has that classic, soft, slow-moving memory foam fill which will contour to your head and neck, but you won't bottom out of this pillow.
COOP provides an extra bag of memory foam fill to put into the pillow to make it very tall, perfect for side sleeping.
The outer cover is machine-washable, and this pillow is 100% hypoallergenic, to boot.
Read our full COOP Sleep Goods Original pillow review!
Best Hotel – Brooklinen Down Alternative
Who's it For?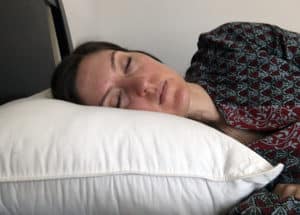 If you're looking for a stark white, hotel-style pillow that has been fluffed to perfection, look no further than Brooklinen. The brand's down alternative pillow is the stuff of 5-star hotel dreams. Not only that, you can sleep on this pillow guilt free thanks to some eco-friendly materials.
Down alternative is what it sounds like: an alternative to down feather pillows. But what is it, exactly? In the Brooklinen Down Alternative pillow, the down alternative is a microfiber fill that has been made from repurposed plastic bottles. It still leaves the pillow feeling plush and soft, just like regular down. And with a quick fluff every day, the pillow regains its shape.
The outer cover is made of 100% cotton that was made with the sateen weave, which means it'll look and feel like those soft, white pillows you see on a hotel bed.
What Makes the Brooklinen Down Alternative Pillow Stand Out?
It has a hotel-quality look and feel, but will cost you less than $100 for a king-size pillow.
Brooklinen uses repurposed materials, making this an eco-friendly option.
The brand offers a 365-day trial period to give you plenty of time to decide if it's the right pillow for you.
Read our full Brooklinen Down Alternative pillow review!
Best Affordable – Purple Cloud
Who's it For?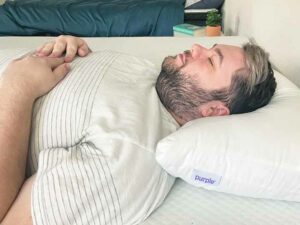 King-size pillows are the most expensive size option because they're the biggest, so naturally, they need more materials to make them. But if you're on a budget, Purple has an affordable option for you.
The Purple Cloud is a down alternative pillow that works best for back and side sleepers thanks to its impressive 7" height. The down alternative fibers have been reinforced with silicone so it won't need much fluffing, but they still keep the pillow feeling soft to medium-firm.
When the holiday deals roll around, the Purple Cloud won't run you more than $60! It really is a budget friendly option for those looking to get such a big pillow.
What Makes the Purple Cloud Pillow Stand Out?
When discounted, the Purple Cloud becomes a very affordable option. Purple runs discounts year round, so you'll likely get a deal!
The Purple Cloud is 100% machine-washable.
It has a soft cotton cover that is very breathable, so you shouldn't sleep too hot.
Read our full Purple Cloud pillow review!
Best for Neck Pain – TEMPUR Cloud Cooling Pro
Who's it For?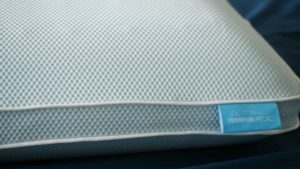 If you're dealing with neck pain, the culprit could be your pillow. If your pillow has the wrong loft, or height, you could be putting strain on your neck while you sleep. That's why pillows like the TEMPUR Cloud Cooling Pro exist. TEMPUR sells this ultra-cool pillow in two loft options: mid and hi.
The mid option is 5" tall, and the hi is 6.6". Back sleepers and heavier stomach sleepers will enjoy the mid, while side sleepers should go for the hi. This pillow is made of TEMPUR-Pedic's signature TEMPUR material, which has that classic, slow-moving memory foam feel that will still provide ample neck support.
This pillow's firmness level will allow your head to sink in, but not too far. This will keep it in a neutral position, which is the name of the game. With your neck no longer craning up or down, you'll be able to alleviate some neck pain!
What Makes the TEMPUR Cloud Pro Cooling Pillow Stand Out?
Two loft options make it a good option for most.
It has a slow-moving memory foam feel and will contour around your head and neck to keep it in a neutral position.
With "cooling" in the name, it has cooling gel to keep you cool while you sleep.
See what we have to say about the most popular TEMPUR pillows!
Best for Back Sleepers – Brooklyn Bedding Talalay Latex Pillow
Who's it For?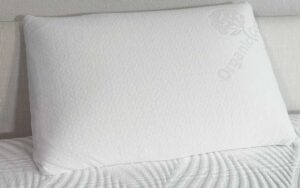 For back sleeping, keeping your chin in line with your chest will keep your head and neck in a neutral position while you sleep. If your chin cranes too far into your chest, it could cause pain and snoring. Back sleepers who love to spread out with king-sized pillows will want to look at the Brooklyn Bedding's Talalay Latex pillow.
Talalay latex is a very springy, responsive material, but it still feels quite soft. The Brooklyn Bedding pillow is made from a single piece of this type of latex foam. Back sleepers of all body types should be able to enjoy this pillow because it comes in two loft options.
The high loft will work for just about anyone! But if you're a little lighter, or are a back/stomach combination sleeper, the low loft option is the way to go.
What Makes the Brooklyn Bedding Talalay Latex Pillow Stand Out?
Two loft options make this a great option for all back sleepers.
Talalay latex is very responsive and springy, making it easy to move around on.
The latex has been perforated which allows for airflow, so it won't trap heat.
Read our full Brooklyn Bedding Talalay Latex pillow review!
Best Memory Foam – Tuft & Needle Original Foam
Who's it For?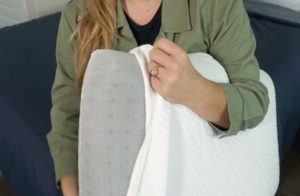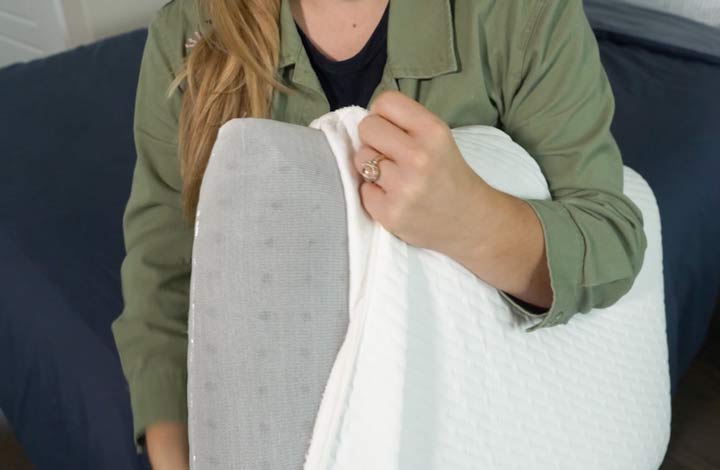 Memory foam pillows can vary from company to company, but Tuft & Needle is a favorite here at Mattress Clarity for a few reasons. Tuft & Needle uses its proprietary T&N foam, which is custom cut for each customer. This foam has been Certipur-US certified, meaning it was made without harsh chemicals in its production.
This pillow blends a classic, slow-moving memory foam feel with something that feels a little more responsive. This means that you'll sink into the pillow a little bit, but still get good support and be able to move around easily on it.
The Original Foam pillow has a removable cover that can be machine-washed for easy care. And this pillow should last you a good while with good care. Tuft & Needle even offers a limited 3-year warranty!
What Makes the Tuft & Needle Original Foam Pillow Stand Out?
It feels soft and squishy like standard memory foam, but you won't feel trapped in it.
The pillow has a washable cover for easy care.
You can test it out for 100 nights, and it comes with a 3-year limited warranty if you keep it.
Read our full Tuft & Needle Original Foam pillow review!
Best Extra Firm – Avocado Molded Latex Pillow
Who's it For?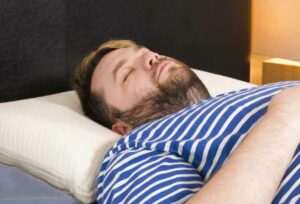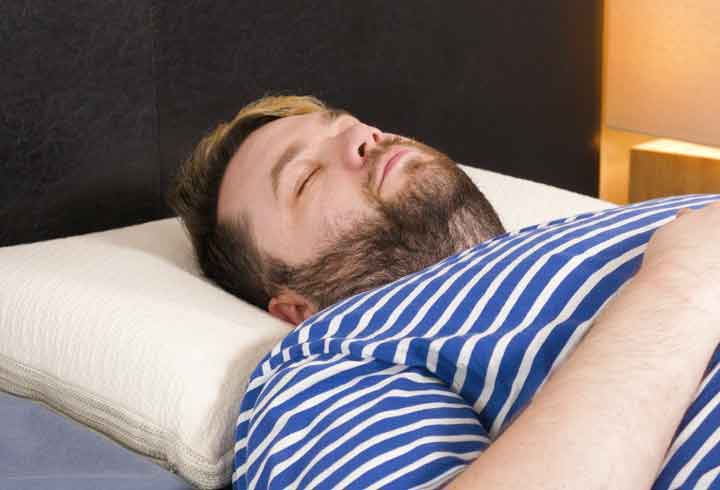 If you're someone who needs a firm type of pillow, and also looks to be eco-conscious, the Avocado Molded Latex pillow will fit the bill. The latex foam used to make this pillow is very firm and very dense. But it'll still offer great support for most sleepers.
The outside features an organic cotton cover that has met rigorous environmental standards. And thanks to cotton's breathability, and the perforations in the latex foam, this pillow won't trap heat. Additionally, Avocado infused the latex with charcoal to give it some extra moisture-wicking abilities to stay temperature neutral and also fight odors from developing.
Back and side sleepers who prefer firm pillows should enjoy the Avocado pillow. It'll be easy to move around on and you won't feel trapped like traditional memory foam.
What Makes the Avocado Molded Latex Pillow Stand Out?
It feels very firm and supportive, while also being responsive and easy to move around on.
It won't trap heat – it has been optimized for airflow.
Avocado acquired many certifications of the highest standard to ensure that the pillow is a carbon neutral, eco-friendly product.
Read our full Avocado Molded Latex pillow review!
Best Cooling – Purple Harmony
Who's it For?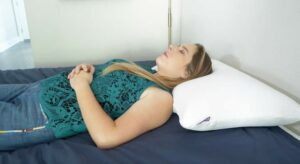 If you're running hot, getting a good night's sleep is almost impossible. The Purple Harmony is a great option for hot sleepers because it has been optimized for airflow.
Within the pillow's polyester and nylon cover, Purple has incorporated the brand's proprietary GelFlex grid. The cover feels very soft, and the grid's honeycomb pattern allows for breathability. This cover surrounds a perforated Talalay latex core, which is very springy and responsive.
Purple sells this pillow in three different lofts: low, medium, and high. This means that there's a version of this pillow that can fit every sleeping position and body type!
What Makes the Purple Harmony Pillow Stand Out?
The Harmony works for people looking for multiple loft options – it works for every sleeping position.
It's designed for hot sleepers who want something optimized for airflow and cooling.
Purple product fans will enjoy the feeling of the hexagonal grid within the cover.
Read our full Purple Harmony pillow review!
Best for Stomach Sleepers – Nest Easy Breather
Who's it For?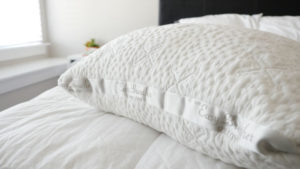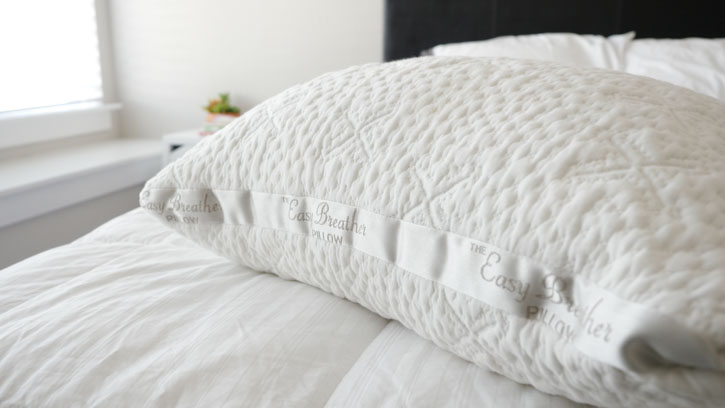 Stomach sleepers need a pillow that is very flat and low to prevent their heads from craning upwards. But because many pillows fall around 5" tall on average, getting a pillow that's low enough can be a challenge to find. That's why the Nest Easy Breather works well for stomach sleepers – it's an adjustable loft pillow!
Being adjustable means you can take out or add in the memory foam fill to this pillow. So after a little trial and error, stomach sleepers can adjust the Easy Breather to be low enough to keep their head in a comfortable position.
The foam fill has that classic, slow-moving foam feel to it, but should still be very supportive. The outer cover is a polyester blend with Nest's Icecore™ material, meaning you won't sleep hot on this pillow, either!
What Makes the Nest Easy Breather Pillow Stand Out?
It's an adjustable pillow, meaning you can take out the fill to make it flat enough for stomach sleeping.
The shredded memory foam feels very soft and plush.
It has a cool to the touch pillowcase that stays chilled throughout the night.
Read our full Nest Easy Breathers review!
What Size is a King Pillow?
With options like standard, queen, king, and even the more specific side sleeper pillow, it can be confusing to know what the difference is between these options.
Just like mattresses, king-sized pillows are the largest size of pillow available. This pillow measures 20" by 36", making it the same width as a queen or standard-size, but it is the longest option available.
Because king-sized mattresses are much bigger than a queen, having these longer pillow options available helps fill the space.
If you want more detailed information on how to choose the right pillow for you, be sure to check out our list of the best pillows!
FAQs
Are king-size pillows worth it?
They certainly are! If you've just upgraded to a king-size mattress, you may find that your queen or standard-size pillows are too small to utilize all that space. And if you toss and turn, having the longer pillow can make adjusting during the night easier.
Can I put king pillows on a queen bed?
You definitely can, just note that the king-sized pillow is a longer pillow. Putting two side-by-side on a queen-size mattress will mean there's some overhang. You might only get away with using one, but you can certainly sleep with a king-sized pillow on a queen bed.