Mattress shopping can be a headache. With so many different sizes, models, and materials, how can you be sure you find the right one for your needs? And once you find your perfect mattress, you'll need to find the ideal bed frame.
If you feel overwhelmed, don't stress! We're here to outline the 73 different types of beds so that you can turn your bedroom into a relaxing haven.
The 73 Different Types of Beds
To make things easier, we've broken the 73 different types of beds into six different categories.
Mattress Sizes
Let's kick things off by looking at the different mattress sizes.
Crib Mattress
The smallest beds on the market, crib mattresses are made specifically for babies. In North America, crib mattresses measure 51" – 53" in length and 27" – 28" inches in width.
Twin
Twin mattresses measure 38″ x 75." You typically find twin mattresses in bunk beds and children's rooms.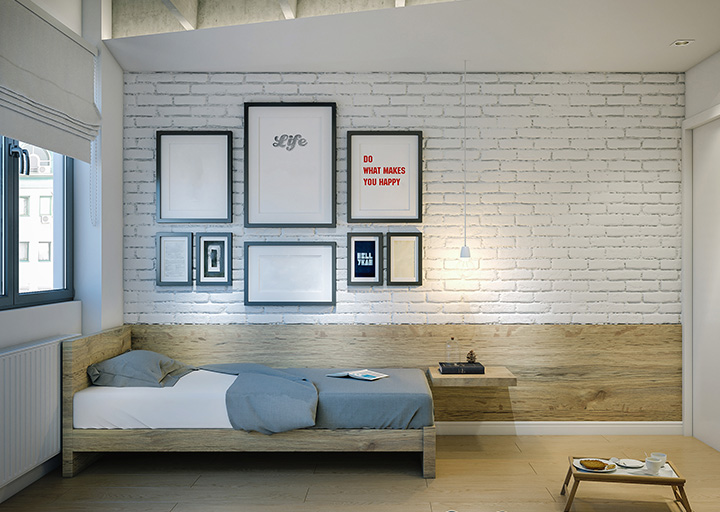 Twin XL
Measuring 38″ x 80″, twin XL mattresses are great for folks who live in small spaces. Twin XLs are 5" longer than traditional twins, making them good choices for taller people.
Full
Full mattresses work well for single people, but because they measure 54″ x 75," they may not work well for couples. If you were to share a full mattress, each person would only get about 27" of space.
Queen
Queen mattresses are 60" wide and 80" long, making them great choices for couples. Because it's the most popular mattress size, it's especially easy to find frames, sheets, and comforters for them.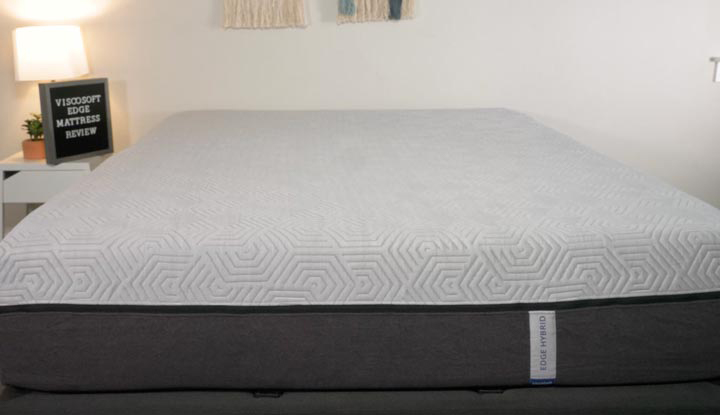 King
If you need some extra room to relax, you may want to opt for a king-size bed. These mattresses measure 76″ x 80," so they're great for couples. The extra width, however, requires a larger bedroom, so king-size beds may not work in every space.
California King
California king mattresses aren't as wide as traditional kings, but they are much longer. This type of mattress comes in at 72″ x 84," so it's especially beneficial for tall people. It's important to note, though, that it's occasionally difficult to find bed frames that work for California King mattresses.
Split King
Split kings consist of two 38″ x 80″ twin XL mattresses placed next to each other. Together, the dimensions are the same as a traditional king bed – 76" x 80." Split king mattresses work well for couples with different sleep preferences. This way, one side of the bed can feel firm while the other feels soft! For even more customization options, pair your split king with two twin XL adjustable bases.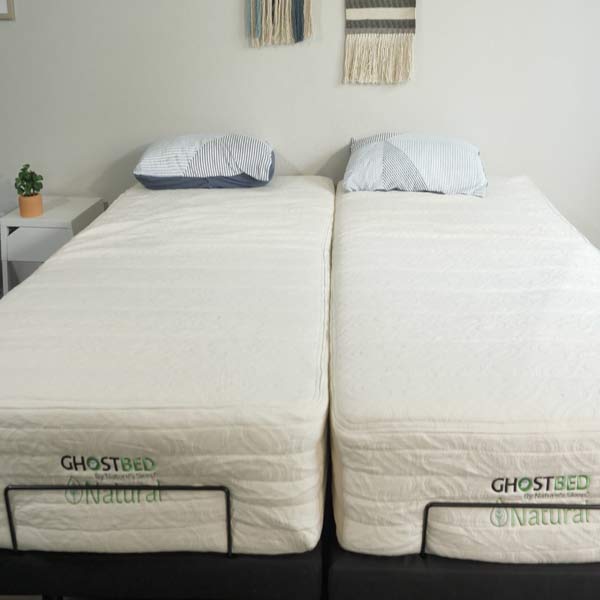 Texas King
Though hard to come by, Texas king mattresses offer more space for sleepers. These beds measure 80″ x 98″ – maybe everything really is bigger in Texas!
Alberta King
Coming in at 96″ x 96," Alberta king mattresses give couples even more space than king-size beds. This type of bed is quite rare, so you may have trouble finding a bed frame that fits it.
Alaskan King
Need even more space? Then the Alaskan King might be for you. These beds are 108″ x 108″ – that's nine feet wide and nine feet long! Not surprisingly, few people have the need for such a large mattress, so Alaskan kings are often difficult to find.
RV Mattress
RV mattresses range in dimensions, so even the most cramped spaces can feel luxurious. Take a look at our chart for more information about the different RV mattress sizes.
Size
Dimensions
RV Bunk
28" x 75"

30" x 75"

30" x 80"

34" x 75"

35" x 79"

RV Full
53" x 75"

54" x 75"

55" x 75

RV Short Queen
60" x 74"

60" x 75"

RV Queen
60" x 80"
RV King
72" x 80"
RV California King
72" x 84"
Types Of Mattresses
If you spend ten minutes shopping for a mattress online, you'll come across many different materials, infusions, and layouts. But what do they all mean? We outlined the most popular types of mattresses below:
Memory Foam
If you love to slowly sink into a mattress and feel its plush comfort all around you, then you may want to opt for a memory foam bed. Typically, these mattresses take a long time to snap back into place after pressure is applied. This is great for side sleepers who need pressure relief, but it's not always great for combination sleepers, who need some bounce to move around.
Latex
Latex isn't just eco-friendly – it's also cooling, durable, and supportive. You won't "sink" inside a latex mattress like you will on a memory foam bed. Instead, you'll feel like you're resting right on top of it. Latex mattresses feel particularly responsive, and they're often firmer than traditional foam beds.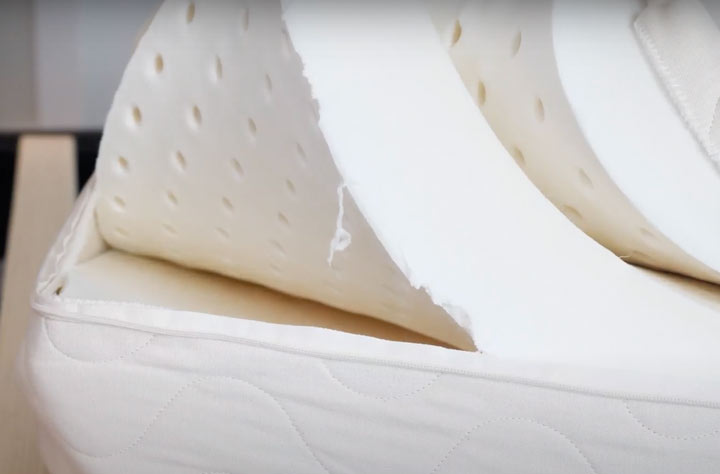 Innerspring
Innerspring mattresses are old school and classic. These beds have supportive, springy coils and thin pillow tops or covers. You won't find thick and plush comfort layers on innerspring mattresses, so they often work best for heavy people and stomach sleepers.
Hybrid
Hybrid beds are quite similar to innerspring mattresses, but hybrids have thicker comfort layers made with either latex or memory foam. Hybrid mattresses usually provide more pressure relief and create a balanced feel. They often work well for back and side sleepers!
Bed-In-A-Box
The only qualification for a bed-in-a-box mattress is that it can be easily compressed into a cardboard box for shipping. Any type of bed, from hybrid to all-foam, can fit in this category. And just because manufacturers roll them into boxes doesn't mean they're any less durable! In fact, it makes them much easier to transport and ship.
Important note: Bed-in-a-box mattresses have short off-gassing periods of about 48 hours. You'll need to give the mattress a few days to air out and expand before sleeping on it.
Air Mattress
Air mattresses provide easy and portable comfort. They're typically made out of PVC, plastic, or rubber and can easily be filled with an air pump. Great in a pinch, air mattresses don't offer enough pressure relief and support for long-term use.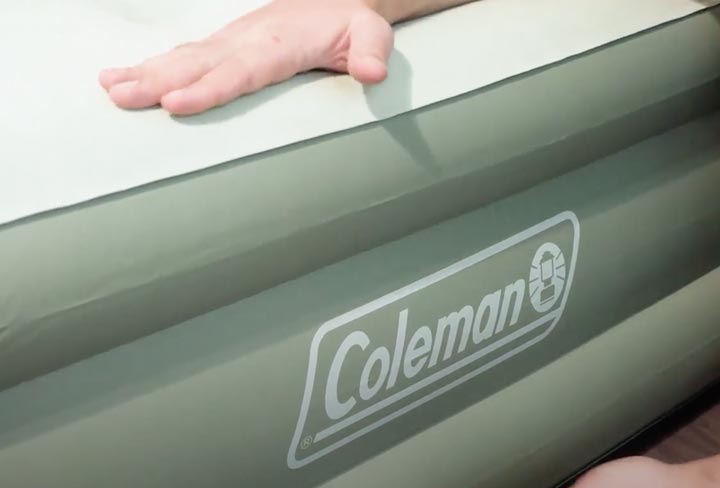 Water Bed
Occasionally referred to as flotation mattresses, water beds have a vinyl exterior that's filled with water. When they first came out, water beds had wooden frames. These days, most flotation mattresses can support themselves on their own. Some even allow sleepers to control the temperature of the water to make the bed cool or warm.
Tatami Beds
Traditionally used in Japan, Tatami beds have slowly made their way into American homes. Modern-day Tatami mats sit on low platform bases. Because the mats contain rice straw, this form of bedding is particularly eco-friendly and sustainable. Plus, they're easy to clean and offer firm support.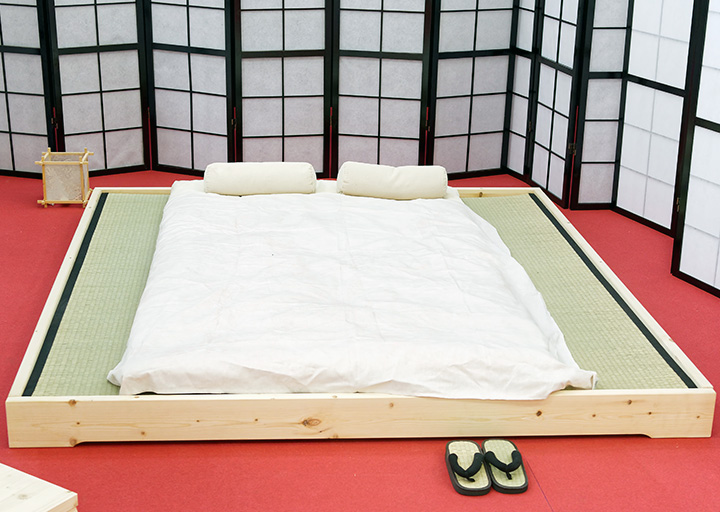 Cot
Cots are small, collapsible beds that work great in a pinch. They're suitable for short naps, but because they lack comfort layers, they aren't ideal for long-term use.
Bed Frames
Now that we've examined the different types of mattresses, let's look at the bed frames that can go with them.
Platform Bed
Platform beds sit low to the ground and can support a mattress all on their own – no box spring needed! Many people love the sleek and minimalist design of platform beds.
Adjustable
Adjustable beds allow sleepers to change the position of the head and foot of the bed, and they work well for people who have muscle pain, acid reflux, and sleep apnea. Some adjustable beds even have "snore settings" that automatically raise the head of the bed and allow sleepers' airways to open naturally. Take a look at our list of the best adjustable bases to learn more.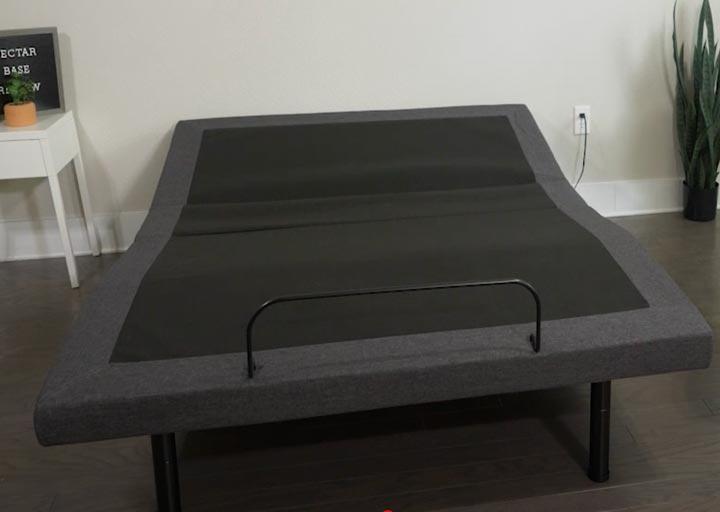 Poster Bed
Poster beds have four tall columns in each corner. Oftentimes, people attach canopies to the top of the bed or curtains around the sides.
Low Poster
Low poster beds have short columns on each corner of the frame. Unlike traditional poster beds, this type of frame doesn't allow for canopies or curtains.
Half Poster
Half poster beds only have columns on the two corners near the head of the bed. These posters draw the eye forward and make the mattress the focal point of the room.
Traditional Canopy Bed
Traditional canopy beds look similar to poster beds, but they have fabric draped over the top and around the posters. This style was originally created to ensure privacy and provide warmth.
Contemporary Canopy
Contemporary canopy beds have four posters around the sides of the frame that connect to each other several feet above the mattress. Many of them look like traditional canopy beds without the curtains, while others have curved edges.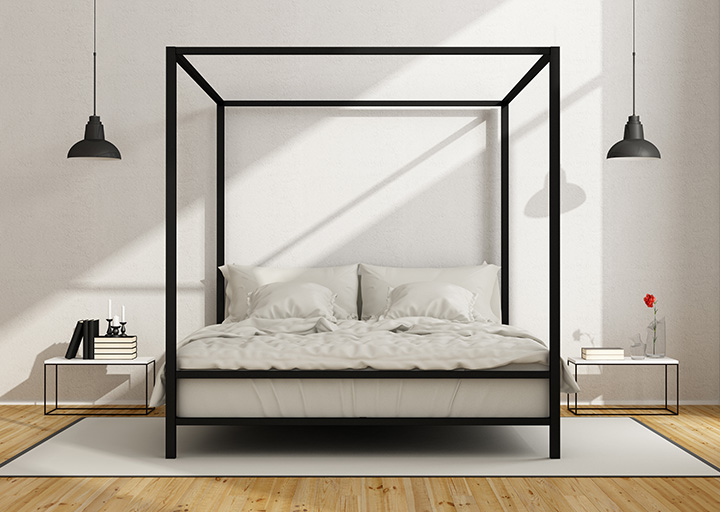 Sleigh Bed
Sleigh beds have curved headboards and footboards, and they're often made out of high-quality wood.
Trundle Bed
Typically used in children's rooms, trundle beds have a hidden compartment under the frame that can pop out to create more sleeping space. When you pull out the attachment, the second mattress can either sit low to the ground or pop up to meet the height of the main mattress. Most trundle beds have wheels along the sides, making them easy to move around.
Futon
Western style futons act like convertible couches, and they are perfect for lounging and sleeping.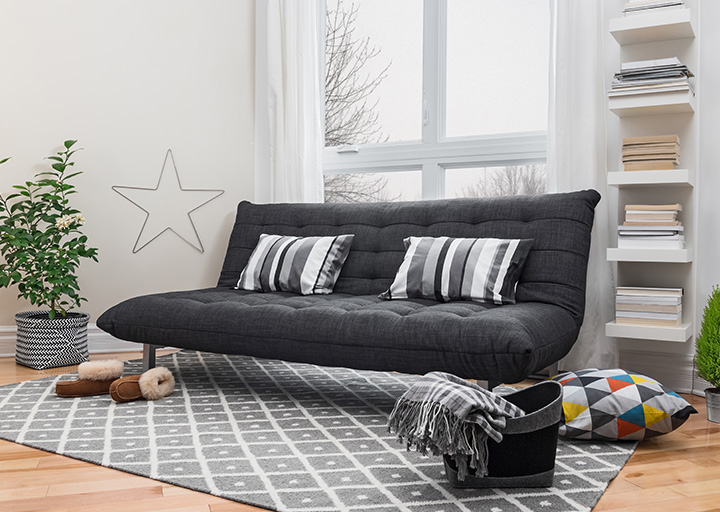 Bunk Bed
Bunk beds contain two mattresses: one on the bottom and one on the top. They're held together by four sturdy posts that elevate the top mattress and keep it secure. You can find a ladder on the left or right side to reach the top bunk. These beds usually accommodate twin mattresses, and they're often found in children's rooms.
Folding Bed
Folding beds consist of two parts: a mattress and a metal frame. When not in use, you can collapse the metal frame and fold the bed in half. This makes it particularly easy to store, and it works well for guest rooms.
Loft Bed
If you don't need two beds in the same room, but still like the feeling of sleeping high above the ground, then a loft bed might be for you. These look a lot like traditional bunk beds, but without a mattress on the lower level. Many people repurpose the open area and add a desk or children's play space.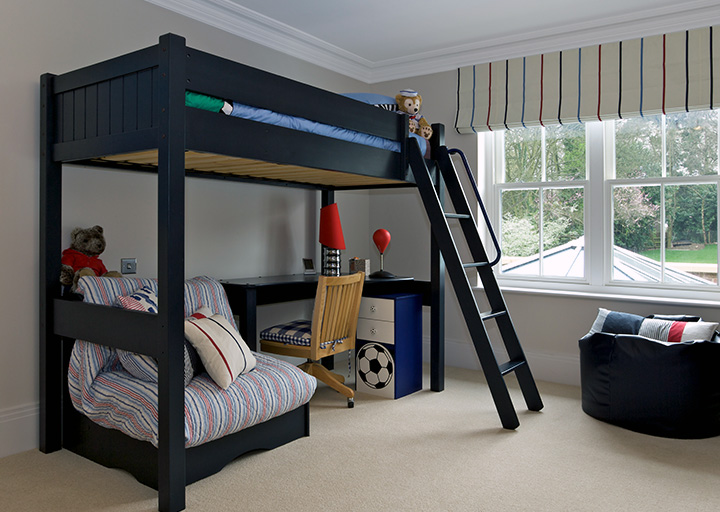 Cabin
This tall bed frame contains one twin mattress and has room for storage underneath. Parents often love placing these in childrens' rooms because they create extra space for toys and bedding.
Twin Over Full Bunk
Most bunk beds contain two twin mattresses, but this style has a twin mattress on top and full mattress on the bottom. This allows room for more sleepers, so it works well for older kids and teens.
Day Bed
Whether they're used for napping or lounging, daybeds create a cozy space in the home. They typically measure 39" x 75," which is the same size as a twin XL mattress. But unlike twin beds, daybeds aren't designed for a full night's rest. They're typically set up like couches, with pillows placed along the back for additional support.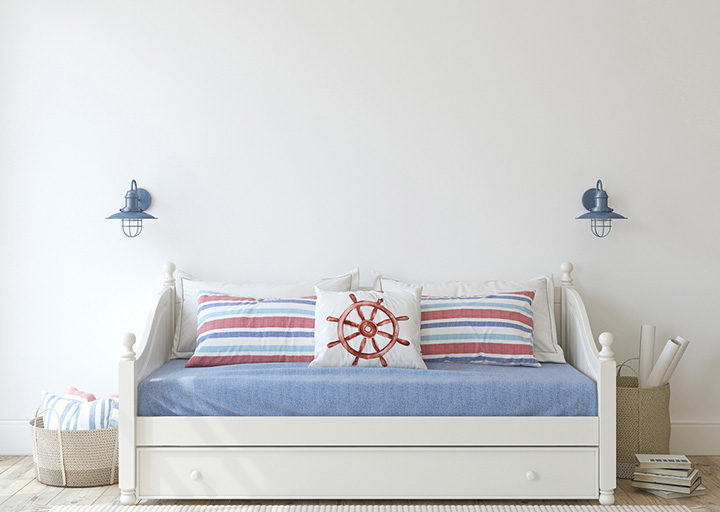 Futon Bunk
Futon bunks are similar to loft beds, but instead of an open space underneath the mattress, it has a futon or sofa bed. This style of bed frame doesn't feature the traditional Japanese futon, rather the American version that folds in half like a couch.
Sofa Bed
Sofa beds offer the best of both worlds. At first glance, it looks like a traditional couch. But when you lean in, you'll see it has a hidden compartment that stores a mattress. Most sofa bed mattresses feel quite firm, so you may want to add a mattress topper for additional comfort.
Murphy Bed
Murphy beds have hinges on one side of the frame which allows sleepers to store the mattress vertically when it's not in use. These prove particularly useful in small spaces.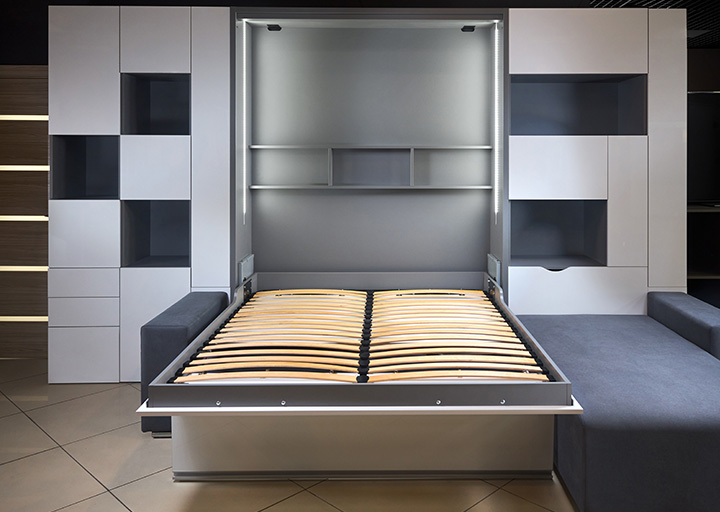 Storage Bed
Like the name suggests, storage bed frames contain extra space for people to store their items. Some frames contain bookshelves, baskets, and drawers. Many of them also have slatted bases, which eliminate the need for a box spring.
Divan
Divan beds have the same measurements as a mattress, so they don't take up much space in a bedroom. They're made out of a wooden structure that's covered in a layer of waddling and then upholstered in stylish fabric. It's a great choice for people who love a clean and minimalist look.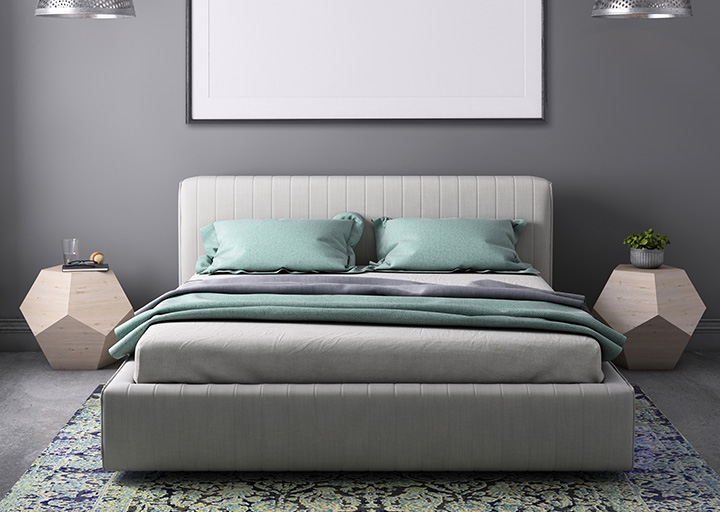 Panel
Also known as box spring beds, panel beds support mattresses using wood slats or metal bars. You'll often see them with matching side railings, headboards, and footboards. Thanks to their sturdy composition, you can easily place a box spring and a mattress on top of a panel bed.
Lighted
Lighted beds contain illuminated headboards that not only give the room a lovely glow, but can help people see clearly when reading at night.
Ottoman
Not to be confused with a footstool, ottoman beds have built-in storage systems located underneath the mattress. With the help of a hydraulic lift system, the mattress can rise to reveal empty space underneath. You'll have much more storage space with an Ottoman than most other options.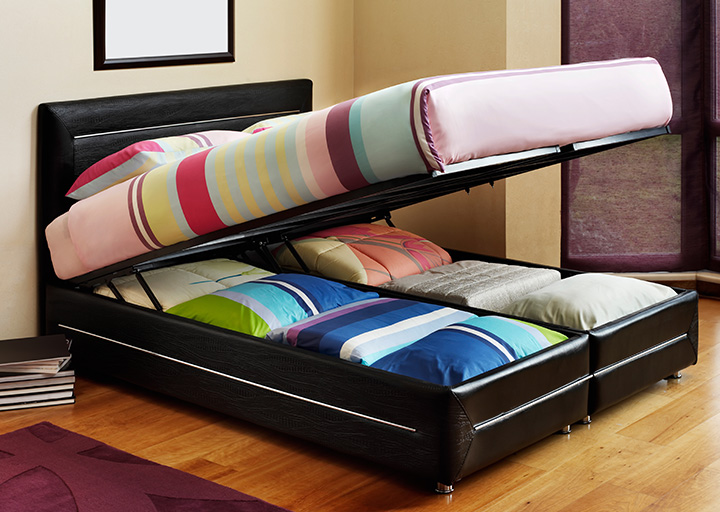 The Floor
Bed frames have many benefits: They're beautiful, practical, and can extend the life of your mattress. But of course, you can get away with placing your mattress directly on the floor if you really want to.
Bed Frame Materials
Here are the main types of materials you'll find used in bed frames.
Metal
Metal is not only sturdy – it's stylish, too. You'll often see metal used in contemporary canopy beds, adjustable bases, and folding beds.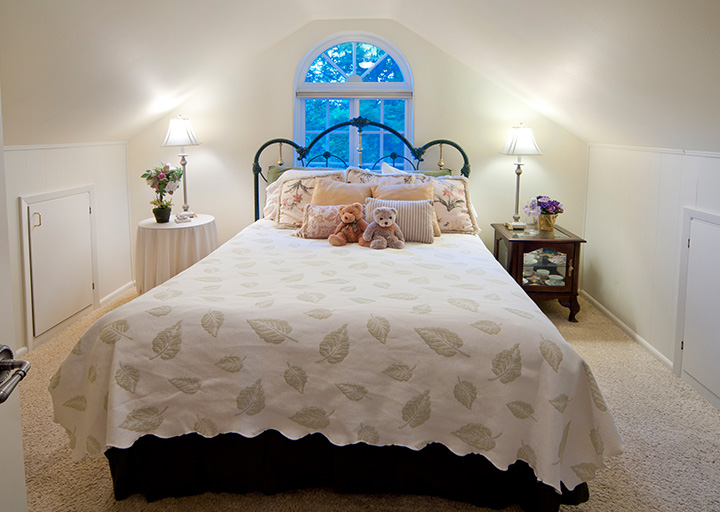 Wood
As one of the most popular materials, wood is seen in many different kinds of beds. Sleigh beds often feature intricate carved wooden accents, and you'll occasionally see stately wooden columns surrounding poster beds.
Woven
Woven beds, also known as wicker and rattan beds, create a dreamy and bohemian feel. People love utilizing this material to add texture to their homes.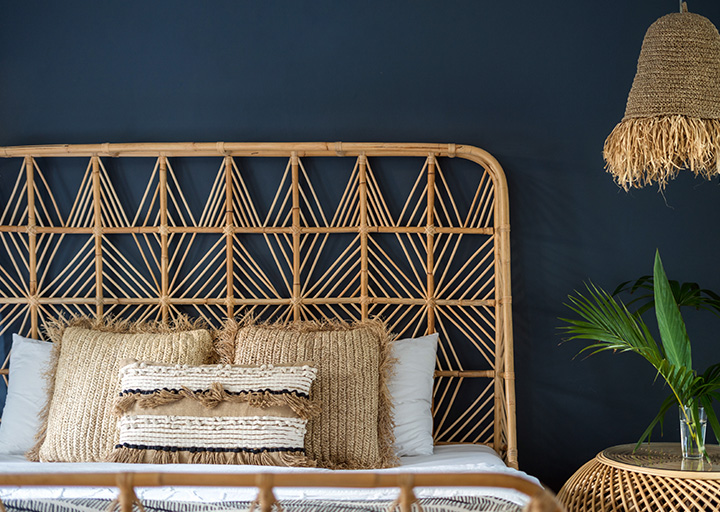 Wrought Iron
If you want to create an industrial and rustic environment, opt for a bed made out of wrought iron.
Upholstered
Upholstered bed frames are wrapped in fabric, and they come in many different colors. You'll often see tufted upholstered headboards and minimalistic upholstered divan beds.
Brass
Brass, often used in canopies and poster beds, has a charming and antique quality. You'll find this material in a variety of colors, but gold brass is often the most expensive.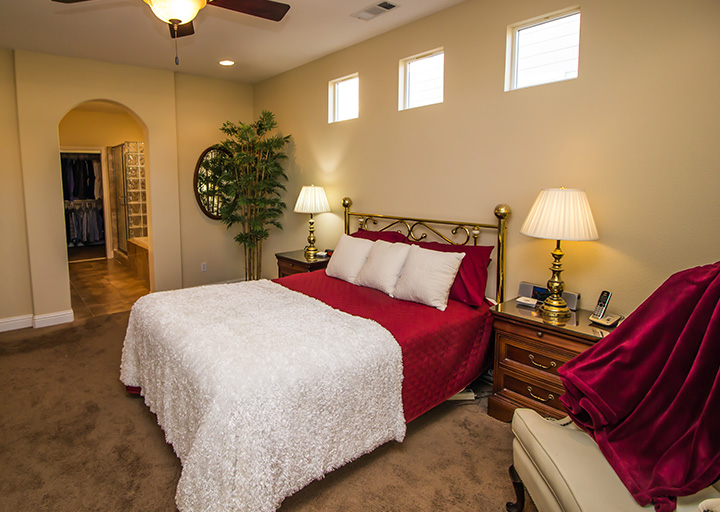 Bed Frame Styles
Bed frames can come in many different styles, but these are some of the most common:
Modern
Modern beds typically have a chic and minimalist aesthetic. Because they're simple in design, they don't look out of date after several years of use.
Cottage
Though not particularly popular these days, cottage beds still hold special places in people's hearts. They have ornate wooden headboards that evoke a nostalgic feeling.
Mission
Mission-style beds often have natural wood panels that make horizontal or vertical lines.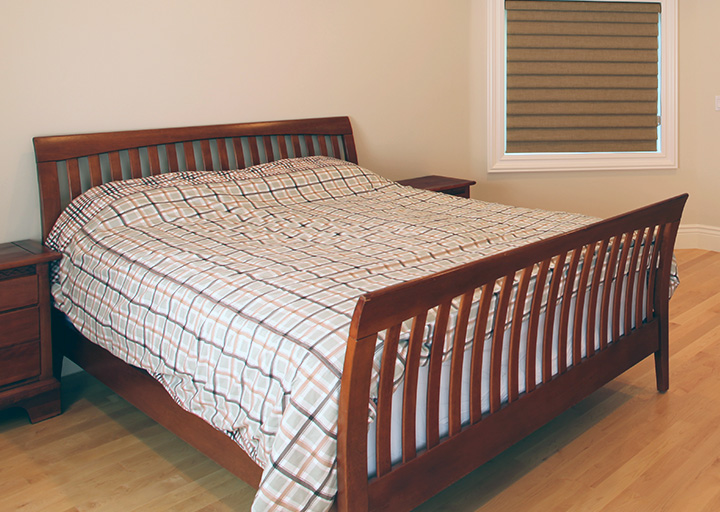 Traditional
Traditional beds are usually made out of dark wood, creating a timeless piece that people have loved for decades. Many different bed frame constrictions fit into this category, including poster, canopy, and sleigh beds.
Country
Country beds often feature aged wood and have traditional headboards. If you're looking for something that has a slight rustic look to it, this could be a good option.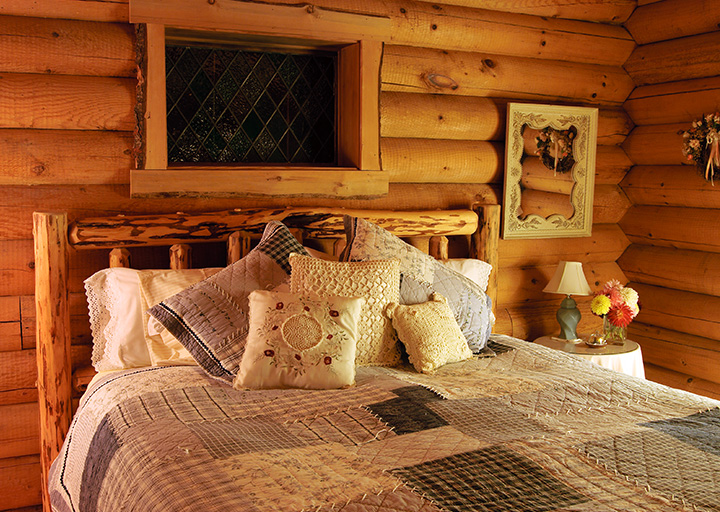 Rustic
Rustic beds take "country" to the next level. These beds often have a distressed look to them, and they're commonly found inside barns and cabins.
Distressed
Distressed beds look vintage and old-school. Crafters often intentionally pull out the wood's imperfections to create this cozy look.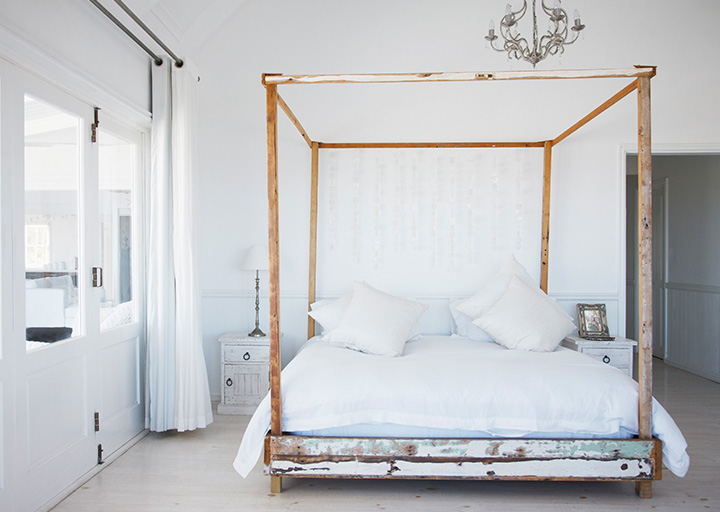 Retro
Retro styles take inspiration from furniture of the past. Many of them have mid-century designs with antique touches.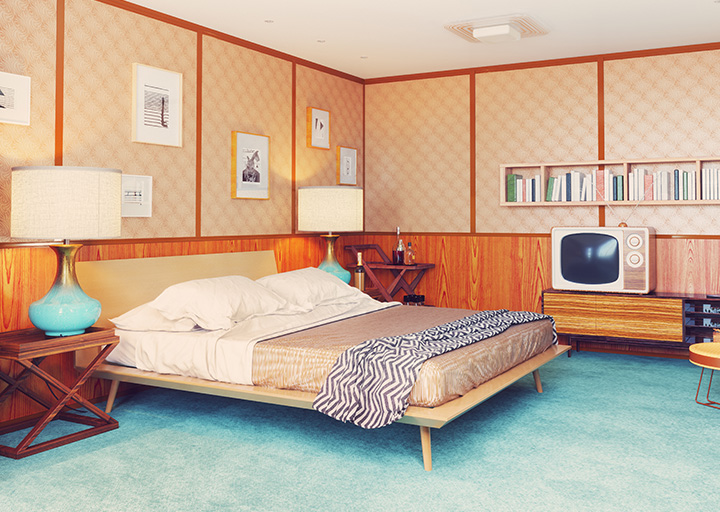 Mid-Century
First popular between 1933 and 1965, mid-century modern furniture has made a comeback. These bed frames feature tapered legs, wooden frames, and tufted headboards.
French
French beds have ornate tufted headboards that feel romantic and upscale. They're great statement pieces for master bedrooms.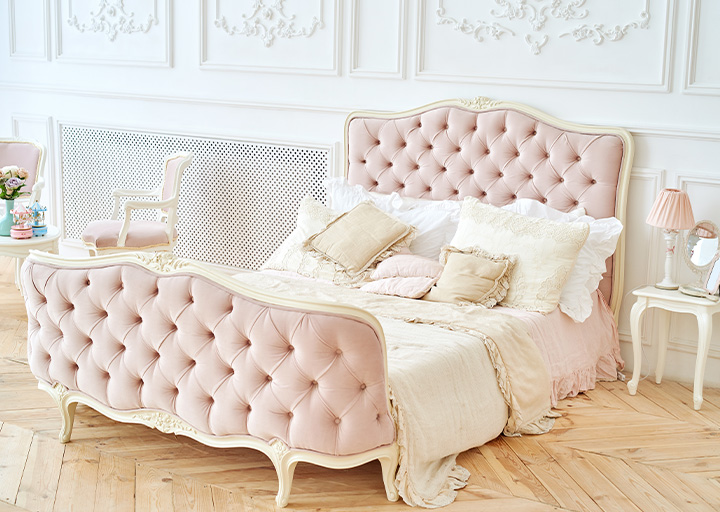 Unique Beds
There's a surprising number of unique beds on the market. Here are a few of the highlights:
Book Bed
Book beds are types of storage beds that have bookcases along the headboard. It's the ultimate piece of furniture for a bookworm who wants to show off their library!
Hanging
Hanging beds are suspended from the ceiling and offer a pleasant place to nap. Even though they're beautiful, they aren't the most practical. You shouldn't rest on a hanging bed for longer than a few hours, because it may be at risk of falling.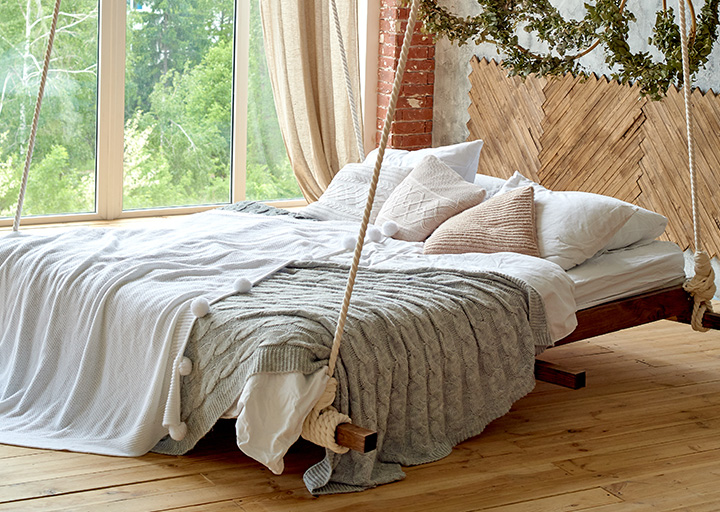 Rocking Bed
With a stylish circular frame and attached motor, rocking beds can gently lull you to sleep – just like your parents did when you were a baby!
Vertical Bed
You may not think it's possible to sleep while standing up, but with a vertical bed, it is! This unique foam unit is designed to sit against a wall and provide the necessary lumbar support for people to sleep vertically.
Letto Zip
If making your bed feels like a tedious chore, consider getting a Letto Zip mattress. With this bed, you can simply zip up the sheets and pillows and leave behind a sleek-looking pod!
Enignum Bed
Created by artist Joseph Walsh, the Enignum Bed is truly breathtaking. With sweeping wood curves and cascading curtains, this bed is one-of-a-kind.
Magnetic Floating Bed
With industrial-strength opposing magnets, this bed can support over 1,900 lb!
Sonic
This portable bed is perfect for music lovers. It has built-in speakers around the corners, so you can easily play your favorite relaxing soundscapes and drift off into dreamland.
Wave
Even though the bed remains flat, the frame looks like it's coming straight out of the ocean.
Hammock
Rustic and simple, hammocks create cozy places to nap in nature. You can purchase portable hammocks and hang them between two trees, or you can opt for a hammock stand and keep it standing in your backyard. Because they don't offer much lumbar support, hammocks aren't great for anything longer than a brief nap.
Airweave
Airweave's customizable design makes it a versatile choice for many types of sleepers. It's no wonder it was the official mattress of the Olympic games!
Instead of foam or springs, this bed consists of airweave's proprietary airfiber® core. This unique material is broken into several blocks made of woven threads. Each side has a different firmness level, so you can create a sleeping area that provides support where you need it most. Airweave also provides a soft comfort layer and thin cover you can place around the top of the bed. Check out our airweave mattress review to learn more.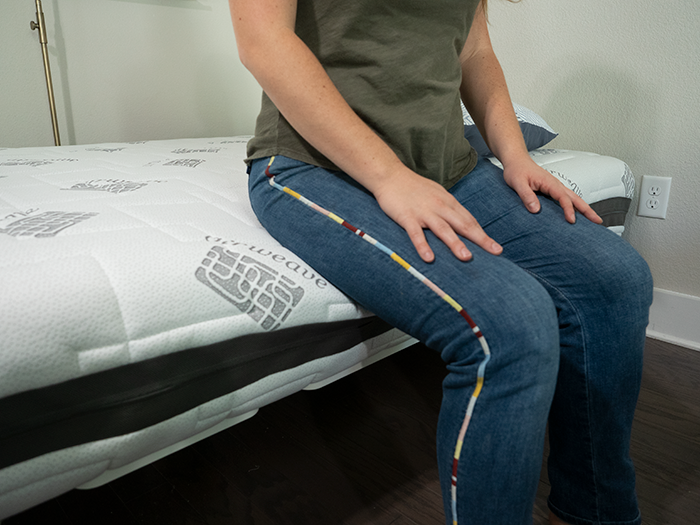 FAQS
If you still have questions about the different types of beds, we've got you covered. Check out our FAQ section below.
How many types of beds are there?
There are so many different types of beds on the market! We rounded up a thorough list of the 73 most popular types of beds, but these aren't the only ones! The mattress and bedding industry is always evolving, so we're certain new beds will pop up in the future.
What are the names of the different size beds?
In order from smallest to largest, these are the different sizes of beds available: crib, twin, twin XL, full, queen, king, California king, Texas king, Alberta king, Alaskan king.
What are high bed frames called?
Loft beds sit high above the ground and create a bunk bed feeling with only one bed. Oftentimes, people use the open space underneath to place a desk or chair.