AirWeave, the official mattress of the Olympic games in Japan this year, designs mattresses and other sleep accessories based on the most recent sleep science findings. But are their mattresses destined for the Gold? Find out in this AirWeave mattress review.
In this review, we'll go over the construction, firmness, and feel of this mattress. By the end, we'll know who this mattress is good for–and who it might not be as great of a fit for.
AirWeave Mattress Overview
Motokuni Takaoka founded AirWeave after he took over his father's fishing line company and realized the resin fiber in fishing lines would make a good mattress base. This Japanese company intended to revolutionize the sleep industry with its groundbreaking mattresses.
The AirWeave Mattress is highly adjustable, with different firmness options and comfort layers that can be added or removed based on how soft you prefer your mattress to be. It also draws features from the traditional Japanese futon bed. This mattress's supportive and breathable cover also helps you sleep cool is meant to regulate body temperature.
Who Might Like The AirWeave?
Who Might Not Like The AirWeave?
Side sleepers
Folks who like a soft mattress will find the AirWeave too firm
Partners and others who share a bed and are easily woken up by movement
AirWeave Mattress Firmness and Feel
Let's look at the firmness and feel of the AirWeave mattress as well as if this mattress should work for back, side, and stomach sleepers.
How Firm is the AirWeave?
The AirWeave is an extremely firm mattress. On a scale of 1-10 with 6.5 being the industry average, the AirWeave is an 8/10.
The base layer is flippable, with one side being firmer than the other so this can be customized. The base also comes in three parts so you can move the parts around to decide where you want the bed to be firmer or softer.
It also comes with an additional topper which can be added as a comfort layer. With this additional plush topper, the AirWeave is a 7.5/10.
Sleeping On The AirWeave
Back sleepers who like a firm mattress should enjoy the AirWeave. Stomach sleepers will find this firm mattress keeps them in alignment while sleeping and should help them avoid lower back pain. However, this isn't the best mattress for side sleepers. Side sleepers might feel pain in their shoulders and hips.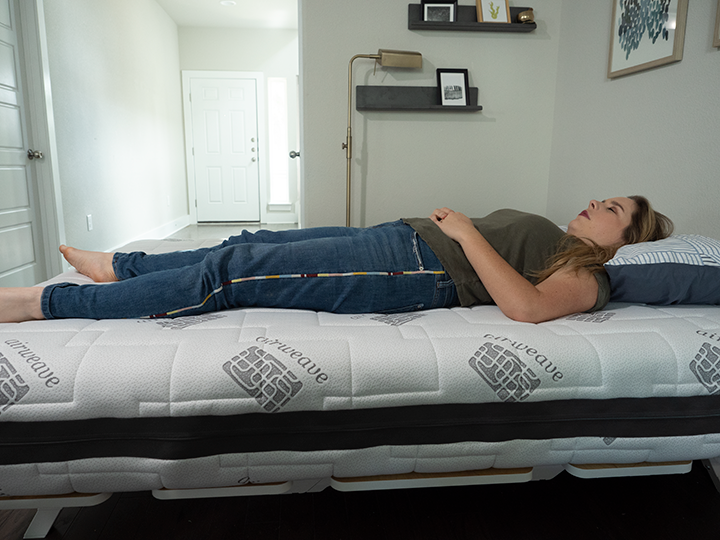 Because this mattress is bouncy and easy to move around on, it can be a great fit for combination sleepers. You'll find it easy to switch positions when sleeping on this mattress.
What Does the AirWeave Feel Like?
If you want a super-supportive mattress, consider the AirWeave. This mattress has a firm feel and is bouncy. This makes it easy to move around at night but might not work for fans of memory foam mattresses.
Average Weight Sleepers – 130lbs – 230lbs
The AirWeave is a good option for average-weight back sleepers who want a firm mattress. This mattress will support their lower backs and provide ample support. Average-weight stomach sleepers will also find this mattress to be supportive. It does a good job of aligning the shoulders and hips so stomach sleepers don't experience lower back pain. Side sleepers will find too much cushioning around their shoulders and hips and should look elsewhere for their mattress.
Heavyweight Sleepers – Over 230lbs
Since the AirWeave is only 8" thick, it might be too thin for heavyweight people. Heavyweight back sleepers will sink through the cushion layer to the firm layer underneath. Heavier side sleepers will also sink through the layer and experience pain on their pressure points. Similarly, stomach sleepers with this body type could sink through too much and might not enjoy this mattress.
Lightweight Sleepers – Under 130lbs
Lighter back sleepers who enjoy a firm feel will love this mattress. This mattress should also keep these back sleepers in good alignment throughout the night. Light stomach sleepers will also find this mattress to be a good option as it keeps their spines aligned to avoid any pain while sleeping. Lighter side sleepers will need a plusher cushion and might not enjoy the AirWeave.
AirWeave Mattress Construction
Now, let's dive into the construction of this mattress.
Cover
The AirWeave's outer cover is made of a soft, thick material. It's 100% polyester and machine washable. Below that is an inner mattress cover. This inner cover is a soft lining of glass fiber and modacrylic which acts as a fire retardant.
Comfort Layer
The comfort layer is an optional layer made of polyester. One unique feature of the AirWeave is that this pillow top layer can be added to make the mattress softer and plusher or removed if you want a firmer mattress. When added, this layer feels a bit like a pillow top.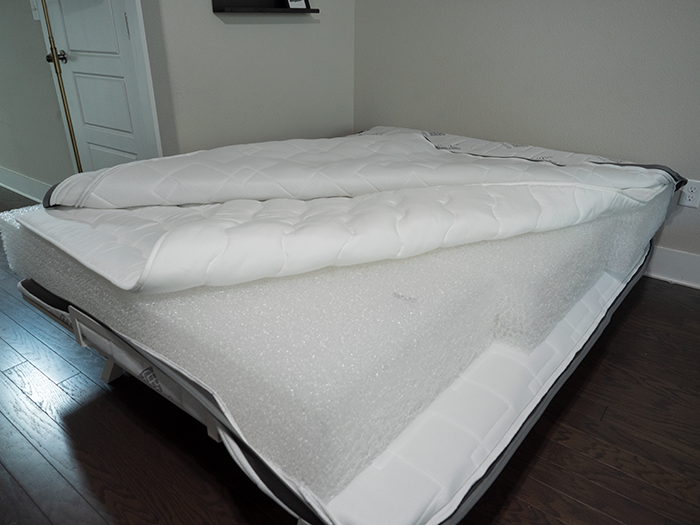 Support Layer
The core of this base is three blocks of their trademark airfiber® core. This core is made of 100% polyethylene, a non-toxic plastic. It looks like a mass of tangled plastic threads and is primarily responsible for the firmness of the mattress. The woven threads also create a cooler sleeping experience.
What's cool about this layer is that it is separated into three blocks with a dual mode. Each block can be flipped onto either the more firm or less firm side, creating the dual mode feature of this bed. Because there are three blocks, you can also customize the firmness in different sections of the mattress. For example, you could make it firmer near your head and feet and softer in the middle to help relieve pain.
Mattress Height
The AirWeave mattress is 8" tall.
AirWeaveMattress Size Options and Price
Check out the chart below for the most up-to-date information about the sizes and pricing of this mattress.
| | | |
| --- | --- | --- |
| Size | Dimensions | Price |
| Twin | 39.4″ x 75″ | $2,180 |
| Twin XL | 39.4″ x 80″ | $2,360 |
| Full | 53″ x 75″ | $2,630 |
| Queen | 60" x  80″ | $2,810 |
| King | 76" x 80″ | $3,270 |
| California King | 71.7" x 84″ | $3,270 |
Use our coupon for the best deal on the AirWeave mattress.
AirWeave Mattress Performance
Let's discuss if the AirWeave sleeps cool, if it's a good fit for couples, and more to determine if the AirWeave should be your new mattress.
Sleeping Hot or Cold
The AirWeave promotes airflow and a cool sleeping experience thanks to its unique construction. The bottom layer in particular is especially breathable as is the polyester cover. If you tend to sleep hot, you can rest assured you'll have a cool night's sleep on this mattress.
Motion Transfer
Motion transfer, or how much motion you feel from one side of the bed to the other, is especially important for partners looking for a restful night's sleep. If you share the AirWeave with a partner, you will probably be able to feel them toss and turn throughout the night. This mattress doesn't do a great job at motion isolation.
Edge Support
Thanks to its firm airfiber® core, the AirWeave mattress has excellent edge support. You will feel secure on this mattress, even when lying or sitting on the edge of the mattress.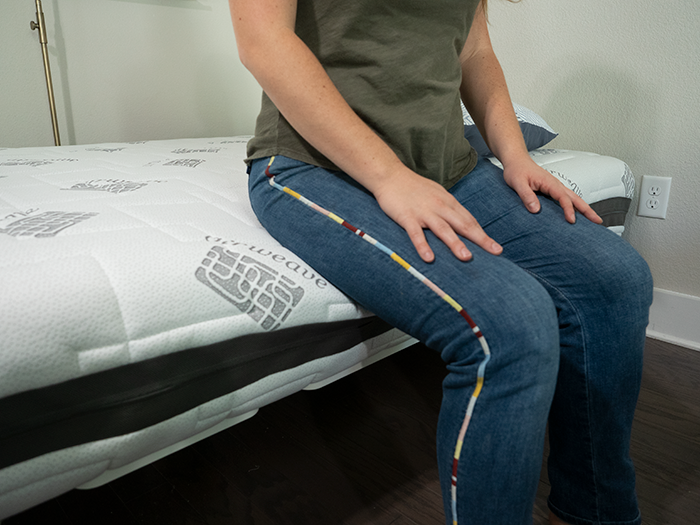 Durability
The AirWeave is an ultra-durable mattress, thanks to its sturdy construction of high-quality materials. You can expect this mattress to last for many nights to come.
Off-Gassing
There is no off-gassing from this bed-in-a-box. There could potentially be an odor from the AirWeave packing, but it will dissipate within 48 hours.
Noise
The AirWeave mattress did not make any noise when we tested it.
Sex
As a bouncy, responsive mattress, partners should find it easy to move around on the AirWeave during intercourse. This should be a good mattress for sex.
Overall Rating
Check out our rating for the AirWeave Mattress.
Company Policies
Let's look at the warranty, sleep trial, and return policy on this mattress.
Warranty Info
A new AirWeave mattress comes with a 10-year warranty.
Sleep Trial
You have plenty of time to test out the AirWeave thanks to their lengthy trial period. They have a 100-night trial.
Return Policy
The AirWeave does offer free returns. However, they ask that you try out the mattress for 30 days before returning.
How Does The AirWeave Compare To Other Mattresses?
As the official mattress of the Olympics, the AirWeave doesn't mind a little competition. Let's see how it comes to two other popular mattresses.
Compare AirWeave to other mattresses on our Mattress Comparison page.
AirWeave vs Purple
Both the AirWeave and Purple are unlike any other mattress on the market. The Purple has their unique Purple Grid. This is made of a hyper-elastic gel polymer which is firm and provides pressure relief at the same time.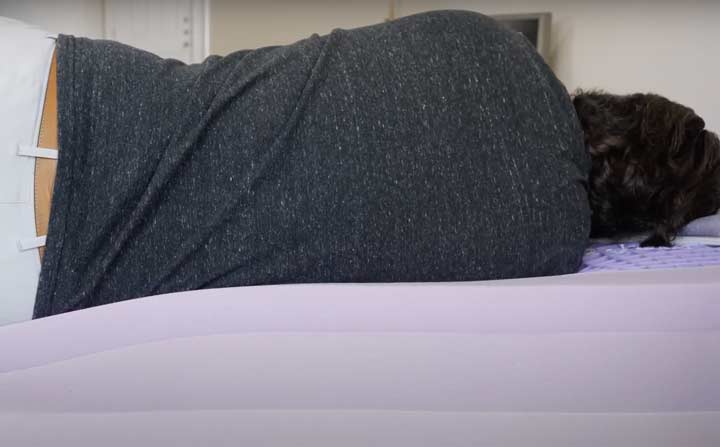 It will be slightly less firm than the AirWeave and comes in at a 6.5/10 on the firmness scale. In comparison, the firmness level of the AirWeave was an 8/10. The Purple mattress also has more of a squishy and firm feel while the AirWeave is bouncy and responsive.
Who Should Get the Purple?
Heavier side sleepers
Folks who want a medium-firm mattress
Combination sleepers
Who Should Get the AirWeave?
Back sleepers
Stomach sleepers
Those who want a firm mattress
Read our full Purple Mattress review.
AirWeave vs Plank
While the AirWeave is firm, the Plank is advertised as the firmest mattress on the market. The Brooklyn Bedding Plank is a hybrid mattress that provides firm support. Similar to the AirWeave, it has firmness options. However, it doesn't have the 3 customizable blocks or an optional comfort layer. To make the mattress firmer or softer, you flip it.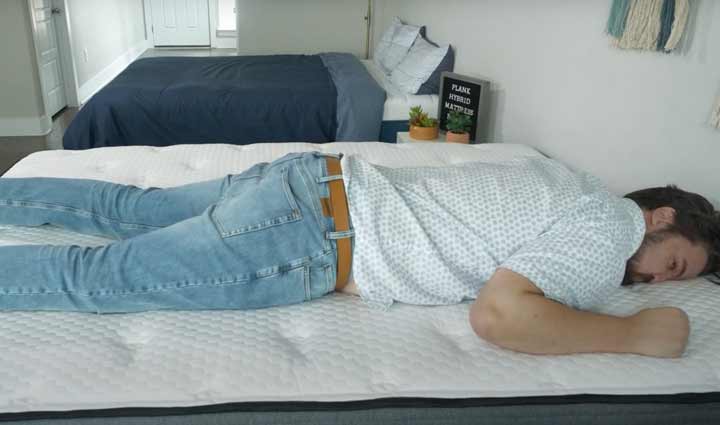 The Plank is an 8/10 on its firm side and a 9/10 on its extra firm side. It also has a bouncy feel. Because it doesn't have much give, you'll feel like you're sleeping on top of it instead of sinking in.
Who might like the Plank Mattress?
Heavier back sleepers
Heavier stomach sleepers
Those looking for the firmest mattress on the market
Who might like the AirWeave?
Average- to light-weight back sleepers
Average- to light-weight stomach sleepers
Those who want a firm mattress with an optional comfort layer to make it softer
Check out our full Plank Mattress review.
FAQs
Check out the answers to the most frequently asked questions about the AirWeave mattress.
What is AirWeave material?
The AirWeave signature material is its airfiber material. It's found in the airfiber® core of the mattress. This core makes the mattress firm and breathable. It's unique, interwoven design distributes your weight evenly as you sleep.
Is AirWeave worth it?
If you like a firm bed, the AirWeave is worth it. It's a great option for back, stomach, and hot sleepers.
Is sleeping on the AirWeave good for your back?
The AirWeave provides great lumbar support, especially for back and stomach sleepers. Most sleepers will find this mattress to be great for their back and spinal alignment.
Angela Myers
Angela is a staff writer at Mattress Clarity. She analyzes sleep products and appears in review videos. She is passionate about how a good night's sleep contributes to better physical and mental health. Angela earned her B.A. in Professional Writing and Rhetoric at Elon University. When not writing about sleep health, she can usually be found running, whether to the bookstore or to train for her next half marathon.