Sleep apnea is no joke. It robs you of good sleep and can negatively affect your health in a number of ways. I personally deal with sleep apnea, and I'm glad that I sought treatment.
I'm also glad that I invested in a pillow for my sleep apnea. The right pillow can keep you comfortable and possibly decrease your symptoms. I've put together my list of the best pillows for sleep apnea. If you struggle with sleep apnea, read on to find the right pillow for you!
The 6 Best Pillows for Sleep Apnea
How We Chose Our Products
The Mattress Clarity team has tested hundreds of pillows and mattresses. For this roundup, we focused on pillows that will accommodate Continuous Positive Airway Pressure (CPAP) machines and promote side sleeping, the best position for those with sleep apnea.
The following list is based on my own experiences with sleep apnea and the recommendations of sleep doctors and sleep specialists.
Best Pillow for Snoring and Sleep Apnea – Saatva Memory Foam Pillow
One of the main symptoms of sleep apnea is snoring. But, whether you have sleep apnea or not, side sleeping is the best position to curb snoring. That's why I'm such a fan of the Saatva Memory Foam pillow. It boasts thick, comfortable memory foam that offers the proper amount of support for side sleeping.
And, the Saatva Memory Pillow has that slow-moving feel you expect from memory foam. Lying down, you'll feel the foam slowly take the shape of your head. You'll get the support you need for side sleeping while still feeling very comfortable.
What Makes The Saatva Stand Out?
The Saatva pillow features a removable core that allows you to adjust the loft.
The pillow's memory foam is graphite-infused, making it a good cooling option.
It is available in two sizes, queen and king.
Read our full Saatva Memory Foam pillow review
Helix Wedge Pillow – Best Wedge Pillow for Sleep Apnea
Side sleeping is the ideal position for sleep apnea, but if you need to sleep on your back, a wedge pillow is the way to go. The Helix Wedge pillow is one of my personal favorites and will keep your head elevated while you sleep. Studies show that this can prevent your throat from collapsing while you sleep and decrease apnea incidents. Combined with treatment, the Helix Wedge could be an effective pillow for sleep apnea.
In addition, if acid reflux is an issue for you, the Helix Wedge pillow can help! Elevating your head can prevent acid from traveling up your esophagus, causing reflux.
What Makes The Helix Wedge Stand Out?
The Helix Wedge is made of gel memory foam, a cooling material that will keep you from overheating at night.
The pillow is designed to prevent and ease neck pain.
You can use the Helix Wedge to prop your head up while you watch TV in bed.
Full review coming soon
Lundberg CPAP Pillow – Best Pillow for Obstructive Sleep Apnea
If you are diagnosed with sleep apnea, your doctor may prescribe a CPAP machine. You will wear a CPAP mask on your face, and this can make sleeping difficult, especially when you are on your side.
This is what the Lundberg CPAP pillow is all about. It is designed with special grooves that leave room for your CPAP mask and hose. As a side sleeper with a CPAP, I can tell you how helpful this is. My CPAP mask and hose get bunched up on normal pillows, but this isn't an issue with the Lundberg.
What Makes The Lundberg Stand Out?
The Lundberg is designed to work for back, side, and stomach sleeping.
You can adjust the loft of the Lundberg pillow and get just the right amount of comfort and support.
It comes with a special cooling pillowcase.
Full review coming soon
Layla Kapok – Best Pillow For Side Sleepers With Sleep Apnea
Side sleeping is the best position for sleep apnea as it helps keep your airway open. Out of the many pillows I have tried, the Layla Kapok is one of the most comfortable. It features a blend of shredded memory foam and Kapok fibers, which are natural and breathable. Both materials help create a comfy pillow that is also supportive for side sleeping. Lying on your side, the Layla will keep your head elevated, promoting neutral spinal alignment.
Memory foam is known for sleeping hot, but this shouldn't be an issue with the Layla Kapok pillow. The cover is breathable and the Kapok fibers keep the air flowing through the pillow. You'll be side sleeping in cool comfort on the Layla Kapok.
What Makes The Layla Kapok Stand Out?
You can remove the shredded memory foam to adjust the firmness of the pillow.
Kapok is an all-natural, eco-friendly material.
The Layla Kapok pillow is available in queen size and king size.
Read our full Layla Kapok pillow review
Sutera – Best Cervical Pillow For Sleep Apnea
No matter what position you sleep in, spine alignment is so important. You want a pillow that will keep your head aligned with the rest of your body. This is where a cervical pillow like the Sutera can come in handy. With an ergonomic design, the Sutera will keep your head perfectly supported whether you sleep on your back, side, or stomach.
The Sutera is also a great value pick. If you struggle with sleep apnea, you won't have to break the bank to get the comfort and support you need.
What Makes The Sutera Stand Out?
It is a high-density memory foam pillow and shouldn't sag too quickly.
Its design makes it ideal for people dealing with neck pain issues.
The moisture-wicking cover makes the Sutera a good option for hot sleepers.
Full review coming soon
TEMPUR-Neck Pillow – Best Pillow For Neck Pain And Sleep Apnea
If you struggle with neck pain in addition to your sleep apnea, you want a pillow that will ease and prevent this pain. That's why I like the TEMPUR-Neck pillow. It features an ergonomic design that will soothe your neck pain while you are side sleeping. You'll be able to lie in the right position for sleep apnea without being in pain.
It is also made of high-density TEMPUR material that is comfortable but also supportive enough for both back and side sleepers.
What Makes The TEMPUR-Neck Stand Out?
The TEMPUR-Neck comes in three different sizes and lofts, allowing you to find the perfect fit for you.
The pillow is very durable and should be a good long-term investment.
The cover is removable for easy cleaning and care.
Read our full TEMPUR-Neck pillow review
What Is Sleep Apnea?
Sleep apnea is a condition in which you stop breathing while you sleep. In the most common cases, the throat collapses, causing you to wake up to begin breathing again. You don't always wake up completely, so you may not know you have sleep apnea at first.
However, if you sleep with a partner, they will probably complain about your snoring at night and even choking while you sleep. This is one of the major symptoms of sleep apnea. If you sleep alone, look out for symptoms such as morning headaches, fatigue, and sore throat.
There are a few types of sleep apnea. Obstructive Sleep Apnea (OSA) is one of the most common. With OSA, your throat relaxes, collapses, and stops your breathing. Central Sleep Apnea occurs because your brain isn't sending the correct signals to regulate your breathing. And, Complex Sleep Apnea is a combination of Obstructive and Central Sleep Apnea.
If you think you may have sleep apnea, don't wait to get checked by your doctor. Sleep apnea can increase your risk of heart disease, Alzheimer's, and other negative health outcomes.
Best Pillow Type For Sleep Apnea
There are a few types of pillows that can help with your sleep apnea. Again, pillows are not a substitute for proper sleep apnea treatment. However, they can make you more comfortable and ease your symptoms.
First off, as side sleeping is the best position for those with sleep apnea, find a pillow that works for this position. Side sleepers require more support under their heads to keep their spines in neutral alignment. A thicker pillow that supports and cradles your head is a great option for side sleeping.
If you have to sleep on your back for any reason, consider a wedge pillow. A wedge pillow will elevate your head and can prevent your throat from collapsing so much while you are sleeping. A wedge pillow can also help with neck pain!
Your doctor also might have prescribed a CPAP machine. This provides more air pressure when you inhale, preventing your throat from collapsing. They are very effective, but the masks can be cumbersome and make side sleeping difficult. Thankfully, there are special CPAP pillows. These pillows will let you sleep on your side without the mask and hose bunching up.
Best Sleeping Position For Sleep Apnea
Doctors recommend sleeping on your side if you have sleep apnea. This will help keep your airway from collapsing while you are sleeping. You can also sleep on your stomach, but this can lead to back pain issues.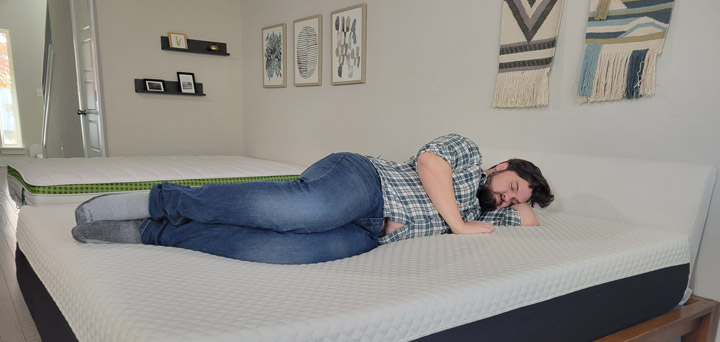 Unless you have to for other medical reasons, you should not sleep on your back if you have sleep apnea. This can exacerbate sleep apnea issues and cause your throat to collapse more while you sleep. If you must sleep on your back, keep your head elevated with a wedge pillow.
How To Get Better Rest With Sleep Apnea
To get better rest with sleep apnea, first off, seek treatment! Sleep apnea is not a condition you can handle on your own, and it should be taken seriously.
That being said, according to the Mayo Clinic, there are ways to make yourself more comfortable and ease sleep apnea symptoms. You can begin by making lifestyle changes. For instance, quitting smoking and cutting back on drinking close to bed can lessen apnea symptoms. Losing weight and exercising can also help.
Beyond that, make sure that you have a mattress and pillow that are fit for side sleeping. Your mattress should provide good pressure relief for your shoulders and hips, and your pillow should support your head.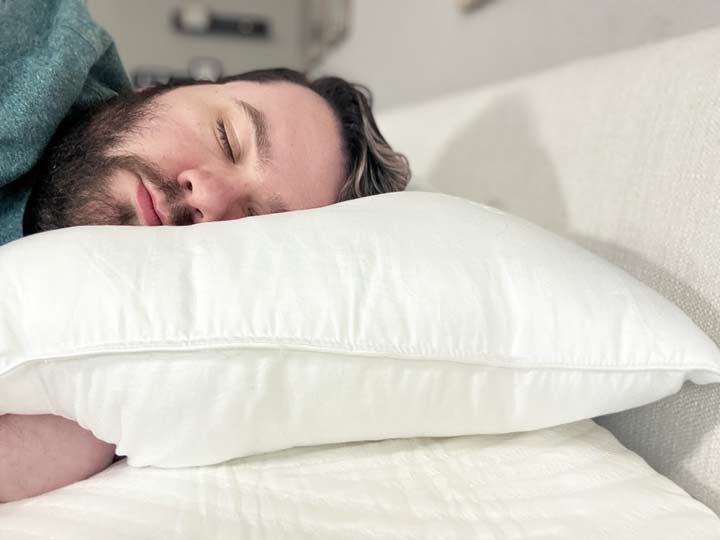 You shouldn't sleep on your back unless you absolutely need to. If so, invest in a wedge pillow or adjustable base to keep your head elevated while you sleep. This can ease mild apnea.
Summary
Again, here are our top picks for the best pillows for sleep apneea.
FAQs
How many pillows should I use for sleep apnea?
Side sleeping is best for sleep apnea, and you'll only need one supportive pillow for this position. If you have to sleep on your back, you can use one wedge pillow or two pillows to elevate your head and keep your airway open.
How high should a wedge pillow be for sleep apnea?
Most experts recommend a wedge pillow should be between eight and 10 inches high for proper elevation.
Does sleeping upright help with sleep apnea?
Studies have shown that sleeping upright can reduce sleep apnea symptoms. It can also prevent your throat from collapsing so much during the night.
Does sleeping on your side help with sleep apnea?
Yes, side sleeping can help with sleep apnea. It can keep your airway open, preventing apnea incidents.
Can you have sleep apnea without snoring?
Even if you don't snore, you may still have sleep apnea. You could still suffer from daytime symptoms such as fatigue and headaches.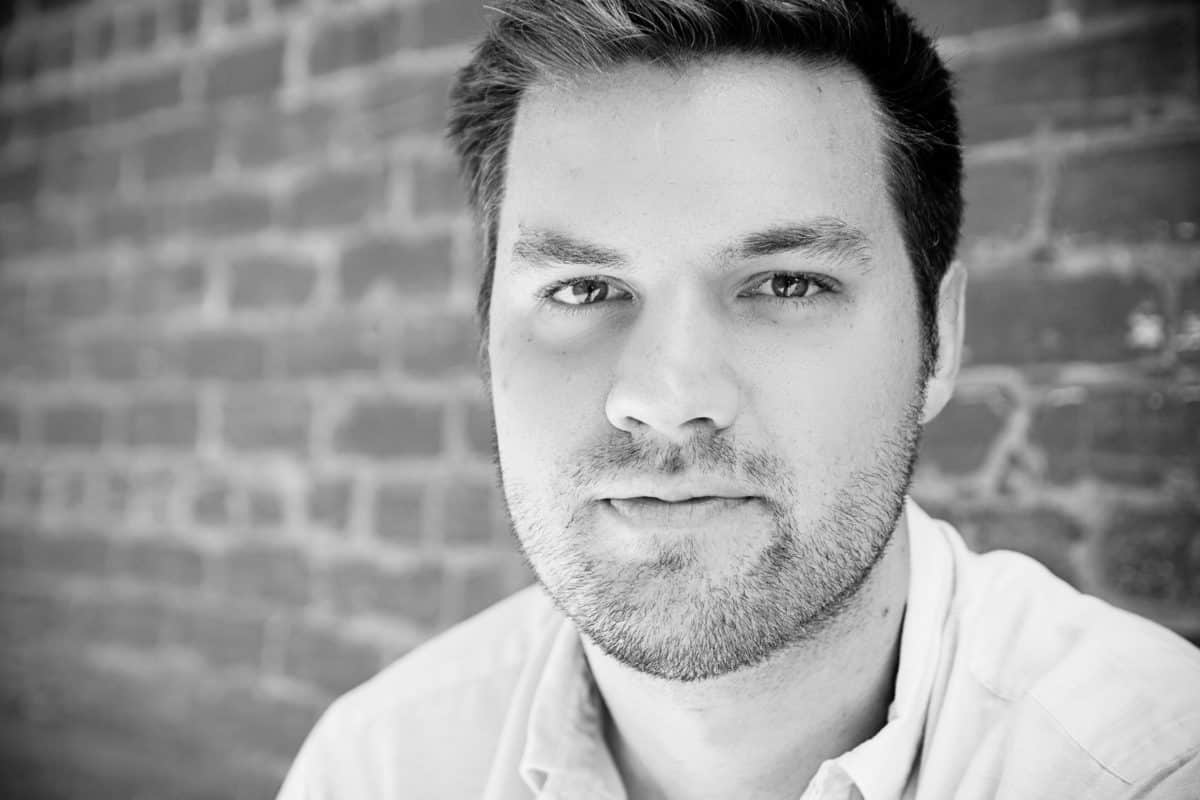 Marten Carlson
Marten is the Lead Reviewer at Mattress Clarity. He is a Certified Sleep Science Coach and covers the mattress industry as well as sleep science news. He is specifically interested in the connection between sleep and overall health. Marten has written for media publications like Consequence of Sound and received a master's degree in Film Studies from Emory University. He comes from Franklin, Indiana, and spends all the time he can writing, directing, and acting in films.