If you're looking for luxury, you can't go wrong with a higher-end Sleep Number model of Saatva's Loom & Leaf mattress. Both offer good quality construction and comfort (and neither comes compressed in a box). To help you figure out which deal may be best for you, we've put their details side by side.
What They're All About
Sleep Number:
Sleep Number may be best known for its adjustable air beds, which allow people to change the firmness and support of the bed to meet their needs via a remote.
There are four different types/series of beds, starting with the Classic Series and ending with the 360 Smart Beds. There are numerous models that offer different comfort options within each series.
The beds tend to be popular with couples because they can be made with dual air chambers, so each person can adjust to their preferred setting without compromising. See our best mattresses for couples for more like Sleep Number.
Prices range depending on the series and model of each bed. The most basic model (c-2) retails for $899 for a Queen while the i-10 360 SmartBed will run consumers $4,999 for a Queen.
Sleep Number mattresses come with a 100-night sleep trial (read the fine print for exclusions).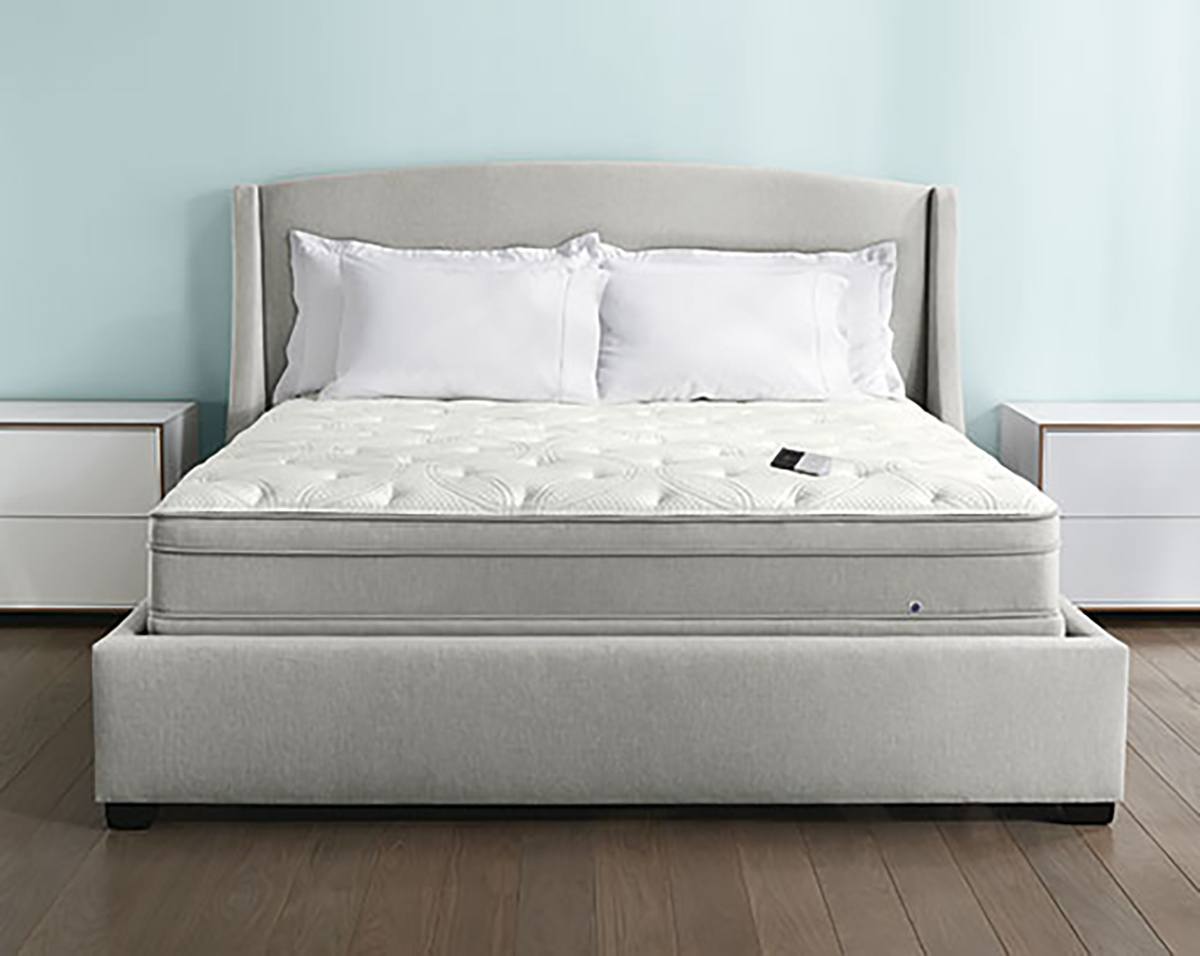 Sleep Number's popular p-5 model (see a full review of the p-5 mattress)
Loom & Leaf:
Loom & Leaf is a 12" pure memory foam mattress from the Saatva company. The foam layers are all bio-based and the bed has a true "memory foam" feel with a slower response time.
The mattress comes with Relaxed Firm and Firm options, we reviewed the flagship Relaxed Firm option which has a medium firmness level that will most likely work for the average sleeper.
Mattress comes in standard sizes, from Twin and Twin XL to California King. Unlink many online retailers, the mattresses do not come shipped to the shopper's door compressed in a box. Instead, home delivery and set up in provided.
The beds are made in the USA and feature a 120-night trial.
Loom & Leaf beds are slightly more expensive than some online-only mattress retailers. A Queen retails for $1,299. Based on our experience this is still a good value as the foams and materials used in the construction of the bed are high quality and durable.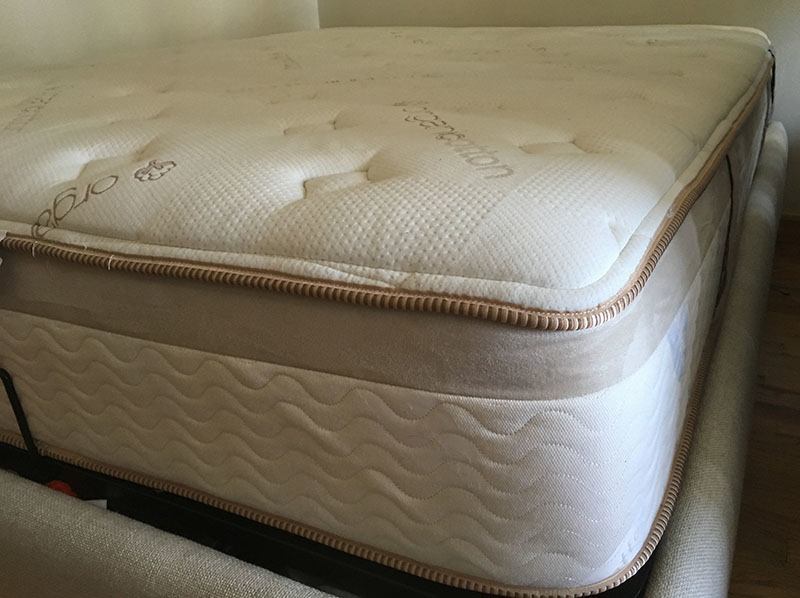 Construction Differences
Sleep Number:
Sleep Number offers several models organized into four categories: Classic Series, Performance Series, Innovation Series and 360 Smart Beds.
The air chamber/dual air chamber option with adjustable settings and the personalized Sleep Number will be incorporated into all beds and make up the base of the Sleep Number bed.
Each series essentially builds from the other. The Classic Series beds, the c-2, c-4 and cse, offer the most standard options with minimal layers between the air chamber(s) and the mattress top.
The Innovation Series and 360 Smart Beds will have the largest, thickest layers and most added features. Some of the additional features that come with the higher-end models like those in the Innovation Series and 360 Smart Bed series include:
Additional comfort layers (Plush Fit, Exclusive Fit and Dual Gel Memory Foam)
Temperature balancing sleep surface
5-7 zones of contouring support
SleepIQ Technology includedBeds that automatically and effortlessly adjusts to the sleeper (Smart Beds)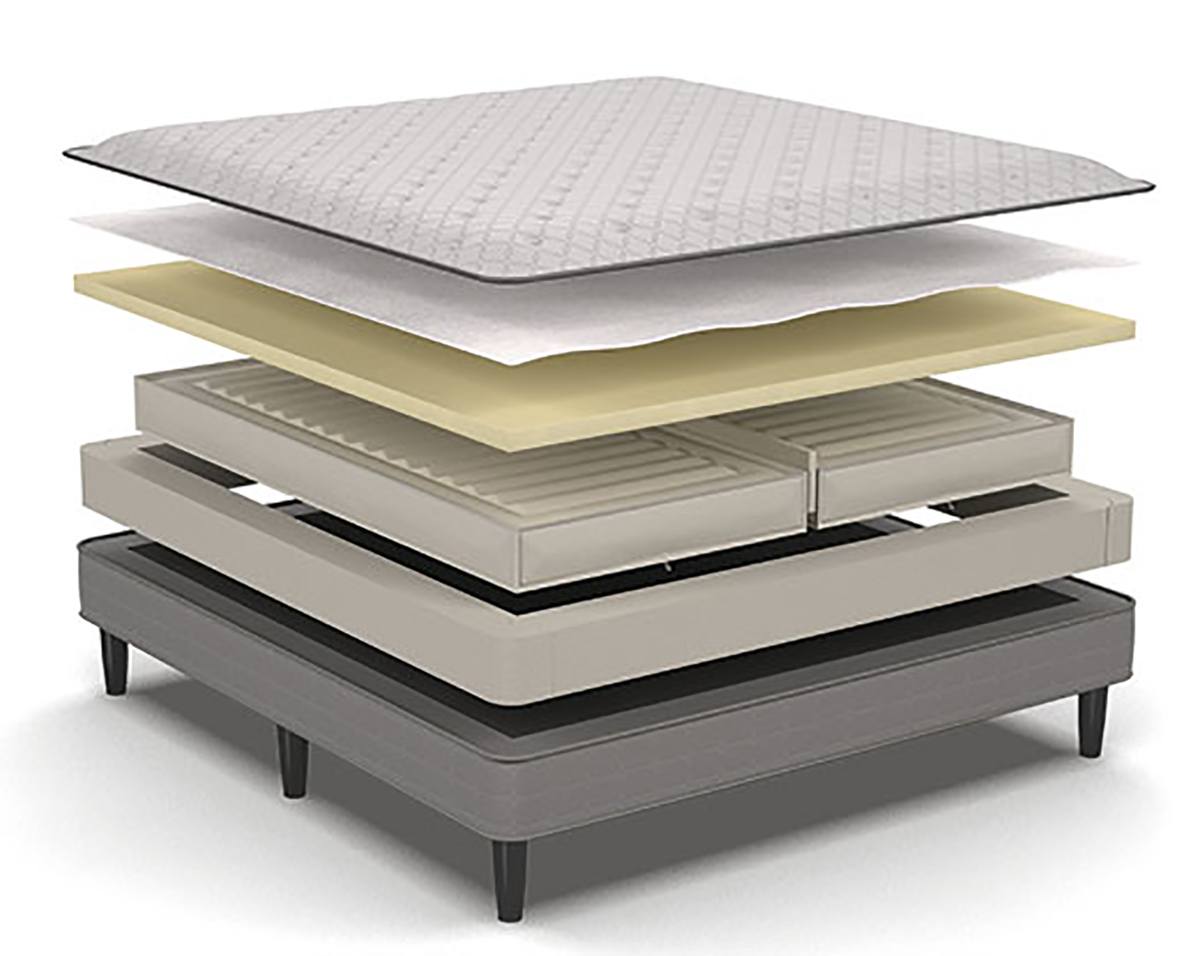 Sleep Number c-2 model
To see a breakdown of the most basic Sleep Number bed, the c-2, click here.
Loom & Leaf
Loom & Leaf is a plant-based memory foam mattress. It comes in two different firmness levels: Relaxed Firm (Flagship) and Firm. We reviewed the Relaxed Firm option.
All mattresses are 12" in height. Here is the breakdown of the layers:
Quilted organic cotton cover:m– The cover is made with organic cotton covering and natural thistle flame retardant (⅝" ) keep people comfortable, cool and safe.
Cooling spinal gel: 2.5" – What is spinal gel? Loom & Leaf says, "our proprietary Spinal Zone Gel layer is created with cooling gel so people stay cool with optimal spinal support."
Eco-friendly foam: 2.5" – This foam is plant-based and made in America, with no off-gassing. The density is 5 pounds per cubic foot which makes it extremely durable and high-quality.
Dual layer of breathable support: 5.5" and 2" respectively. The support layers are high-density support foam and a transitional loft pad.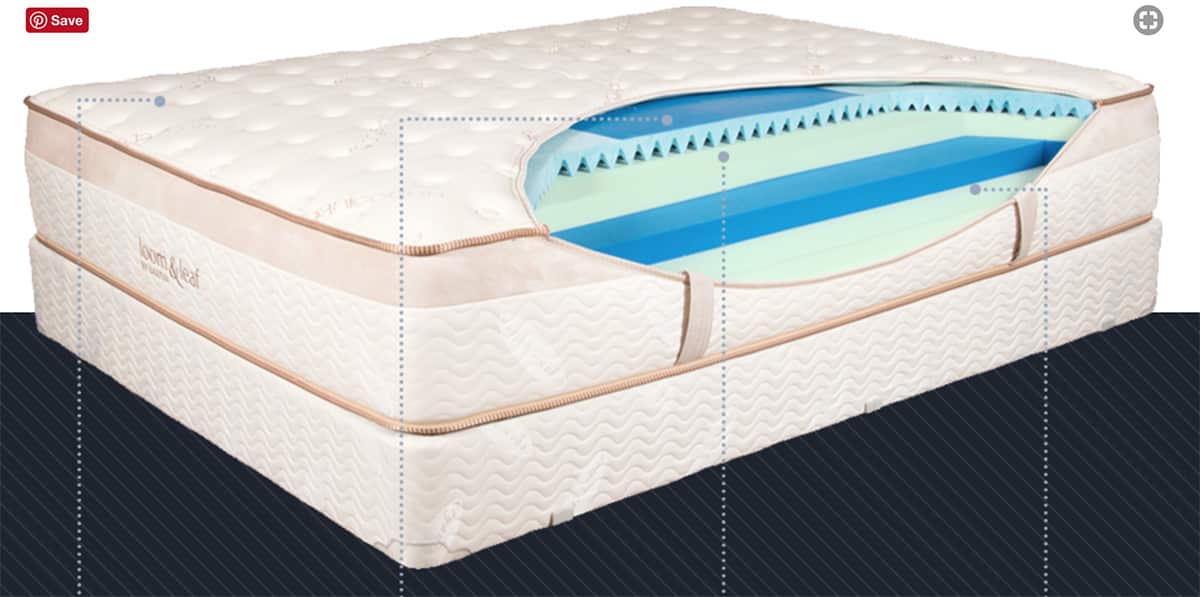 Loom & Leaf mattress construction – loomandleaf.com
You Will Love Sleep Number If…
You want a firm mattress one day and a plush one the next.
All Sleep Number beds come with their Dual Adjustability feature. It allows people to adjust firmness, comfort, and support on each side of the bed to their individual Sleep Number setting. If someone doesn't like their current setting, it's easy to change the comfort level with the remote that comes with the bed.
You've got money to spend on a luxurious bed.
Sleep Number beds really run the full scope of basic to luxurious. The most basic Sleep Number bed starts at $899 for a Queen and can go much higher with their 360 Smart Bed series. Sleep Number also has other accessories, like FlexFit Adjustable Bases or sheets, that people can buy to complement their mattress. If someone has the means, they can go all out on both the air bed and on their adjustable bases and other extras.
You want to try it in person.
Sleep Number has been around for a long time and has showrooms across the country where people can go and test out different mattresses. They'll even walk people through finding their personal Sleep Number and make suggestions on the type of mattress that could work for them.
You Will Love Loom & Leaf If…
You Like The Feel Of Memory Foam
If someone likes the feeling of slowly sinking into their mattress and having it envelop them, they will be right at home with the Loom and Leaf.  It really does have a classic memory foam feel.
You Are Looking For A Great Comfort/Support Trade-off.
The high-density memory foam conforms nicely to the body and supports proper spinal alignment, upholding the known standard for high-quality memory foam. This is great for relieving and/or preventing back pain. At the same time, the mattress is quite comfortable and we think people will find it's a very cozy sleeping experience.
You Sleep With A Partner.
The high-density memory foam is great for motion isolation. That means when someone's partner moves around, they generally won't feel it, giving them a better night's sleep overall.
Firmness Comparison
Sleep Number:
One reason why people tend to like Sleep Number beds is that they can adjust the firmness and support of their mattress (or their side of the mattress) at any given time using a remote that comes with the bed.
Someone's Sleep Number number (also called their Sleep Number setting) corresponds to their ideal firmness and support. Numbers range from 0 to 100 and the higher someone's number, the more air/firmer their Sleep Number bed will be.
Sleep Numbers are personal to you and can change when your sleep needs change. The model you choose will also affect your firmness and support. Picking a model with plush layers between the mattress top and the air chamber will feel different than a more standard model.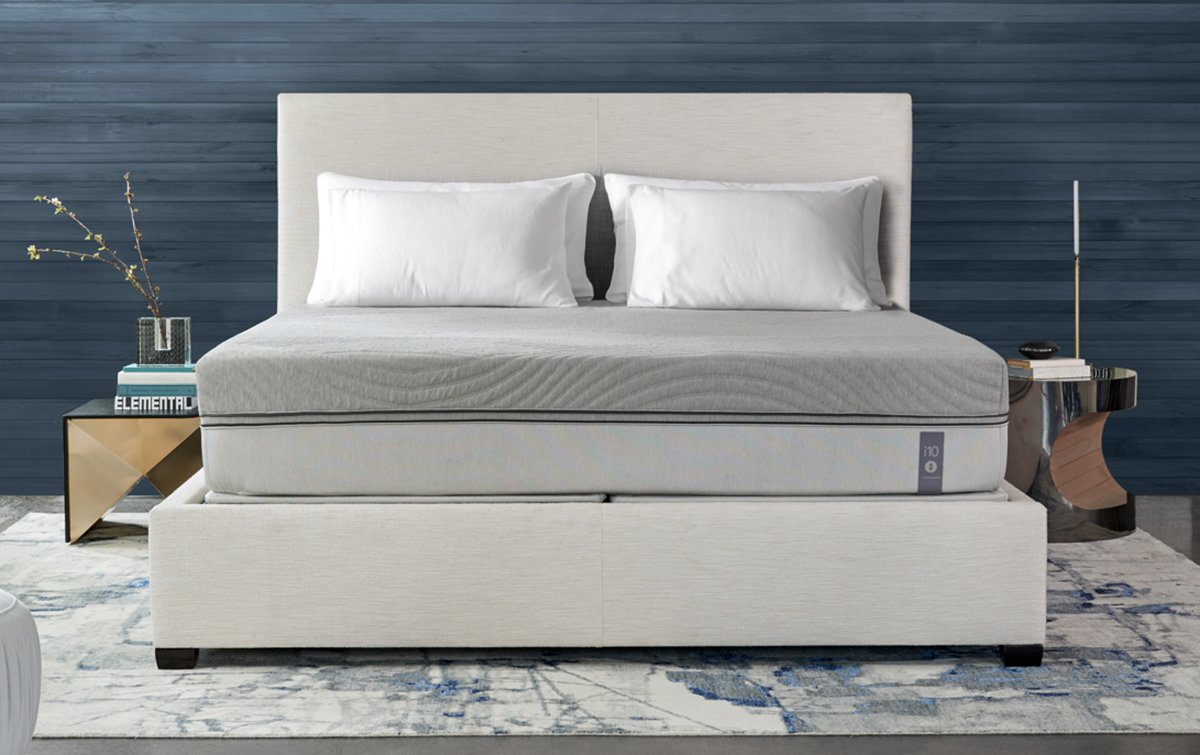 Sleep Number i-10 360 Smart Bed
Loom & Leaf:
We reviewed the Relaxed Firm option on the Loom & Leaf mattress, this is geared towards the average sleeper and is not "too firm" or "too soft."
You can see from the video below that it does have a true memory foam feel and while you won't sink into the bed like quicksand, the memory foam can be slow to respond.
See more details in our video below:

Bottom Line
For those who prioritize getting their comfort and support level just right, Sleep Number beds may be the best fit for you because their air chambers allow you to adjust the support level. They also have a huge range of models to choose from.
Meanwhile, Loom & Leaf offers high-quality memory foam and medium firmness comfort at a decent price. It will come delivered to your door and set up for you as well – no unboxing and unraveling by yourself.
Sleep Number has a 100-night trial and Loom & Leaf offers 120 nights so you can test either out (read the fine print for each brand, of course).
Don't stop here! Before making a final decision, make sure to check out our mattress comparison page for other Sleep Number and Loom & Leaf comparisons like Sleep Number vs Amerisleep and Loom & Leaf vs Nectar.
Katie Golde
Katie manages the day to day operations of the Mattress Clarity news site and reviews sleep products in addition to writing and editing sleep news. She hails from Austin, where she lives with her growing family. She is a Certified Sleep Science Coach and has a master's degree in Journalism from Northwestern University and has a background in health and science content. Her work can be found in print and online publications like Discover Magazine, USA Today and The Huffington Post.