Since 2014, Casper has been at the forefront of the bed-in-a-box revolution. They've released some of the most popular and well-reviewed mattresses on the market.
I have been a fan of Casper's other mattresses, and when I discovered that the company would be releasing the Casper Wave Hybrid, I was very excited to try it out.
As a larger person, finding a mattress to give me enough support is sometimes difficult. The Casper Wave Hybrid contains coils instead of support foam, so I was hoping it would meet my support and comfort needs.
This review will cover everything consumers need to know about this mattress, including a full breakdown of the construction, the pros and cons, firmness and feel, breathability, durability, comfort, support, motion isolation, edge support, and much more.
10% Off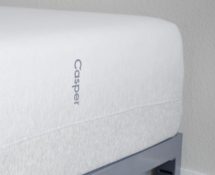 The Casper Wave Hybrid is a comfortable option for hot sleepers and many side sleepers. You can get 10% off the Wave mattress simply by clicking the link below.
Who Might Want To Pick The Wave Hybrid…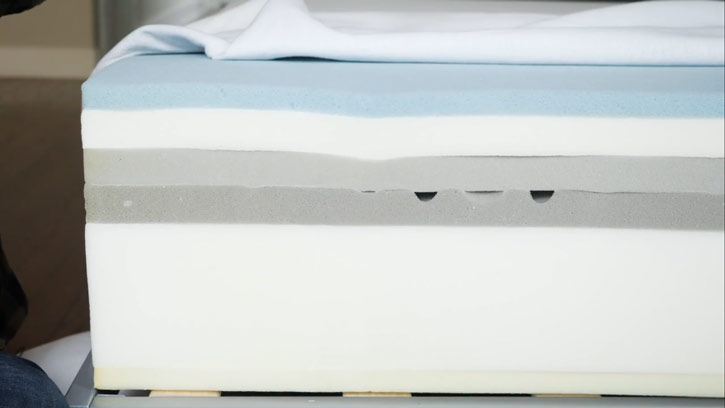 Who Might Not Want To Pick The Wave Hybrid…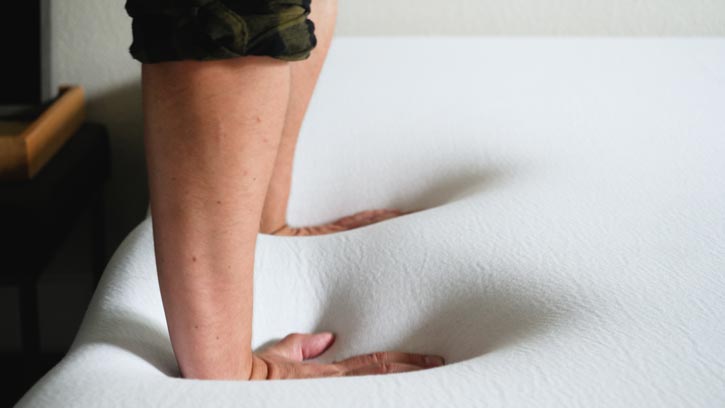 Construction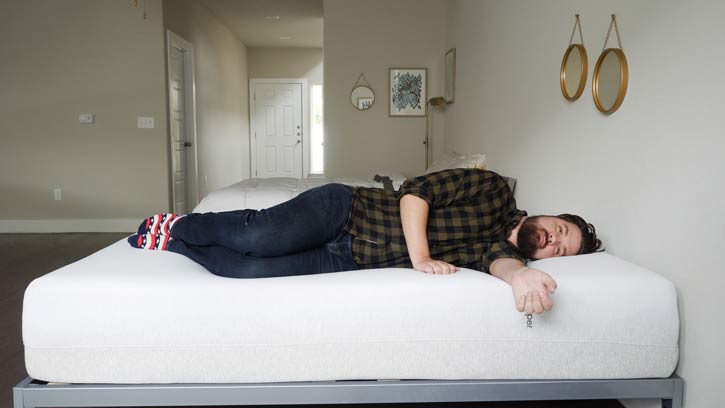 Construction Takeaways
10% Off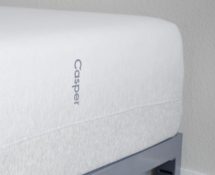 The Casper Wave Hybrid is a comfortable option for hot sleepers and many side sleepers. You can get 10% off the Wave mattress simply by clicking the link below.
How Does This Mattress Compare To The Casper Wave?
If someone is considering the Casper Wave Hybrid, they might want to know how it compares to the Casper Wave mattress.
In terms of the design, there is one major difference, namely that the Casper Wave contains support foam in its base layer, while the Casper Wave Hybrid contains pocketed coils. This improves the Wave Hybrid in a few ways:
That being said, the Wave Hybrid is going to cost more than the Wave (about $400 more for a Queen-size mattress). People  just need to consider if the extra cost is worth it to them.
Firmness And Feel
In terms of firmness, the Casper Wave Hybrid feels like a 6.5/10, right about average. There is a very soft comfort layer, then people will hit the transition layer and coils beneath that.
Because of the zoned construction, the mattress might feel firmer or softer depending on one's sleeping position. It might feel firmer when people are on their back or stomach and softer when they are on their side.

In addition, the firmness will vary depending on one's weight. For instance, if someone is lighter, they might not press in too far, and the mattress will feel softer to them. As people can see in the graphic above, Joe and I assessed the mattress's firmness in slightly different ways.
In my experience, here is how the mattress felt in different sleeping positions:
The mattress has a soft yet bouncy feel, because the top layers are very responsive, and the coils add some serious bounce. People get a somewhat balanced foam feel on top and then bouncy coils beneath that. Again, the zoned construction does make the mattress feel firmer or softer depending on one's sleeping position.
Motion Transfer
If someone sleeps with a partner, they want to know how well their mattress handles motion transfer. If their partner moves around, are they going to feel that motion or not?
To test out the motion isolation of the Casper Wave Hybrid, I first placed a glass of water on the mattress. I pressed into other areas of the mattress, and the glass was barely disturbed.
Also, I laid down on one side of the mattress and asked Joe to move around on the other side, and I did not feel many of his movements.
Overall, the Wave Hybrid should be a good option for couples who don't want to be disturbed by their partner's movements.
Edge Support
If someone sleeps with a partner, they will also want to think about how much of the mattress they can really utilize. Can they sit or lie down near the edge of the mattress, or will they feel like they are going to fall off?
While sitting down near the edge, the mattress collapses quite a bit. Even with the foam encasement, I don't feel very secure while sitting. Also, when I lie down near the edge, I feel somewhat like I might roll off the mattress.
Overall, the Wave Hybrid doesn't feature the best edge support.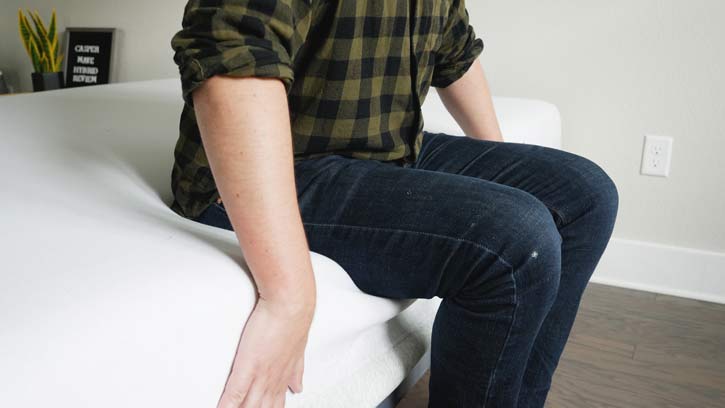 Joe's Take
Joe has a much different body type than me: I am 6'7″ and weigh about 230 lb; he is 5'9″ and 160 lb. Here is what he thought about the mattress and how appropriate it is for heavier sleepers:
As far as firmness is concerned, Marten put it at a 6.5/10, and I put it at a 5.5/10. I don't press as far in as Marten did and feel the firmer layers underneath, so I feel more of that softness on top.
On my back, the mattress is pretty supportive. It is pretty soft, so maybe you want something a bit firmer, but it is pretty supportive, however.
Moving to my side, I feel very nice pressure relief and believe it is an excellent match.
On my stomach, I need something a bit firmer and more supportive most likely.
If you are a light- or medium-weight sleeper, it should work on your back or side. However, you should look for something firmer if you sleep mainly on your stomach.
I am not surprised that Joe found the mattress to be softer than I did. He isn't pressing so far into the mattress, so he is mostly feeling that very soft comfort area. Again, light- and medium-weight sleepers are going to have a different experience on the Wave Hybrid than I did.
Unboxing This Mattress
The Casper Wave Hybrid is a bed-in-a-box mattress, which means it will come compressed and shipped straight to you.
You will want to begin by removing the rolled up Casper Wave Hybrid mattress from its box. Then, preferably with another person's assistance, position the roll on your bed.
Carefully cut away the first layers of plastic until the still-compact mattress can be laid down flat. Then, pierce through the final layer of plastic and the Casper Wave Hybrid will expand.
Simply clear away the excess plastic and allow your mattress to breathe and fully expand.
What Makes The Wave Hybrid Stand Out?
Overall
In the end, the Casper Wave Hybrid is a comfortable option for those who are seeking a long-term investment. However, stomach sleepers who want a more affordable mattress might not find it to be the best match.
The Wave Hybrid comes with a 100-night sleep trial, 10-year warranty, free home setup, and free shipping and returns. Financing is also available.  Consumers should take a look through this review multiple times, assess their own needs and preferences, and then make a more informed decision.
The following two tabs change content below.
Marten Carlson
Marten is a staff writer for Mattress Clarity News. He covers the mattress industry as well as sleep science news. He is specifically interested in the connection between sleep and overall health.Marten has written for media publications like Consequence of Sound and received a master's degree in Film Studies from Emory University.He comes from Franklin, Indiana, and spends all the time he can writing, directing, and acting in films. He has directed genre short films and features. His newest film, Starlets, recently premiered at the River Town Film Festival in Clinton, NJ. He also stars in the upcoming thriller, Sour Bear. His next film, At The Hop, is a hot rod actioner with a horror twist.
Latest posts by Marten Carlson (see all)