Most of us aren't made of money. We have plenty of essentials – things such as rent, gas, and food – that we need to spend our hard-earned cash on. That means when it's time to buy a mattress, there isn't too much left in the piggy bank.
Now, a mattress is just as important as rent, gas, or food. We spend a third of our lives in bed, so a supportive and comfortable mattress is a real necessity!
While there is no one right mattress for everyone, I've put together a list of my favorite mattresses that cost less than $500, and they are all high-quality models that won't bleed the customer dry. If you're looking for one of the best budget mattresses, you're in the right spot. These are some of the cheapest options out there that still offer great quality.
For those who can afford a super expensive mattress, congratulations, I'm happy for you (truly). For everyone else, read on to find a great affordable mattress!
Our Top Picks
The best mattresses under $500 are:
As I mentioned earlier, there is no one right mattress for everyone and finding the right mattress really depends on the customer's weight, sleeping positions, and feel preferences.
With that in mind, I chose these five mattresses because they should be a good fit for many different types of sleepers. Don't stop reading now, we've got some great mattresses to check out that should be a great fit for the right type of sleeper.
Best for Back Pain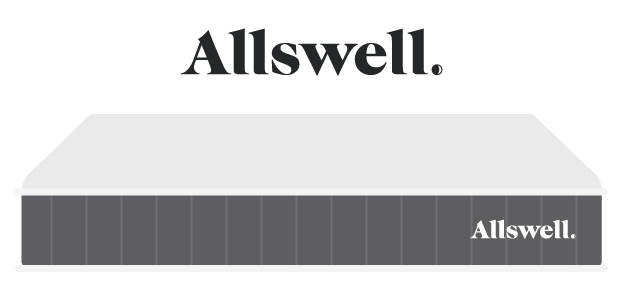 Allswell
When we think of stores that offer great deals, I'm sure most of us think of Walmart. The big-box store is so, well, big that they can sell quality products with a much lower profit margin.
In the last few years, Walmart jumped in the bed-in-a-box game with its line of Allswell mattresses, and the company offers the Allswell, Allswell Luxe, and Allswell Supreme. The original Allswell mattress is their most affordable mattress, and it is available for under $400.
The Allswell mattress contains supportive coils and then a thin foam comfort layer above that. On our firmness scale, the Allswell was close to a 7.5/10, making it one of the firmest mattresses on this list. Its design makes it an ideal choice for stomach sleepers and back sleepers who want some extra support, or sleepers who suffer from back pain and can benefit from a firmer mattress that supports spine alignment.
Considering its quality components, coils and premium foams, I would expect the Allswell to cost much more. It really is a supportive, quality mattress sold for a value price, so it's an awesome mattress overall.
What Makes The Allswell Mattress Stand Out?
The Allswell is a very supportive mattress because of its coils and thin comfort layer.
The Allswell is a particularly good fit for fans of firmer mattresses and those who have back pain.
Back sleepers and stomach sleepers should get the support they need and the appropriate firmness.
It is a significantly responsive mattress, so sleepers shouldn't get the feeling of getting stuck.
The full breakdown and Allswell mattress review is available here.
20% Off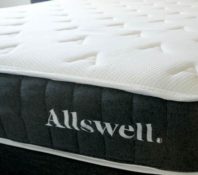 The Allswell is a supportive mattress that should be a great fit for back and stomach sleepers, and it is also a very good value. Click the button and use code GOBBLE20 to save 20%. 
Best Memory Foam Under $500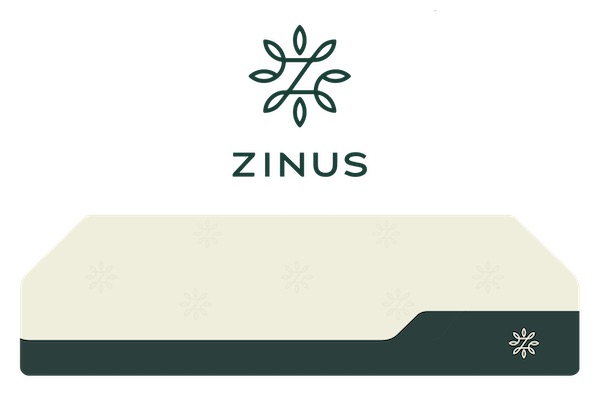 Zinus
As a company, Zinus is all about options and, just scanning their website or Amazon, they seem to have countless mattress models available. They have 8″, 10″, 12″, and 14″ memory foam mattresses as well as hybrid options as well.
As a side sleeper and hot sleeper, I opted to review their 12″ Cooling Gel memory foam mattress, and I was not disappointed. Lying on my side, the thick memory foam comfort layer relieved almost all the pressure on my shoulders and hips. We also tested the mattress using a pressure map, and it performed quite well. Watch our individual video review of the Zinus to see how well it relieved the pressure!
Also, with its gel infusion, the Zinus does not sleep too hot. Memory foam can be known to trap heat and make sleepers wake up sweaty in the middle of the night, but I did not have that experience on the Zinus.
For those back and stomach sleepers, the Zinus 8″ or 10″ models should be a better fit. As I said, Zinus has so many mattresses to choose from, it's not too hard to find the right fit for the right price!
What Makes The Zinus Mattress Stand Out?
The 12″ model is a great option for side sleepers as it provides fantastic pressure relief.
The company also offers 8″ and 10″ models for those back and stomach sleepers out there.
The Zinus should be a good fit for hot sleepers because it contains a cooling gel and other cooling qualities.
The full breakdown and Zinus mattress review is available here.
Zinus Deals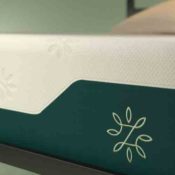 Zinus has a wide selection of mattresses that are really great values: customers can get the best current deal on Zinus mattresses simply by clicking the link below.
Best Twin Size Under $500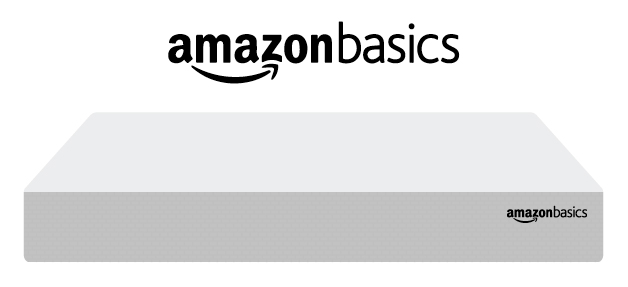 AmazonBasics
Similar to Walmart, Amazon is known for its great deals. Jeff Bezos just bent over to tie his shoes and made more money than I did in the last three years, so let's just say their profit margins are extremely small.
While there are hundreds of mattresses available on Amazon, the site now offers their own mattress, the AmazonBasics. The AmazonBasics is a memory foam mattress that comes in 8″, 10″, and 12," and they also offer a gel memory foam version for hot sleepers.
Again, I am a side sleeper, so I reviewed the 12″ model, which has the thickest comfort layer and is softer-than-average, about 6/10 on our firmness scale. Lying down on the AmazonBasics, I feel very little pressure on my shoulders and hips.
The AmazonBasics is a pretty simple mattress and contains a memory foam layer, transition layer, and two base layers. It is also a very affordable mattress and costs less than $300 for the 12″ model. If you're looking for a twin-size mattress on a budget for your kid or teenager, the AmazonBasics mattress is a great choice.
What Makes The AmazonBasics Mattress Stand Out?
It is a very affordable mattress from Amazon that is priced very competitively.
The company offers models with different thicknesses, so people should find one of the models to be a good fit no matter what their preferred sleeping positions are.
The 12″ model is a good fit for side sleepers and provides exceptional pressure relief.
The mattress should be work well for a child or teenager's room.
The full breakdown and AmazonBasics mattress review is available here.
AmazonBasics Deals
AmazonBasics Memory Foam Mattress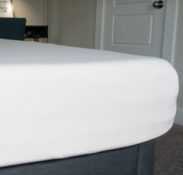 AmazonBasics Memory Foam Mattress
The AmazonBasics memory foam mattress should be an affordable option for lightweight sleepers and side sleepers. Click the button for the best deal on AmazonBasics. 
Best Innerspring Hybrid Mattress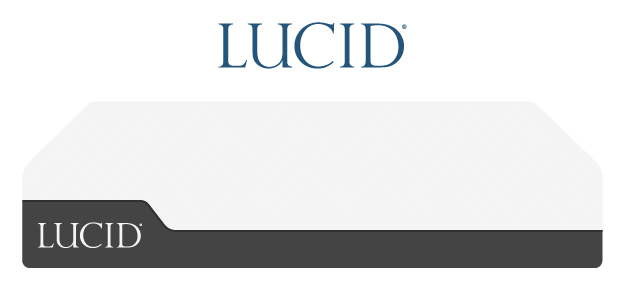 Lucid
Like Zinus, Lucid offers quite a few mattress options. Customers can choose from a large number of models with varying thicknesses and designs, but I received the Lucid 10″ Memory Foam Hybrid to review.
The Lucid contains two layers of memory foam as well as innerspring coils. When I lie on my side on the Lucid, that memory foam really melts the pressure away, so it's a great mattress for side sleepers. Also, when I move to my back, the coils offer me the support I need while the memory foam contours to the curves of the body.
In the end, this mattress has all the benefits of memory foam without the drawbacks. The memory foam is also infused with charcoal, a material known for helping with heat dissipation. Combining that with the airflow-promoting coils, the mattress should sleep quite cool throughout the night.
Also, with the coils, sleepers shouldn't sink in so far that they get stuck. This is a major complaint regarding memory foam mattresses, but it is generally very easy to move around on the Lucid.
What Makes The Lucid Mattress Stand Out?
The company offers many types of mattresses, so most types of sleepers should find what they need.
The 10″ model should be a great option for the majority of back sleepers and side sleepers.
The gel infusion should make the Lucid a cooler-sleeping and breathable mattress.
It should be easy to move around on the mattress, even though it contains soft memory foam.
The full breakdown and Lucid mattress review is available here.
Lucid Hybrid Mattress Deals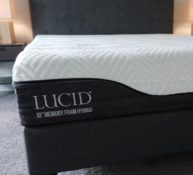 The Lucid Hybrid mattress is a great value and features a balance of comfort and support, so click the button for the best deal on a Lucid. 
Best Queen Mattress Under $500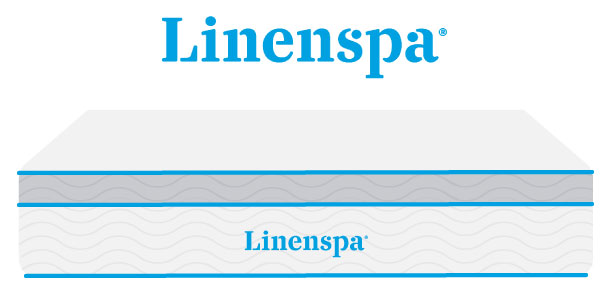 Linenspa
Like some of these other companies, Linenspa has quite a few mattress models to choose from. They offer innerspring, memory foam, hybrid, and latex mattresses with varying thicknesses, but I reviewed their 8″ memory foam hybrid mattress.
This model should be a great match for stomach sleepers and lightweight sleepers. It is a thinner mattress, so heavy people might have to worry about bottoming out and feeling too much pressure. 
For those back sleepers and stomach sleepers who need a bit more support, Linenspa offers a 10″ version of the memory foam hybrid. Also, the 12″ model they offer should be a better fit for side sleepers.
Whatever models customers choose, it will be very affordable. The 8″ model I reviewed is only $189 for a Queen-size! So, lightweight sleepers can save some serious money by choosing the Linenspa 8″ memory foam hybrid.
What Makes The Linenspa Mattress Stand Out?
The Linenspa mattresses come in many shapes and sizes, meaning any type of sleeper should find an appropriate fit from one of the models.
The 8″ memory foam hybrid is very affordable and costs less than $200 for a Queen-size.
The 8″ model should work for lightweight sleepers and some stomach sleepers.
This model should be a good fit for children and teens overall.
The full breakdown Linenspa review is available here.
Linenspa Hybrid Mattress Deals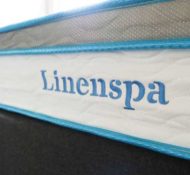 The Linenspa Memory Foam Hybrid is a comfortable and supportive value mattress. Click the button for the best deal on a Linenspa. 
Marten's Take
Money and budget are, of course, things to keep in mind when shopping for a mattress. At the same time, people shouldn't forget about their own size and weight. We need to make sure that, even though a mattress is affordable, it is supportive and comfortable enough for someone of my weight.
That is why I asked Marten, a larger member of them team, to try these mattresses out for himself. I weigh 160 lbs and he weighs 230 lbs, so he can give us the opinion of a heavier sleeper.
So, Joe made this list of the best mattresses under $500. Besides hitting my head on everything (I'm also 6'7"), a big issue I have is finding an affordable mattress that is supportive and comfortable enough for someone of my size.
That being said, out of these five mattresses, three are going to be a decent match for larger people like me.
For instance, the Zinus is a decent match for me when I am side sleeping, because I sink into that soft memory foam and don't feel an extreme amount of pressure on the shoulders and hips. I will note that people who are larger than me, over 250 lbs, might press in further and feel some more pressure on the shoulders and hips.
The Lucid memory foam mattress is a good match when I am back sleeping and side sleeping. Back sleeping, I am getting enough support, and my hips sink in just the right amount, and when side sleeping, I am feeling little pressure on the shoulders and hips.
I like the Allswell mattress because it features supportive coils. I feel well supported when I am back sleeping and stomach sleeping and the mattress has the right firmness as well.
RELATED: Best Mattresses To Buy
A Note On Mattress Toppers
For those who think they need a new mattress but are worried about spending too much, I offer another course of action: consider a mattress topper.
A mattress topper is a great way to spruce up an old mattress without having to invest in a whole new mattress. A topper can change the feel of the mattress as well as the firmness. For instance, a memory foam mattress topper can add some of that slow-moving pressure relief to the top of an older mattress, and it can also make the mattress considerably softer.
Mattress toppers can also help cool down a hot sleeping mattress, as there are a variety of toppers that contain gel, graphite, and copper, all designed to create a much cooler-sleeping surface.
Finally, toppers are more budget-friendly than most mattresses. We have reviewed a number of the best mattress toppers, and many of them cost less than $100. So, before splurging on a new mattress, think about whether a topper can help because they can provide a more budget-friendly alternative to a new mattress.
Final Thoughts
Here's a recap of our top picks for the best mattresses under $500:
There's no reason to go into debt just for a mattress, and just looking above, there are many mattresses that are very nice but don't come with an exorbitant price tag. Check out some of our other pricing guides if your budget is a big factor in your decision:
If anyone has a question about these mattresses or even want a personal mattress recommendation, leave a comment below!
FAQs
What is the best, least expensive mattress?
There really is no one best affordable mattress. However, I really do believe that one of these five companies is a good place to start: Allswell, Zinus, AmazonBasics, Lucid, and Linenspa.
What is a good price for a mattress?
Online mattresses can range in price from the low hundreds up to many thousands of dollars. It is important to consider the quality of materials as well as comfort, support, and durability.
Keeping that in mind, paying under $500 for a nice bed-in-a-box mattress is a good deal.
Why are mattresses so expensive?
First off, mattresses can be expensive because they contain premium materials. Latex, high-end memory foam, and pocketed coils can also drive up the price of a mattress.
Second, mattresses sold in-store are often more expensive because of markup and large profit margins. Online mattresses are usually sold for less than those found in-store.
The following two tabs change content below.
Joe Auer
Joe Auer is the editor of Mattress Clarity. He mainly focuses on mattress reviews and oversees the content across the site.
He likes things simple and take a straightforward, objective approach to his reviews. Joe has personally tested nearly 250 mattresses and always recommends people do their research before buying a new bed. He has been testing mattresses for over 5 years now, so he knows a thing or two when it comes to mattress selection. He has been cited as an authority in the industry by a number of large publications.
Joe has an undergraduate degree from Wake Forest University and an MBA from Columbia University.