The Sleepgram pillow is known for its innovative "3 pillows in 1" design. It features a crisp, cotton cover and inner fillings made with polyester microfiber. The allergy-resistant materials and adjustable nature make it a crowd-pleaser.
What else is there to know about this pillow? Read on for my full review.
Key Features
Three-in-one pillow design: outer pillow unzips and two additional pillows with different levels of filling are inside for a total of three individual pillows
Two sizes available: Standard/Queen and King (Both have a 2" gusset)
100 percent cotton cover percale weave
Polyester microfiber fill (mimics down)
Allergen-resistant
Machine washable and dryer friendly
Adjustable
Comes with a 100-night trial
Price: $50 for Standard/Queen, $65 for King
Who Makes It?
The Sleepgram pillow is made by Sleepgram, a sleep products company founded in 2016 by a software engineer and a data analyst in Los Angeles. According to Sleepgram's website, the pair "saw a problem with the current pillow industry and decided to do something about it."
In addition to its innovative pillow, Sleepgram also sells pillowcases, a mattress protector, and a comforter.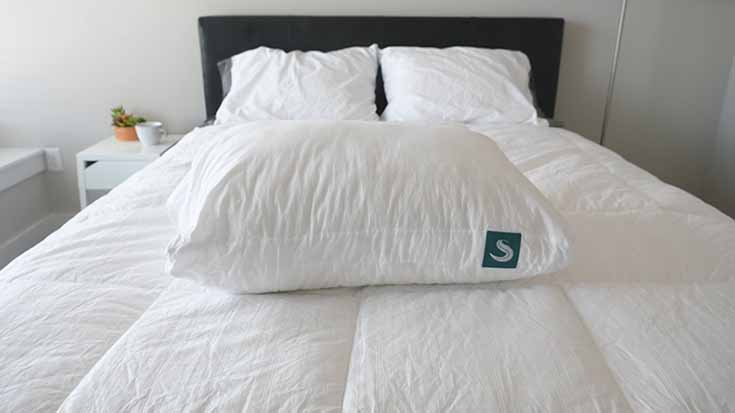 Construction
The big deal about the Sleepgram pillow is the "3 pillows in 1" design. The outer pillow unzips on three sides to reveal two inner pillows. Each of these inner pillows is a different thickness. This means there are many combination options to choose from to find a sleeper's desired fit.
Each pillow has a 100 percent cotton cover with a percale weave (think crisp, hotel sheet-like cotton), and each is filled with polyester microfibers for a down alternative-like feeling.
The pillows are considered "adjustable" because one can add or remove as many of the inserts or inner pillows as one would like. However, no one can access the polyester microfibers to make very small changes.
Pros
Easy to adjust without a big mess or hassle
Two inner pillows are different firmnesses, which makes it super versatile
Machine- and dryer-friendly (easy to clean)
Compared to other pillows with this type of design, this one is pretty affordable
The outer cover offers a clean and crisp cotton feel
Comes with instructions and a guide to help with using the pillow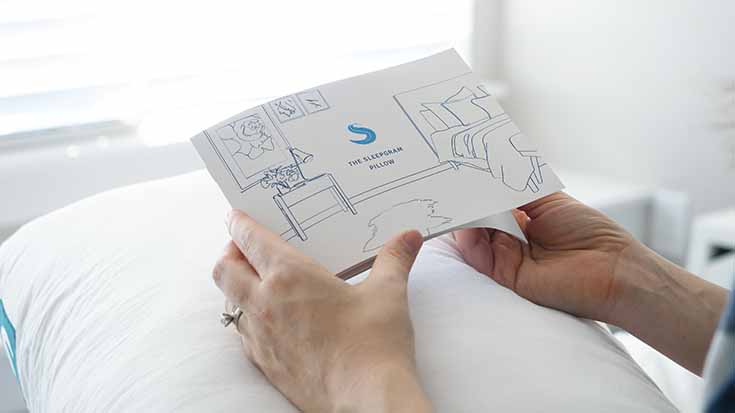 Cons
Pillow will need to be fluffed — especially out of the box, but also on occasion to maintain loft and evenly distribute the fibers inside
The filling will change and move inside the pillow
The down-alternative gives it a fluffy feel, which is not great for those who prefer the denser or more solid feeling of a foam
It's not 100 percent adjustable in the sense that sleepers can't take handfuls of filling out
RELATED: Best Pillows for Side Sleepers
My Experience
I've had the opportunity to review a lot of different pillows representing a huge range of fillings, materials, constructions, and designs. In the process, I've already reviewed a few pillows that offer inner pillows or pillow inserts similar to Sleepgram.
What sets this pillow apart for me is the super-smart design tweak with the inner pillows. Instead of offering one or two of the same inserts, these inserts are different thicknesses. This may seem like a small difference, but it really opens up the number of combinations sleepers can utilize with the pillows and allows the person to get closer to the right loft and firmness.
I also love, love, love that this pillow can just be thrown in the washing machine and the dryer. Simply separate the pillows and use a tennis ball in the dryer to help separate the microfiber filling.
I am primarily a side and back sleeper, and I really liked combining the other pillow with either the firmer insert when I slept on my side or the softer insert when I slept on my back. Because no one is able to access the inner filling, sleepers don't have to worry about making a mess with handfuls of material – just unzip the cover and remove or add whatever is preferred.
Overall, I was impressed with the Sleepgram pillow because it offered something others haven't: the ability to closely customize the pillow to the right loft and firmness without having to deal with the mess of adding and removing the actual fibers.
Yes, if a person sleeps on it without fluffing it every now and then, it may go flat, so individuals will need to throw it in the dryer or hand fluff it every now and then. This probably won't make it the best fit for someone who is looking for a solid pillow that won't move or change shape.
The cherries on top are the fact that it came with a good sleep trial (100 nights) and the Queen/Standard size is $50. Compared to other pillows with this design, this is on the less expensive end.
Marten's Take
As Katie said, one of the best things about the Sleepgram pillow is its customizable design. Because of this, even though I am larger than Katie, I didn't have any trouble finding a fitting loft and firmness for my size.
Being a heavier person, I left all the inserts inside of the pillow to ensure I had the support I needed when I was on my back. When I am in this position, I sometimes have trouble bottoming out on pillows, but this was not the case with the Sleepgram. I felt properly supported, and I felt no strain on my neck.
At the same time, I am a side sleeper, so I did take one insert out to make the pillow softer when I was on my side. My head sunk in but not too far. The pillow was a great match for me in this position as well.
In terms of feel, the Sleepgram has a nice balance of fluff and responsiveness. It has a lofty cloud feeling, but it bounces back quickly.
Overall, I had a very nice experience with this pillow.
Overall
Those who are combination sleepers and in the market for a down or down alternative pillow, I would definitely consider the Sleepgram pillow.
Sleepers will need to fluff it on occasion to keep it from going flat over time, but for the adjustability, price, and easy cleaning, I think that's a fair trade-off and a good overall value.
The following two tabs change content below.
Katie Golde
Katie manages the day to day operations of the Mattress Clarity news site and reviews sleep products in addition to writing and editing sleep news.She hails from Austin, where she lives with her growing family. She is a Certified Sleep Science Coach and has a master's degree in Journalism from Northwestern University and has a background in health and science content. Her work can be found in print and online publications like Discover Magazine, USA Today and The Huffington Post.
Latest posts by Katie Golde (see all)