Some might be familiar with the brand MyPillow – probably from its unique commercials on both the TV and the radio. But what's the deal with MyPillow pillows? We got our hands on one of their White MyPillow Premium pillows and our reviewer Katie spent several nights testing it out. To get our take on the pillow, who we think it's a good fit for, and if it's worth the hype – check out our video review and MyPillow Premium written review below!
MyPillow Premium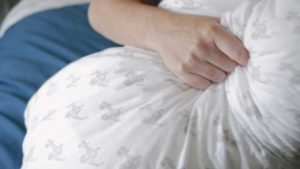 The Premium MyPillow comes in four different fill sizes - they each feature chunks of memory foam in MyPillow's interloacking design and a 100% cotton cover.
Mattress Clarity Score
3.70 / 5
Read Full Review
Key Features
There are several different types of MyPillow pillows to choose from. In this review, we're focusing specifically on the MyPillow Premium pillow. We got the White pillow which is the medium firmness option. Here are more details on the pillow:
Comes in two sizes: Standard and King

Standard dimensions: S/Queen – 16.5 " x 26″ + 2″

Cover: 100% cotton
Filling: chunks of memory foam (polyurethane foam)
Full price: $69.98 and King is $79.98 (varies)
Customers choose their size as well as their preferred Fill Level online when purchasing.
Customers can use their guide to decide which level is the best match and it comes in Yellow, White, Green, and Blue and goes from least firm (Yellow) to most firm (Blue)
The guide asks four questions about sleep preferences

Mine suggested a White medium fill

Machine washable and dryable
60-day money-back guarantee and a 10-year warranty (varies by retailer)
Made in the USA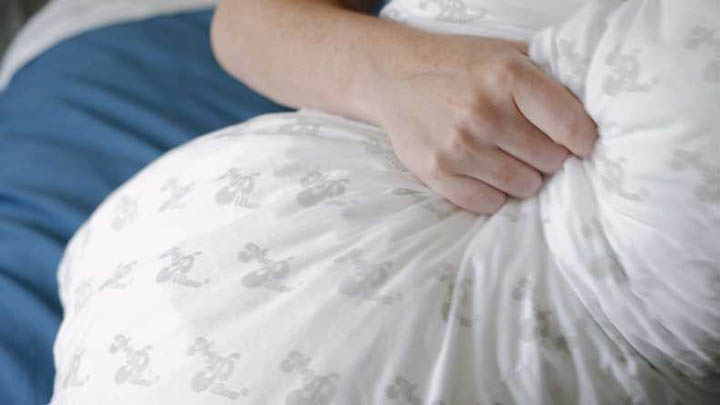 How to Find the Correct Firmness/Fill Option
When ordering online, customers are asked to pick what fill level they desire in a pillow. They have a guide that asks four questions and makes a recommendation.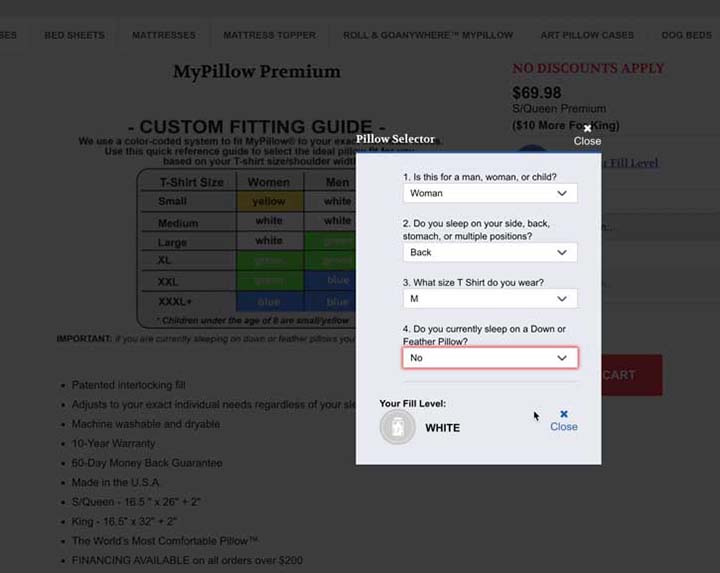 Answering the questions will generate a suggestion for a fill level that is part of a color-coded system. The smallest pillow, which is recommended for children, is yellow, the medium fill is white, green offers more fill and the blue has the most fill.
MyPillow says that individuals who are used to sleeping on a down or feather pillow should reduce by one level of support. So if someone selected medium firmness he or she will want to go to the yellow option with the least firmness.
Who Makes It?
MyPillow Premium is made by MyPillow,  a well-known pillow brand due in particular to its creative advertising. The CEO of MyPillow is Mike Lindell and after a lifetime of struggling to get comfortable enough to sleep, Lindell reportedly developed the first MyPillow in 2004.
Now the brand offers several pillows and other sleep products, including bed sheets, mattress toppers, and even mattresses.
Pillow Care
Each pillow comes with a pamphlet in the packaging where detailed instructions on how to care for the pillow are located. There are also details on the tag of the pillow – just in case the papers are immediately lost (it happens)!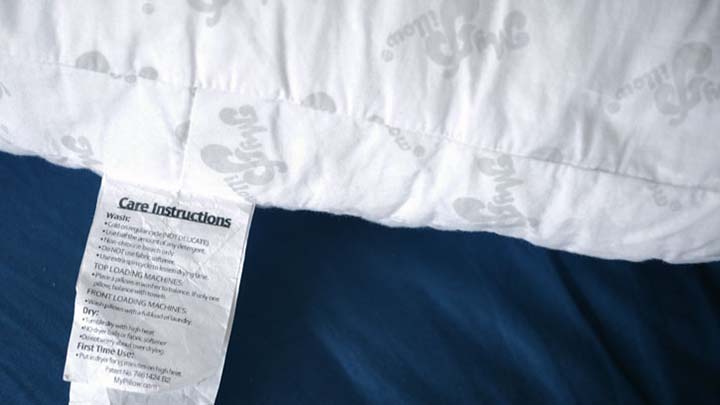 Here's how to care for the pillow: Use warm or cold water on a regular wash cycle and any detergent will do. If the washer offers an extra spin cycle that will lessen the drying time; balance the load if the washer is top-loading, and in a front-loading machine should be washed with a full load of laundry. Tumble dry but it's not recommended to use dryer balls or fabric softener and don't be too concerned about over-drying it, they say. They also recommend cleaning the MyPillow every 4 months.
Pros
Here are some benefits of the MyPillow Premium Pillow:
Easy to clean
Breathable
Simple but can work well if for those who prefer chunky memory foam
A variety of firmness levels and a guide to help sleepers pick the best fit
Available at different retailers and usually on sale
MyPillow Premium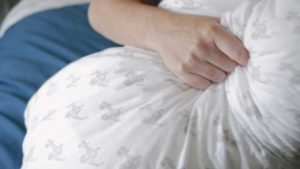 The Premium MyPillow comes in four different fill sizes - they each feature chunks of memory foam in MyPillow's interloacking design and a 100% cotton cover.
Mattress Clarity Score
3.70 / 5
Read Full Review
Cons
Here are factors to consider before potentially purchasing a MyPillow Premium Pillow:
Lumpy filling
Will need to be fluffed consistently
Overpriced for the value of the product
Feels low quality in the materials, construction, and experience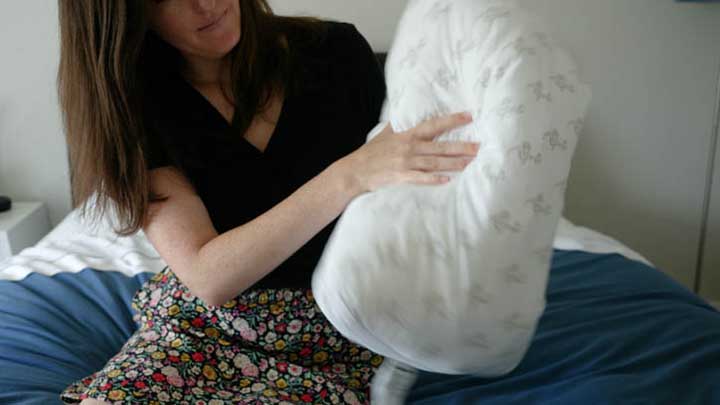 Best Sleeping Positions for the MyPillow
Keeping in mind that we reviewed the white – or medium firmness – MyPillow based on a quiz Katie took indicating that she was a back sleeper, we'd say that the pillow will work well for average-sized back sleepers.
RELATED: Best Pillows for Back Sleepers
Over time, we did experience some compression with the memory foam chunks and did feel it flatten out, especially in the area around the back of Katie's head. It was necessary for her to throw it in the dryer to fluff it about every 2-3 days.
When she moved to her side, the pillow was supportive enough initially, but she did not care for the big chunks of memory foam that could easily be felt through the thin cotton cover. It also flattened out after a few nights of use due to compression, and she would constantly have to keep it super fluffed in order to have enough firmness and loft for it to be comfortable in a side sleeping position. For that reason, we would recommend going with a Blue or Green MyPillow that offers more fill for side sleepers.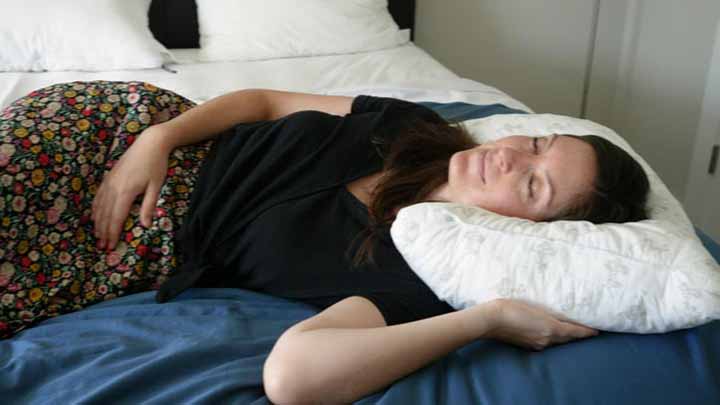 Likewise, the pillow was too chunky and too full to be enjoyable on one's stomach. We'd recommend getting a Yellow colored MyPillow Premium pillow with the least amount of filling for stomach sleeping.
Our Experience
MyPillow is a familiar pillow brand for many reasons, including its interesting/entertaining commercials. We will say that we found the website a little tricky to navigate as there seem to be several different types of MyPillow pillows to choose from, but it's not immediately clear what sets each type apart.
Once we settled on the MyPillow Premium, we followed their online questionnaire that asked four questions and guided us towards the White, or medium-firm, MyPillow.
The pillow comes super compressed and very flat once the package is opened – which can be common when shipping shredded foam pillows. In order to get an idea of the MyPillow Premium's true loft and height, sleepers absolutely need to toss it in the dryer and give the foam chunks a chance to expand. We would suggest doing that immediately if possible – 15 minutes on a high heat setting (those are the instructions on the pillow's tag).
Overall, the pillow is super simple in design – its got a patented interlocking fill, but from what we could feel through the thin cotton cover, it basically just big chunks of different sized memory foam. We found it to be the most comfortable on one's back and feel like the medium firmness could be a good fit for that sleeping position.
The biggest hindrance to using it for side sleeping is the fact that the chunkiness of the fill is very apparent when pressing the face against the pillow. There's very little smoothness here and we found that ineffective and distracting when trying to sleep.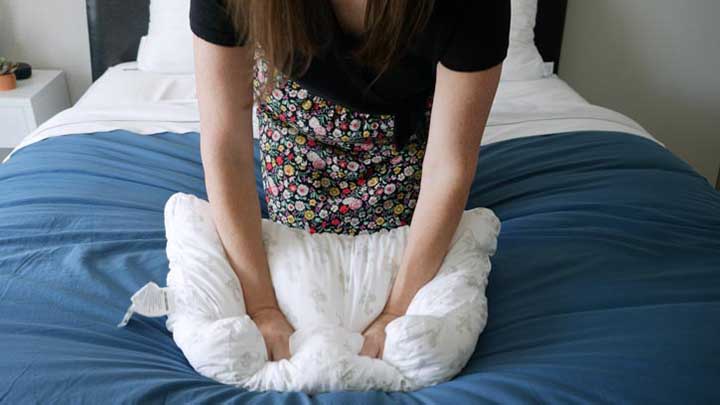 One saving grace is that the pillow is very easy to clean. Make sure to follow the instructions in the booklet provided by MyPillow or the instructions on the tag of the pillow, as they change their care guidelines based on what kind of washer or dryer available. Either way, people can machine wash and dry the pillow, and we found the drying process to be pretty easy and quick, especially compared to other shredded memory foam pillows we've reviewed.
MyPillow does have a good amount of hype but for us, the MyPillow Premium fell flat, literally, during the review. The chunks of foam were compressed by the head overnight and after only a few nights of sleep, it became too flat to be comfortable while back sleeping. Sleepers will have to continuously fluff this pillow in the dryer if they want to enjoy it while back or side sleeping.
RELATED: How to Fluff Your Pillow
Marten's Take
Customers can choose from very soft (Yellow) all the way up to very firm (Blue). Based on his size and weight, Marten would probably opt for one of their firmer models (Green). Katie is much lighter in terms of body size and ordered the White model which is a bit softer than the Green.
While the White model isn't exactly made for someone of larger body size, Marten did still feel very comfortable lying on it on his back. His head sinks in but not too far, and he felt nice support on his neck. Moving to his side, the pillow is too soft for him. Again, this probably wouldn't be as much of an issue on one of the MyPillow's firmer models. However, when he was on his stomach, this MyPillow is a good match for him.
In regard to the pillow's feel, the MyPillow is not Marten's favorite. It is a bit lumpy and he usually prefers something with the slow-moving memory foam feel.
RELATED: Best Pillows 2023
MyPillow Premium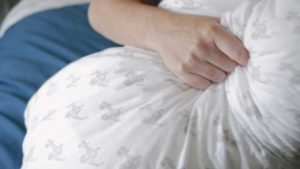 The Premium MyPillow comes in four different fill sizes - they each feature chunks of memory foam in MyPillow's interloacking design and a 100% cotton cover.
Mattress Clarity Score
3.70 / 5
Read Full Review
MyPillow Price Guide
The MyPillow comes in three different styles, the Premium (which is what we tried), the Classic, and the Giza Elegance. An overview of the size and price options for each style is below. Keep in mind that the MyPillow is often on sale, so keep an eye out for discounts and offers.
| | | |
| --- | --- | --- |
| Pillow Style | Pillow Size | Price |
| Premium | S/Queen | $69.98 |
| Premium | King | $79.98 |
| Classic | S/Queen | $79.98 |
| Classic | King | $89.98 |
| Giza Elegance | S/Queen | $89.98 |
| Giza Elegance | King | $99.98 |
FAQs
Let's tackle some of the most commonly asked questions about the MyPillow Premium
What is difference between my pillow Classic and Premium?
That's a good question and it's hard to tell the differences between these two options from MyPillow's website. It seems to be that the MyPillow Classic comes in two support levels, while the MyPillow Premium offers four different support level options. Each level corresponds with a different color, so our Medium fill was a White-colored pillow.
How much does MyPillow Premium cost?
It's difficult to lock down a standard price for the MyPillow. It's consistently advertised as on sale on the brand's website and sold through multiple retailers, so people may be able to purchase it for a wide range of prices. Currently, on the website, the Premium pillow is being sold for $69.98 for a Standard size, and the Classic is being sold for $79.98.
Are there different grades of MyPillow?
Customers must pre-select their firmness level when purchasing a MyPillow. While the MyPillow Classic comes in two firmness levels (medium and firm), the MyPillow Premium offers four tiers:
Yellow (least firm)
White (medium fill)
Green (more fill)
Blue (most firm)
The MyPillow website has a guide and questions to answer to help determine the right grade.
Overall
The MyPillow Premium pillow is essentially a pillow with a thinner cotton cover and chunks of simple memory foam. There is no additional innovation added to this pillow – it doesn't have any advanced technology, special materials or significant features woven into the cover or in the core – aside from its patented interlocking fill feature. To us, it's missing that little something that sets it apart from all the other pillows with the same design.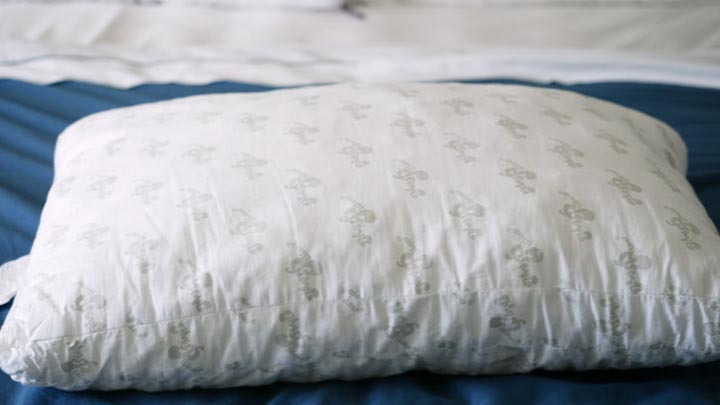 While it worked well for Katie back sleeping during the first few nights, the fact that it continued to fall flat and needed consistent re-fluffing makes us feel that the price does not match the value on this pillow. We do believe people can find something very comparable for a price lower than what MyPillow is offering.
We realize that MyPillow may have a fan following and that our opinion might not be popular, but after reviewing so many pillows we can't help but feel slightly disappointed with the MyPillow Premium – to us there wasn't anything "premium" about it.
Tried the one of the MyPillows? Comment below and tell us about it!
Katie Golde
Katie previously managed the day to day operations of the Mattress Clarity news site and reviews sleep products in addition to writing and editing sleep news. She hails from Austin, where she lives with her growing family. She is a Certified Sleep Science Coach and has a master's degree in Journalism from Northwestern University and has a background in health and science content. Her work can be found in print and online publications like Discover Magazine, USA Today and The Huffington Post.