We all know that sleep is important – and not always that easy to get – which is why it's super frustrating to wake up with neck pain each morning and not know why.
While there could be a number of reasons for your neck pain (including wear and tear related to aging), one common culprit is a bad sleep position brought on by poor alignment between your body and your pillow.
There are ways to minimize your chances of experiencing neck pain if you can sleep in a few recommended positions with a pillow that supports your neck and allows it to lay in a neutral alignment with your spine.
I've put together my top picks for pillows that should help relieve neck pain. These choices are designed to cover all different types of sleepers and preferred fillings. You'll see that many of them are adjustable in some way, which will get you a step closer to finding the perfect alignment for your head and neck.
Top Picks: Best Pillows for Neck Pain
Coop Home Goods Eden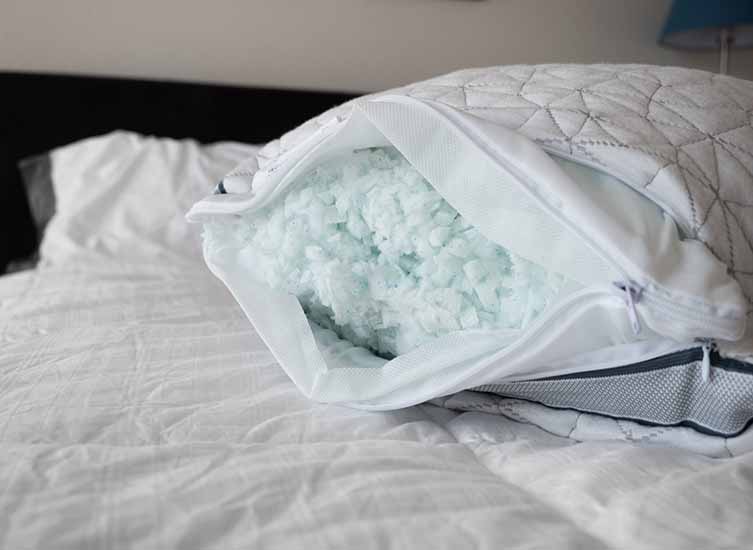 The Eden pillow from Coop Home Goods is a popular pillow because of its "best of both worlds" filling. It is a mix of uniform cross cut gel-infused memory foam pieces and polyester fibers. The memory foam pieces provide support and their consistency stops the pillow from feeling too lumpy. The down fibers hold the pieces together and give the pillow a plusher feel (the same way they do with other pillows on this list like the SpineAlign and the Avocado).
One of the reasons I like to recommend this pillow for neck pain is because the filling is adjustable and therefore customizable. If you are a side sleeper you may want to add some of the extra fillings it comes with for added support but you can take out pieces if you're a back and/or stomach sleeper for less loft. You can't beat an easy to remove the cover and a pillow that is entirely machine washable and dryer friendly.
Pillow Details:
The idea behind this pillow is that it's made for those who want the support of memory foam and the comfort of down in one pillow
The Eden is adjustable – you can add/remove the filling
It is filled with a lush blend of gel-infused memory foam and microfiber
The cover is 60 percent polyester and 40 percent viscose rayon derived from Bamboo (soft and breathable)
Machine-washable and dryer friendly (both the cover and inner filling are removable)
$80 for Queen ($70 for Standard and $90 for King)
Check out my full review of the Coop Home Goods Eden pillow, here. 
Dr. Loth's SpineAlign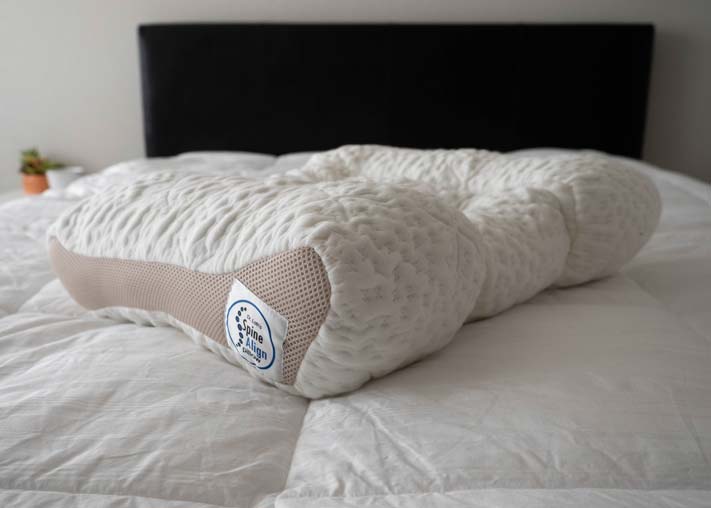 As its name suggests, the SpineAlign pillow is all about keeping your head, neck, and spine in neutral alignment so that there is no strain on any particular muscles. Designed by a chiropractor, its shape features a center chamber for back sleepers and outer chambers designed for side sleepers.
The pillow is also adjustable, so you can remove filling from different sections as you desire. You can't machine wash or dry it so be sure to use a cover or pillow protector. It may take a little bit of patience, but once you find the correct level of support and height for you, it should be extremely comfortable.
Pillow Details
Shape: Contour pillow
Two outer chambers for side sleeping and a middle chamber for back sleeping
Customizable to fit your correct posture in both the back and side sleeping positions
Cover: Soft Tencel blended fabric with strips of mesh built in the sides (37% Lyocell – also called Tencel, 61% Polyester and 2% spandex)
Filling: blend of shredded internal fill (foam and fiber) accessible through zippers on the back
Has "one size fits most" design
Fits in a queen size pillowcase
Approximately 23" x 17" x 6"
100% money back guarantee and 90-nights free trial
Do not wash the pillow; spot clean only
Made in the USA with imported materials
Check out my full review of the SpineAlign pillow, here. 
ComfySleep Buckwheat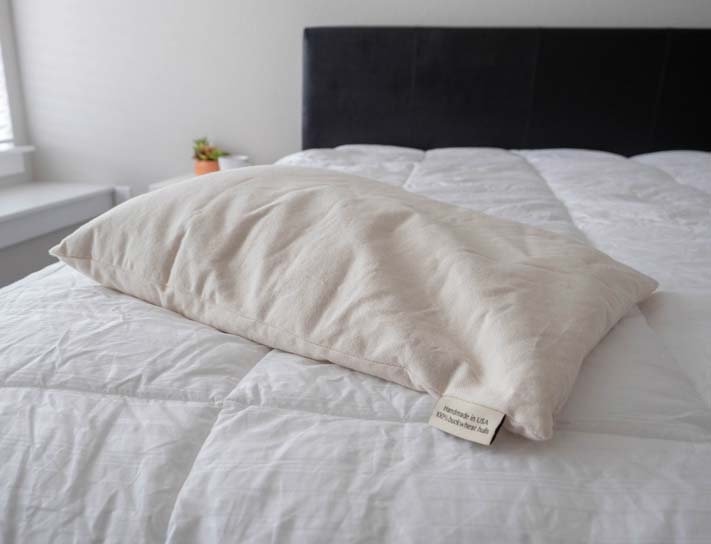 Pillows filled with buckwheat hulls are becoming increasingly popular. Part of this reason is that they manage to be firm and supportive but also adjustable – a tough combination to find.
Buckwheat hulls are the harder outer shell of the buckwheat seed (leftover after processing). They are tiny, but combined together they provide excellent support for the head and neck while also promoting airflow between them.
The ComfySleep Buckwheat pillow comes in many different sizes and an extra 1lb back of hulls so you can fill up your pillow to your desired height (higher for side sleepers and lower for back sleepers, most likely).
Pillow Details:
Measures 15″ x 21″, weighs 4 lbs + 1 lb extra buckwheat to customize your pillow
Other sizes: 15" x 23", 15" x 26", 20" x 26"
Filled with USA-grown buckwheat hulls that are cleaned without chemicals or fumigants
Made of durable organic cotton twill grown and woven in the USA, with an invisible zipper
Handmade in the USA by a family business
Read the full ComfySleep Buckwheat pillow review, here. 
Sleepgram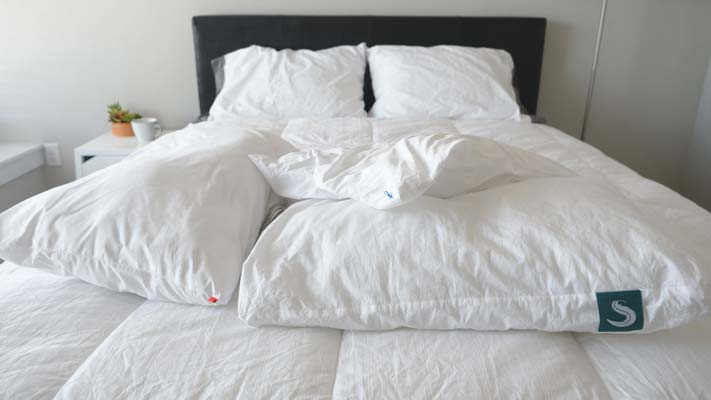 Sleepgram's innovative design can make it a great fit for those who love down alternative pillows but feel like they just can't find the right level of support. The pillow is really three in one. Two inserts are filled with different levels of polyester microfibers, which opens up the number of firmness and loft combinations you can make with the pillow.
You are not able to access the actual filling, which means no mess and the whole pillow is easily machine washable and dryer friendly for easy cleaning. Side sleepers may want to consider using all three inserts, while back and stomach sleepers will want to take at least one or two out.
Pillow Details:
Three-in-one pillow design: outer pillow unzips and two additional pillows with different levels of filling are inside for a total of three individual pillows
100 percent cotton cover percale weave and the polyester microfiber fill (mimics down)
Allergen-resistant
Machine washable and dryer friendly
Comes with a 100-night trial
Price: $50 for Standard/Queen, $65 for King
Read the full Sleepgram pillow review, here. 
Avocado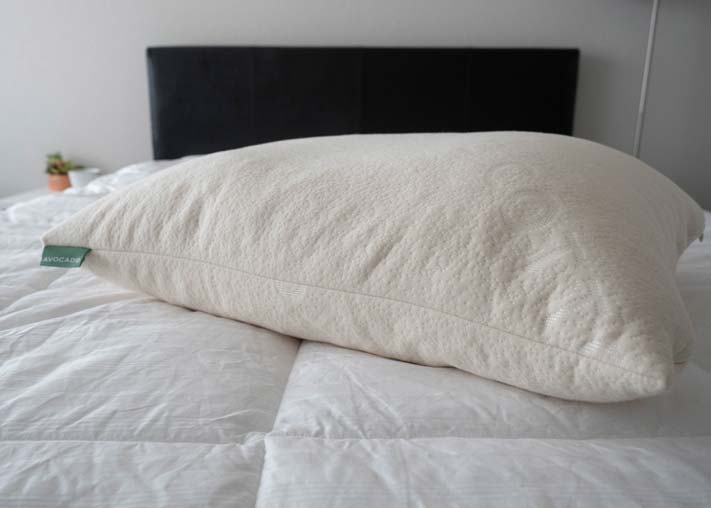 The Avocado pillow is a nice eco-friendly, sustainable and organic option for those trying to rid themselves of neck pain with a supportive pillow. It has a certified cotton outer cover and is filled with a mix of natural latex shreds and Kapok fibers. The Kapok fibers give a nice downy and pusher feel but don't underestimate the support and bounce you get from those shredded latex foam pieces. It's a pretty firm pillow overall.
You can access the inner filling and adjust it to your desire, so even stomach sleepers may enjoy this pillow. Be warned the Kapok fibers can make a decent mess, so try to adjust outside or in a well-ventilated area. You can spot clean or machine wash and dry the pillow as well.
Pillow Details:
The outer cover is a soft certified organic/polyester blend cover and feels like a very soft knit
There is a zipper on the side, making the filling adjustable
The Avocado is filled with a mix of 100% natural Dunlop latex shreds and 100% natural Kapok fiber (seed pod fluff from a rainforest tree)
As is, the pillow offers medium-plush feel – you'll get good resiliency and support from the natural latex shreds but the kapok fibers give it a softness of down or down alternative
Vegan, allergen-free and handmade in Los Angeles.
Comes in Standard Queen and King sizes – Standard is $79 at full price, Queen is $89 and King is $99
Read the full Avocado pillow review, here. 
The Right Pillow Will Help You Find A Neutral Spinal Alignment
One way to reduce the risk of neck pain is to ensure that your head is resting on a pillow that allows for your head, neck, and spine to be in a straight line (or in a neutral alignment).

To help facilitate this alignment, try to sleep on your back or on your side, say experts. Sleeping on your stomach is not advised.  "Imagine standing and looking one way for two or three hours at a time. Stretching your neck muscle for that long creates soreness," said Dr. Andrew Bang, DC, at the Center for Integrative Medicine at the Cleveland Clinic in a post on the clinic's website.
For those who sleep in multiple positions, staying neck pain-free might mean finding a pillow that can be adjusted so you can achieve neutral alignment no matter if you are sleeping on your side or your back.
The Bottom Line
There are many pillows on the market geared towards reducing neck pain but the key to finding the right one for you will come down to a few specific factors:
Your preferred sleep position
Your preferred pillow filling
The ability to match or adjust the pillow's loft, firmness, and support so that your head and neck are naturally aligned at night.
Consider pillows that come with trials or a variety of comfort levels so that you can try several kinds before committing.
Featured image: wavebreakmedia/Shutterstock
The following two tabs change content below.
Katie Golde
Katie manages the day to day operations of the Mattress Clarity news site and reviews sleep products in addition to writing and editing sleep news.She hails from Austin, where she lives with her growing family. She is a Certified Sleep Science Coach and has a master's degree in Journalism from Northwestern University and has a background in health and science content. Her work can be found in print and online publications like Discover Magazine, USA Today and The Huffington Post.
Latest posts by Katie Golde (see all)