We all know that sleep is important – and not always that easy to get – which is why it's super frustrating to wake up with neck pain each morning and not understand why.
While there could be a number of reasons for nagging neck pain (including wear and tear related to aging), one common culprit is a bad sleep position brought on by poor alignment between a person's body and his or her pillow.
There are ways to minimize the chances of experiencing neck pain – namely sleeping in a few recommended positions with a pillow that supports the neck and allows it to lay in a neutral alignment with one's spine.
I've put together my top picks for the best pillows for neck pain and shared why they're so helpful and supportive; these choices are designed to cover all different types of sleepers and a range of preferred fillings. Many of the pillows are adjustable in some way, which will get sleepers a step closer to finding the perfect alignment for their head and neck.
Best Pillows For Neck Pain
Best Contour Pillow

Purple Harmony

The Purple Harmony pillow combines a solid and bouncy feel - thanks to its ventilated latex core - with the squishy nature of the Hex Grid. The best price on this Purple pillow is just a click away!

Best Pillow For Side Sleepers

Cushion Lab Ergonomic Contour

Cushion Lab Ergonomic Contour

Cushion Lab's Ergonomic Contour pillow is an elevated version of a more traditional contour pillow. The best deals can be found by clicking the CHECK PRICE button!

Best Pillow For Back Sleepers

Dr. Loth's SpineAlign

The SpineAlign pillow is designed with a foam and fiber filled middle chamber and raised sides by a chiropractor. Click the CHECK PRICE button for the best deal on this pillow!

Best Pillow For Stomach Sleepers

TEMPUR-Cloud

One of the most popular TEMPUR-Pedpic pillows, the TEMPUR-Cloud, has a solid core comprised of plush and proprietary TEMPUR material. Check out the best deal on this pillow via the CHECK PRICE button to the right!
Below are plenty of details and more about each of my experiences with each of the pillows on my list. Use this as a guide to help narrow down the options and determine which one is the best fit!
Best Contour Pillow For Neck Pain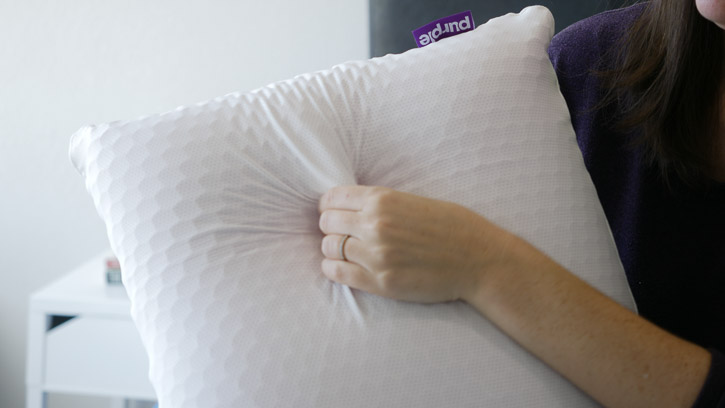 Purple Harmony
Purple also produces innovative pillows that feature their signature and proprietary Hyper-Elastic Polymer. This time it's in the form of a tiny honeycombed shaped Hex Grid, which lies just underneath the cover of the pillow (it's not the actual core).
The filling is a solid piece of ventilated Talalay latex foam and it's such an effective foam for neck pain. The head contours to the foam and provides pressure relief but not in the same way a standard memory foam would. The latex foam is truly resilient and bouncy and offers nice light support, and it won't change shape or go flat.
Pillow Details:
Dimensions: 26″ x 17″x 6.5" for Standard and the Tall option is 2″ longer and 1″ taller
Weighs about 4.5 lbs (Standard, Tall is a little bit more)
Cover: cool-to-the-touch, moisture-wicking Breeze Mesh cover
88% Polyester, 3% Nylon, 9% Spandex Mesh
There is also a layer of Purple Grid™: Hyper-Elastic Polymer Purple Grid
Core: Ventilated Talalay Latex with Polyester Knit Cover
Moisture-wicking treatment
Hypoallergenic
Cover care: Machine wash the cover on cold, separately. Lay flat to dry.
Core care: Spot clean only
100-Night trial and a 1-year limited warranty
Both profiles are $159 at full price
Read the full Purple Harmony pillow review to learn more. 
Up To 10% Off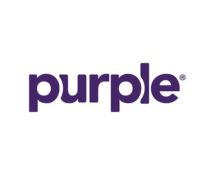 The Purple Harmony pillow combines a solid and bouncy feel - thanks to its ventilated latex core - with the squishy nature of the Hex Grid that's made with the brand's Hyper-Elastic Polymer. Save up to 10% when you bundle with other Purple products. 
Best Pillow For Side Sleepers With Neck Pain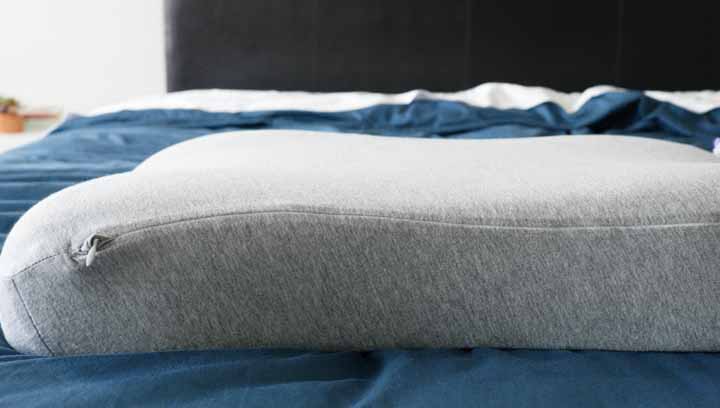 Cushion Lab Ergonomic Contour
Please let me start by saying that this Cushion Lab pillow is not an average contour pillow – it's designed for back and side sleepers, or a combination of the two. Each side of the pillow offers support for the cervical curvature of the neck. However, one side is 3.1" tall and the other is 4.3" tall – this means larger body types have more height and support on one end.
That's not where the personalization ends with this pillow because sleepers can choose from a firm or a medium-soft Hyperfoam core; the pillow features a contoured shoulder line to avoid extra pressure on the shoulders and raised cheek supports for enhanced support when turning the head to the side to sleep.
There is a removable cover that's 100% organic cotton and extremely soft; it's all hypoallergenic and it's affordable – under $50 for this pillow plus 30 days to try it out.
Pillow Details:
Comes in one size, and it's 23.5" x 15" x 4.3"; fits any standard size pillowcase
Designed for back, side or a back-side sleeper combination
It has two sleeping heights: 3.1" and 4.3"
There is a contoured shoulder line to help create space for the shoulders
The corners are raised a little for face support when heads are turned to the side
The center of the pillow has a "basin" design to allow the back of the head to rest while the neck and shoulders are supported
The outer cover is 100% organic cotton
The core is a solid piece of medium-firm Hyperfoam, which is an extra-dense memory foam
The cover is hypoallergenic
Designed in the USA, assembled in China.
$43-$46 at full price (we've seen the price change at least once)
30-day return policy if it's not a good fit and a 1-year limited warranty against material or workmanship defect
Check out the full Cushion Lab Ergonomic pillow review to learn more.
Cushion Lab Ergonomic Contour Pillow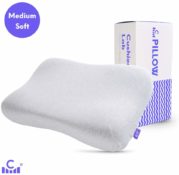 Cushion Lab Ergonomic Contour Pillow
Cushion Lab's Ergonomic Contour pillow is a great take on the traditional contour pillow but with a personalized twist. The affordable price is a nice touch, too.
Best Pillow For Back Sleepers With Neck Pain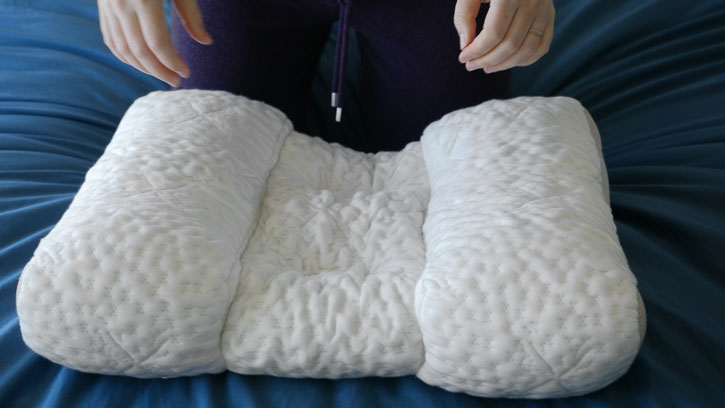 SpineAlign
As its name suggests, the SpineAlign pillow is all about keeping the head, neck, and spine in neutral alignment so that there is no strain on any particular muscles. Designed by a sports chiropractor, its shape features a center chamber for back sleepers and outer chambers designed for side sleepers.
The pillow has two heights to it, so those who are 5' 7" like me or taller will use the side that has the logo and those who are shorter will use the smaller side – really just whatever side feels best is also fine. The filling is also adjustable – sleepers can remove filling from different sections as desired.
Individuals can't machine wash or dry it so be sure to use a cover or pillow protector. It may take a little bit of patience, but once the correct level of support and height has been achieved, it should be extremely comfortable.
Pillow Details:
Shape: Contour pillow
Two outer chambers for side sleeping and a middle chamber for back sleeping
Customizable to fit a sleeper's correct posture in both the back and side sleeping positions
Cover: Soft Tencel blended fabric with strips of mesh built in the sides (37% Lyocell – also called Tencel, 61% Polyester, and 2% spandex)
Filling: blend of shredded internal fill (foam and fiber) accessible through zippers on the back
Has "one size fits most" design
Fits in a Queen size pillowcase
Approximately 23" x 17" x 6"
90-night free trial
Do not wash the pillow; spot-clean only
Made in the USA with imported materials
Check out the SpineAlign pillow review to learn more.
Contour Shape
Dr. Loth's SpineAlign Pillow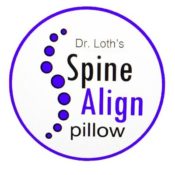 Dr. Loth's SpineAlign Pillow
Dr. Loth's SpineAlign pillow is designed by a chiropractor for back and side sleepers. The middle chamber should support the cervical curvature of your neck while back sleeping. The pillow is adjustable within its chambers and the cover is a soft Tencel blend.
Best Pillow For Stomach Sleepers With Neck Pain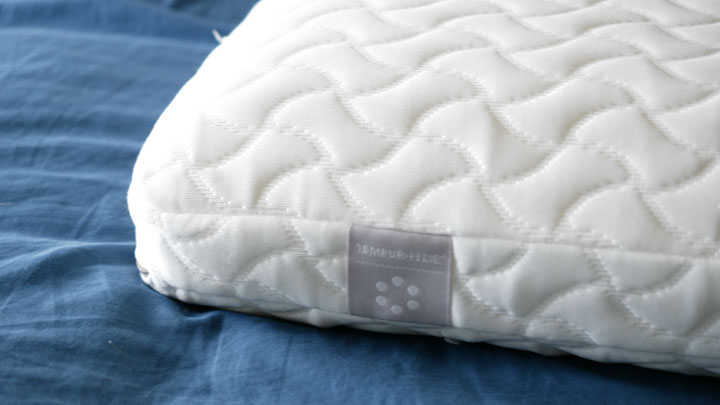 TEMPUR-Cloud
The TEMPUR-Cloud is such a classic TEMPUR-Pedic pillow. For those who are familiar, the brand is all about including their proprietary TEMPUR-material in their products – a foam that is similar to memory foam and is very contouring and pressure-relieving. The head sinks into this pillow and it's truly cradled and supported lovingly.
Not to mention, the cover is also super soft and easy to remove and clean – what's not to love? The pillow is an investment because it can't be returned, but they are truly durable and will last 3-5 years. Based on my experience, I think the TEMPUR-Cloud is the best pillow for stomach sleepers on this list.
Pillow Details:
Dimensions: 24″ x 15.75″ x 5″
Removable Cover:100% Polyester Knit
Core: Plusher TEMPUR® material
Removable/washable cover
Feel: Extra-Soft
Full price: $79 
Read the full TEMPUR-Cloud pillow review to learn more.
TEMPUR-Pedic Pillow Deals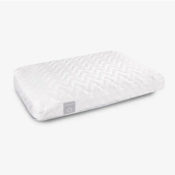 The TEMPUR-Cloud pillow is a traditional memory foam-like pillow made with a solid piece of TEMPUR material. It has a soft knit polyester cover that's removable and can be washed. The pillow is a good fit for most back sleepers.
Marten's Take On Pillows For Heavyweight People
One of the ways we help direct individuals towards the right pillow is by having them determine their body types and narrow down options from there. I am 5'7" and about a medium-weight, so I asked Marten, who is 6'7" and weighs 250 lbs, to offer his take on which of these pillows would be best for heavier sleepers who are dealing with neck pain.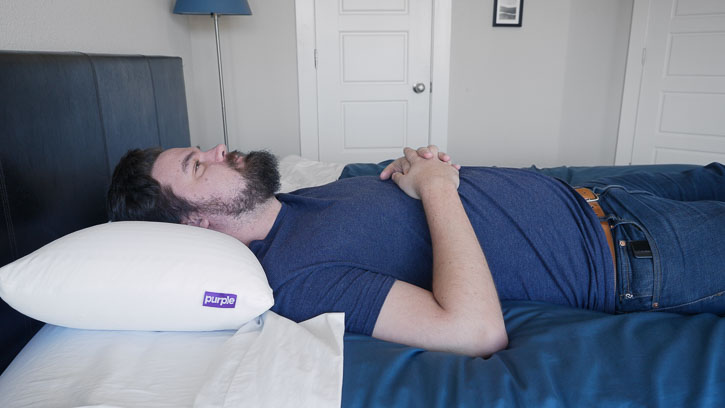 Purple Harmony – There are two versions of this pillow, and I prefer the taller option that's 7.5″ tall. My head sinks in just the right amount and is supported by the Hex Grid and their polymer that has a great feel – I liked it most when I was back sleeping and saw how it can provide great support to help combat that neck pain.
SpineAlign – As Katie mentioned, there are a couple of ways to use this pillow and taller and heavier sleepers should plan to use the side that features the SpineAlign logo – that's the edge with more height and support. When I slept on my back, I felt wonderful head and neck support.
CushionLab Ergonomic – This has a similar design to the SpineAlign pillow – they're both contour pillows – where one side is elevated and higher than the other. The taller side is great for added neck support and relieving pressure and neck pain in a back sleeping position.
How Your Sleeping Position Affects Neck Pain
There are many causes behind neck pain. Your neck pain could be caused by a pinched nerve, injury from overuse, or a chronic condition like osteoarthritis. Whether you have an existing cause for neck pain, or you just wake up with neck pain after sleeping, your sleeping position could be largely to blame for your immediate pain.
We'll explain how each sleeping position affects your neck to help you better understand if your sleeping position could be a key factor in your pain.
Stomach Sleeping
Sleeping on your stomach is the worst position for people with pre-existing neck pain. This position puts incredible strain on your neck and lower back, especially when paired with an improper pillow or mattress.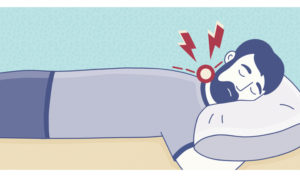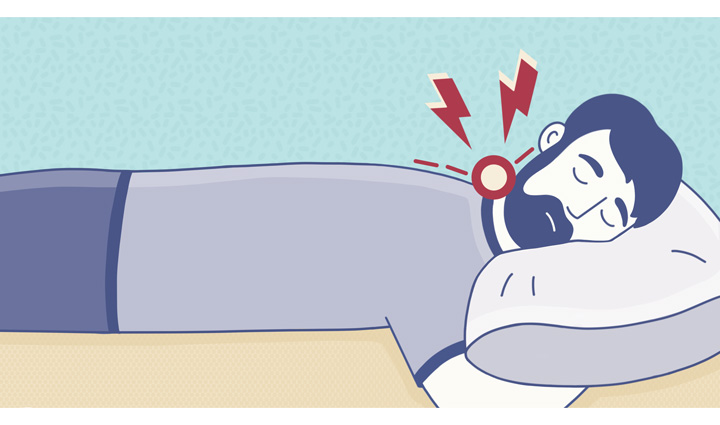 Because you have to have your head turned to the side when you sleep on your stomach, and the unnatural elevation of your head from using a pillow, your neck muscles and cervical spine become strained. You should avoid stomach sleeping, especially if you already experience neck pain from injuries or chronic conditions.
Side Sleeping
Side sleeping is okay for people with neck pain, as long as the pillow you use has the proper loft to support your head and keep it in line with your spine. If your pillow isn't the right firmness or thickness you could end up with too much or not enough support. Check out our roundup of the best pillows for side sleepers for more options.
Your pillow can also change over time, so be sure to evaluate if your pillow is still giving you the support you need or if it's time for a replacement.
Back Sleeping
Sleeping on your back is also okay for people with neck pain. It's also important for back sleepers to evaluate if they have the right pillow. Just like side sleepers, choosing a pillow with too much or not enough loft could mess up your spine alignment and cause pain. Check out the best pillows for back sleepers for more recommendations.
Can Your Pillow Cause Neck Pain?
Along with your sleeping position, your pillow could also be a large factor causing your neck pain. As we've mentioned, one of the most important things you need in order to avoid neck pain is a pillow that supports a neutral spine alignment.

The best pillow for neck pain will differ according to factors like your sleeping position, your body weight, and even the type of mattress you sleep on, but generally, you want to be sure your pillow makes you feel like your head is in a straight line with your spine.
If you feel your head sinking too far down towards the bed or high up in an incline above your shoulders, that pillow could end up causing you neck pain.
Best Type Of Pillow For Neck Pain
As with all products you purchase for your sleep, there are many nuances to finding that pillow that will be just right for you. But when it comes to the materials and the type of pillow to look out for to help alleviate neck pain, the answer is a little more straightforward.
We'll go over the best types of pillows for neck pain and which types to avoid.
Memory Foam Contour Pillows
Memory foam contour pillows are excellent for neck pain relief. These pillows are designed to cushion and contour your head, so they do a great job of supporting neutral spine alignment. Memory foam contour pillows are also durable and last for a long time. Unlike feather or down pillows, they won't require frequent fluffing to maintain their shape.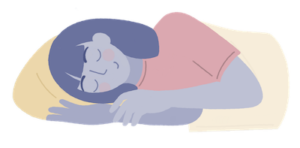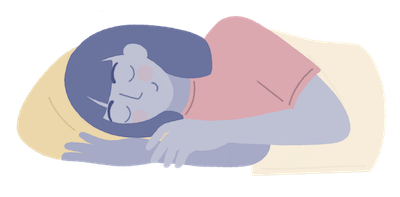 Memory foam pillows come in many forms; some may even come with shredded foam, allowing you to adjust the pillow to your preferences. Shredded memory foam pillows are great for sleepers with neck pain because you can adjust the pillow overtime to find the right loft for you.
Latex Pillows
Latex pillows offer similar benefits to memory foam pillows – they are pressure relieving and can be good for sleepers with neck pain. The one major difference between latex and memory foam pillows is the responsiveness.
Latex has a buoyant feel, so these pillows will quickly adapt to your movements. You also won't feel that sinking and contouring feeling that you feel with memory foam, but these pillows are still good for keeping your spine aligned and reducing neck pain. If you're interested in latex pillows, be sure to check out our list of the best latex pillows we've tested.
Buckwheat Pillows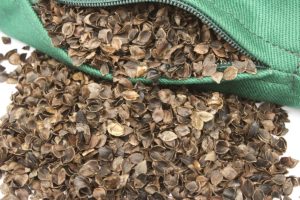 Buckwheat pillows are more unique, but they are a good choice for people who have neck pain. These pillows are made with buckwheat hulls that can shift around and then lock into place. This material is naturally very breathable and makes for a supportive pillow.
Types Of Pillows To Avoid
Feather – Feather pillows do not have great loft and need frequent fluffing. They are not very supportive for sleepers with neck pain.
Down – Down pillows are very soft and have similar problems to feather pillows. They are not a great fit for people with neck pain.
Down alternative – Down alternative pillows are very similar to down pillows, except they use a polyester microfiber material instead of all-natural duck and geese feathers. These pillows are also very soft and do not hold their shape well, so they are not a good fit for people with neck pain.
Sleepers with neck pain don't necessarily have to avoid feather, down, and down alternative pillows all together. You may just need to double up with two pillows under your head for the loft and support you need since these pillows are more thin and soft.
Although, we would probably recommend just choosing one of the many other types of pillows that are designed to help alleviate pain in the neck instead.
What To Look For In A Pillow For Neck Pain
We've talked about what materials and types of pillows are good for sleepers with neck pain. Now we'll get into the other factors you should consider when looking for your next pillow.
Loft
As we've mentioned, loft is a very important factor for sleepers with neck pain to consider when looking for a pillow. The loft of a pillow is simply how high or thick it is.
A pillow with a loft that is too low will make your head sink down too far to the bed, and a pillow with a loft that is too high will force your head to incline higher than it should. All of this matters because of the importance of your spine alignment. If your head isn't resting right in line with your shoulders, this will put undue strain on your neck.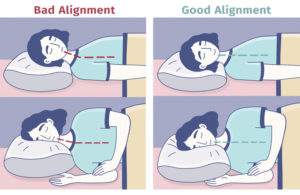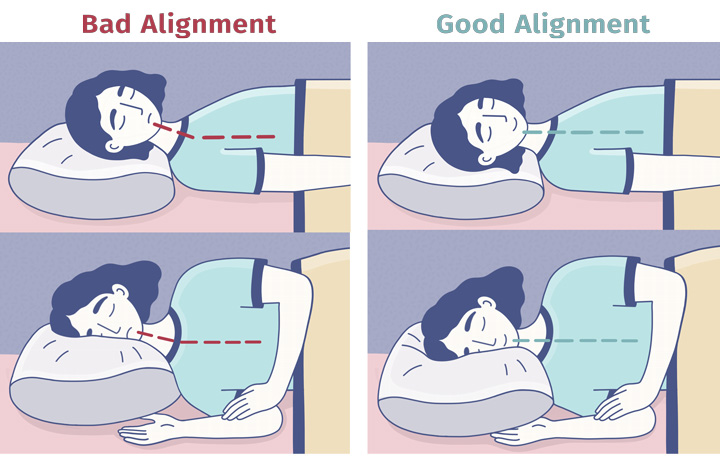 The best loft for sleepers with neck pain will vary by sleeping position and body weight. For instance, stomach and back sleepers will be most comfortable on a pillow with a lower loft, whereas side sleepers will need a pillow with a higher loft to fill the space between the shoulders and the head.
Body weight also comes into play. Heavier weight sleepers will naturally sink further into their mattress and will not need a pillow with as high of a loft, whereas lightweight sleepers will have the opposite situation and need a pillow with a lower loft.
Because of all these factors, there is no perfect number of inches of loft that everyone needs in a pillow, but using this information you should be able to use your judgement as to whether or not a pillow has the right amount of loft for you.
Firmness
Similar to loft, the ideal firmness is also a factor that varies by person. Generally, if you have neck pain you won't want a pillow that's extremely soft or extremely firm. Instead, you'll want something medium-soft that contours to your head shape.
Pressure Relief
It's also good to look out for a pillow with pressure-relieving qualities. Materials like memory foam do a nice job of offering pressure relief because it's good at evenly distributing weight across the surface. Latex also does a nice job of offering pressure relief. Options like down and feather pillows won't offer much pressure relief.
Durability
Finding a durable pillow is a good sign that it will offer you long-lasting comfort. You don't want to purchase a pillow that will flatten out after a couple months and no longer offer support. The most durable pillows for neck pain are memory foam, latex, and buckwheat pillows. Feather and down pillows won't be as durable.
Price
Price also comes into play for durability. A cheap pillow likely won't last you as long as a more expensive one that was crafted with high-quality materials. You may want to consider spending more than you expected when it comes to purchasing a pillow specifically for pain relief.
Tips For Sleepers With Neck Pain
Combatting neck pain while you sleep may require more than changing out your pillow. Below we've rounded up a few tips for either alleviating your neck pain or sleeping more comfortably with neck pain.
Choose a good mattress – You spend 7-9 hours on your mattress each night, so you want to make sure you have one of the best mattresses for neck pain relief.
Change your sleeping position – We've explained how important your sleeping position and spine alignment is for reducing neck pain. Avoid stomach sleeping, and make sure your head is in straight alignment with your spine.
Change the way you position your pillows – You may need to adjust the way you position your pillows to sleep more comfortably. If you use flatter pillows, you may need to double up.
Stretch – Gentle stretching before bed could help release tension in your muscles and help you sleep comfortably.
Practice good posture – Your posture is just as important while you're awake as it is while you sleep. Practicing better posture will help reduce strain on your neck.
Be mindful while using your phone – You can put a lot of strain on your neck from something as simple as the way you hang your head while looking at your phone. Try to keep your neck in straight alignment instead of letting it hang down.
Seek medical expertise – You may need to consult with a doctor or physical therapist to treat your neck pain.
Summary
As a reminder, here's a list of our recommendations for the best pillows for neck pain:
There are many pillows on the market geared towards reducing neck pain but the key to finding the right one will come down to a few specific factors:
Primary sleep position – the sleep position that people most often wake up in.
Preferred pillow filling – there are a plethora of options from foam to down to Kapok fibers and polyester fibers (and more!).
Alignment – the ability to match or adjust the pillow's loft, firmness, and support so that one's head and neck are naturally aligned all night.
Also, consider pillows that come with trials or a variety of comfort levels so there is the ability to try several kinds before committing.
FAQs
How do I choose a pillow for neck pain?
Those experiencing chronic neck pain should always seek the advice of a medical professional to rule out anything serious. If it's determined that the culprit is the pillow – it's an easy fix!
First, pick a pillow that suits the primary sleep position (the position one typically wakes up in). Generally speaking, stomach sleepers need the softest/flattest pillows while side sleepers need the most loft and support.
Aim to get the body into neutral head, neck and spine alignment, allowing the natural curves of the body to lay as they should with support but no additional strain. This may take a few tries with different pillows and even some conversations about the right mattress but, over time, finding the best sleeping position and the best pillow to match will be worth it.
Are contour pillows good for neck pain?
Contour pillows can be a wonderful choice for those trying to alleviate neck pain. These pillows specialize in supporting a key area prone to strain and resulting pain – the natural curvature (often referred to as the cervical curvature) of one's neck. Placing the right amount of support in this area takes pressure off the many muscles and nerves in the neck and may help the pain subside.
What is the best pillow for side sleepers with neck pain?
Side sleepers make up more than half of the American population, so we're not surprised to see this question so frequently!
Side sleepers with neck pain really need to focus on finding a pillow that has enough loft and height to support the 4″ to 6″ gap that resides between the top of the shoulder and the side of one's head and neck.
When the head and neck are properly supported and the shoulder does not have increased pressure on it, the neck can stay free from tensions and stress and neck pain should go away.
The goal is to look at oneself in a side sleeping position and see a straight line from the forehead, nose, chin down to the neck and sternum – this means neutral alignment is achieved.
Katie Golde
Katie manages the day to day operations of the Mattress Clarity news site and reviews sleep products in addition to writing and editing sleep news. She hails from Austin, where she lives with her growing family. She is a Certified Sleep Science Coach and has a master's degree in Journalism from Northwestern University and has a background in health and science content. Her work can be found in print and online publications like Discover Magazine, USA Today and The Huffington Post.