The majority of people sleep on their sides – 74% to be exact! But even with such a large number of side sleepers out there, folks still struggle to find the perfect pillow.
Here at Mattress Clarity, we made it our mission to help people find the ideal bedding accessories. Keep reading to learn about the best pillows for side sleepers. No matter your body type and personal preferences, we've got something that will suit your needs.
And if you need even more guidance along your pillow-buying journey, scroll to the bottom of this article and check out our buyer's guide.
The Best Pillows For Side Sleepers
Check out our top pillow picks for side sleepers:
We've laid out everything there is to know about each pillow, including who we think it's a good fit for. Check it out below!
Editor's Pick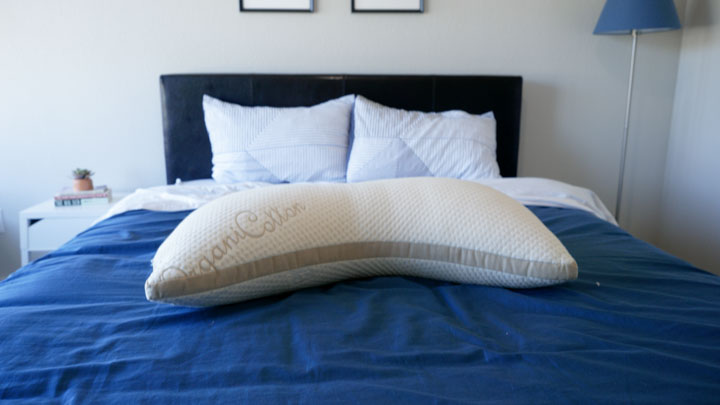 Eli & Elm Side-Sleeper Pillow
When narrowing down the options for Editor's Pick, this one was a no-brainer. The Eli & Elm Side Sleeper pillow was specifically designed for folks who rest on their sides. With its U-shape construction, sleepers can easily keep their necks in the proper alignment throughout the night.
To make things even better, this pillow is easily adjustable! When it arrives on your doorstep, you may find it feels extra firm and lofty. But if you need to customize it, simply unzip the cover and remove some of the filling.
This pillow has a soft and responsive feel. When you rest your head on it, you'll feel the pillow sink just slightly. That's thanks to its unique filling made with latex noodles and polyester fiber.
The exterior cover is machine washable, and we expect this pillow to last for several years.
What Makes The Eli & Elm Pillow Stand Out?
It has a special U-shape design that helps

side sleepers

keep their necks in the correct alignment.

You can easily remove the filling to adjust its loft.

This pillow has a machine washable cover.
Read the full Eli & Elm Pillow Review
Save 20%
Eli & Elm Organic Cotton Side Sleeper Pillow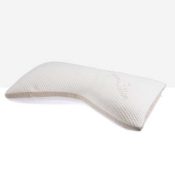 Eli & Elm Organic Cotton Side Sleeper Pillow
The Eli & Elm Organic Cotton Side Sleeper pillow is designed for side sleepers with its curvature and offers great support with its latex foam and polyester fiber combination. Save 20% on your Eli & Elm pillow.
Best Pillow For Neck Pain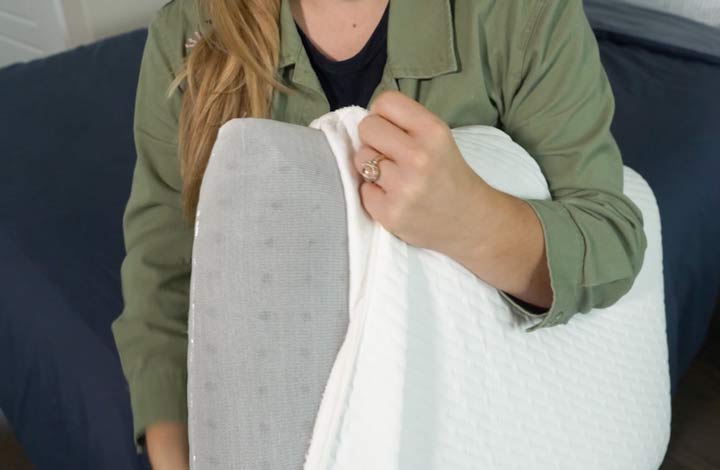 Tuft & Needle Foam Pillow
We get it. Flat pillows can be a pain in the neck. If you consistently run into this problem, it might be time to consider the Tuft & Needle foam pillow. (Fun fact – this pillow helped my neck pain so much, I rest on it every single night).
Made with a firm supportive piece of foam, this pillow creates plenty of neck support. It feels much more responsive than typical memory foam, so your head won't sink deeper into it as the evening goes on. 
Plus, thanks to its ventilated foam and breathable cotton cover, the Tuft & Needle pillow doesn't trap heat easily. We also love the price point for this pillow – it costs significantly less than others you'll find on the market, and you can save even more with our Mattress Clarity coupons.
What Makes The Tuft & Needle Pillow Stand Out?
It doesn't sag overnight, so it works well for people with

neck pain.

This pillow feels especially responsive, and it doesn't trap heat easily.
It's a great value.
Read our full Tuft & Needle Pillow review. 
10% Off
Tuft & Needle Foam Pillow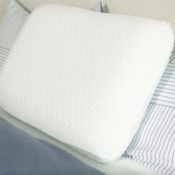 Tuft & Needle Foam Pillow
Made with special responsive foam, the Tuft & Needle pillow feels both soft and supportive. It has many cooling features, and it's super durable. It's a great match for back and side sleepers. Click the link below to save 10% on your purchase!
Best Cooling Pillow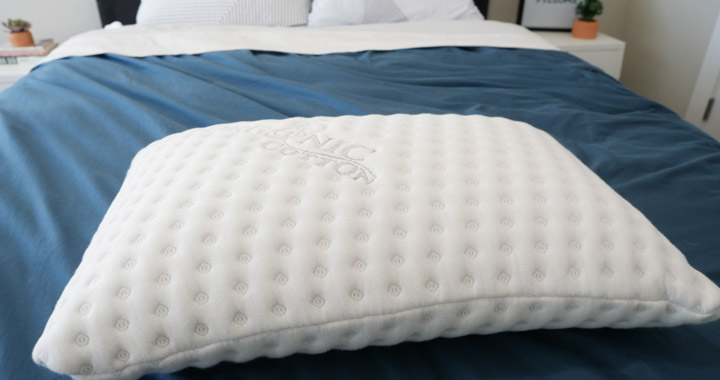 Brooklyn Bedding Talalay Latex
Nobody likes to wake up feeling stuffy and uncomfortable, so if you're a hot sleeper, we know just the pillow for you.
Brooklyn Bedding's Talalay latex pillow features one solid piece of aerated latex foam. Unlike memory foam, this material is naturally breathable. But Brooklyn Bedding took this a step further and put tiny holes throughout the foam, creating extra room for airflow.
You won't feel your head sink too far into this pillow, so it still offers plenty of neck support. And it has a relatively high loft, so it works well for side sleepers.
Suffer from allergies? This hypoallergenic pillow will help keep the sneezes at bay.
What Makes The Brooklyn Bedding Latex Pillow Stand Out?
It's extremely breathable and helps sleepers stay cool.
This pillow is made with hypoallergenicmaterials.
It provides plenty of support for side sleepers.
Read the Brooklyn Bedding Talalay Latex pillow review
Brooklyn Bedding Deals
Brooklyn Bedding Talalay Latex Pillow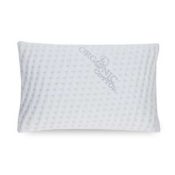 Brooklyn Bedding Talalay Latex Pillow
Brooklyn Bedding's Talalay Latex Pillow is a supportive and pressure relieving blended latex foam pillow. It has a ventilated core and removable soft knit cover. It comes in two loft options, making it a good choice for any sleep position.
Best Pillow For Overweight Side Sleepers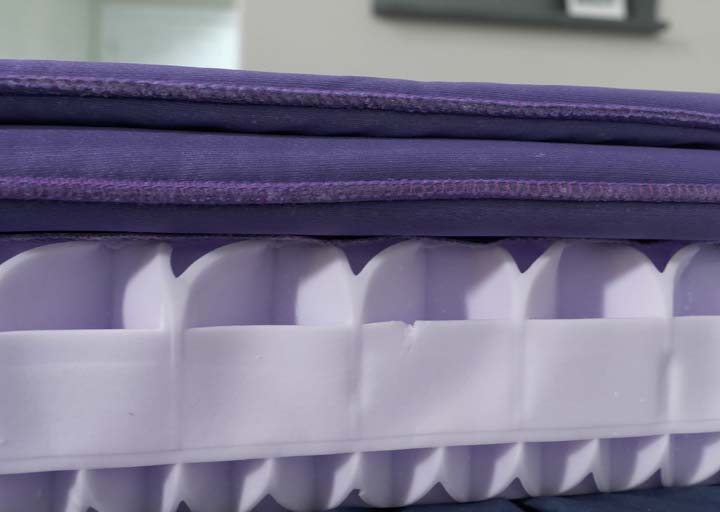 Purple
Big and tall side sleepers need high loft pillows that feel super supportive, and that's exactly what you'll find in the Original Purple pillow. 
Like their mattresses, Purple's original pillow contains a layer of their proprietary gel grid. It feels both squishy and firm at the same time. Because it compresses under pressure, heavier sleepers typically find the pillow feels especially firm. 
Best of all, it's an adjustable pillow! In addition to the gel grid layer, this purple comes with several boosters. If you need to make your pillow taller, just add a booster and zip the stretchy pillowcase around it. 
Because of its customizable nature, this pillow can also help back sleepers get a restful night's sleep. 
What Makes The Purple Pillow Stand Out?
It's made with the company's squishy gel grid, which feels especially supportive for heavy people.
This pillow comes with boosters, so you can easily adjust its loft.
It has a washable pillowcase, and it's made with durable materials.
Read our full Purple pillow review.  
10% Off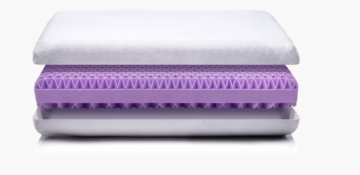 Purple's original pillow is made with their signature Smart Comfort Grid polymer material that gives the pillow a plusher feel but without losing the support. Click the link to save 10% on your purchase!
Best Customizable Pillow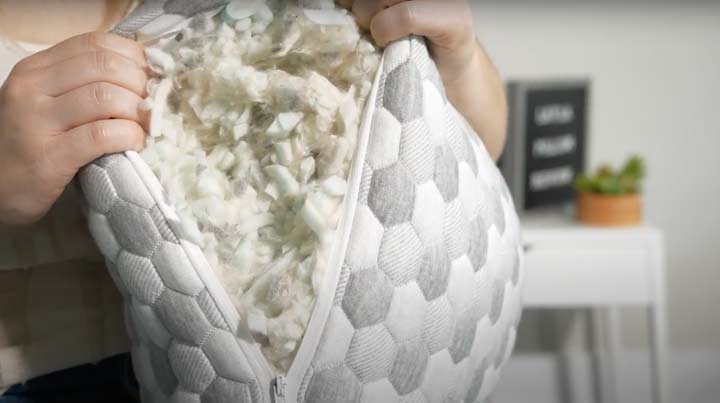 Layla Kapok Pillow
With its removable fluff, the Layla Kapok pillow works for a wide variety of people. If you need firm support, keep the fibers stuffed inside. If you need it softer, simply unzip the cooling cover and take out some of the filling. Of course, there's a lot more to love about this adjustable loft pillow. 
The Layla Kapok is also designed with cooling in mind. The pillowcase is made with breathable polyester fabric and has copper fibers sewn in. Copper not only has antimicrobial properties. It also helps pull heat away from the body. 
The filling comes from Kapok tree fibers, so it feels similar to down feathers. For even more comfort, Layla added shredded pieces of open-celled memory foam. If it's fluffiness you're after, you can't go wrong with the Layla Kapok. 
What Makes The Layla Kapok Pillow Stand Out?
It's one of the best cooling pillows.
It has an adjustable loft, so it works for a variety of different body types.
This pillow is made with high-quality materials.
Read our full Layla Kapok pillow review.  
BOGO Half Off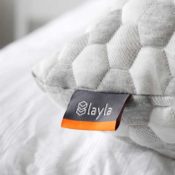 The Layla Pillow features a zipper on the side that lets you access the Kapok fiber and shredded memory foam mixed filling. It has a soft knit cover that includes copper-infused yarn and a pattern that matches the mattress cover. 
Best Memory Foam Pillow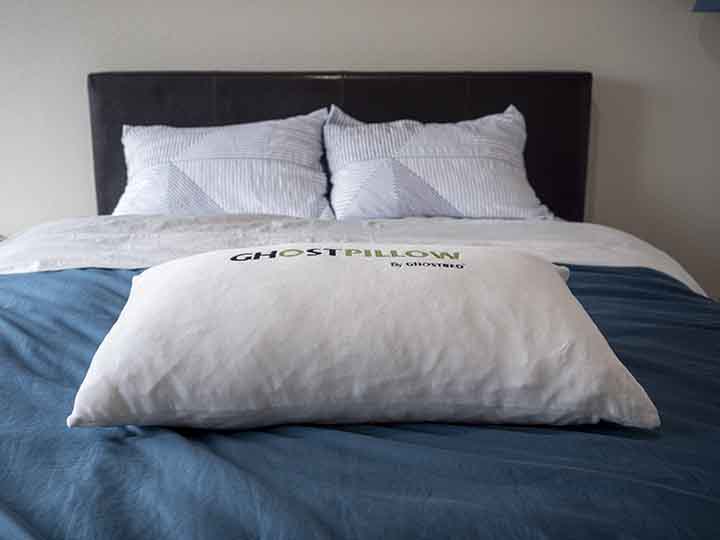 GhostPillow
If you're looking for one of the best memory foam pillows, you'll definitely want to research the GhostPillow. Made by GhostBed, this pillow is so comfy it's scary. 
With a classic slow-moving feel, this bed pillow provides plenty of body contouring and pressure relief. 
Unlike many memory foam pillows on the market, this one doesn't trap heat easily. The pillowcase contains phase change material, which helps keep the exterior feeling cool-to-the-touch. To further aid in cooling, the GhostPillow has gel running throughout the foam. This helps pull heat away from the body. 
What Makes The GhostPillow Stand Out?
It has a classic, slow-moving memory foam feel.
This pillow has many impressive cooling features.
It creates tons of pressure relief.
Read our full GhostPillow review.  
GhostPillow Deals
GhostPillow: Gel Memory Foam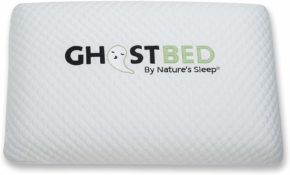 GhostPillow: Gel Memory Foam
The GhostPillow Memory Foam offers a variety of cooling features, starting with its aerated gel memory foam core with a layer of Phase Change Material. It also has a Ghost Ice Fabric cover that is cool to the touch. 
How To Choose A Pillow For Side Sleepers
With so many options available, it can feel dizzying trying to find the perfect pillow. And of course, it's not one-size-fits-all. But the most important thing to consider is definitely your alignment. Side sleepers, especially, want to make sure their ears line up with their shoulders and their chins align with their sternums. Otherwise, you could feel uncomfortable aches and pains along your neck – and nobody wants that!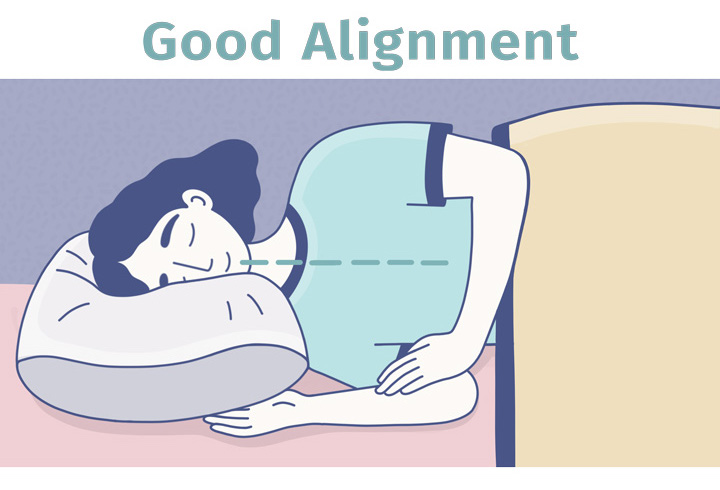 So, how do you reach a neutral alignment when you're resting on your side? We've broken it all down for you. Keep reading to learn more about what you should look for.
Loft
In the bedding industry, 'loft' is another way to describe a pillow's height. Side sleepers typically need pillows with a higher loft. If the pillow is too thin, you may feel your neck crane out of alignment. Over time, this can lead to tension headaches and muscle pain.
Firmness
We spend a lot of time examining the firmness level of mattresses, and pillows are no different. Side sleepers definitely want to make sure their pillow is supportive enough to keep their neck elevated. The pillow may have the perfect loft size at first, but if it sags throughout the night, you won't maintain the correct spinal alignment.
Feel
This last category boils down to your personal preference. Do you prefer something that feels soft and malleable, like a feather pillow? Or do you want your head to gently sink into layers of slow-moving memory foam? Either way, you're sure to find something that feels both comfy and supportive.
Side Sleeper Pillow Materials
As you shop for pillows, you'll soon realize that they're not all the same. To clear up any confusion, we outlined the most popular pillow materials below.
Down
Down pillows contain feathers plucked from geese, duck, and swan undercoats. Fans of down pillows love their soft and fluffy feel. Plus, they evoke a feeling of luxury. You'll often find these pillows in five star hotels!
Down Alternative
Down pillows may not work for everyone. They tend to cost more than other bedding products, and they're not vegan-friendly. But if you love the malleable and airy feel, you don't have to settle for anything less.
Many companies now sell down alternative pillows. Instead of using animal feathers, these pillows contain pieces of shredded memory foam, polyester fibers, or tiny pieces of latex. These fillings give pillows the classic down pillow feel, but without harming any animals. And perhaps best of all, these types of pillows come at a lower price point.
Memory Foam
Memory foam pillows create a lovely slow-moving feel. If you press your hand into the material, it will take a few moments for the foam to snap back into place. These pillows provide wonderful pressure relief, and they tend to keep their firmness as the evening goes on.
Over the years, memory foam has gotten a bad rap for trapping body heat. However, many companies have combated this issue by adding gel or copper infusions. Ventilated memory foam also helps promote airflow, which can keep sleepers cooler at night. So don't write this material off immediately! If you're a hot sleeper, you'll still find tons of great options.
Latex
Eco-friendly shoppers gravitate toward latex pillows and mattresses. This material doesn't contain any harsh chemicals, and it's especially kind to the earth.
Better yet, latex foam feels responsive and bouncy. You won't feel your head sink too deeply into a latex pillow. And because of this, these pillows don't trap heat easily. As a naturally breathable material, latex works exceptionally well for hot sleepers.
Benefits of Side Sleeping
When it comes to sleeping positions, resting on your side is one of the best. Not only does it help prevent pesky aches and pains, it helps with numerous other conditions. Let's take a look at some of the benefits of side sleeping.
Heart Health
Though not conclusive, a 2018 study found that people who slept on their right side had no changes in the electrical activity in their heart. The study found that when people slept on their left side, their hearts shifted and turned.
People with congestive heart failure have reported feeling uncomfortable when resting on their right side. Some folks even said they had difficulty breathing, but more objective research needs to be done in order to reach a full conclusion.
Snoring
Snoring occurs when airways get blocked at night. When you're resting on your back, you're more likely to experience blocked nasal passages. So, the best sleeping position for snoring? You guessed it – side sleeping. For even more information, take a look at our list of the best mattresses for snoring.
Pregnancy
According to Medical News Today, the fetus may be safer when a pregnant person sleeps on their side. Back sleeping may create extra pressure on the blood vessels that supply the uterus, which can potentially reduce the amount of oxygen leading to the fetus.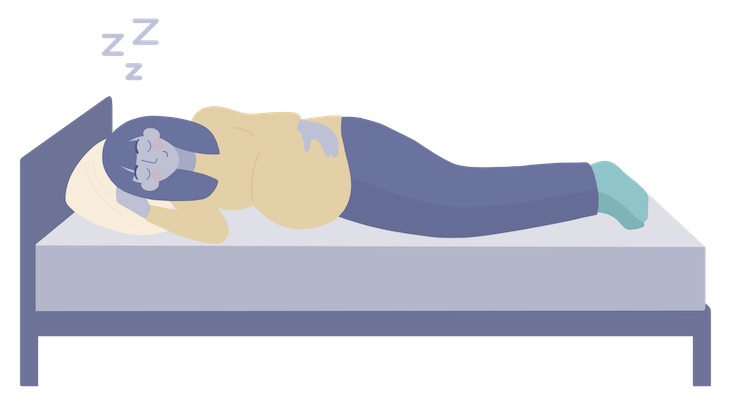 In fact, some studies said that sleeping on the left side is even better for the baby. This sleeping position allows more blood to flow toward the fetus, and it can alleviate pressure on the liver.
How To Sleep On Your Side
As you now know, side sleeping has many benefits. But if you're a back or stomach sleeper, it can be difficult to shake up your habits. Need some help? Here are a few tips to follow if you want to join the side sleeper club.
Opt for a medium-firm mattress that offers a good balance of comfort and support, such as one of the best mattresses for side sleepers.
Find a pillow that helps you maintain a neutral alignment. Again, when you're side sleeping, you want to ensure your ears line up with your shoulders.
When resting on your side, place your arms and hands beneath your shoulders.
If you suffer from joint pain, place a pillow between your knees.
Lift your knees toward your chest to alleviate back pain.
Summary
Here is our list of the best pillow for side sleepers:
FAQs
Need more information? We've got you covered.
What pillow is best for side sleeping?
There are so many great options out there, but it ultimately depends on your personal preferences and body type. If you're a larger person who needs more support, opt for the Purple pillow. If you suffer from neck pain, we recommend the Tuft & Needle foam pillow.
Are flat pillows good for side sleepers?
Flat pillows don't typically work well for side sleepers. In this sleeping position, people need a thick and firm pillow that will help keep the neck in the proper alignment. If you're unsure whether your pillow is too flat, check and see if your ears align with your shoulders whenever you rest on it. If your ear faces upward, you may need to get a pillow with a higher loft.
Are side sleeper pillows different?
Yes! Some companies create pillows specifically for side sleepers. These pillows have a U-shape design, which allows the head to rest at the proper position and the shoulders to sit closer to the top of the mattress. Of course, you don't need a U-shape pillow if you rest on your side. Our list of the best pillows for side sleepers has many different options.
How many pillows should you sleep with if you are a side sleeper?
There is no specific number you should shoot for. The most important thing to consider is your alignment. If your pillow is especially thin, you may need to stack two of them on top of each other to reach the ideal loft.
How do you sleep on your side with a wedge pillow?
Wedge pillows have many benefits. They help people sleep apnea and those who suffer from acid reflux. But they can also aid side sleepers! If you choose a wedge pillow, however, make sure to place your head at the correct place. This differs from person to person, but no matter what, your ears should line up with your shoulders. For the best results, find a wedge pillow with a 35-45 degree incline.
Elisa Regulski
Elisa the Editor of Mattress Clarity, where she analyzes sleep products and appears in review videos. She earned a M.A in Mass Communication from Texas State University and a B.F.A in acting from Oklahoma City University. In addition to writing about sleep health, Elisa is passionate about reviewing music. Her articles about the Austin City Limits Music Festival have appeared in Glide Magazine and Speakers In Code. When she isn't writing, Elisa can be heard singing with national party band, Saved By The '90s. She also performs with Austin-based arts collective, New Manifest Theatre Company.