Over time pillows come and go, but let's be real… down is forever. To be clear, down will not literally last forever but it has stood the test of time as a classic pillow filling that people absolutely love. Down pillows are often considered the posh and luxurious – and therefore more expensive – pillow option available. In some cases this is true, but it's possible to select a lightweight, soft and durable down pillow without breaking the bank.
Dive headfirst into our list of the four best down pillows to learn more about what makes each so fantastic and who they're the best fit for in terms of primary sleeping position. Marten's giving his take on the pillows below, plus there's a plethora of information about how to look for the best down pillow as well – we're talking fill power over here!
Watch my in-depth video, where I go over each pillow or keep scrolling for my written review with more details. Check out our overall best pillows guide if you want different options!
Luxurious

TEMPUR-Down Precise Support

TEMPUR-Down Precise Support

White duck down and TEMPUR material combine to become a luxurious down pillow fit for any type of sleeper. Click CHECK PRICE for the best price on this TEMPUR-Pedic pillow and more!

Five Chamber Design

Casper Down

Supportive inner chambers and soft, luxurious outer chambers make this Casper Down pillow soft but supportive; it'll work well for back and side sleepers alike. Click CHECK PRICE for the best deal on this Casper pillow!

Best for Side Sleepers

Brooklinen Down in Mid-Plush

Brooklinen Down in Mid-Plush

Superbly designed inner and outer chambers help protect and enhance the support of this Canada goose down pillow in the Mid-Plush support level. The best price on this down pillow can be found at the button to the right!

Cooling

puredown Cool Down

Hot sleepers, especially stomach sleepers, who love the feel of down will enjoy this puredown Cool Down pillow - filled with 90% feathers and a cool-to-the-touch cover. Press the CLICK HERE button for the best price on this pillow!
Pillow Details
There's plenty to say about these four incredible pillows, so keep scrolling for a breakdown of all the details on each one!
Luxurious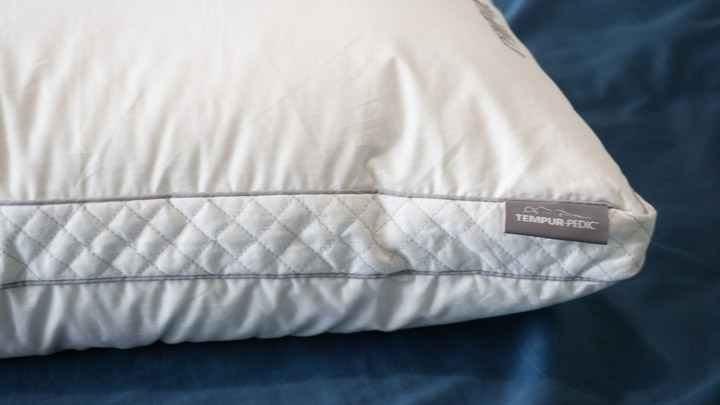 TEMPUR-Down Precise Support
Pure and sumptuous white duck down is built into the cover of this TEMPUR-Pedic pillow, making the entirety of the cover, including the 100% cotton, 500-thread count surface incredibly delicate and lush.
Unzipping the lofty cover, sleepers will discover a lined bag full of shredded TEMPUR material. This proprietary memory foam is supportive (and removable if undesired) so back sleepers and petite side sleepers will enjoy the added firmness. This can truly work for nearly all sleep positions, making it such an awesome and versatile pillow.
It currently comes in two sizes, Queen and King – the Queen is priced at $149 but sadly there are no trials or returns on pillows. 
Pillow Details:
Dimensions (Queen): 25.25″ x 17″ x 7.88″
Cover: Premium 500 thread count 100% cotton and filled with authentic, premium down filling 51% white duck down
Core: The core is made with medium TEMPUR-Material (shredded)
The cover is removable and washable
Comes in Queen and King sizes
Full price: $149
Learn more about this TEMPUR-Pedic pillow and others in our ultimate list. 
Five Chamber Design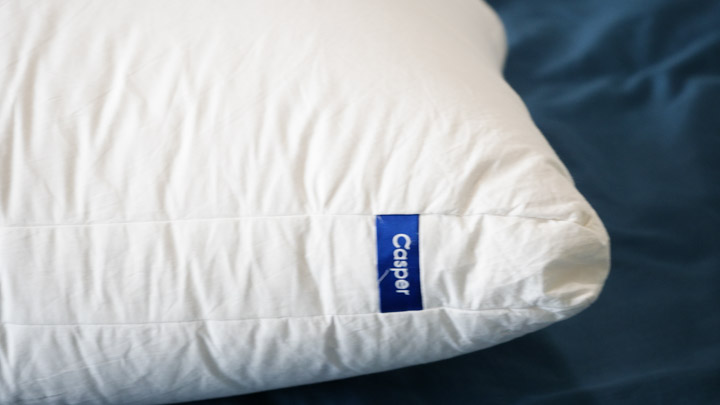 Casper Down
There's an abundance of innovative features in Casper's down pillow – this brand is one of the first to design pillows with strong cores and soft, more luxurious outward layers of filling. To be sure, this down pillow is super soft and fluffy, all while using responsibly-sourced down in its manufacturing process.
The unique design and accompanying internal support due to the five-chamber design that involves down-to-feather ratios with more feathers in the center and more down moving outward, allowing for a supportive core and a plush, opulent overall feel. Based on the resulting firmness which I found to be fairly substantial, I like this pillow for average-sized back and side sleepers.
Also great news – it's machine washable and can be thrown in the dryer (use dryer balls!) Truth be told, its innovative but luxurious feel makes it a solid value at $125 for a Standard,
Pillow Details:
Two sizes: Standard and King (I reviewed the Standard)
The Standard is 18" x 26" with a two-inch gusset
Cover: Outer cover is 100% cotton with 100% polyester inner panels
Filling: Inner filling is made up of ethically-sourced down and engineered into five chambers that have different combinations of down and feathers
Outer chambers: 80% white duck down, 20% feather
Inner chambers: 60% white duck down, 40% feather
Machine washable and dryer friendly
100-night trial
Price: Standard is $125 and King is $165 
Read the full and complete review of this pillow.
Full and Supportive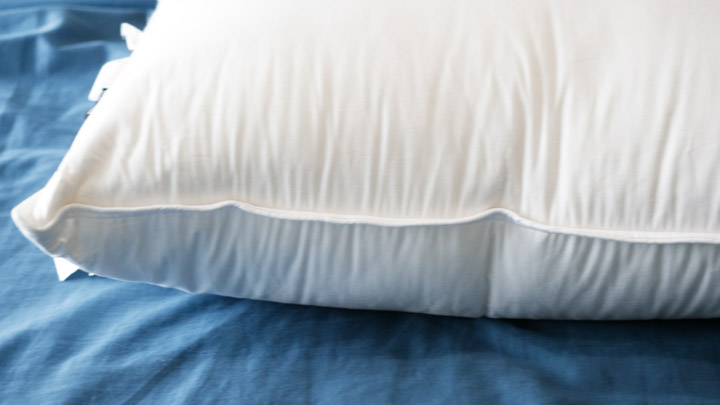 Brooklinen Down in Mid-Plush
Brooklinen makes an excellent – and affordable – down pillow that comes in three support levels: Plush, Mid-Plush and Firm. Based on my experience, the word "Plush" in the Mid-Plush title is deceptive because it's far from soft, it's a substantially full and supportive pillow that runs no risk of falling flat.
This particular pillow is designed with inner and outer chambers, the firm core chamber is feathers and the outer chamber, the main one sleepers will feel, is soft Canada goose down. The ratio is 85% waterfowl feathers in the inner chamber and 15% down in the outer chamber.
There is a significant amount of air trapped by these large down clusters so that the height and loft of the pillow are excellent for back and side sleepers. The pillow is hypoallergenic and can be washed. There's more to love because the Mid-Plush option is only $69 for a Standard.
Pillow Details:
Firm feather core chamber with soft down surround
85% waterfowl feathers in the inner chamber and 15% down in the outer chamber
400 thread count, 100% cotton shell
OEKO-TEX® certified to be free of harmful chemicals
Hypoallergenic with antimicrobial treatment
60-night trial
Comes in Standard (20″ × 26″) and King sizes (20″ × 36″)
Made in Canada
Care (from Brooklinen): "We recommend washing our pillows as seldom as possible so as to not disturb the texture and fluffiness of the down fibers. If a product is stained, we recommend spot washing it with Woolite or Oxyclean around the stained area. Should a pillow need to be washed, we recommend washing on a low and gentle cycle and tumble dry on low."
Price: $69 for Standard, $89 for King
Canada Goose Down Certified
Comes in: Plush, Mid-Plush (my review), and Firm
Read the full Brooklinen Mid-Plush Down review.
Cooling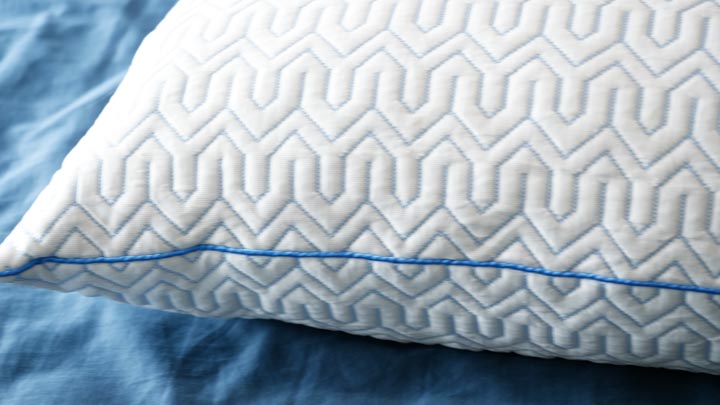 puredown Cool Down
Down clusters can be highly insulating, leading some to feel like they're sleeping too hot. Puredown had the brilliant idea to incorporate a cooling cover, made with the brand's "Ice-Silk" fabric, to its down pillow – and it works!
The cover is actually a mixture of polyester and a synthetic fiber called Olefin – it has a cool-to-the-touch feel with a light texture as well. The cover is removable and can be cleaned separately or removed entirely if necessary. The core of the pillow has a slightly more modern vibe than others on the list, it's one that is more structured compared to other down pillows because it's 90% feathers and 10% down. This ratio means the pillow has a higher likelihood of falling flat after a few nights, but it'll also feel more supportive thanks to the feathers – making it a great match for stomach sleepers.
The down-to-feather ratio also makes it a super affordable pillow. We bought our pillow on Amazon as part of a two-pack for just $55 for a Standard size.
Pillow Details:
Dimensions:

Queen: 20″ x 30″, fill weight: 36 oz
Standard: 20″ x 26″ fill weight: 31 oz

Outer cover: cool-down ice silk fabric; 58% polyester, 42% olefin (synthetic fiber)
Inner filling: 90% goose feather and 10% white goose down
Down and feathers used in their products have been certified to the RDS (Responsible Down Standard)
Care: Machine wash and dry
Price: A set of two can be found for around $60 in a Standard size on Amazon; available at additional retailers
Comes with 30-day trial period depending on the retailer
Marten's Take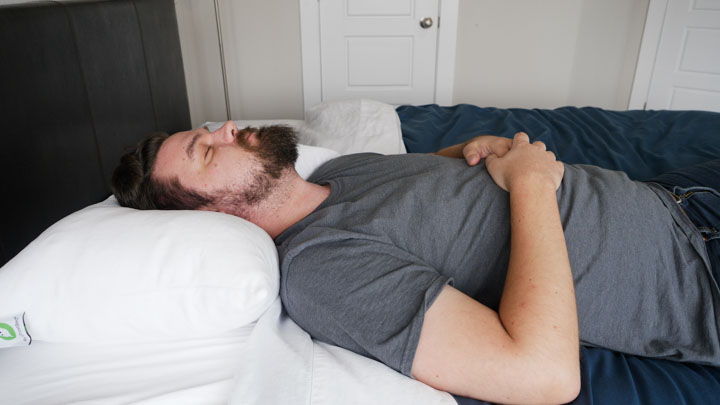 At Mattress Clarity, we love to make personal recommendations to people who need help looking for the best pillow. We often ask about height, weight and body type because these are important factors to consider. I've put together my four favorite pillows but now it's Marten's turn to come in and share his experience. We do this because we love to give people as much information as possible but also because I'm 5'7″ and about average body type while Marten is 6′ 7″ and about 250lbs. Marten is going to share the pillows on my list that heavier sleepers may enjoy the most.
Hi guys, Marten here – there are three pillows on this list that I think people with larger body types will enjoy.
TEMPUR-Down Precise Support: I'm a big fan of this pillow because it has that classic down feel but the middle of it feels more like memory foam. I really enjoyed this particular pillow on my back and my stomach.
Casper Down: Now this pillow from Casper has a good amount of loft and firmness to it, for that reason it worked well on my back and on my side.
Brooklinen Mid-Plush Down: To me, this one is a great fit for heavier side sleepers (that's my primary sleep position as well).  As a larger person, I have a bigger head and broader shoulders and I need something substantial to support me on my side, and I found that with this pillow.
Types of Down
Down pillows are typically made from duck or goose down and can vary on exactly what type of duck or geese. For example, Canada white goose down is often considered excellent quality, as is Eider duck down.
Some down pillows, like Casper's pillow, are made through ethically sourced programs. Casper's down pillow is certified by the Responsible Down Standard (RDS), which means the brand's down filling comes from birds who, "have been treated with care." For those who love the feel and quality of down but are concerned about the ethics of the manufacturing process, check for labeling like this before making a purchase.
RELATED: Down vs. Feather Pillows – What's The Difference?
Clusters vs. Feathers
Down pillows can be filled with either all down clusters, all feathers (this is rare but possible) but most often they're a combination of the two. Clusters of down are very soft and almost snowflake-like, far less identifiable than a standard bird feather, which most of us are familiar with.
The size of a down cluster is dependent on the bird that provided it – duck down clusters will be smaller than goose down clusters. This matters because the larger the cluster, the more insulating, as it traps more air and makes the pillow lighter and fluffier in the end. For this reason, pillows made with plenty of down from geese tend to be more luxurious and more expensive than others – they're also more durable!
Likewise, feathers are flatter and more structured thanks to their longer quills. Feathers are often used in the center of a pillow to add support and structure while down is filled around it to ensure the classic "down" feel. Feathers are less durable than clusters and not as lightweight, therefore pillows with more feathers tend to be more affordable.
Fill Power
Without getting too heavy into the science of it, fill power is the amount of space – measured in cubic inches – one ounce of down will take up to reach its maximum loft. This is basically a measurement of the loftiness of a pillow and often equates to the durability and quality of a pillow. Higher fill power means larger down clusters and the corresponding amount of trapped air means the longer it'll retain its loft and firmness. However, fill power is not necessarily an indicator of overall firmness, so keep that in mind as well. A high fill power – around 800 – does not guarantee the down pillow will be super firm.
Final Thoughts
These are four of the absolute best down pillows out on the market today, but they're certainly not the only ones to buy. As always, I suggest navigating the pillow purchasing process by starting with one's primary sleep position and narrowing down pillow options based on the appropriate loft and support for that position from there. Don't hesitate to comment on my YouTube video if a personal recommendation is needed!
FAQs
How do I choose a down pillow?
In many ways, choosing a down pillow is just like choosing any other pillow. Start with one's primary sleep position to gauge how much loft and general firmness is needed. Traditionally, stomach sleepers need soft and flatter pillows while side sleepers need the most height or loft and firmness overall, Down pillows often come in some combination of down and feathers. They can be duck down or goose down traditionally and they'll often have a fill power. The fill power is there to determine how much volume one ounce of down will fill in cubic inches. No need to think too hard about that just know that the higher the fill power, the bigger the down clusters, the more air they trap which means the pillow is loftier and more insulating and more durable (and often more expensive). Some pillows are 100% down while others are a mix of or blend of down and feathers. Feathers are exactly what they sound like, they are sometimes mixed into pillows to provide more structure and support since they're more 2-dimensional and can become flattened over time.
What is the best down pillow for side sleepers?
The best pillow is going to offer the most firmness and the most height one combination that I really like, and individuals can see this with the Brooklinen Mid-Plush option is that the pillow has a core of feathers that provides support but is surrounded by down so the softness and comfort remains evident.
What is better goose or duck down pillows?
Goose down is larger in size than duck down, so on average, goose down pillows have a higher fill power than duck down. This means that goose down pillows wont need as much down to be loftier, lighter in weight and overall more luxurious and priced higher, typically. There are plenty of great down pillows out there that are duck down but consider looking for a higher fill power.
Katie Golde
Katie manages the day to day operations of the Mattress Clarity news site and reviews sleep products in addition to writing and editing sleep news. She hails from Austin, where she lives with her growing family. She is a Certified Sleep Science Coach and has a master's degree in Journalism from Northwestern University and has a background in health and science content. Her work can be found in print and online publications like Discover Magazine, USA Today and The Huffington Post.