A new study may have discovered a mediating factor between cyberbullying and increased rates of depression in adolescents: sleep.
The University of Buffalo researchers found that teens who report instances of cyberbullying sleep more poorly, and this lack of sleep increases their chances of developing depression.
"Cyber victimization on the internet and social media platforms is a unique form of peer victimization and an emerging mental health concern among adolescents who are digital natives," the authors said in the study abstract.
"Although studies have explored the relationship between cyber victimization and depression, fewer have explored how sleep quality influences this association," the researchers wrote. Mattress Clarity reached out to the researchers but did not hear back.
We spoke with Diana Graber, the author of Raising Humans in a Digital World: Helping Kids Build a Healthy Relationship with Technology. She is also the founder of Cyberwise and Cyber Civics.
Graber was not affiliated with the study but commented on the results. "By linking cyberbullying to sleep, this study adds to the existing research by underscoring an additional way it contributes to depression," she said.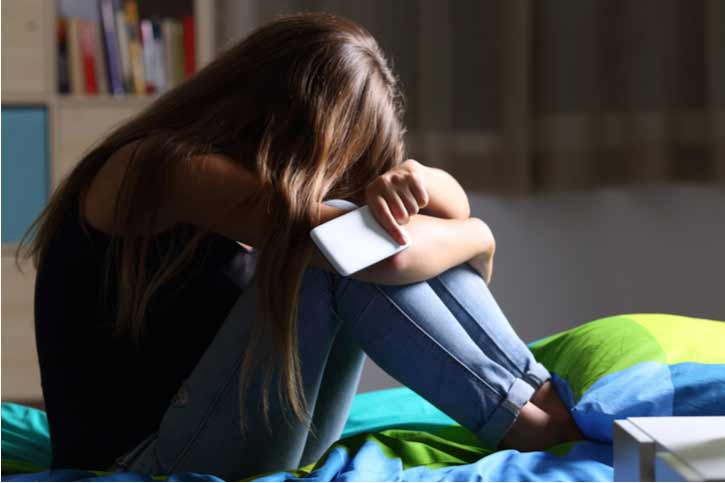 Antonio Guillem/Shutterstock
The Effects Of Cyberbullying
During the study, the researchers looked at a sample of 801 adolescents with an average age of 14 years. The teens reported on their sleep quality by filling out the Pittsburgh Sleep Quality Index (PSQI).
The subjects responded to questions regarding their sleep and wake times and rated their perceived sleep quality. The students also scored their experiences with cyberbullying on a cyber aggression scale and filled out the Center for Epidemiologic Studies Depression Scale.
After compiling these responses, the researchers found that the intense experiences of cyberbullying predicted poorer sleep quality. Additionally, poorer sleep quality was associated with greater depressive symptoms.
Graber explained why cyberbullying has such an intense impact on teens:
"There is no delete button online. Targets often live with the constant reminder of cruelty when it's online. Even if they block the sender or delete the evidence from their own devices, other kids may see, save, or share it.
It's constant. While kids can walk away from physical bullying, there is no hiding from cyberbullying when they go home. Most kids carry their devices around 24/7.
It's public. Everyone sees bullying when it's online."
We also spoke with Robert Faris, Ph.D., sociology professor at UC Davis and cyberbullying researcher.
"Kids just don't get to escape it," Faris told Mattress Clarity. "If you're getting bullied at school, it used to be you could come home and it would be something of a refuge. Not anymore, sadly."
Faris said the results of the new study fit with previous research into the connection between cyber aggression and depression. He also said that depression can actually increase the chances of one experiencing cyberbullying, creating a harmful cycle.
"It is pretty clear that bullying victimization is associated with increased depression and rates of depressive symptoms over time,' he said. "It's also clear there's a reinforcing vicious cycle there such that depression can place a person at increased risk of being victimized."
He also told us that depression is not the only harmful effect of cyberbullying. "There are a host of physical symptoms that can arise as a result of bullying: elevated levels of stress hormones, inflammation," he explained. "There are physiological consequences to non-physical bullying or victimization."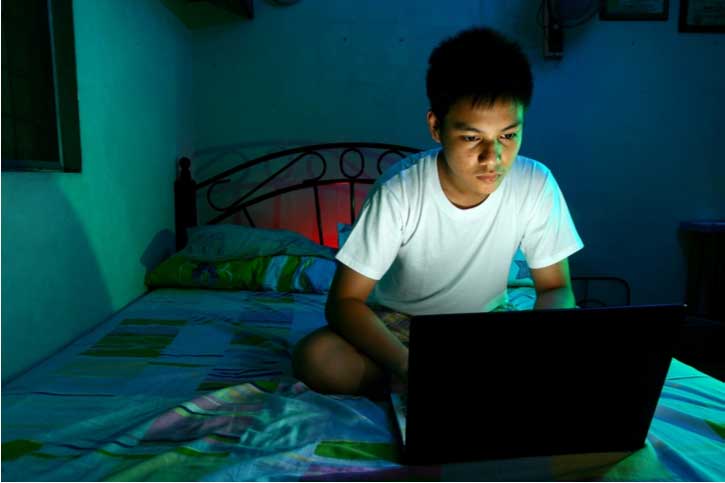 junpinzon/Shutterstock
The Need To Address Cyberbullying
According to one study, 9% of students in grades 6 through 12 have encountered some form of cyberbullying. Another survey of students in grades 9 through 12 found the number to be closer to 15%.
The numbers are much higher for minority groups such as the LGBTQ community. The 2011 National Climate Survey reported that 55.2% of LGBTQ teens had suffered some instance of cyberbullying.
The study authors said they hope their findings could help address this serious issue. They wrote, "Understanding these inter-correlational associations supports the need to provide effective risk prevention and interventions targeting cyber victimized youths who exhibit signs and symptoms of depression and to incorporate sleep hygiene education."
However, Faris told us he isn't sure that sleep education is the most effective way to combat cyberbullying.
"Most productive though would be [to] find ways to reduce victimization rates rather than focusing on that intermediary step," he said. "That's what I'm interested in. How do we reduce instances of bullying? We haven't been that great at it so far. Millions of dollars spent on bullying prevention programs and most of them are not successful. Some of them are making things worse. So, we have a long way to go on bullying prevention."
[Editor's Note: The content provided on this site is for general informational purposes only. Any information provided is not a substitute for professional medical advice. We encourage individuals to consult with the appropriate health expert if they have concerns.]
Featured image: Darren Baker/Shutterstock
The following two tabs change content below.
Marten Carlson
Marten is a staff writer for Mattress Clarity News. He covers the mattress industry as well as sleep science news. He is specifically interested in the connection between sleep and overall health.Marten has written for media publications like Consequence of Sound and received a master's degree in Film Studies from Emory University.He comes from Franklin, Indiana, and spends all the time he can writing, directing, and acting in films. He has directed genre short films and features. His newest film, Starlets, recently premiered at the River Town Film Festival in Clinton, NJ. He also stars in the upcoming thriller, Sour Bear. His next film, At The Hop, is a hot rod actioner with a horror twist.
Latest posts by Marten Carlson (see all)