Sleeping hot is the worst. You wake up sweaty, clammy, and dehydrated. If you often find yourself overheating while you sleep, it could be because your bedding isn't very breathable. It could also be your mattress's fault.
Don't fret if you think your mattress is making you sleep hot. This doesn't mean you have to buy a whole new mattress. You could also invest in a cooling mattress topper.
I have reviewed many of the most popular mattress topper brands and five really stand out. Which will help you sleep cool?  Read on for my full buying guide.
Best Cooling Memory Foam

Layla Mattress Topper

The Layla contains copper and Thermogel so you get the soft feeling of memory foam without sleeping hot. 

Cooling Pressure Relief

Most Affordable

Cooling Latex Topper

Best Cooling Feather Bed

Parachute Down Feather Bed

The Parachute is a breathable, fluffy feather bed that should keep the top of your mattress nice and cool. 
Top Picks Explained
There is no right mattress topper for everyone. People have different preferences when it comes to sleeping position and feel. With this in mind, I put together this list of cooling mattress toppers that should fit a variety of sleepers.
Best Cooling Memory Foam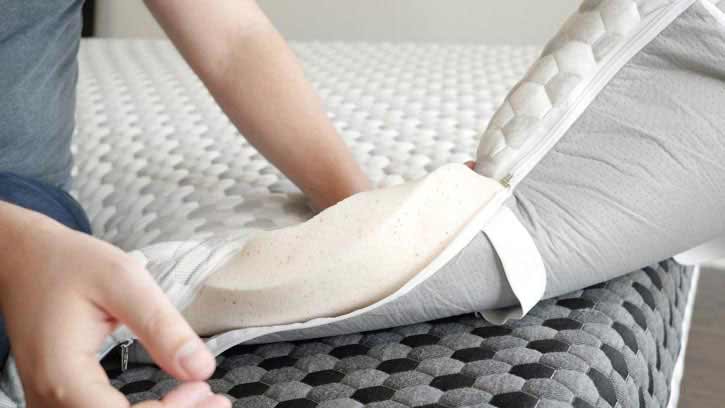 Layla Mattress Topper
The Layla mattress topper contains memory foam, a material that is known to trap heat. Memory foam mattresses and topper can direct this heat back at you, and make you sleep hotter.
However, this should not be an issue with the Layla. Its memory foam contains a copper infusion which is designed to help dissipate heat. In addition, the topper's cover contains Thermogel which is cool to the touch. Even though this is a memory foam mattress topper, I was sleeping very cool.
Copper is also antimicrobial so this should keep the topper free of bacteria and mold for a good amount of time. This is a definite plus for this mattress topper.
This is also a very comfortable mattress topper. The memory foam is very soft, and I feel myself slowly sink in. When I am on my back, the topper conforms to the curves of my body and, when I am on my side, I feel little pressure on my shoulders and hips.
If you like memory foam, but you don't want to sleep hot, the Layla is worth considering.
What Makes The Layla Stand Out?
It contains copper and Thermogel, materials that will help with cooling.
The antimicrobial copper will fight bacteria and mold build-up.
The Layla is a very soft memory foam topper that should be a good match for back and side sleepers.
Read the full Layla mattress topper review
Layla Mattress Topper Deals
The Layla is a great option for hot sleepers who want a memory foam feel. 
Cooling Pressure Relief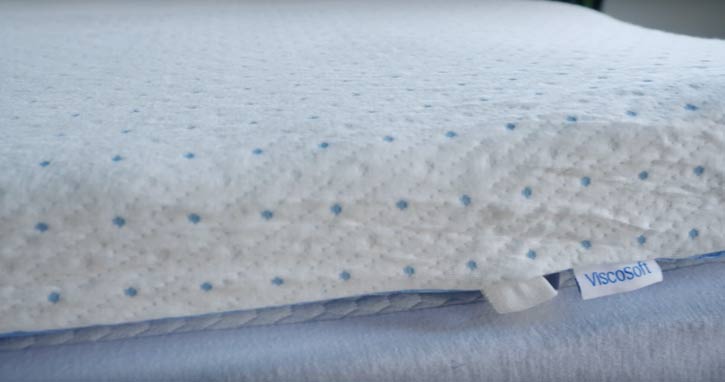 ViscoSoft Memory Foam Mattress Topper
Like the Layla, the ViscoSoft contains memory foam. Also, like the Layla, this topper features cooling elements to keep you from sleeping hot.
First off, the memory foam is ventilated and infused with gel. This is a cooling agent that will help dissipate any heat that the memory foam happens to trap. Second, the topper features a cover with a bamboo/rayon blend. This is cool to the touch. I was definitely sleeping cool on the ViscoSoft.
The ViscoSoft really shines because of its fantastic pressure relief. It contains 3″ of high-density memory foam that relieves almost all pressure on the shoulders and hips. I am a larger person, but the topper kept me from dropping through. Side sleepers of many sizes are going to like this topper.
I also found the ViscoSoft to be a good match for back sleeping. I sink into the topper and feel it taking the shape of my body. I also feel good support on my lumbar area.
The ViscoSoft is a good option for those who want great pressure relief and contouring without overheating.
What Makes The ViscoSoft Stand Out?
It features amazing pressure relief, making it a great option for side sleepers.
The thick, high-density topper should be a good match for heavier sleepers.
The ViscoSoft contains high-density memory foam so it should be a durable topper.
For cooling, the topper contains gel-infused memory foam which is also ventilated.
ViscoSoft Deals
The ViscoSoft 3" Memory Foam Mattress Topper is a great option for hot sleepers who want some extra pressure relief. Click the button for the best deal on ViscoSoft. 
Most Affordable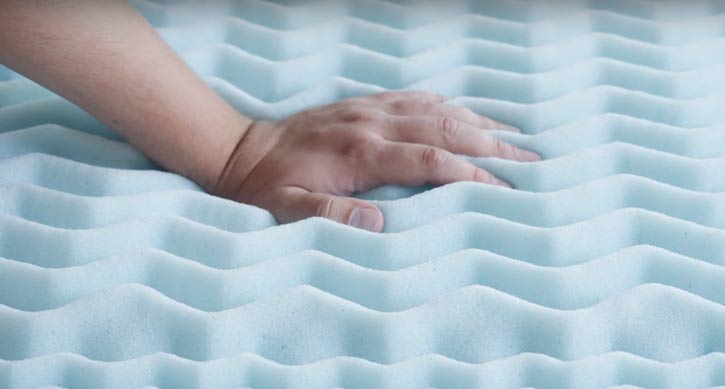 Lucid 5 Zone Memory Foam Topper
The Lucid 5-Zone Memory Foam mattress topper features a very interesting design. It has five zones that vary in firmness. The lumbar area of the topper is firmer while the hips and shoulder areas are a bit softer. This means the topper will feel softer when you are on your side and a bit firmer when you are on your back.
This Lucid topper comes with two infusion options. You can choose from a lavender infusion or a gel infusion. The lavender creates a soothing scent. The gel infusion is meant to help with cooling. Hot sleepers should definitely opt for the gel infusion.
Also, the topper's zoning helps with airflow. The zoning creates air channels throughout the topper so you should feel some air flowing around your body, keeping you cooler as you sleep.
Out of these toppers, the Lucid is also the most affordable. If you want a good value on a comfortable, cooling topper, take a look at the Lucid 5-Zone Memory Foam Mattress Topper.
What Makes The Lucid Stand Out?
Its zoned construction makes it a good match for back and side sleepers.
The topper comes with either lavender or gel infusion.
The zoning and gel should both keep the topper from sleeping hot.
It is a very affordable memory foam mattress topper.
Lucid Mattress Topper Deals
The Lucid is a zoned topper that is a good option for hot sleepers, back sleepers, and side sleepers. Click the button for a great deal on the Lucid. 
Cooling Latex Topper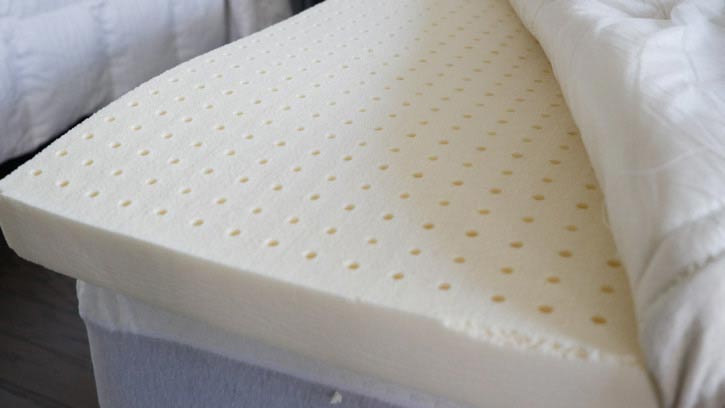 Avocado Mattress Topper
When it comes to cooling, latex foam is one of the best materials out there. Most latex foams are more breathable than memory foam so they don't trap heat in the same way. Out of the latex toppers I have tried, the Avocado should sleep the coolest.
The Avocado contains 2″ of Dunlop latex foam. This foam is ventilated for airflow, and a layer of organic wool sit atop it. The wool will also help with moisture-wicking and also keep the top of the Avocado nice and breathable. With all this combined, I slept very cool on the Avocado.
This topper should also be a very durable option. The Dunlop latex won't sag quickly the way memory foam can sometimes do. You will have to spend some more money upfront, but the Avocado should be a longer-lasting topper.
The Avocado is also bouncy so it should be easy to move around on this topper. You will sink in just a bit but you should never feel stuck.
What Makes The Avocado Stand Out?
The Avocado contains ventilated Dunlop latex, a breathable comfort material.
The latex, wool, and organic cotton cover make this a cooler sleeping topper.
The Avocado should be a supportive yet comfortable option for back sleepers.
The topper contains all-natural materials which mean it is an eco-friendly topper.
Read the full Avocado mattress topper review 
Avocado Mattress Topper Deals
The Avocado is an all-natural mattress topper that is a good option for those who want something comfortable and eco-friendly.
Best Cooling Feather Bed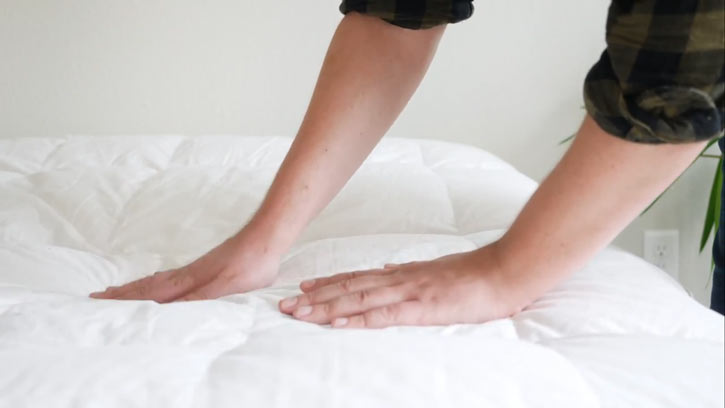 Parachute Down Feather Bed
Foam toppers aren't for everyone? What if instead of something thick and bulky, you prefer a topper that is light and airy? If this is what you are looking for, the Parachute Down Feather Bed could be a great choice.
The Parachute features a 100% cambric cotton shell with a baffle-box design. The baffle-box design allows the 550 fill power down fill to fully expand. This all creates a very fluffy almost pillow-top feel.
The feather bed is the most breathable option on this list. There is so much room for airflow, it should trap almost no heat. I can say that I did not overheat on the Parachute.
Those who want something light, breezy, and cool should take a look at the Parachute Down Feather Bed.
What Makes The Parachute Stand Out?
The Parachute is a very breathable feather bed topper.
The feather bed contains high-quality materials such as cambric cotton and responsibly-sourced down.
It can add a pillow-top feel to a mattress.
Read the full Parachute review
Parachute Feather Bed Deals
The Parachute Down Feather Bed is a soft, fluffy mattress topper that could be a great match for hot sleepers. 
What To Consider When Buying A Cooling Mattress Topper
Whether you decide to go with one of the options above, or you decide to continue shopping, there are a few things to think about. Keep the following points in mind, and you shouldn't have trouble finding a topper to keep you cool at night!
The mattress materials. The cooling abilities of your topper will depend significantly on the materials used in its construction. For instance, memory foam is generally known to sleep hotter than latex foam. Then you have feather beds, which are more breathable than most foam toppers. There are extra features that can increase the cooling quality of any material, but you want to first see what the base materials are.
Infusions and ventilation. Just because you have a memory foam topper, that does not mean it is going to necessarily sleep hot. Memory foam (or latex foam for that matter) can contain certain infusions that can help them sleep cooler. Three of the more common cooling infusions are gel, copper, and graphite. If your memory foam or latex foam topper contains one of these, you should be sleeping relatively cool. Also, keep an eye out for ventilation. If you are looking at a foam topper, see if it features ventilation holes to promote airflow.
Firmness and sinkage. The heat you experience on a topper can have a lot to do with its firmness. If you are sleeping on a firmer latex topper, you might not sink in so far. Sleeping on top, you will feel more air flowing over your body, and this can help you sleep cooler. If you are sleeping on a soft memory foam topper, you could sink in further and get less air contact. This could cause you to sleep hotter.
Other considerations. Then there are the general criteria you should consider when buying a topper. First, you want to think about your size and weight. This can affect how much you will sink into your topper. Second, think of your sleeping position. If you are a side sleeper, you are going to want a thicker, softer topper. Back sleepers will want something with a balance of comfort and support. Stomach sleepers should find a topper that gives them better support.
RELATED: Best Mattress Topper
Overall
If you are in the market for a cooling mattress topper, one of these five should definitely work for you. However, if you do want to keep looking, you can use the above information as a jumping-off point. Of course, if you have any questions or want a recommendation, leave a comment below.
The following two tabs change content below.
Marten Carlson
Marten is a staff writer for Mattress Clarity News. He covers the mattress industry as well as sleep science news. He is specifically interested in the connection between sleep and overall health.Marten has written for media publications like Consequence of Sound and received a master's degree in Film Studies from Emory University.He comes from Franklin, Indiana, and spends all the time he can writing, directing, and acting in films. He has directed genre short films and features. His newest film, Starlets, recently premiered at the River Town Film Festival in Clinton, NJ. He also stars in the upcoming thriller, Sour Bear. His next film, At The Hop, is a hot rod actioner with a horror twist.
Latest posts by Marten Carlson (see all)