There are many reasons someone might consider buying a mattress topper. They might want to change the firmness or feel of your mattress or they could want a topper to help them sleep cooler or to add some more pressure relief.
For those that these criteria apply to, the ViscoSoft is worth looking into. It is a thick memory foam mattress topper that is designed to soften a mattress, providing extra pressure relief.
As a heavier side sleeper, I often have issues getting enough pressure relief on my shoulders and hips. So, I was excited to see if the ViscoSoft would add the necessary pressure relief to a firmer mattress.
Did the ViscoSoft work for me, and will it work for other sleepers? Read on for my full review.
ViscoSoft Deals
ViscoSoft 3" Memory Foam Mattress Topper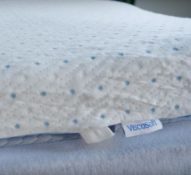 ViscoSoft 3" Memory Foam Mattress Topper
The ViscoSoft 3" Memory Foam Mattress Topper is a great option for hot sleepers who want some extra pressure relief. Click the button for the best deal on ViscoSoft. 
ViscoSoft Mattress Topper Video Review
The ViscoSoft mattress topper is one of the most popular toppers on the market – so I personally put it to the test. See how the topper performs up close and personal.
The ViscoSoft Might Be A Good Fit For…
Back sleepers. Back sleeping on a mattress that is too firm doesn't feel great, but the ViscoSoft will soften up a firm mattress, allowing the hips to sink in a fair amount. The memory foam will also conform to the shape of the sleeper's body. I personally felt great back sleeping on the ViscoSoft, and I believe many will have a similar experience.
Side sleepers. Side sleepers want to find a sleeping surface that is soft enough to relieve pressure on their shoulders and hips. If you don't already sleep on one of the best mattresses for side sleepers, the ViscoSoft is a great way to add soft pressure relief to your mattress because it is thick, soft, and made of high-density memory foam. Even larger side sleepers should feel comfortable on the ViscoSoft.
Fans of a memory foam feel. Those who love the feeling of memory foam, but don't want to invest in a whole new mattress should consider the ViscoSoft. It can add that slow-moving memory foam feel to the top of any mattress so when sleepers lie on the ViscoSoft, it will feel like they are slowly sinking in.
Hot sleepers who like memory foam. One of the major drawbacks of memory foam is that it can make us sleep hotter as it traps heat and directs it back at us, making for an uncomfortable night's sleep. However, the ViscoSoft's memory foam is infused with gel, and the foam is also ventilated for airflow, making the ViscoSoft a cooler-sleeping topper.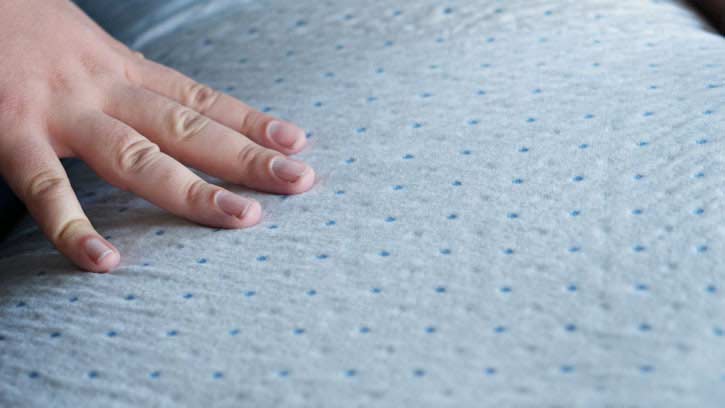 The ViscoSoft Might Not Be A Good Fit For…
Stomach sleepers. Those who sleep on their stomach might not get enough support from the ViscoSoft because it softens the sleeping surface quite a bit and doesn't provide much support under the hips. Stomach sleepers should find a topper that gives them more support or they might not need a topper at all.
Those who don't like memory foam. Memory foam isn't for everyone. For instance, those who like sleeping on top of their mattress might not find it to be the best fit, so those don't like the slow-sinking feel of memory foam should consider a topper with latex or some other responsive material.
People with mobility issues. The ViscoSoft's memory foam is very slow-moving and, because of this, the topper actually makes it more difficult to change positions. Those who have mobility issues or want a topper that will make it easier to move around should look at a mattress topper with more responsive foam or latex foam.
RELATED: Best Mattress Toppers 2019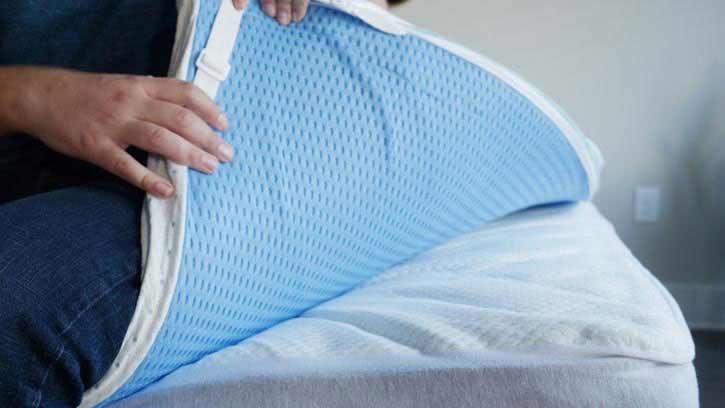 Construction And Options
The ViscoSoft is 3″ thick.
The outer cover is made of a bamboo/rayon blend, and it is breathable and cool to the touch.
On the bottom of the cover is an anti-slip mesh.
Inside, there are 3″ of 3.5 lb density, gel-infused memory foam that is ventilated for airflow.
The ViscoSoft features straps at all four corners to keep the topper secured to the mattress.
The topper is available in Twin, Twin XL, Full, Queen, King, and California King.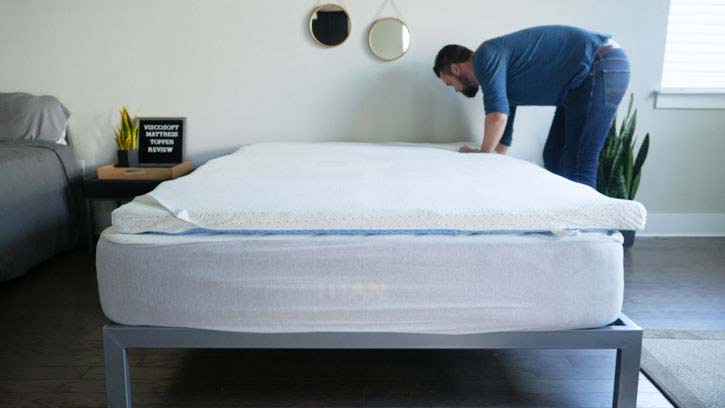 My Experience
The first thing I consider when I receive a new mattress topper is the speed of expansion. Basically, will this topper expand quickly so I can use it that night or will I have to wait a few days?
Well, the ViscoSoft features some of the softest memory foam I have come across. So, I was not surprised when it took the topper about 48 hours to fully expand. This is not necessarily an issue, but it is worth noting that it might not be possible to use the topper right away.
While it did take some time to expand, I did not get too much of that memory foam off-gassing, so I did not notice the chemical smell I have found with other memory foam mattress toppers.
To test out the firmness of the ViscoSoft, I placed it on a mattress with a firmness rating 9/10 and, after adding the ViscoSoft, the mattress felt closer to a 6/10.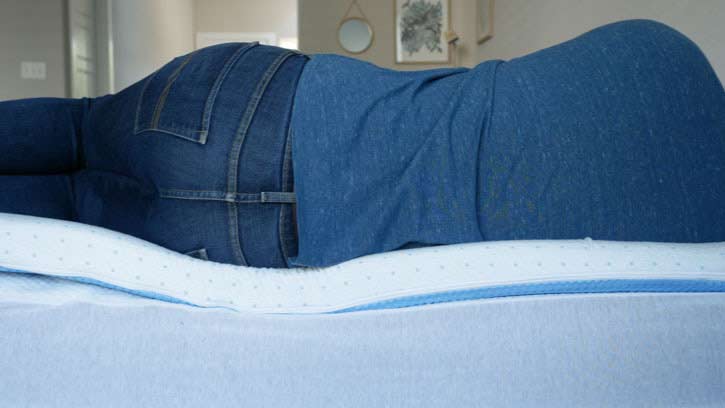 So, how do I feel sleeping on the ViscoSoft?
When I am on my back, the ViscoSoft is a good match for me because I sink into the topper while still feeling supported. The memory foam presses up into my lumbar area and the memory foam takes the shape of my body as my hips sink in but not too far.
Lying on my side, the ViscoSoft relieves almost all pressure on my shoulders and hips. I am a larger person, and I often drop right through softer memory foam toppers but, given that this is some thick, high-density memory foam, I feel great pressure relief and don't bottom out.
Stomach sleeping, the ViscoSoft is way too soft for me because I feel like the center of my body is dropping into the topper.
The ViscoSoft adds that soft, memory foam feel to the top of the mattress. The mattress has more of an innerspring feel without the topper but, with the ViscoSoft, I am really only feeling that slow-moving, quicksand feel.
Memory foam is known for trapping heat, however, I did not have this issue with the ViscoSoft. The cover feels very cool and, resting on the topper for a good amount of time, I don't feel like I am heating up. It feels like the gel infusion and ventilation are doing their job well.
Overall
In the end, I was very impressed by the ViscoSoft Memory Foam Mattress Topper. It relieves pressure better than many memory foam toppers I have tried and does not sleep too hot.
The ViscoSoft comes with a 60-day money-back guarantee and a 3-year warranty.
The following two tabs change content below.
Marten Carlson
Marten is a staff writer for Mattress Clarity News. He covers the mattress industry as well as sleep science news. He is specifically interested in the connection between sleep and overall health.Marten has written for media publications like Consequence of Sound and received a master's degree in Film Studies from Emory University.He comes from Franklin, Indiana, and spends all the time he can writing, directing, and acting in films. He has directed genre short films and features. His newest film, Starlets, recently premiered at the River Town Film Festival in Clinton, NJ. He also stars in the upcoming thriller, Sour Bear. His next film, At The Hop, is a hot rod actioner with a horror twist.
Latest posts by Marten Carlson (see all)