Stearns and Foster is a well-known mattress company that specializes in luxury mattresses that are made with high-quality materials and handcrafted details.
The brand is part of Tempur Sealy International, who also makes mattresses under Tempur®, Tempur-Pedic®, Cocoon™by Sealy, Sealy®, Sealy Posturepedic®, and Optimum™.
Stearns and Foster sells mattresses within four collections: Estate, Lux Estate, Lux Estate Hybrid and Reserve. Each collection features several different mattresses that vary by firmness level and mattress top.
Where Can I Buy A Stearns and Foster Mattress?
Stearns and Foster manufactures the mattresses but does not sell them directly to customers. Instead, you can find them in a large number of retail stores across the country.
We've put together a list of some of the biggest stores you can find Stearns and Foster beds:
Store Name
Macy's
Bloomingdale's
Sears
JCPenney
Dillard's
Raymour & Flanigan Furniture
Factory Mattress
Bassett Home Furnishings
Conn's HomePlus
Rooms To Go
Ashley Homestore
Art Van Furniture
If you are interested in shopping local at a small business near you, please use Stearns and Foster's Exclusive Retailer locator (which can be found on their website) for a list of every available retailer in your area.
How Can I Get The Best Price?
Finding the best price on a Stearns and Foster mattress will require a little bit of research before you go shopping.
Each retailer names the Stearns and Foster models in their store. One mattress at Macy's may be under a different name at a store like Haverty's or Ashley's Home Furniture.
Stearns and Foster also set a recommended price on their mattresses but it is ultimately up to the individual retailer to decide what price they are willing to sell their mattress at.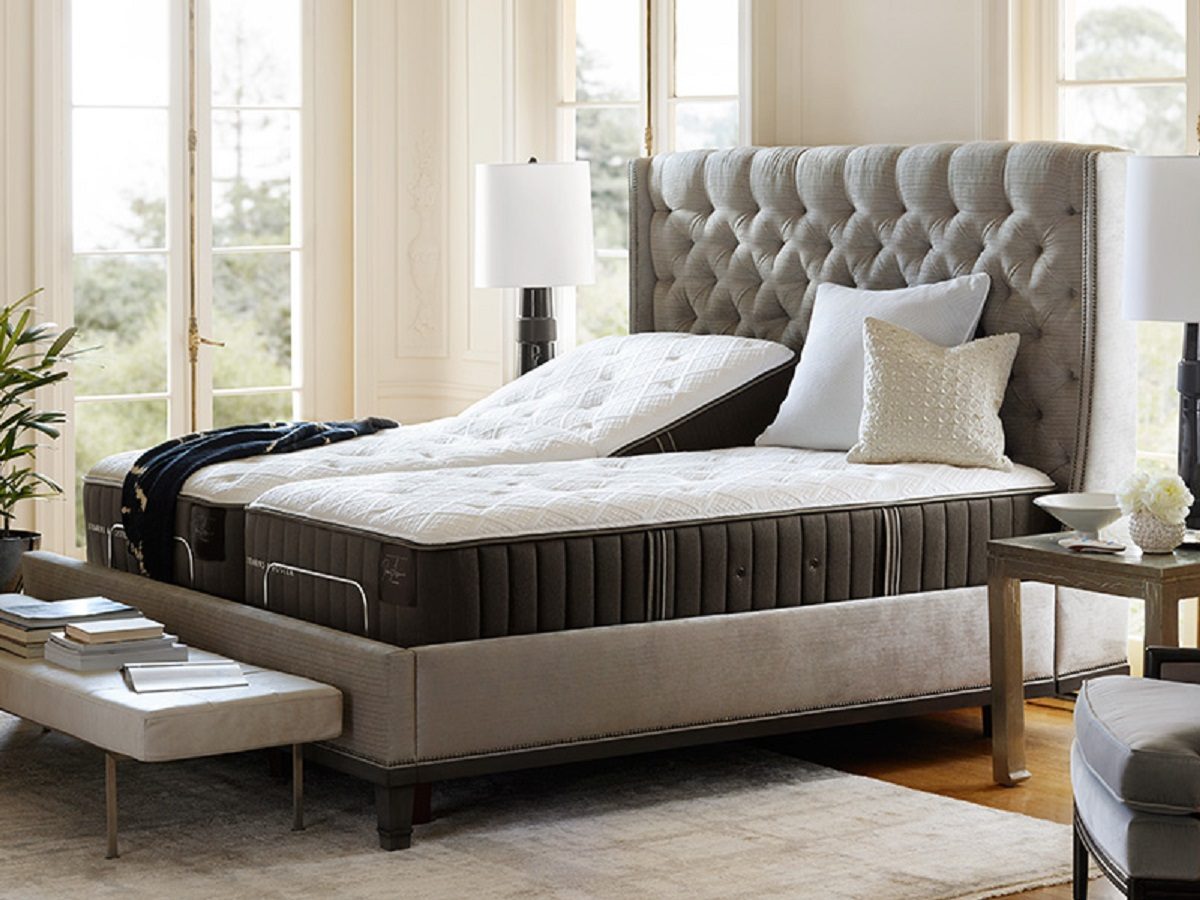 With different names and potentially different prices at each store, it may be helpful to first look online at collections, firmness levels, and mattress tops before going into a store. Once you have an idea, you can find a local store with the mattresses you are looking for and see which one fits you best.
If you are keen on getting the absolute best price, you may want to get the model name and price of the mattress you like from more than one retailer. Mattress companies will be eager to do business with you and some will price match from other brick and mortar stores.
Bottom Line
Stearns and Foster's mattresses are sold at a wide variety of retailers across the country, from huge nationwide department stores to smaller local businesses.
While Stearns and Foster recommends a price, the local retailer will determine the final price of each mattress and they will also have a unique name for each model within their own store.
In order to get the best price on a Stearns and Foster mattress, you will need to figure out what the mattress is named in a couple retailers and what price it is being sold for. Then you can either purchase it from the store with the lowest price, find a retailer willing to negotiate or at least price match so you know you're not being overcharged.
Katie Golde
Katie previously managed the day to day operations of the Mattress Clarity news site and reviews sleep products in addition to writing and editing sleep news. She hails from Austin, where she lives with her growing family. She is a Certified Sleep Science Coach and has a master's degree in Journalism from Northwestern University and has a background in health and science content. Her work can be found in print and online publications like Discover Magazine, USA Today and The Huffington Post.