Stearns and Foster is a popular mattress company known for its use of high-quality materials to handcraft each mattress with luxury details. The brand falls under the umbrella of Tempur Sealy International, who also makes mattresses under Tempur®, Tempur-Pedic®, Cocoon™by Sealy, Sealy®, Sealy Posturepedic®, and Optimum™.
There are four collections available:
Estate
Lux Estate
Lux Estate Hybrid
Reserve
Within each collection, there are a series of models that can further be defined by their feel and mattress top.
The standard collection with the most basic models is the Estate Collection. We've put together a guide to show potential buyers the features available in the Estate Collection and what to look for when they go shopping at their local retailers.
Shipping Method
Free shipping
Firmness
Multiple firmness options
Warranty
10-year warranty
Warranty
10-year warranty
Firmness
Multiple firmness options
Shipping Method
Free shipping
Firmness
Multiple firmness options
Warranty
10-year warranty
Shipping Method
Free shipping
Key Features
PrimaCool™ Performance Fabric with TENCEL®: This fabric is a high loft and double stretch-knit, which feels soft yet durable. Tencel is an eco-friendly fiber that is known for its moisture-wicking properties, which will help the mattress breathe and keep sleepers cool.
Advanced Adapt™ Foam: This adaptive foam is available in select models within each collection (about half the Estate Collection features this foam). It is designed with a slower response time for extra indulgence and enhanced durability.
IntelliCoil® Advanced: This coil is exclusively made for Stearns and Foster. The outer coil is designed for durability and comfort. The inner coil is made to adapt to each sleeper's personal weight for an ideal level of support.
PrecisionEdge™ System: A network of miniature coils brings support and breathability all the way to the edge of the mattress, increasing the sleep surface.
S&F Air Vents: Vents are built into the mattress to increase airflow and breathability.
Hand-embroidered accouterment
Cashmere infused quilts
Queen set ranges from $1,799 to $2,099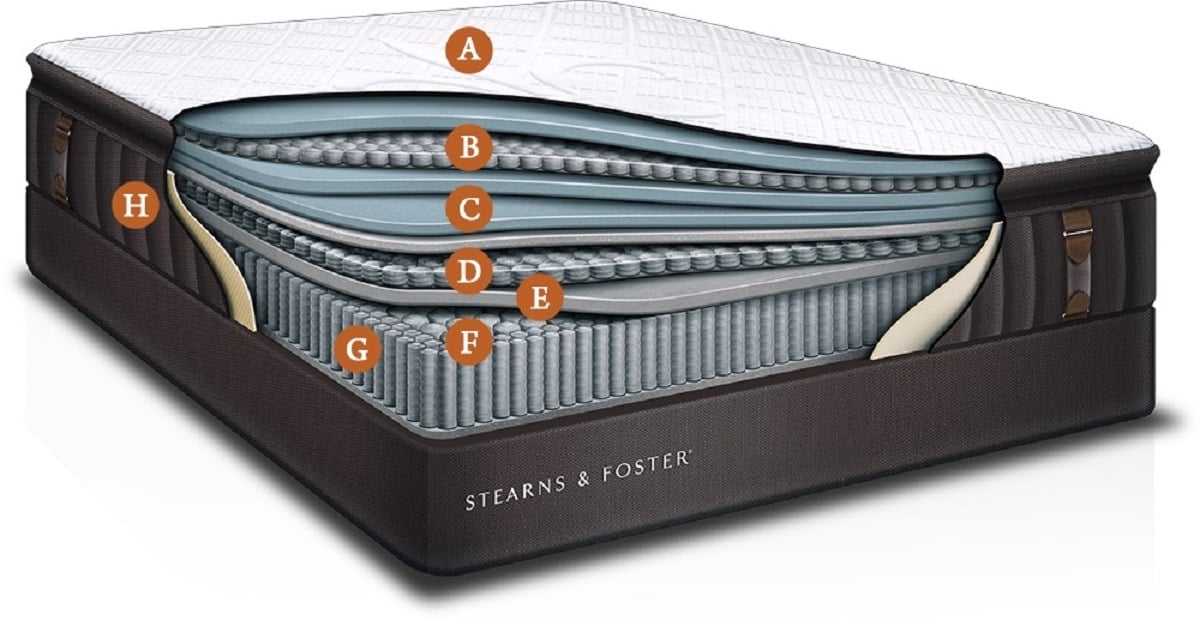 Comfort Level and Mattress Top Options
After customers find a model within a collection that they like, they will also have the option to pick their comfort level and their mattress top.
Estate Collection Comfort Levels
Ultra firm
Firm
Cushion firm
Plush
Mattress tops can come in something called a "tight top" which is a non-pillow top or a Euro Pillow-top option.
Depending on what is available at the local retailer, customers should be able to select a model, comfort level and mattress top that is the best fit for them.

Retailers & Models
Stearns and Foster sells their mattresses to a range of retailers, including large department stores like Macy's and Sears. Customers can search for the stores closest to them through the Stearns and Foster website.
Each retailer names the models in their store. This means that a mattress at Macy's may be called one name and the same mattress will be called another name at another store like Haverty's or Raymour and Flanigan.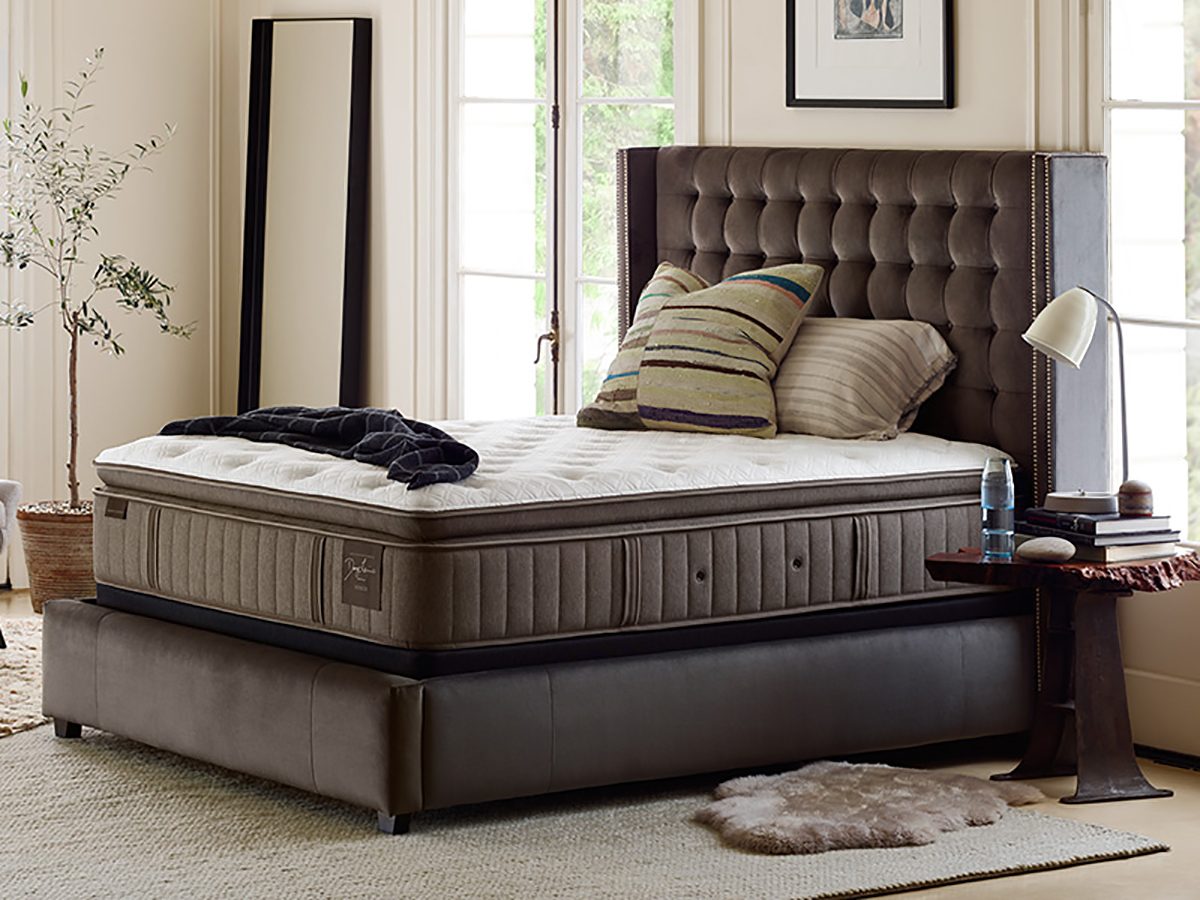 This makes it difficult to compare prices across retailers and not all retailers will have every single model in every single comfort level and mattress top available.
That is why it's important to know as much as possible about the mattresses before going to a retailer. Those who have an idea of what they want will be able to narrow their choices down more easily.
Example Estate Collection Mattress Review
The video below is a review of the Estate La Castello V Luxury Plush Pillow top mattress.  Customers can only find this exactly named mattress in one store, but it does give a sense of what to expect from the Estate collection.  Viewers can see all the luxurious extra touches that the mattress has and you get a sense of the feel of the mattress as well.  Despite the pillow top and all the comfort materials, the mattress was a little firmer than I expected.  Overall, it still had a great feel.
Models in the Estate Collection
The Estate Collection features 10 models in total. Five models are considered Level 1 while the other five are Level 2. The two levels have the same coil system and the same number of coils. The Level 2 will be more money because it will feature the newer Advanced Adapt™ Foam in the models.