Sleep Number is a popular mattress and bedding company that is best known for its Sleep Number beds, which are made with an adjustable air mattress. Their beds offer a DualAir Adjustability feature, which allows couples to decide the firmness of their half of the bed, so no one has to compromise.
$500 Off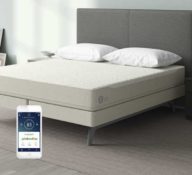 The Sleep Number 360 p5 is part of the company's Performance Series and is comfortable, supportive, and adjustable. Click the button for $500 off!
There are two different types of Sleep Number beds currently available:
360® Smart Beds
Value Beds
The 360® Smart Beds are organized into three categories: Classic, Performance, and Innovation. Meanwhile, the Value Beds don't feature sensors that will automatically adjust the firmness, comfort, and support. The Value Beds can be adjusted with a single remote.
Curious to know more about Sleep Number beds and how they work? Take a look at our full breakdown of the beds and available models below. Or check out our full Sleep Number review.
Sleep Number Bed Components
Air Chambers
All Sleep Number mattresses come with one or two air chambers. These air chamber(s) use a pump to bring in air that will inflate or deflate the chamber based on your Sleep Number setting.
The higher the number (it goes up to 100) the firmer your mattress will be. When you have two air chambers, each person can adjust the amount of air in their air chamber based on their personal preference.
Almost every model comes with one remote that allows you to program your Sleep Number. The i-10 model is the only one that comes with two remotes and is only available with dual air chambers.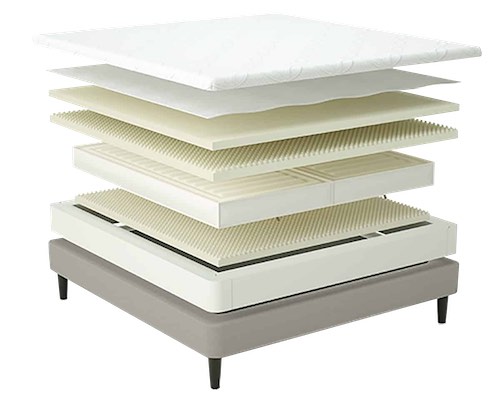 Comfort Foam
Except for the C-2 Classic Series model, all Sleep Number mattresses come with at least one layer of comfort foam that rests above the air chamber(s) and below the mattress top.
Sleep Number offers a variety of different comfort foam layers in a range of densities and thicknesses from 1.5" inches thick (Value Beds) to 4" inches thick (360® Smart Beds).
The higher the series, the more cushion/thicker layer each mattress will have. For example, the C-2 model will be the firmest 360® Smart Beds, while the I-10 model will have the most cushion (4" layer).
Some mattresses offer PlushFit foam or enhanced foam while others will have Memory Foam layers.
RELATED: Best Mattress
Sleep Number Deals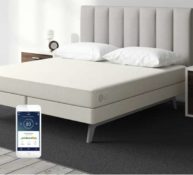 The is one of the brand's most affordable mattresses but still boasts some great Sleep Number features! Click the button for the best deal on the Sleep Number c2.
Mattress Tops
Just like comfort layers, Sleep Number beds come in a range of mattress tops. Pillowtop mattresses start with the Performance Series models and expand from there.
In some cases, mattress tops can be accessed by a separate zipper on the mattress. The I-8 and I-10 models offer a Duvet-style mattress top, the most luxurious, and can be accessed by a second zipper on the mattress.
Aside from these two models, all other mattresses have one zipper in which you can reach all of the layers and the air chamber(s) at once.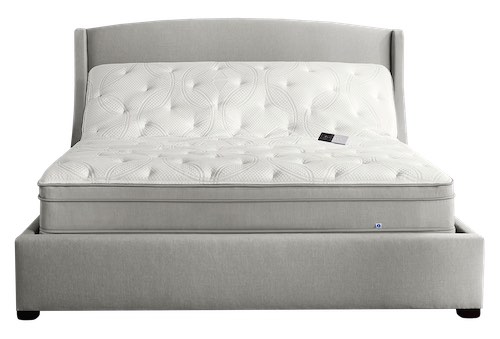 Available Models
360® Smart Beds
Classic Series: The Classic series models are the most basic mattresses. They will have the firmest feel to them because there is the least amount of layers between the air chamber and your mattress top.
You can read full reviews of the C-2, C-4 and CSE models here (may not currently be available).
Performance Series:  These models are the P-5, P-SE (Special Edition) and the P-6 models. The Performance series offer pillow-top style mattresses and have thicker comfort layers to be more pressure relieving.
You can read full reviews of the P-5, and P-6 models here.
Innovation Series:  Innovation series the top of the line set of mattresses with duvet-style pillow tops and In-Balance temperature balancing material built into the covers.
You can read full reviews of the I-7,  I-8, I-10, and I-LE models here.
$800 Off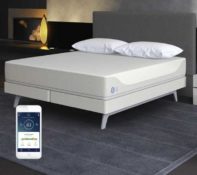 The i8 is one of Sleep Number's higher-end mattresses and is both comfortable and breathable. Click the button to save $800 on the i8. 
Value Beds
S1 and S3 models are considered Sleep Number's "Value Beds". This means that they don't have sensors built in to automatically adjust to help you sleep. Instead, they're more like the older models that let you manually control the comfort and firmness (and your Sleep Number setting) with a remote.
They have 1.5″ of comfort layers and 5-zoned areas of support.
Sleep IQ Technology
Sleep IQ Technology is a proprietary program that works with Sleep Number beds to track your sleep each night and help you find your optimal Sleep Number setting.
According to Sleep Number, it can tell you your best sleep hours and connect to your health and wellness apps to provide even more insight into your quality of sleep.
It requires a specific type of pump for your bed. You can add on the Sleep IQ Technology by switching out this pump if you decide you want it after your mattress purchase.
Sleep IQ Technology is included in the Memory Foam and Innovation Series models. You can add it on to any Classic or Performance Series model for an additional $199.
Modular & Adjustable Bases
Not included in the price of your Sleep Number mattress but available for purchase are modular bases and a series of adjustable bases.
While you don't have to use Sleep Number's modular base for your mattress, it does replace a traditional box spring and is available for $299 for a Queen.
There are three levels of FlexFit adjustable bases that will essentially enhance your Sleep Number experience.
FlexFit 1: Raises the head of your bed
FlexFit 2: Raises the head and foot of your bed, has a "zero gravity" option, offers a timer and reduced snoring feature (in some sizes)
FlexFit 3: All of the features in the FlexFit2 plus a massager as well as under-bed and nightstand lighting
RELATED: Best Sleep Number Bed Alternatives