Sleep Number's Limited Edition I-LE mattress shares many features of its sister I-8 and I-10 models. It offers multiple layers of foam comfort and support. But is it the right bed for you? Read on for my full review.
Construction Overview
The I-LE is the Limited Edition mattress in Sleep Number's Innovation Series line of beds. The series also includes the I-8, and I-10 mattresses as well.
The I-LE mattress has a 14" profile, which is measured from the base to the highest loft of the mattress.
The mattress will come with either one or two air chambers (depending on what size bed you get). The air chambers will inflate and deflate according to your Sleep Number setting. This will determine the level of support/firmness your mattress provides.
Sleep Number beds made with two air chambers comes with their "DualAir™ adjustability" feature. It allows you to adjust firmness and support on each side of the bed to your Sleep Number setting. The hoses to pump air into the chamber are 4ft in length.
Directly below the air chamber(s) is a 2" base pad and above the air chamber is 3" of  Exclusive Comfort Layer foam. This layer is enhanced with a breathable airflow design to help balance your sleeping temperature, according to Sleep Number Customer Service.
The enhanced foam comfort layer is also made with five zones specifically designed to contour to your body.
The I-LE mattress is made with a polyester/polypropylene blend fabric that is designed to be soft and breathable.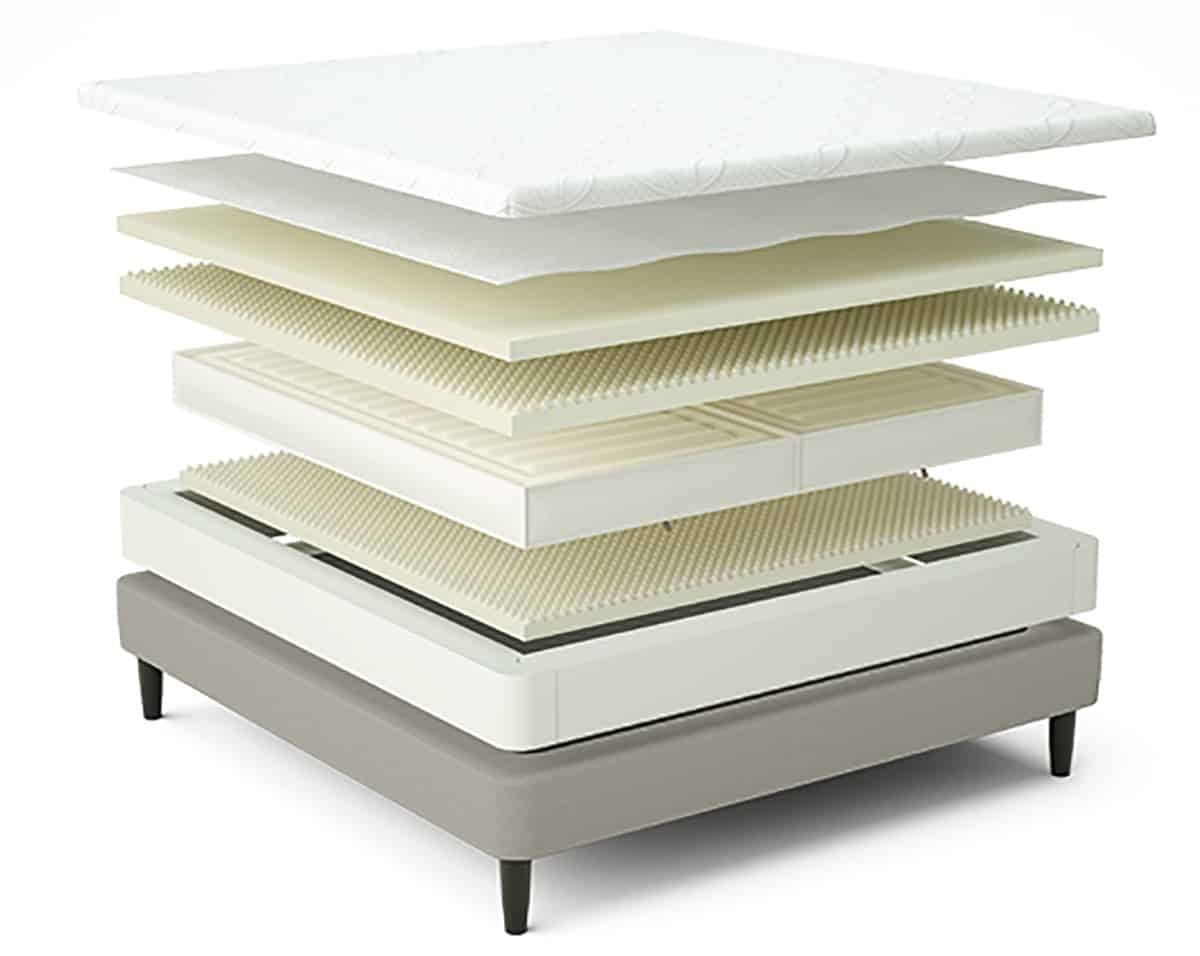 The top of the I-LE mattress is a duvet-style pillowtop that includes a 3" of hypersoft quilting foam.
It's worth noting that the Sleep Number Sleep IQ Technology, which will track your sleep and help you find your optimal Sleep Number setting, is included in the price of the I-LE mattress.
Optional: You can add a FlexFit Adjustable Base for your bed that will allow you to raise the head and foot of the bed.
Here are the layers of the I-8 mattress starting from the base:
Base
2" foam base pad
Air chamber(s)
3" Exclusive comfort foam -with five zones designed to contour to your body and breathable air flow design
Duvet-style pillowtop with a 3" quilting foam layer sewn in
Polyester/polypropylene blend fabric overall
Firmness Level
When it comes to firmness, there are several factors in a Sleep Number bed that will affect how firm your bed is.
Your Sleep Number: The air chamber/air chambers in your mattress will inflate and deflate according to your Sleep Number. The higher the Sleep Number, the more air in the air chambers and the firmer your mattress will be.
Your Comfort Layer: There are several types and thicknesses of foam comfort layers in Sleep Number beds. Denser and thicker comfort layers will provide more support and increase the firmness of your mattress.
Your Mattress Top: Sleep Number offers a variety of mattress tops. Plusher pillow top style mattress tops will be less firm than a flatter mattress top.
The I-LE mattress has several layers, including a 2" base pad foam layer, 3" of exclusive comfort foam and 3" of  quilting foam sewn into the mattress top. These layers will provide significantly more cushion to the mattress than a Classic Series bed like the C-2 or the C-4.
A Customer Service team member also told me that it will feel slightly firmer than its sister model, the highly-rated I-8. She said that the foam construction in the I-LE is denser than the I-8, especially in the firmer/denser I-LE mattress top.
Related: Best Mattresses Overall
You Might Want To Consider This Mattress If:
You Sleep Hot. The comfort layer in the I-LE mattress is made with foam that is enhanced with breathable airflow design to help balance your sleeping temperature.
You Can't Decide Between the I-8 and the I-10. A Customer Service representative told me that if the if the I-8 and the I-10 had a kid together, it would be the I-LE. What I think he means is that the I-LE is a great combination of all the features these two Innovation Series mattresses has to offer. It is also priced right in between the two models as well.
You Might Not Want To Consider This Mattress If:
You Are On A Budget. The I-LE is the second most expensive Sleep Number model. It retails at $4,899.98 for a Queen size mattress. It has a lot to offer and customers seem to really enjoy this mattress. However, if you're trying to save money, it may not the best fit.
The I-8 mattress may be the closest to the I-LE, but Sleep Number sells other Queen mattresses for less than $1,000 (the C-2) and several for under $3000, including the popular P-5 mattress.
Most Common Pieces Of Praise
The I-LE had a large number of positive reviews. One of the main compliments was about the sheer comfort the mattress provides through its many foam layers and contoured support.

Couples and partners seem to love Sleep Number beds for their dual air chambers and ability to adjust the firmness to your desire. So many couples were thrilled to be able to sleep so comfortably next to a partner who slept differently from them.

The layers of foam and support in the I-LE made it a good fit for those suffering from pain – specifically in the back. Customers who coupled it with a FlexFit adjustable base found, even more, comfort in the bed.

Most Common Complaints
The biggest complaint across the reviews was that people could not find a comfortable balance between support and cushion. Many struggled with their Sleep Number setting and programming it in a way that let them get a good night's sleep.

For some reason, people were very irritated with the Sleep IQ Technology in the I-LE mattress. I'm not sure if this has something to do with the sensors and multiple foam layers, but many customers felt that the Sleep IQ Technology was a waste.

Why Would Someone Pick This Model Over The Other Sleep Number Mattresses?
The I-LE is a great mix of foam comfort, contoured support, and cooling features. Those who sleep hot and who like sleeping on beds that provide a good amount of cushion would like the I-LE mattress.
Those who like the premium I-10 mattress, but want more size options or are considering purchasing a bed with a single air chamber, could definitely choose the I-LE.
Overall
The I-LE mattress is very similar to its sister models, the I-8 and the I-10 mattress and is priced right in the middle of the two at $4,899.98 for a Queen size.
Your decision to choose this mattress over the others will really come down to the details and personal preferences. The I-LE offers thicker and denser foam layers made with breathable material to keep you cool, supported and most of all comfortable all night.
Do you want more Sleep Number information? Check out our full guide.
The following two tabs change content below.
Katie Golde
Katie manages the day to day operations of the Mattress Clarity news site and reviews sleep products in addition to writing and editing sleep news.She hails from Austin, where she lives with her growing family. She is a Certified Sleep Science Coach and has a master's degree in Journalism from Northwestern University and has a background in health and science content. Her work can be found in print and online publications like Discover Magazine, USA Today and The Huffington Post.
Latest posts by Katie Golde (see all)