A Full (or Double) bed and a Queen may not seem that different. The Full is just a little bigger than a Twin and slightly cheaper than a Queen, right? Not so fast. There is actually a lot to know about both the Full and Queen beds. We've put together a side-by-side comparison to help you decide which bed is best for you.
The Basics
Standard Full
| Full | |
| --- | --- |
| Width | 54" |
| Length | 75" |
| Width Per Person | 26.5" |
Who is this ideal for?
A Full-size mattress or bed is sometimes called a "Double" or just "Full". It is the same length as a Twin bed (sometimes it's measured at 74″ in length instead of 75″), which can make it too short for some adults. A Full tends to be better for individuals –  a couple would only get 27″ each –  which is the width of a crib. The Better Sleep Council says parents are increasingly choosing Full-size beds over twin sizes for teenagers'  and even younger children's bedrooms.
Standard Queen
| Standard Queen | |
| --- | --- |
| Width | 60" |
| Length | 80" |
| Width Per Person | 30" |
Who is this ideal for?
A Queen-size bed is 5" longer and 6" wider than a Full sized bed. Queen beds are suited for both couples and individuals. Each couple gets about 30" of space to themselves. Because it can work for a single person or a couple, it is the most popular mattress size today. It is often a good fit for smaller Master Bedrooms or in a Guest Room.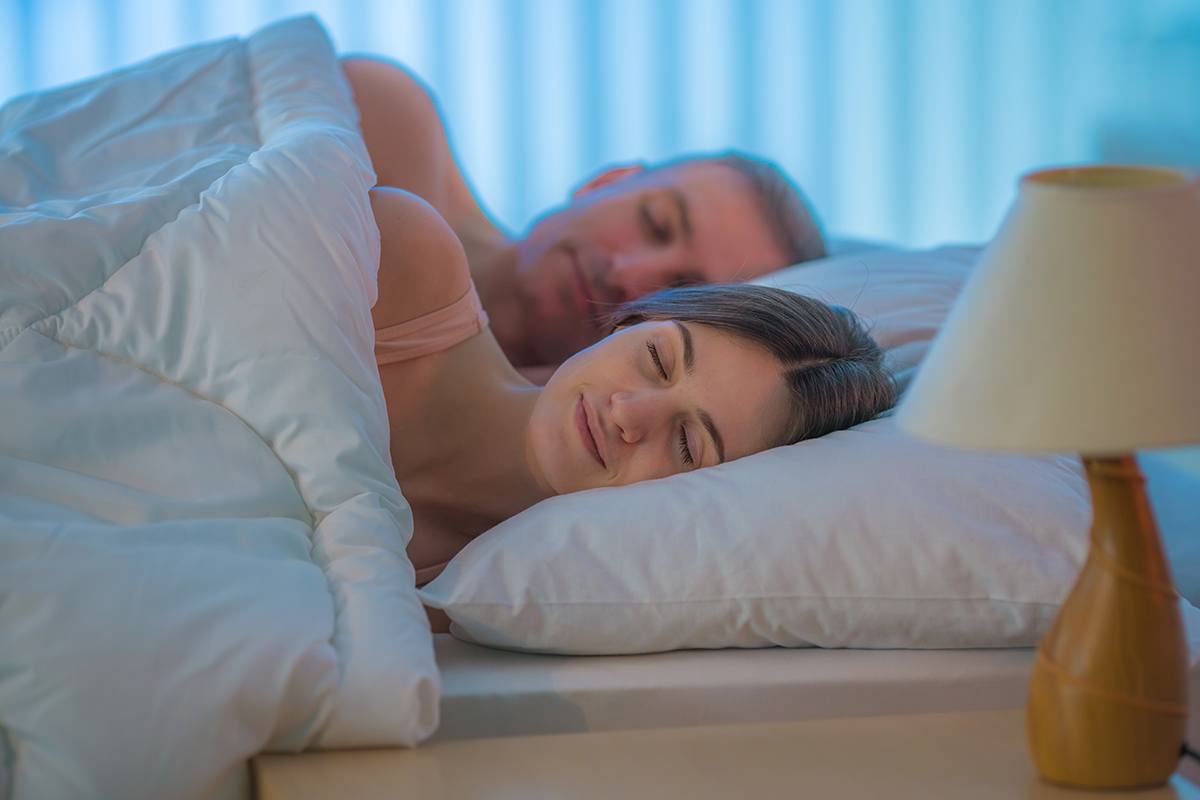 Realstock/Shutterstock
Less Traditional Sizes
Full
Full XL: This bed is the same width as a Standard Full but has an extra 5″ length that matches Twin XL, Queen and King size options.
| Full XL | |
| --- | --- |
| Width | 54" |
| Length | 80" |
| Width Per Person | 26.5" |
Queens
Olympic Queen (or Expanded Queen):  The Olympic Queen is a full 6″ wider than a Standard Queen but has the same length (80″).
| Olympic Queen | |
| --- | --- |
| Width | 66" |
| Length | 80" |
California Queen: California Queens are waterbed mattresses and pretty difficult to find these days.
| California Queen | |
| --- | --- |
| Width | 60" |
| Length | 84" |
Split Queen: This is essentially a Queen bed but split down the middle.
| Split Queen | |
| --- | --- |
| Width | 30" (each half) |
| Length | 80" |
You Might Choose
Full If…
You're an individual. Two people could technically sleep on a Full/Double bed, but it would be a tight fit – with each person only getting the width of a crib for themselves. For this reason, Full/Double beds are better fits for those who sleep alone and want a little space to spread out.
You're on a budget. Full-sized mattresses, bed frames, and sleep accessories like bed sheets will all be less expensive as a Full/Double than a Queen.
You're working with a smaller space. It is wise to leave space around your bed so you can function in your bedroom or guest room. Make sure you choose a bed that allows you to fit other furniture and gives you room to move.
Queen If…
You sleep with a partner. In a Queen-size bed, each person gets roughly 30″ of space each, making it more comfortable than a Full/Double for couples.
You have space to fill. Master bedrooms tend to be larger than Guest Rooms. Queen beds tend to fit both rooms well, which makes them super popular. Larger Master Bedrooms may benefit from a bigger bed like a Queen (or even a King). This will help balance the aesthetic of the room.
You can afford the bed plus additional accessories. Not surprisingly, a Queen bed with mattress, matching sheets, mattress protector (yes, you will want one) and additional accessories will all cost you more as you move to a bigger size. It's wise not to blow your whole budget on a new bed and forget that you need to keep it protected and comfortable.
Iakov Filimonov/Shutterstock
Things To Consider
You may be eyeing a Queen-sized bed or hoping to save space (and money) by going with a Full. Either way, doing your research in advance – measuring and planning out your space – will ensure that your final choice will be the absolute best bed for you.
Measure your space and leave room for movement. If you are thinking about making the jump from a Full/Double to a Queen-sized bed, check to make sure it fits it in your bedroom. Yes, this may seem obvious, but it's easy to get caught up in an impulsive shopping moment and end up with a bed that doesn't fit. An article from Th!ngz Contemporary Living says that most designers will recommend 30″ of space around your bed for movement.
Make sure you can get your new bed into your new room. Without a doubt, the Full/Double bed and mattress will be easier to move than a Queen. Even if you think you can handle it yourself – it may be smart to ask for help when moving furniture. Queen-sized mattresses (especially heavier foam ones) may need the help of two people to move.
Overall
Whether it's a Guest Room or smaller Master Bedroom, there are pros for choosing both a Full/Double bed or a Queen. Couples may be more inclined to go with a Queen for the additional space – but it will also come with an increased cost. This choice will be personal to each of us but can be made must less stressful if you take measurements and plan out your room in advance.
Featured image: Photographee.eu/Shutterstock
The following two tabs change content below.
Katie Golde
Katie manages the day to day operations of the Mattress Clarity news site and reviews sleep products in addition to writing and editing sleep news.She hails from Austin, where she lives with her growing family. She is a Certified Sleep Science Coach and has a master's degree in Journalism from Northwestern University and has a background in health and science content. Her work can be found in print and online publications like Discover Magazine, USA Today and The Huffington Post.
Latest posts by Katie Golde (see all)