Sleepers often get confused about the difference between full vs double beds. These two standard mattress sizes have a lot in common! In fact, they have so much in common that they're exactly the same. Read on below to learn more.
Is a Double Bed the Same as a Full?
Yes, a double and full size mattress are the same. They have the exact same bed dimensions (54 x 75 inches) and offer the same amount of sleeping space.
What is a Full Mattress?
A full mattress measures 54 inches wide and 75 inches long. It is one size larger than a twin bed. These mattress dimensions are great for adult sleepers who need extra space, but have a small bedroom. Full mattresses fit best in rooms that are about 10 feet by 10 feet. Smaller rooms can likely only accommodate a standard twin bed.
What is a Double Bed?
A double bed is exactly the same as a full! A double mattress measures 54 inches wide and 75 inches long. Double mattresses were the first two-person beds on the market, but in the 1940s mattress manufacturers realized that the average couple needed more space. They started offering queen and king size mattresses, and double beds started becoming a popular choice for single sleepers instead of couples.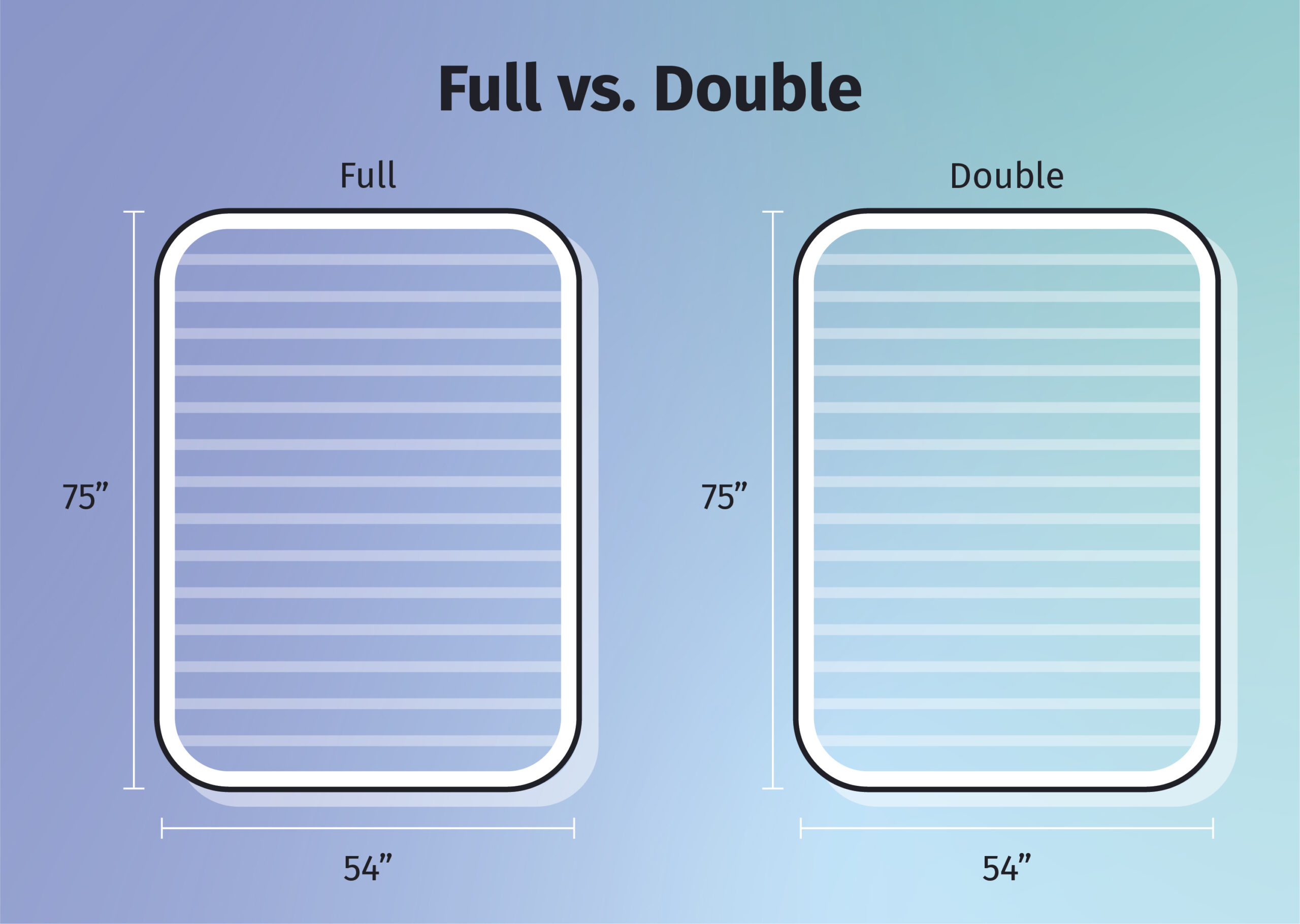 Who Should Get a Full-Size Mattress
Take a look at the list below to see who a full-size mattress is best for!
Full and double beds are best for single adults who want more space than a twin size mattress offers.
Sleepers furnishing a guest room, especially one on the smaller side, often use double beds.
Double beds are popular choices for college dorm rooms or apartments.
Couples who like to cuddle or aren't worried about not having enough personal space might want to consider a full bed. Full mattresses are cheaper than queen size mattresses or king size beds, so can save you a few hundred dollars!
Double beds are also popular options for children's rooms. Your child can grow into a double bed, and you won't need to upgrade to a larger mattress as they grow.
Think a double bed is the right choice for you? Check out our best full size mattresses roundup to see some great options.
Choosing Your Mattress Size
There are several different things to consider when choosing your mattress size. Take a look at the list below for more information. Or check out our mattress sizes and dimensions guide to learn more about the dimensions of every type of bed.
The first thing to consider when choosing a new mattress is room size. You'll need enough space to fit your new bed, but you also want to keep things proportional. For instance, putting a twin mattress in a master bedroom might make your bedroom look too sparse. Double beds look best in 10 x 10 rooms.
Next, you'll want to consider your height. Tall sleepers often prefer the extra legroom queen, king, or California king size beds offer. However, if you don't have space for a bed this size but need extra length, you can consider an extra-long mattress. A twin XL mattress or double XL mattress will have an 80-inch length, just like a king or queen size bed. Full XL mattresses are great ways for taller people to stay comfortable without sacrificing too much bedroom space.
You'll also need to consider your weight. Heavier sleepers often prefer larger mattresses because they offer extra edge support and width. Check out our

best mattresses for heavy people

guide if that sounds like you.
It is also important to think about your bed frame. If you already have a bed frame and are upgrading to a new mattress, you may want to stick to the same size you already have so you don't also need to get a new frame. You should also keep in mind that standard bed frames are more widely available and less expensive than XL bed frames.
Finally, consider your mattress type when choosing your mattress size. Most foam and memory foam mattresses have weaker edges than innerspring and hybrid mattresses. Soft mattresses also have weaker edges than firm mattresses. This means soft foam mattresses actually feel smaller than firm spring mattresses with stronger edges. To avoid feeling cramped on your double bed, consider opting for a medium-firm to firm hybrid mattress.
FAQs
Is a double bed big enough for two people?
A double bed may be big enough for two people. If you like to cuddle, or if you and your partner are both on the smaller side, a double bed size could be comfortable for you. If you like personal space or tend to get hot at night, you may want to upgrade to a queen, king, or California king size mattress.
Is a full-sized bed the same as a queen?
No, a full-sized bed is not the same as a queen. A full-sized bed is 54 inches wide by 75 inches long. A queen sized bed is 60 inches wide by 80 inches long.
How big is a double bed?
A double bed is 54 inches wide by 75 inches long. It's a great size for a single person who wants a little extra sleeping space.
Madison Schaper
Madison is an ex-mattress tester and current law student. When she's not studying, she puts her accumulated mattress and bedding knowledge to good use writing articles for Mattress Clarity. A few of her favorite non-work activities include trying new restaurants, reading short stories, and watching too much reality TV.