At Mattress Clarity, we take sleep seriously and that's why we scoured the web to find the best – and in some cases the weirdest, most eccentric – travel pillows out there. After hours of research, rigorous testing and plenty of resting in our car, we've put together our five favorite travel pillows!
Each pillow was handpicked for a specific reason – geared towards those who are on a budget, genuine fans of the window seat or those who are merely beginning to travel and need guidance – we've got everyone covered.
Check out our top picks below and scroll down to the bottom to find our detailed and significant tips for selecting the best travel pillows. Safe travels!
Most Versatile Travel Pillow

Infinity

This versatile infinity-shaped travel pillow can be used just about anywhere! Simply twist, tuck, or scrunch to one's desired shape and size and simply fall asleep. Click the link for the best deal on this favorite travel pillow!

Best Travel Pillow for Neck Support

trtl Pillow Plus

The trtl Pillow Plus uses an adjustable internal plastic support structure to provide top-notch support to the head and neck of any traveler, regardless of what mode of transportation they're in. Click CHECK PRICE for the best deal on the trtl!

Best Travel Pillow for Chin Support

BCOZZY

This chin-supporting travel pillow wraps around the neck and handily supports travelers stuck in the middle seat; it's super simple to machine wash and dry, too. The best price on the BCOZZY is just a click to the right!

Best Inflatable Travel Pillow

Candy Cane

The Candy Cane travel pillow inflates in seconds and stays anchored to the neck with an elastic strap that allows individuals to adjust it to meet their particular needs no matter where they're traveling. Click CHECK PRICE to get the best deal on this pillow!

Best Asymmetrical Travel Pillow

Cushion Lab

The asymmetrical design of this neck pillow means it provides 360-degree support and stays anchored to the neck with an adjustable clip. The best price on the Cushion Lab is just a click away at the CHECK PRICE button!
Travel Pillow Details
Dive deeper into each of the respective travel pillows on our list – find out more about what makes each innovative and check out the links for in-depth reviews, too.
RELATED: Best Bed Pillows
Most Versatile Travel Pillow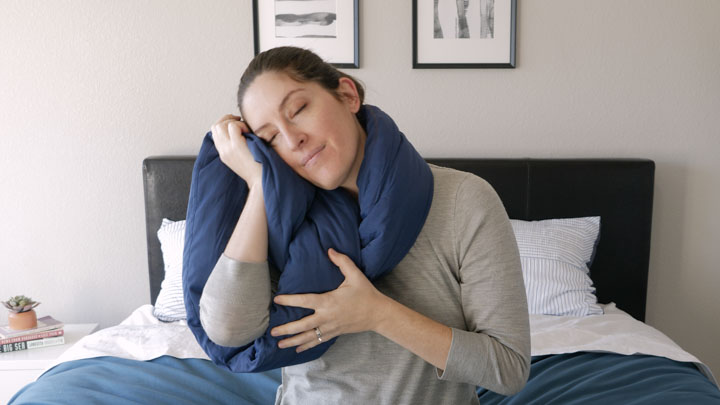 Infinity
What makes the Infinity Pillow – formerly the Huzi infinity pillow – one of our all-time favorite travel pillows is its true versatility – it works in almost all travel situations.
The Infinity pillow features a smooth cover made with a combination of nylon and rayon from bamboo in an infinity-shape design, allowing one to wrap, tuck, twist and shape it in numerous modules that can be used to stay comfortable during travel.
The pillow can assist in blocking out light, sound, and create a receptive place to lay the head in an otherwise difficult space to rest. It's not really about drawing attention to yourself; it's more about manipulating it in a way that's comfortable relative to the situation.
To care for the pillow, machine wash at a low temperature and don't tumble dry; it is priced at $39 and is currently available in six modern and subdued colors. 
Pillow Details:
One size with dimensions at 39″ x 6″
Designed with a Möbius (infinity) shape
The cover is a mix of bamboo fabric (55% bamboo, 45% polyester)
It also features a cotton lining and polyester filling
The whole travel pillow is hypoallergenic
Machine washable at low temperature, no tumble dry
Comes in four fashionable colors available (burgundy, tan, navy, and grey)
Travel case available at an additional cost
Read the complete Infinity travel pillow review
Best Travel Pillow for Neck Support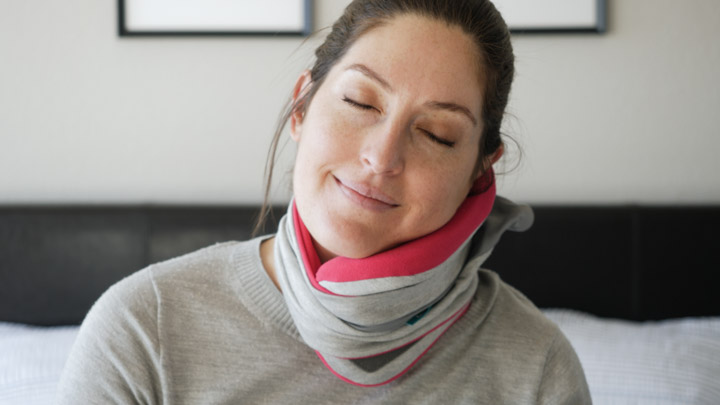 trtl Pillow Plus
The trtl Travel Pillow Plus has a lot of the great features that are similar to the classic trtl Travel Pillow, but it also comes with a few upgrades and customizations that put it on my list of the Best Travel pillows for this year. 
Travelers will wrap the pillow's stretchy knit material around their necks to anchor the support system in a secure but comfortable resting position. The "Plus" part of this travel pillow is the toggles that can be twisted to add more height to meet the traveler's needs.
The highlight of this travel pillow is centered on the flexible inner support structure that can be adjusted, so – in theory – people with all different neck sizes can find a good fit. The mesh panels are breathable, the cover is removable and can be washed, and it comes with its own carry bag. A layer of plush foam padding between the plastic support structure and the fabric keeps it comfortable even when it's tightly anchored against the neck.
This travel pillow truly does provide 360-degree support including chin support so it'll function well in a middle seat of a plane. The travel pillow comes in three colors and costs around $60, depending on the retailer. 
Pillow Details:
Pillow comes in one size and can be worn at either the side or the front of the neck
The outer layer top and bottom bands are comprised of 70% polyester, 26% rayon, and 3% spandex
The middle band is 97% nylon and 3% spandex
The core cover and handle cover are polychloroprenes (neoprene)
Interior lining is 90% polyester and 10% spandex
Interior pocket has polyurethane (memory) foam
Height-adjustable neck support
Breathable mesh fabric helps to regulate temperature
Blue or pink color option
Designed in the UK, made in China
Care: Fasten all hooks and loops securely before washing the trtl Pillow+. 
trtl Pillow+ and should be removed before washing and when reinserting it, make sure it goes fully into the pockets
Full price: $59.99
Right now the Plus can be purchased on Amazon, and their return policy is applicable
Those interested in the full trtl Pillow Plush can read the whole review to learn more. 
Best Travel Pillow for Chin Support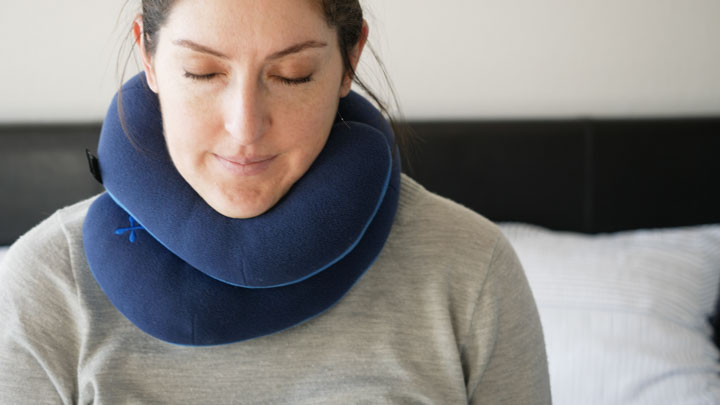 BCOZZY
The BCOZZY Chin Supporting travel pillow is a neck pillow designed for those stuck in – or those who just might prefer – a middle seat and must sleep facing forward.
The pillow is available in a range of colors and patterns and comes in three different sizes, including Child and Adult XL. Adult XL is a good choice for those with neck sizes that are 16" or larger, which means it's a good fit for all body types including larger individuals.
I enjoyed the flat back design, so my head isn't being pushed forward when I use the travel pillow in a high-back chair like on a plane. Although it can't be compressed, it has a nice snap attachment that makes it easy to put on a bag or carry-on and move around.
The BCOZZY offers some of the best, if not the best, forward-facing chin support in a travel pillow, is super easy to clean and comes with an affordable price tag (around $30) – what's not to love?
Pillow Details:
Dimensions: 9.8″ x 11″ x 4.7″ and 7.4 oz in weight
Three sizes: Adult, Adult XL (for neck 16" or larger) or Child
Overlapping arms can be used to prop the chin up and stop the head from falling forward while attempting to sleep sitting up
Flatback design means the head is not pushed forward
Cover: 100% polyester
Filling: 100% polyester
Wide range of colors and patterns
Snap attachment to use with luggage
Machine washable and line dry only
Affordable at $30
Check out the full BCOZZY review now
Best Inflatable Travel Pillow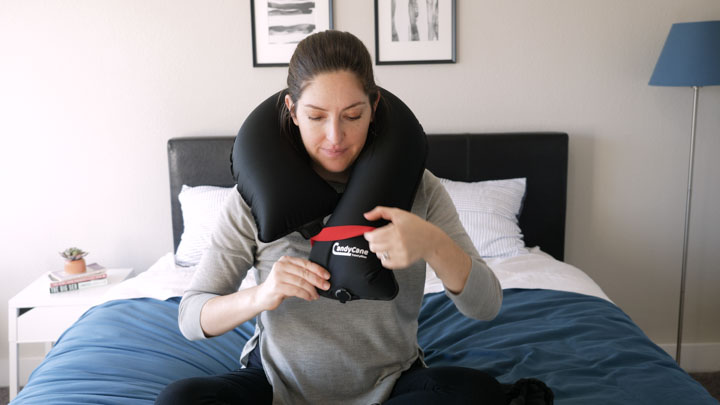 Candy Cane
This highly inventive travel pillow started out as a Kickstarter campaign and – thanks to its funding success – it is now available for everyone to buy! And at an affordable price, to boot. The travel pillow has a candy cane-shaped design, but the real highlight here is all the different ways it can be utilized.
First of all, it's inflatable – the cover is a mix of spandex and polyester fabrics but it has a durable and lightweight feel to it – plus it has a surface that makes it super easy to clean by hand with cool water and mild soap.
It takes me about 10 breaths to blow this up – it is very straightforward and the inflation area won't release any air so it's very simple. It's easy to press down on the inflation section and release as much air as desired or needed.
The Candy Cane travel pillow is very versatile thanks to its shape; the elongated side can be used for another person to rest their head or can be placed up against the wall of a car or plane window for extra comfort.
It stays anchored to the neck with an elastic strap that also gives sleepers the chance to tighten it around the neck as much as desired. It's a very affordably priced option at around $25, and we found it on sale for $20.
Pillow Details:
Candy Cane shape
Color: Black with a red elastic strap
Polyester/Spandex knitted fabric that's easy to clean
6.7 x 4.2 x 1.6" dimensions
4 oz in weight
Modular design
Carry on bag 
Available on Amazon for $20 – $25
Best Asymmetrical Design Travel Pillow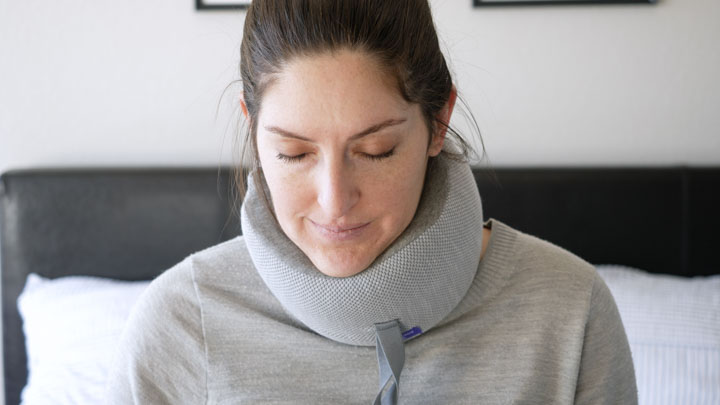 Cushion Lab
The Cushion Lab travel pillow made my list because it has the bones of a really comfortable neck pillow, but it features an asymmetrical design and full 360-degree support that brings it to another level of comfort. At its foundation, it's a really stylish and aesthetically pleasing neck pillow that's perfect for anyone who is looking for that more traditional travel neck pillow feel.
I love that not only is the cover soft but it's made with 100% recycled polyester rayon fabric on the outside and the brand's proprietary HYPERFOAM on the inside, which is nice contouring and pressure-relieving foam, allowing one's head and neck to sink into the pillow.
It's got an asymmetrical design, so there's a section for chin support and I like the strap that keeps it anchored to my neck even when I shift to get comfortable. The price is hard to beat at around $36.
The travel pillow comes in two different sizes, and the large is only half an inch taller and half an inch longer than the regular size – for that reason, I want to offer the Cabeau Evolution travel pillow as a second choice for heavier sleepers or larger body types who need a firmer pillow with more foam – it has the same dimensions but is just a more supportive pillow overall.
Pillow Details:
Dimensions: 9″ x 10″ x 5″ inches, 0.6 lb
Core: Proprietary extra dense HYPERFOAM™ memory foam is cushiony and responsive to truly support the head for a relaxing sleeping experience throughout the flight
Cover: Made with 100% recycled polyester rayon fabric; the removable and washable cover breathes and wicks moisture for cool and airy usage
Specially designed to help individuals sleep comfortably while sitting
Patented asymmetrical design wraps around the neck and under the chin to fully support the head for a relaxing sleeping experience
Easy to adjust for varying sleeping positions—just slide it around the neck to place support where it is needed
It comes with a travel pouch to keep it fresh & protected
Two sizes, medium and large, and two colors, blue and grey
How to Pick the Best Travel Pillow
Acquiring a travel pillow may seem simple, deceptively simple. In reality, there are an overabundance of factors to consider before making any purchases; we went through each of these factors in our assessment of the travel pillows on our list:
Size
Apologies for being blunt, but when it comes to travel pillows, size does matter. Unless someone snagged a seat in First or Business Class, taking a super-sized pillow along for the ride is just going to generate glares from seat-mates.
Prior to making any purchases, be sure to check the pillow's dimensions and compare it to a consistently used pillow at home.
Travel Distance
Many travel long distances often while others take quick trips once or twice a year. For long-haul flights, it's crucial to find a pillow that can keep the head supported and the neck relaxed long enough to fall asleep for several hours.
Type of Travel
Gone are the days of neck pillows molded solely into an expected (and somewhat severe) U-shape. Now, travel pillows come in a plethora of shapes and sizes – with some styles better suited for planes and trains than for automobiles.
Selecting a seat on the plane in advance can be beneficial; passengers sequestered in middle seats can find a pillow that fits precisely on that airplane tray table.
RELATED: How to Sleep on a Plane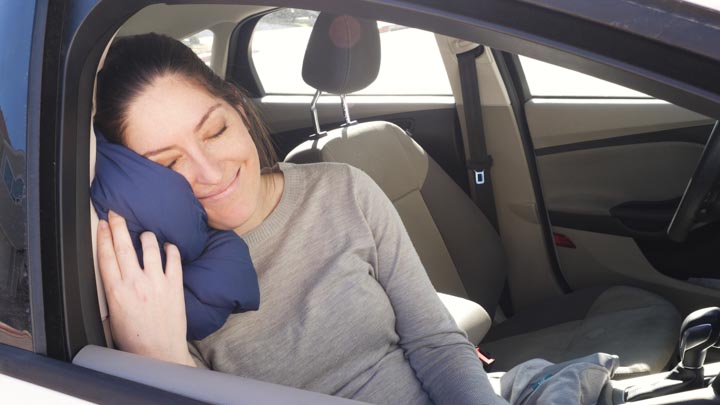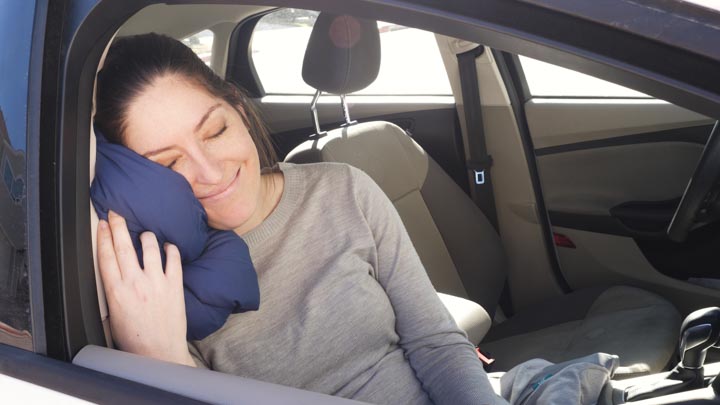 Surface Material
If there's one thing we're certain of, it's that planes and other modes of public transportation are germ magnets.
Consider investing in a pillow that can be easily sterilized; travelers will welcome the myriad of options with removable covers, too.
RELATED: How to Clean Your Pillow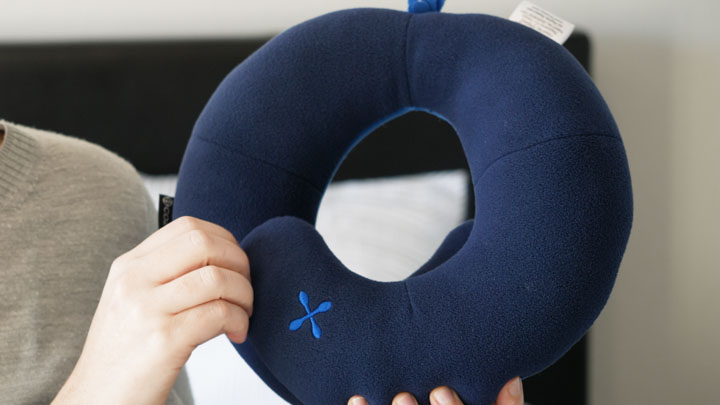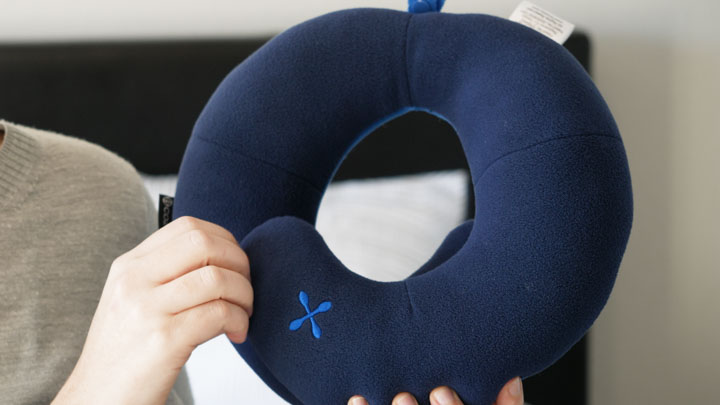 Filling
Travel pillows come stuffed with a diverse array of materials – from cotton and polyester to memory foam and inflatable options.
We always encourage travelers to think about their priorities and preferences when it comes to a travel pillow, things like the ability to compact the pillow in size for easy packing, the support level or added features like adjustability. These are all impacted by the type of filling in the travel pillow, and some are easier to manipulate than others.
Functionality
These days, travel pillows can provide more than just a comfy place to rest one's head. We've reviewed pillows with pockets for media players and some that will help block out light and sound if desired. Fancy, right?
RELATED: Best Sleep Masks
Price
Some of us just barely have enough cash to pay for the plane ticket or tank of gas, let alone the budget for a travel pillow. The good news is that people don't have to break the piggy bank to find a great pillow – travel pillows can range from under $10 to nearly $100.
Final Thoughts
There are a plethora of terrific travel pillows out there just waiting to be scooped up for the next adventure! Check out our list and use our guide above to help narrow down the choices.
Leave a comment in the YouTube video for a personal recommendation as well!
FAQs
How do I choose a travel pillow?
There are a lot of factors to consider when choosing a travel pillow. It's worth considering one's own body size, the size of the space that a person is traveling in and the size of the travel pillow itself. Consider if this trip counts as a long-haul, and are there plans to sleep? Does the pillow need to serve a certain purpose, and does it work against a plane window or stay anchored to the neck? Additionally, you'll want to think about the type of travel (plane, bus, train or car, or something else, perhaps?). You'll also want to think about the material you want your travel pillow to be made of, including the surface material and the filling. And, of course, you'll want to consider your price range (there are some affordable options out there!).
What is the best travel pillow for long flights?
Because travelers are more likely to sleep for extended periods on longer flights, the best travel pillows for long haul flights are ones that cover a couple of important factors. One, they need to complement the space one is seated in and they also need to support the person's primary sleeping position. It also doesn't hurt if the travel pillow has the ability to stay anchored to one's seat or body. The pillows on my list that I like the best for these flights are the Infinity pillow, the trtl Pillow Plus, and the Candy Cane Pillow. They're versatile, stay anchored (for the most part) and are affordable options.
Are travel pillows worth it?
Yes, travel pillows are absolutely worth checking out. This is because travel pillows can help one sleep while traveling and sleep is so important! Sleep impacts every facet of our lives, our physical health, mental health, all that good stuff. So, yes, if the traveler desires to sleep on a trip we'd highly recommend picking up a travel pillow.