The Sleepgram pillow is known for its innovative "three pillows in one" design. It features a crisp, cotton cover and inner fill made with polyester microfiber in each of its three pillows. The allergy-resistant materials and adjustable nature make it a crowd-pleaser.
The three pillows each provide a different support level and can be combined in multiple ways to help keep nearly every sleeper comfortable all night. So, what else is there to know about this pillow? Read on as we break down the construction, sizing, performance, and feel in our Sleepgram Pillow review.
SleepGram Pillow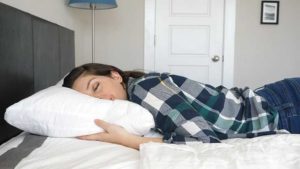 Sleepgram combines three pillows into one design, making it great for combination sleepers!
Mattress Clarity Score
4.30 / 5
Read Full Review
Sleepgram Pillow Overview
The highlight of the Sleepgram pillow is the three-in-one pillow design: an outer pillow unzips and two additional pillows with different levels of filling are inside for a total of three individual pillows. It's currently available in two sizes, a Standard/Queen and King; both have a 2" gusset.
The outside of each pillow is 100% cotton cover with a percale weave and polyester microfiber fill (mimics down). The pillow is allergen-resistant and machine washable and dryer friendly. It comes with a 100-night trial and varies in price by retailer but expect to pay $50 for Standard/Queen and $65 for King.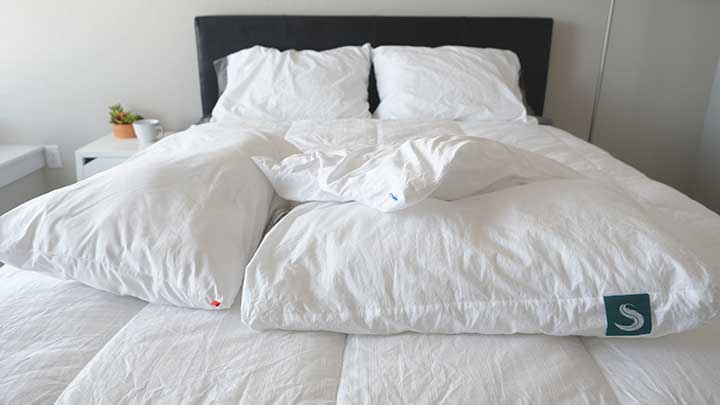 Who Might Like the Sleepgram Pillow?
Combination sleepers or those who like to customize their pillow
Shoppers on a budget
People who like to easily toss their entire pillow in the washer and dryer
Who Might Not Like the Sleepgram Pillow?
Sleepers who prefer the support and pressure relief of memory foam
Shoppers who want a pillow that will hold up for years
Those who do not want any pillow maintenance; this one should be fluffed consistently
RELATED: Best Pillows
Sleepgram Pillow Video Review
To see this pillow in action, including how to separate the inner pillows and what combinations to use, watch our in-depth video review below.
Sleepgram Pillow Firmness & Feel
Despite the simple cotton cover and down-alternative fill, there is a lot going on with the Sleepgram pillow! Continue reading below to get a closer look at what it's like to sleep on the Sleepgram pillow.
How Firm is the Sleepgram Pillow?
The Sleepgram pillow is at its firmest when all three individual pieces come together. For most sleepers, this loft and accompanying firmness level should be enough to support most side sleepers. That being said, with time the fibers in the fill of each pillow will compress and flatten out. Sleepers will need to separate all three pillows and place them in the dryer for a quick fluff so the fill in each can expand again and provide that solid firmness and overall height.
Sleeping on the Sleepgram Pillow (Sleeping Positions)
What sets this pillow apart for us is the super-smart design tweak with the inner pillows. Instead of offering one or two of the same inserts, these inserts are different thicknesses. This may seem like a small difference, but it really opens up the number of combinations sleepers can utilize with the pillows and allows the person to get closer to the right loft and firmness.
This pillow will work well for all body types and all sleep positions, including combination sleepers and those who really aren't sure what they're looking for. Customers should be prepared to give the pillow about a month to test out and try different pillow combinations before making any final decisions on it.
What Does the Sleepgram Pillow Feel Like?
The Sleepgram Pillow feels very lightweight, soft, fluffy, and adjustable! Each pillow, including the one that acts as the outer cover, is made with 100% cotton with a crisp Percale weave. Compared to the thicker and shinier sateen, percale leaves each pillow feeling fresh and breathable.
Each chamber is filled with polyester microfiber fill – consider this the same thing as a down alternative and material that mimics down while leaving the pillow odor-free and hypoallergenic. Each pillow has its own amount of fill, leaving it with a unique support level and allowing for sleepers to create their own desired combinations.
Average Weight Sleepers – 130lbs to 230lbs
Katie personally reviewed and tested the Sleepgram Pillow and she is primarily a side and back sleeper. During her review period, she said she preferred combining the outer pillow with the firmer insert when she slept on her side or the softer insert when she slept on her back. Because no one is able to access the inner filling, sleepers don't have to worry about making a mess with handfuls of material – just unzip the cover and remove or add whatever is preferred.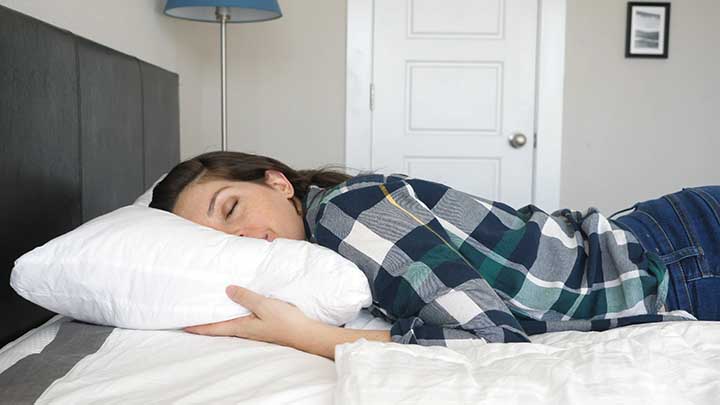 Overall, Katie was impressed with the Sleepgram pillow because it offered something others haven't: the ability to closely customize the pillow to the right loft and firmness without having to deal with the mess of adding and removing the actual fibers. Yes, if a person sleeps on it without fluffing it every now and then, it may go flat, so individuals will need to throw it in the dryer or hand fluff it every now and then. This probably won't make it the best fit for someone who is looking for a solid pillow that won't move or change shape.
Heavyweight Sleepers – Over 230lbs
Marten also had a chance to review the pillow as a heavier sleeper. He chose to use all the inserts in the pillow to ensure he had enough support when he slept on his back. Marten said he felt properly supported and felt no strain on his neck. At the same time, he is a side sleeper, so he did take one insert out to make the pillow softer when he was on his side. His head sunk in but not too far; the pillow was a great match for him in this side sleeping position, as well.
In terms of feel, the Sleepgram has a nice balance of fluff and responsiveness. It has a lofty cloud feeling, but it bounces back quickly.
Lightweight Sleepers – Under 130lbs
More petite sleepers or smaller body types might want to aim for a combination of the outer pillow and one of the inserts, as all three together may prove to be too much support. Lightweight side sleepers will probably want to opt for including the firmest insert, while back sleepers will want to include the softest. In some cases, lightweight stomach sleepers will want to sleep with just one pillow – either the outer pillow or one of the inserts – in order to avoid any strain on the head and neck.
Sleepgram Pillow Construction
The big deal about the Sleepgram pillow is the "3 pillows in 1" design. The outer pillow unzips on three sides to reveal two inner pillows. Each of these inner pillows is a different thickness. This means there are many combination options to choose from to find a sleeper's desired fit.
| | |
| --- | --- |
| Dimensions | Two Sizes: Standard/Queen – 26″ x 18″; King – 33″ x 18″ |
| Weight | N/A |
| Cover Material | 100 cotton, percale weave |
| Core | Polyester microfiber fill |
| Loft/Height | 2″ gusset |
Dimensions
The Sleepgram Pillow currently comes in two size options: Standard/Queen and King. The Standard/Queen dimensions are 26″ x 18″ and the King is 33″ x 18." The hight is variable since the pillow is adjustable but there is a 2″ gusset on the side.
Cover Materials
The outside of the pillow and the outer cover of both inserts is 100% cotton. The weave is done in a Percale, which leaves it crisp and lightweight, similar to a hotel cotton sheet. This also makes it easy to clean when needed.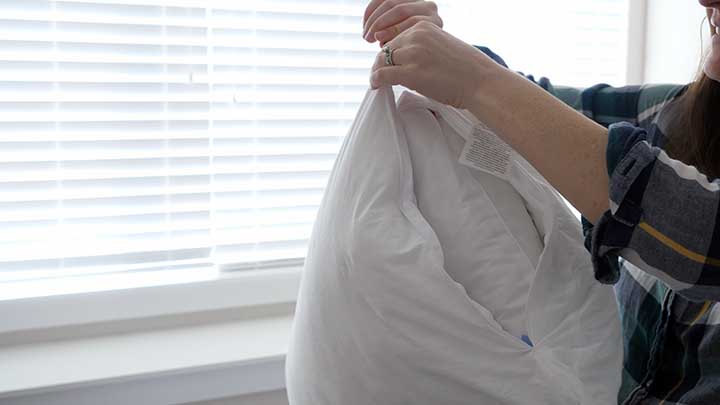 Core
The core of each of the three pillows, the outer pillow, and two inserts, are made with polyester microfibers. This fill is commonly referred to as a down alternative and has a soft and fluffy feel, like down but it's hypoallergenic and odor-free. This fill, similar to the cover, is also super easy to machine wash and dry when it needs to be cleaned.
Loft/Height
The pillows are considered "adjustable" because one can add or remove as many of the inserts or inner pillows as one would like. However, no one can access the polyester microfibers to make very small changes. Keep in mind that it will always have at least a 2″ gusset built-in the design.
RELATED: Best Pillows for Side Sleepers
Sleepgram Pillow Size Options, Price & Care
Let's take a look at all the different sizing, pricing, and trial period options available for the Sleepgram Pillow. Please keep in mind that this pillow is sold through several different retailers, so expect to see different prices and return policies depending on where it's purchased. Our details are straight from the Sleepgram.com website.
Size Options, Pricing & Trial Period
The pillow comes in two sizes and – if purchased from Sleepgram.com – comes with a 100-night trial period. We always recommend giving a new pillow at least 30-days for adjusting before keeping or returning.
| | | |
| --- | --- | --- |
| Size Options | Pricing | Trial Periods |
| Standard/Queen | $54.95 | 100-night trial |
| King | $69.95 | 100-night trial |
Care Instructions
The Sleepgram pillow is entirely machine washable and dryer-friendly. Sleepers are encouraged to separate the pillow into three parts, zip the outer cover back up, and then throw them all into a balanced load in the washer. To help keep the pillow performing at its best, follow the care instructions on the tag. Try to keep the washer from running on a super aggressive load so the pillow doesn't get too beat up and performs as it should for years to come.
Sleepgram Pillow Performance
How does the Sleepgram perform when put to the test? Find out what it's like to sleep on the Sleepgram pillow with our performance details below.
Sleeping Hot or Cold
It's not in the nature of the Sleepgram pillow to sleep particularly hot; we say this because the fabrics used are lightweight and breathable. Notably, the 100% cotton in its percale weave will allow air in and out of the cover, and the polyester microfiber fill, while synthetic, won't trap heat.
The pillow should be fluffed consistently and allowed to expand, which will reduce the instances of trapped heat and keep the pillow sleeping cool as well.
Responsiveness
The down-alternative fill of this pillow does not lend itself to be very responsive, at least not in the way a solid foam pillow would. When it's fully fluffed and the fibers are moving around freely inside each pillow, it will regain its shape pretty well. That being said, with several nights of use, the pillows should be separated into their individual pieces and tossed in the dryer for a quick re-fluff, otherwise, they will start to fall flat and lose their shape and support.
Durability
The Sleepgram pillow is not the most durable pillow, and this is due to the fact that its materials will more likely than not break down over time. Keep the pillow clean and fluffed regularly and it should last at least one year, just keep in mind that both cotton and the polyester microfill will not stand the test of time as long as a foam pillow option will.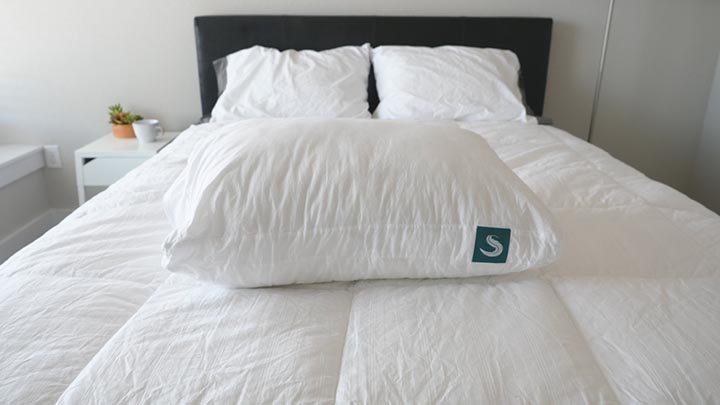 With all of that in mind, the Sleepgram does come with a Lifetime Warranty, however, there are sparse details of that on the pillow's website. Our recommendation is to email hello@sleepgram.com to learn more about the conditions of this warranty.
Off-Gassing
Customers will not detect any off-gassing with this specific pillow. The emission of Volatile Organic Compounds (VOCs) are what provide the "off-gassing" smell and is found mainly in foam pillow products. While it's possible for another material used in this pillow to technically "off-gas" it wasn't noticeable upon unpackaging this pillow.
Additional Features
Here are the support levels as they correlate to the individual pillows and combinations from Sleepgram's website:
Soft: The outer pillow and the inner pillow with the turquoise tag
Medium: The outer pillow and the inner pillow with the red tag
Firm: All three pillows combined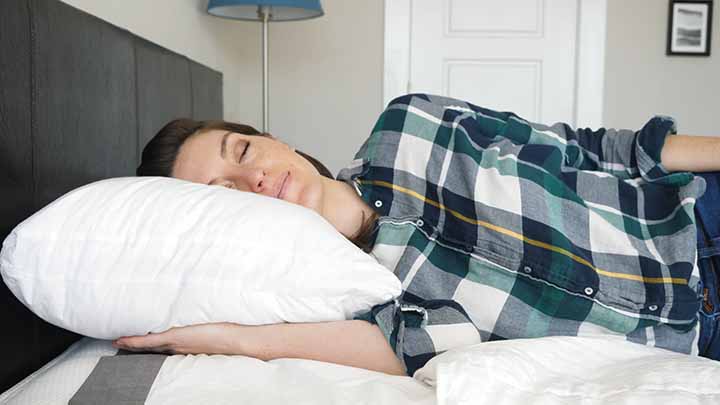 How Does Sleepgram Compare to Other Pillows?
Let's look at how the Sleepgram pillow stacks up next to some other popular pillows on the market today.
Sleepgram vs Purple Pillow
Purple is a well-established mattress brand that makes its own range of pillows, including their Original Purple Pillow. Let us be the first to say that compared to the Sleepgram Pillow, these two could not be more alike. Let's start by breaking down their shapes and general design features.
Sleepgram has a standard pillow shape with a "three-in-one" pillow design, with two inserts featuring different support levels inside an outer cover that acts as a third pillow. Meanwhile, Purple is essentially a rectangle made of a solid piece of the brand's Smart Grid material, which is a proprietary Hyper-elastic polymer that is squishy but provides great support.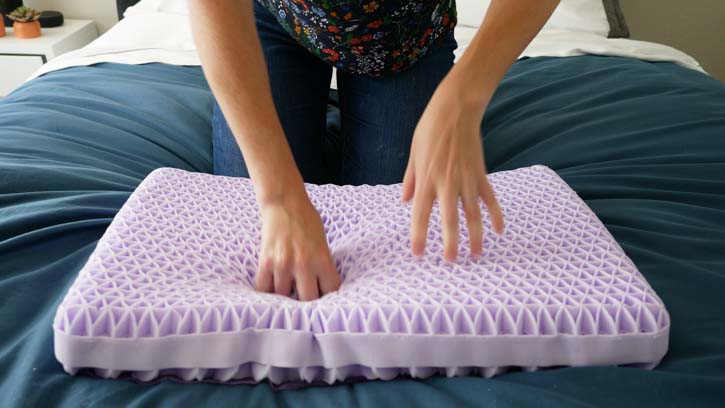 This leaves the Sleepgram feeling light, fluffy, and plush like the down alternative pillow that it is and the Purple with a pressure-relieving gel-like feel to it that will cradle the head and neck but absolutely will not change shape.
The cover material on the Sleepgram pillow is 100% cotton with a percale weave, giving it that crisp and clean feel often associated with hotel cotton sheets. The Purple has a Hypermesh cover, with more of a performance feel and is made with a mix of polyester, spandex, and nylon for a good amount of stretch – and a mesh design as well!
Sleepgram comes in two sizes and a 100-night trial period; Purple comes in one size with the same trial period offer. A Standard Sleepgram pillow will run around $55 and the Purple costs $99 at full price.
Sleepgram vs Casper's Signature Pillow
Sleepgram and Casper's original pillow are essentially birds of the same feather; at this point, there may be more similarities about them than differences!
They both offer 100% cotton covers with a Percale weave, the type of weave that gives them that crisp, lightweight and breathable hotel cotton sheet feel. The main difference here is that Casper uses Supima cotton, which is a longer-stable fiber and should enhance the durability of their pillow.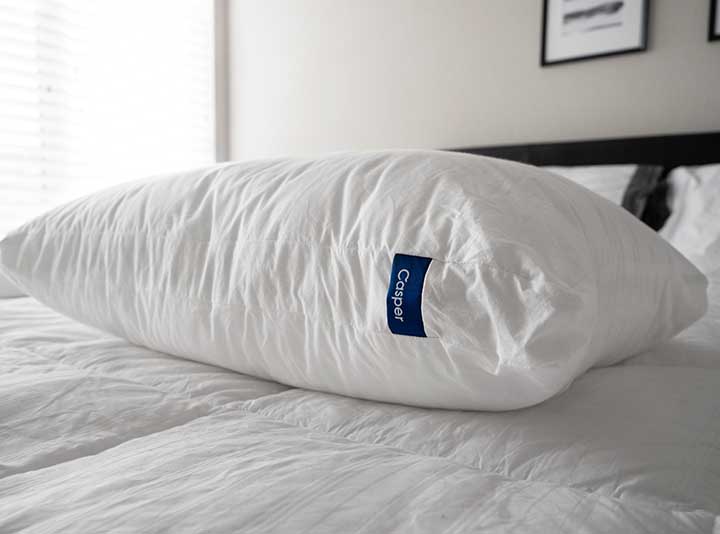 Both pillows feature the use of polyester microfiber filling and the "pillow-in-a-pillow" design concept. The main differences here are that Sleepgram offers two pillow inserts and Casper has one. However, Casper's fill is handblown coated microfibers to keep the pillow lofted and full, while that type of production method is not listed on the Sleepgram site.
In reality, they feel very similar. Combining all the pillows together keeps them each at their firmest, removing one insert flattens them out and makes them softer. The Sleepgram will technically offer more sleep adjustment option but the Casper is made out of slightly better quality materials and will most likely last longer.
In terms of pricing, a Standard size Sleepgram will run $55 and the Casper will cost $65. Both come with 100-night trial periods!
RELATED: Casper Pillow Review
Sleepgram vs MyPillow
MyPillow is another extremely popular brand and is known for its entertaining radio and TV commercials. Sleepgram and MyPillow may both be sold in a lot of different retailers for varying prices but that's essentially all they share in common.
When it comes to the fill and support level, customers must choose which MyPillow they want prior to purchasing the pillow. They provide a guide/questionnaire online to help people determine the best fit based on sleep position and a few other factors. The Sleepgram is customizable in a sense as well, but it can all be done after purchasing by combining the outer cover and pillow inserts in ways that suit the sleeper.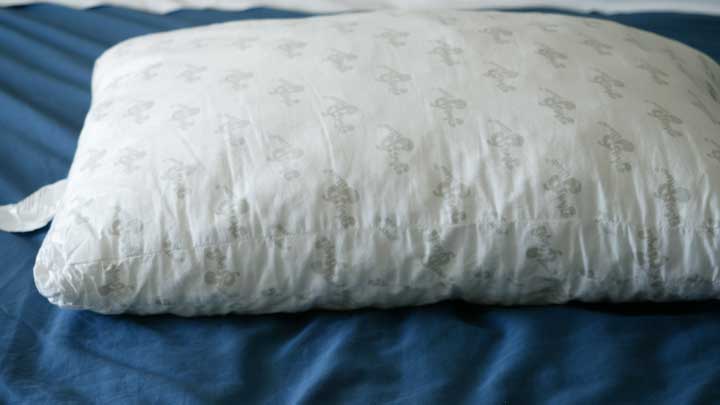 Both pillows do have cotton covers but having reviewed both of these personally, we can say that the cotton on the Sleepgram is much softer and crisper than the cotton on the MyPillow, which feels a little thin and rough by comparison. In addition, the fill-in MyPillow is chunks of memory foam – sleepers choose their support level by essentially choosing how much fill is in their pillow. The Sleepgram is filled with polyester microfibers and has a plusher, fluffier overall feel.
In general, MyPillow is better for those who want extra support and pressure relief that comes from memory foam, while the down alternative of the Sleepgram will suit different sleepers. Their prices both vary a lot but expect to pay around $55 for a Standard Sleepgram pillow and the MyPillow Premium cost closer to $60-$70 but prices change very often.
Company Info
The Sleepgram pillow is made by Sleepgram, a sleep products company founded in 2016 by a software engineer and a data analyst in Los Angeles. According to Sleepgram's website, the pair "saw a problem with the current pillow industry and decided to do something about it." In addition to its innovative pillow, Sleepgram also sells pillowcases, a mattress protector, and a comforter.
SleepGram Pillow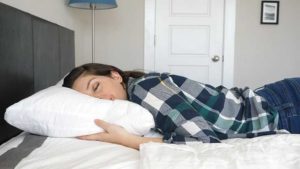 Sleepgram combines three pillows into one design, making it great for combination sleepers!
Mattress Clarity Score
4.30 / 5
Read Full Review
FAQs
Let's tackle the most commonly asked questions about the Sleepgram pillow!
Are Sleepgram pillows any good?
Yes, the Sleepgram is a great down alternative pillow option, especially for those who want a lightweight, fluffy feel but also want to be able to adjust the loft and firmness of the pillow depending on how the person is feeling that day. With an affordable price tag and a 100-night trial, it's a great option.
How much is the Sleepgram pillow?
The Sleepgram pillow is sold through many retailers, including Sleepgram's website and Amazon. At full price expect to pay around $55 for a Standard size but I've seen them under $40 at different retailers. Keep in mind that trial periods and return policies may vary by retailer.
Can you wash Sleepgram pillows?
Yes! The Sleepgram pillow is notoriously easy to care for - simply separate the outer cover and two inserts, zip the outer cover back up and throw everything in the washer and then the dryer. Our advice is to follow the care instructions carefully, balance the load and throw some dryer balls or a tennis ball covered by a sock into the dryer for faster drying.
Does the Sleepgram pillow sleep hot?
No, the pillow is extremely breathable. It's hard for heat to be trapped in this pillow because the microfibers are lightweight and air flows through them. The outer cotton cover is a Percale weave known of its breathable nature as well.