Casper and MyPillow are two well-known names in the worlds of both pillows and mattresses. Casper's signature pillow features an adjustable design and super soft fill while the MyPillow is all about picking the right firmness level and ensuring a perfect night's sleep.
How do these two pillows fare when they go head to head in our comparison? Watch the video review below or keep scrolling for a full written comparison. Comment below if any questions come up!
Casper Pillow vs MyPillow: Video Comparison
I've got even more to read about below!
Casper Pillow vs MyPillow: Top Similarities
Both offer two different sizes, Standard and King
Similar in price point
Both are machine washable and dryer-friendly
Both have cotton outer covers
Both come from brands that do more than just sell pillows – they also sell mattresses!
Both are very breathable
RELATED: Best Mattress 2019 – Which Mattress Should You Get?
Key Differences
Casper Pillow Main Features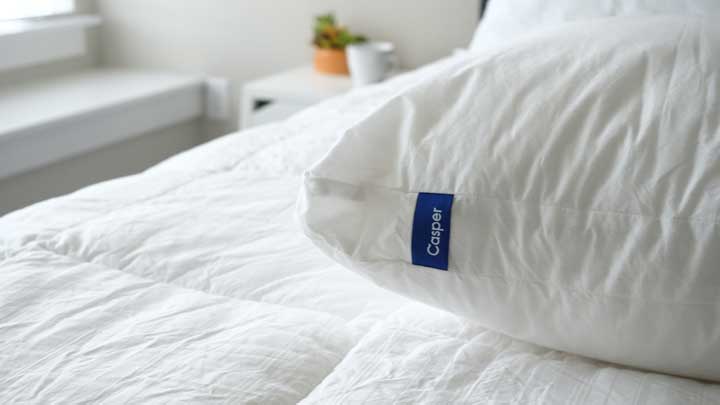 Standard is 18" x 26" x 2"
"Pillow-in-a-pillow" design with the zipper that allows access to the inner pillow
Inner and Outer Cover Fabric: 100% Supima Cotton, percale weave
Outer Filling: Coated polyester fibers
Inner Filling: More coated polyester fibers
Standard $65, King is $85
100-night trial and 1-year warranty
Designed in the US but assembled in China
Check out my full Casper signature pillow review for more
MyPillow Premium Main Features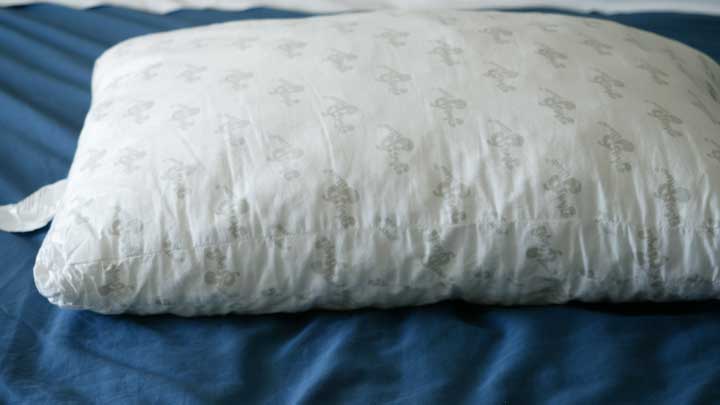 Standard dimensions: 16.5 " x 26″ x 2″
Size and fill level (firmness) is chosen online when purchasing
Their guide can be used to decide which level is the most appropriate, and it comes in Yellow, White, Green, and Blue and goes from least firm (Yellow) to most firm (Blue)
The guide asks four questions about personal sleep preferences
Mine suggested a White "medium" fill
Cover: 100% cotton
Filling: interlocking chunks of memory foam (polyurethane foam)
60-day money-back guarantee and a 10-year warranty (varies by retailer)
Made in the USA
Two sizes and prices vary but at full price: Standard is $69.98 and King is $79.98
Learn more about my experience with the MyPillow Premium
Key Differences Summarized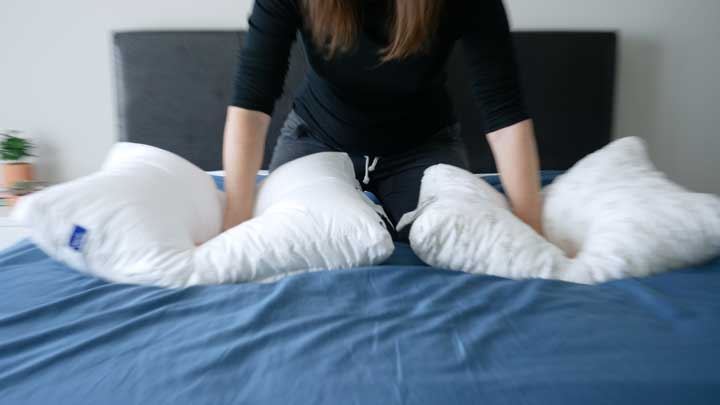 Cover: both cotton but Casper is Supima cotton with a percale weave for a different feel
Filling: Casper is an inner and outer pillow with coated polyester fibers, more structure/support on the inner pillow and MyPillow Premium is interlocking polyurethane foam (memory foam) chunks
Adjustable Features: Casper has a separate inner and outer pillow and MyPillow has no adjustable features minus manipulating the filling from within, but customers decide their firmness preference when ordering.
Price: Slight difference, the Standard Casper is $65 while MyPillow Premium at the time this was filmed was $69.98 for Standard
Returns: 100-night for Casper and 60-day money-back guarantee for MyPillow Premium
Best Sleep Position for Each Pillow
Let's take a look at the best primary sleep positions for each of these pillows. A primary sleep position is the one a person most often wakes up in in the morning, even if it's different from how he/she fell asleep.
These recommendations are based on my personal experience with each pillow. For reference, I'm 5′ 7″, average body size/type and I typically sleep on my back and my side. After I share my experience, Marten, who is about a foot taller than me and (naturally) larger than me will share his thoughts on the pillows, too.
Casper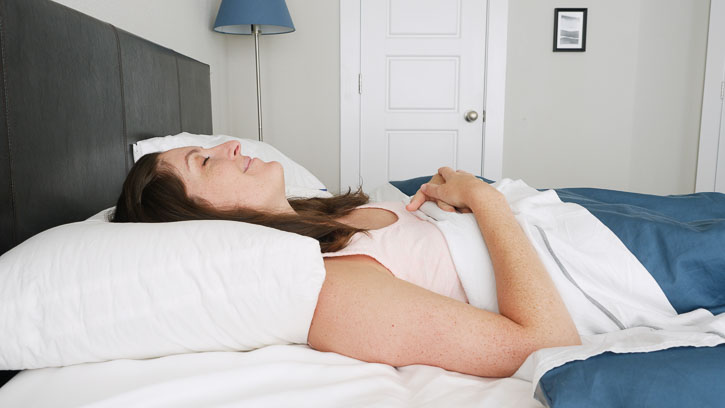 Because of its adjustable nature, I do think the Casper pillow has the ability to work for almost all sleep positions. Based on my experience, the pillow has the proper amount of loft and firmness for back sleeping and side sleeping, unless the individual has a bigger body frame and are putting more weight on the pillow (check Marten's Take below for more details on that.)
When I removed the inner and out pillows and just used the inner pillow, I thought it worked well on my stomach, too. The interchangeable nature of the Casper pillow really benefits combo sleepers or anyone who isn't 100% sure what their primary sleep position is.
MyPillow Premium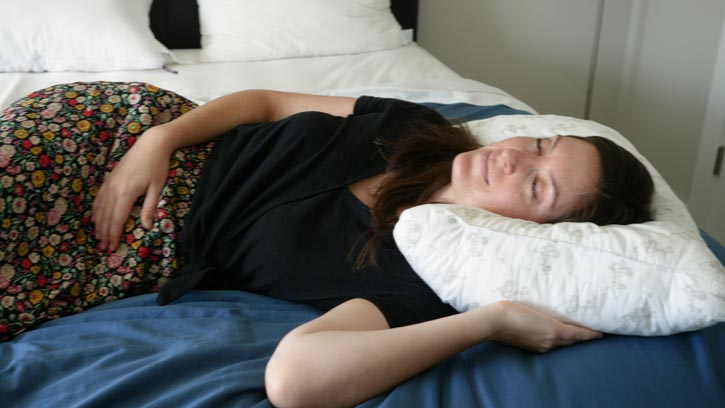 Meanwhile, the MyPillow Premium that was specifically recommended to me because I'm a back sleeper worked well for me on my back – shocking! That being said, with time the smaller memory foam chunks in the pillow compressed and flattened out, especially in the area around the back of my head. If I wanted to enjoy the pillow it was imperative that I throw it in the dryer every 2-3 days to be fluffed.
When I moved to my side, the pillow was supportive enough initially, but I did not enjoy the chunky nature of the large pieces of memory foam that I could easily feel through the thin cotton cover. It also flattened out after a few nights of use, and I would have to keep it super fluffed in order to have enough firmness and loft for it to be comfortable in a side sleeping position. I would recommend going with a Blue or Green MyPillow that offers more fill for side sleepers.
Likewise, the pillow was too chunky and too full to be enjoyable on my stomach. I'd recommend getting a Yellow colored MyPillow Premium pillow with the least amount of filling if a pillow for stomach sleeping is preferred.
Marten's Take
So, I'm a larger guy, and it's always smart to think about size and weight when shopping for a pillow. I weigh considerably more than Katie, so I might have a different experience with the Casper and MyPillow. Katie asked me to try these pillows out for myself, and I am here to talk about how they work for me.
Starting with the Casper, let's look at how the pillow feels when I lie in different positions. First off, when I am back sleeping on the Casper, the pillow is not supportive enough for me. My head feels like it is dropping through the pillow, and I would also like some more neck support.
Also, even at its loftiest setting, the Casper is not lofty enough for me when I am side sleeping. I again feel like my head is sinking too far into the Casper. However, when I just sleep on the center pillow, the Casper is a good fit for stomach sleeping.
As Katie mentioned, the MyPillow comes in many different firmnesses. She opted for a medium-firm model and, as a larger person, I would probably prefer one of the firmer MyPillow options. Keep that in mind as I talk about this MyPillow model.
Back sleeping, the MyPillow Premium is a good match for me. My head sinks in the right amount, and I am getting the proper amount of support. Side sleeping, the MyPillow is not lofty enough for me, and I also need something firmer. When I am on my stomach, the MyPillow also compresses just enough.
The pillows are pretty different in terms of feel. The Casper has a fluffy, smooth feel, and the MyPillow is quite lumpy. Because of this, I feel the most comfortable side sleeping on the Casper.
Final Thoughts
The biggest difference between the Casper and the MyPillow Premium is their inner filling, which determines their overall feel. Casper signature pillow is that traditional soft and fluffy down-alternative and MyPillow Premium is all about the chunks of supportive foam, some of which can easily be felt through the cover.
Casper is the adjustable option, with an inner and outer pillow that can be combined or removed based on the sleeper's preference. The MyPillow Premium is not adjustable but customers have a chance to pick the right firmness level for them during the purchasing process. An online guide is available to walk people through how to pick the best pillow firmness for them. So in a way, they both provide personalization options, one can just be adjusted after the purchase and the other before purchasing.
If I absolutely had to choose between the Casper and the MyPillow Premium, Casper would win based on the quality of the materials and the innovation with their "pillow in pillow" design. MyPillow Premium came up short for me with its lack of features, thin cover, and lumpier foam filling.
The good news is that they're both easy to clean and offer trials/return windows in which sleepers can test out the pillows for themselves and return if it's not a good fit.
Comment below with any questions for us!
FAQs
Are Casper pillows any good?
Sure, Casper uses high-quality materials and innovative designs in their pillows. There are three options available right now, the signature pillow (featured in this review), a brand new foam pillow and a down option that I've had the chance to review. All three of these pillows offer something different so all types of sleepers should be able to find something that comes close to meeting their needs.
Are Casper pillows hypoallergenic?
No, they are not technically hypoallergenic. However, the customer service rep I spoke to said this: They aren't hypoallergenic, but we have customers who have allergies and our products have not flared up their allergies. If you find that the pillow does affect you, we do have a 30 day trial with our pillows!
How do I know which MyPillow to buy?
MyPillow offers a guide on their website that asks you a series of questions and then makes a recommendation on which firmness might be the best fit. Following the guide will give customers the best chance at finding the appropriate MyPillow.
What is MyPillow made of?
MyPillow pillows, including the MyPillow Premium, are made with interlocking chunks of polyurethane foam and the cover is 100% cotton.