Whether you're looking to upgrade your entire sleep space or get rid of a rickety, squeaky bed frame, the options for bases and bed frames are just as endless as the mattress you can place on them. From metal, to adjustable, to low-profile, there's something for everyone out there.
That's why I put together a list of the best bed frames to help make the shopping process easier. Don't stress, many of them are easy to put together and come in a variety of materials. Keep reading to see our top picks.
Our Top Picks for the Best Bed Frames
How We Chose our Top Picks
With such a wide selection of bed frames out there, our team considered the dozens of frames and bases we have tested for this list. Ultimately, we settled on a list of seven that we consider the best bed frames on the market today.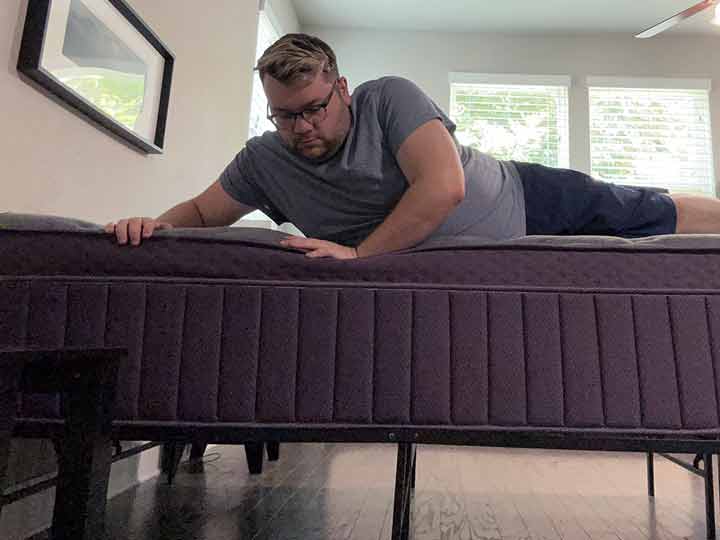 We used hands-on testing and considered factors such as price, materials, ease of assembly and more when selecting the options for this list. Even though we test these products for a short period of time (usually several days to a week), we also look at the overall quality and durability of each frame and test them to see if they sway at all when you move around or if they make any noise.
There's something for everyone, so keep reading to see our in-depth descriptions for each frame.
Best Overall – Thuma
Thuma Bed Frame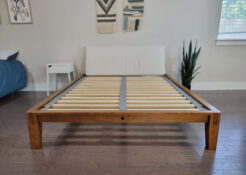 The Thuma is a sleek bed frame that is easy to set up and will give your room a hip, modern look.
Mattress Clarity Score
4.90 / 5
Read Full Review
Pros
Pillow board or headboard option available
Cons
The pillow/headboard cost extra
Our Expert's Take
Thuma has taken the internet by storm. It is sleek in design and its main selling point is how easy it is to assemble. I named it our best overall because in addition to that easy set up, it's very sturdy and really is one of the best frames I've tested. In fact, this is usually the frame we test most mattresses on here at Mattress Clarity, so it is compatible with just about anything.
The wood pieces are sturdy and have a bit of heft to them. Moving around, you shouldn't notice the frame sway or make any noise. You have the option to get just the frame itself, or opt for a pillowboard or headboard depending on the look you're trying to go for in your room. This does change the price, but we tested the pillowboard and though it isn't attached to the frame, it still adds a layer of separation between you and the wall.
What we love about the Thuma Bed Frame
This is a great choice for those who are looking for something made with eco-conscious materials. It's all from repurposed wood.
The Thuma is incredibly easy to set up. There are no tools involved and all you have to do is slide and lock pieces into place.
This bed creates a very simple, minimalist design that works well with any bedroom set up or overall aesthetic.
What to keep in mind about the Thuma Bed Frame
This is quite a pricey bed frame. Just the base itself is barely $1,000 and if you opt for the pillow board or the head board, the price goes up.
This is a rather low-profile bed frame, so it might not be the best thing if you're relying on under-the-bed storage.
This isn't an electric adjustable base, so if that's something you're looking for, be sure to look through our full list of the best adjustable bases and bed frames.
Read our full Thuma bed frame review.
Best With Storage – Saatva
Saatva Adjustable Base
Pros
Has padding around the edges
Also a regular adjustable base
Our Expert's Take
If you're looking for a bed frame that has plenty of space underneath it for some extra storage, the Saatva Adjustable Base Plus will do the trick. The legs are adjustable, and though trying to find the right height on a bed frame can be somewhat of a challenge, those that are looking for storage space should extend the legs to their tallest setting.
This is an electric adjustable base It comes with some presets, and that means there are some electronics on the underside of the frame. Even with this in mind, you should still be able to fit a medium sized storage container under this frame. Personally, this is the frame I sleep with every night and have the legs extended. It keeps my mattress supported and is the perfect height for me.
What we love about the Saatva Adjustable Base Plus
This is a great base for those looking for a durable, adjustable bed frame that has room for storage.
You can make this a low profile base, or a high profile because you can adjust the adjust the height of the legs. But if you need the storage space, keep it nice and tall.
Some frames can be nothing but metal. This base has a nice layer of padding around the edges of the frame.
What to keep in mind about the Saatva Adjustable Base Plus
This is quite a heavy base, and it comes to you in a single piece. Moving this base around and setting it up is a two-person job.
Being an adjustable base, this frame is a mixture of metal and plastic, so if you prefer that all wooden look to your frame, this isn't the best choice.
Read our full Saatva adjustable base review.
Best Value – Helix
Helix Adjustable Base
If you want a sleek adjustable frame that offers zero gravity presets, the Helix Adjustable base is right up your alley. You can also adjust its legs to make it low profile or high profile.
Pros
Comes with multiple presets
Our Expert's Take
Adjustable frames are good for people who need some extra support or are trying to find a snoring solution. The Helix Adjustable Base is adjustable in two main ways: the legs have adjustable heights and you can use presets to adjust your sleeping position. The remote control comes with a few presets that can elevate your head, legs or both.
If you're looking for a bed frame that is more low profile, you can keep the legs short, but if you prefer some height, you can extend the legs to achieve that. With this in mind, set up includes just attaching the legs to the frame and flipping it over. The Helix Adjustable base is streamlined and gets the job done for fans of adjustable bed frames.
What We Love about the Helix Adjustable Base
It's a good option for anyone looking for an adjustable base, as even the legs are adjustable (you can change the height).
It comes with a few presets to help take the guesswork out of adjusting, but you can make some manual adjustments as well.
It's included in Helix's seasonal discounts and can be less than $1,000 around holiday time so you can save big.
What to Keep in Mind About the Helix Adjustable Base
It's not ideal if you prefer a lightweight bed frame. Adjustable bases use electronics and metal and end up quite heavy.
Currently, it only is featured in a black color option, which might not be the best if you're looking for a natural wood color.
Read our full Helix Adjustable base review.
Best Adjustable – Brooklyn Bedding
Brooklyn Bedding Ascension Ultra Adjustable Power Base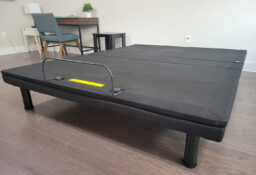 The Brooklyn Bedding Ascension Ultra offers the adjustability you find with most bases along with some exciting extra features.
Mattress Clarity Score
4.70 / 5
Pros
Compatible with other technology
Cons
Doesn't include a headboard
Presets might need adjusting
Our Expert's Take
If you're looking for a sleek design that comes with plenty of presets, LED lights along the bottom, and a place to charge your devices, then the Brooklyn Bedding Ascension Ultra adjustable base is a great choice. Brooklyn Bedding makes a good number of beds that are all compatible with the Ascension Ultra, but any bed that works with an adjustable base can work with this base.
This frame is steel with some padding around the edges, and like many other adjustable bases, it comes with a remote that has presets. These presets can elevate your head, legs or both. But even if the presets don't totally work, you have the option to manually adjust as well.
Who Might Like the Brooklyn Bedding Ascension Ultra Adjustable Base?
It's great for those who are after a full technology package: you can plug in USB cables to charge devices and it even has LED lighting under the bed.
It's good for people who prefer adjustable frames. Set up is fairly simple and you have a lot of presets to use.
It has a very sleek, minimalist design that makes it blend in with your room, rather than stick out.
Who might not like the Brooklyn Bedding Ascension Ultra Adjustable Base?
It's not the best if you want a headboard. It doesn't come included with one, nor do you have an option to add one to the purchase.
It's not ideal for people who are looking for gentle adjustments. Customer reviews report that some presets were extreme.
Read our full Brooklyn Bedding Ascension Ultra Adjustable base review.
Best Wooden – Birch
Birch Natural Wood Bed Frame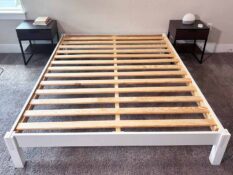 The Birch Natural Wood Bed frame is a no fuss assembly bed frame with a low profile. It'll support your bed and won't squeak over time.
Pros
Often discounted for holidays
Cons
Not compatible with headboards
Our Expert's Take
Wooden frames are great for those who prefer a more natural or minimalist look in their rooms. Birch's Natural Wood bed frame doesn't feature any metal, and you don't even need to use metal tools to put it together. Similar to the Thuma above, this bed uses a joint system to simply slide the pieces into place.
The frame uses a mix of woods (pine, maple and hardwood) that give this frame a really study feel. And true to Birch's nature, the wood is all sustainably grown and sourced making it a great option for eco-conscious shoppers.
Who Might Like the Birch Natural Wood Bed Frame?
It's good for people looking for a minimalist look in their rooms.
Ideal for people who are looking for an easy set up. It uses a joint system and there shouldn't be any need for tools.
It comes in either a natural wood or white color option.
Who Might Not Like the Birch Natural Wood Bed Frame?
It's not going to be ideal for people looking for height or for storage. The legs are about 13" tall, but the clearance is roughly 8".
If you're looking for a frame that is compatible with a headboard, or comes with the option to attach one, this isn't the frame for you.
Read our full Birch Natural Wood bed frame review.
Best Platform – Purple
Purple Platform Bed Frame

The Purple Platform Base is a simple bed frame that offers good support for your mattress. Simply unfold the frame and attach the two pieces together and you're good to go!
Mattress Clarity Score
4.40 / 5
Cons
Not ideal for fans of wooden frames
Our Expert's Take
For those who want a simple bed to add some elevation, the Purple Platform bed frame fits the bill. Some platforms will be a bit lower to the ground and look more like a box spring with legs, but the Purple stands out thanks to its simple design and set up. Simply unfold the main pieces and attach them with a screw and snap the legs into place and you're done.
The legs are 14" tall, and offer a good amount of storage below. Though simple in design, it's a fairly sturdy bed frame and didn't make much noise or sway at all during my testing. And if you're shopping on a budget, this is a good budget friendly option. The biggest sizes (king or California king) don't go much over $200.
What We Love about the Purple Platform Bed Frame
It's good for those who want a tall platform base. The legs are 14" tall and should allow for some storage space below.
This frame is very easy to set up. All you have to do is attach the two main pieces of the frame together with a screw—you won't need tools.
It's a good option for shoppers on a budget. A queen-size frame is roughly $200.
Who Might Not Like the Purple Platform Bed Frame?
It's made entirely of metal so if you prefer a wooden frame, this isn't the best option.
While some might prefer its height, it's not ideal for people who prefer low-profile bed frames.
If you want to purchase a bed frame with a headboard included, this isn't the frame for you. While the frame comes with pieces to attach a headboard, you can't purchase one with the frame on Purple's website.
Read our full Purple Platform bed frame review.
What to Consider When Buying a Bed Frame
Bed frames and bases come in all shapes, sizes and colors. Let's go over some of the factors that you might be looking for in a bed frame.
Material
Frames utilize a variety of materials. From steel or metal, to plastic and wood, there are materials that some people prefer over others. The bed frames on this list feature a mix of steel and wood. Some even come with padding around the edges of the frame to add some protection.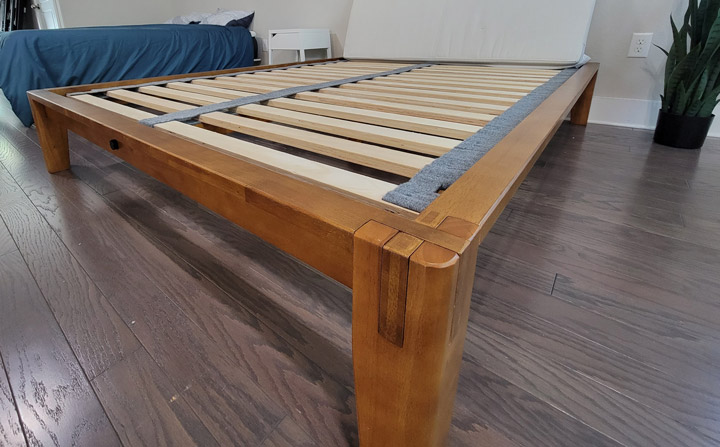 Wood and metal tend to be durable materials, but be sure to check out the warranties. These can usually inform you on how long the company expects a frame to last. Most of the frames on this list come with a warranty and range from just one year and go up to 10.
Design
A bed frame design helps inform you of what type of mattress it might be compatible with. The frames on this list range from adjustable to platform. Adjustable frames can hold any mattress, but if you want to utilize the adjustable presets, you need to make sure your mattress is designed to work with an adjustable bed frame.
Size
You don't have to worry about a company not selling the right size, as most range from twin to California king. Size also deals with height and potential storage space underneath the bed frame.
Price
Prices can range pretty wide for bed frames. For a queen-size frame, the lowest frame on this list hovers around $200, while the most expensive is almost like buying a new mattress at about $1,500. Just like mattresses, keeping your budget in mind is key. Be sure to consider shopping around big holidays like Black Friday, Memorial and Labor Day, and the Fourth of July to name a few. Brands will often offer large discounts to help you save.
There are some companies that offer financing or "by now pay later" options through third-party financers such as Klarna or Affirm.
Assembly
These days many companies are moving away from complicated assembly. Some options on this list (Thuma and Birch) don't even feature metal screws and use Japanese joinery, which is a way to assemble pieces of wood together by simply sliding pieces into place.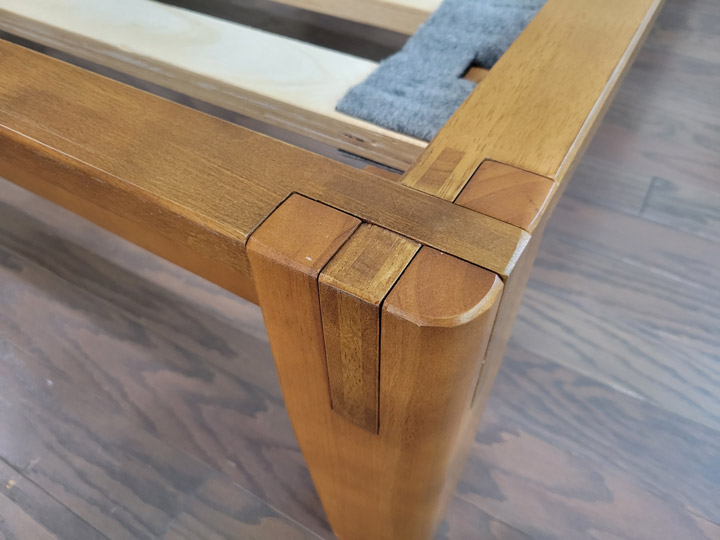 All of the frames on this list are fairly simple to assemble as well, be it unfolding and attaching with a single screw or twisting on legs to a frame. But I should point out that some frames, while simple in assembly, are quite heavy. It's still best to assemble and do any lifting with someone present or close by.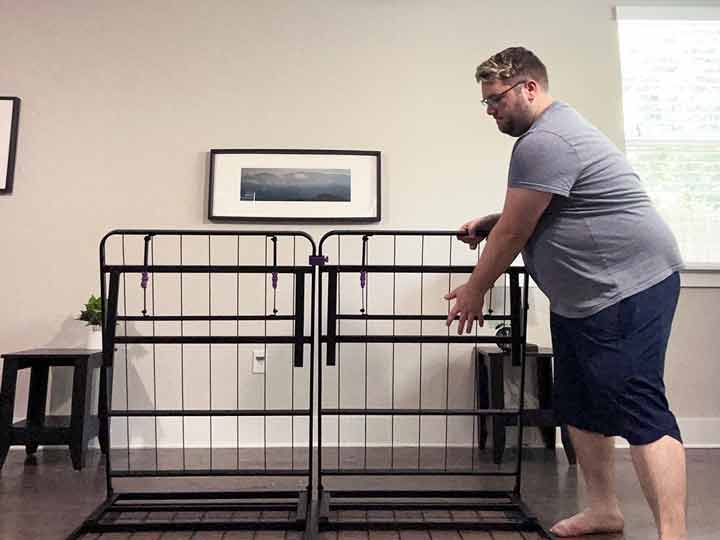 Types of Bed Frames
This list features adjustable and platform bed frames, but there are a few others out there that you might be familiar with or even interested in. Let's go over a few examples.
Platform
The most simple and common type of bed frame. These can be made from a variety of materials, but usually just offer a flat, elevated surface for your bed to rest on. The height can range from 6" to 18".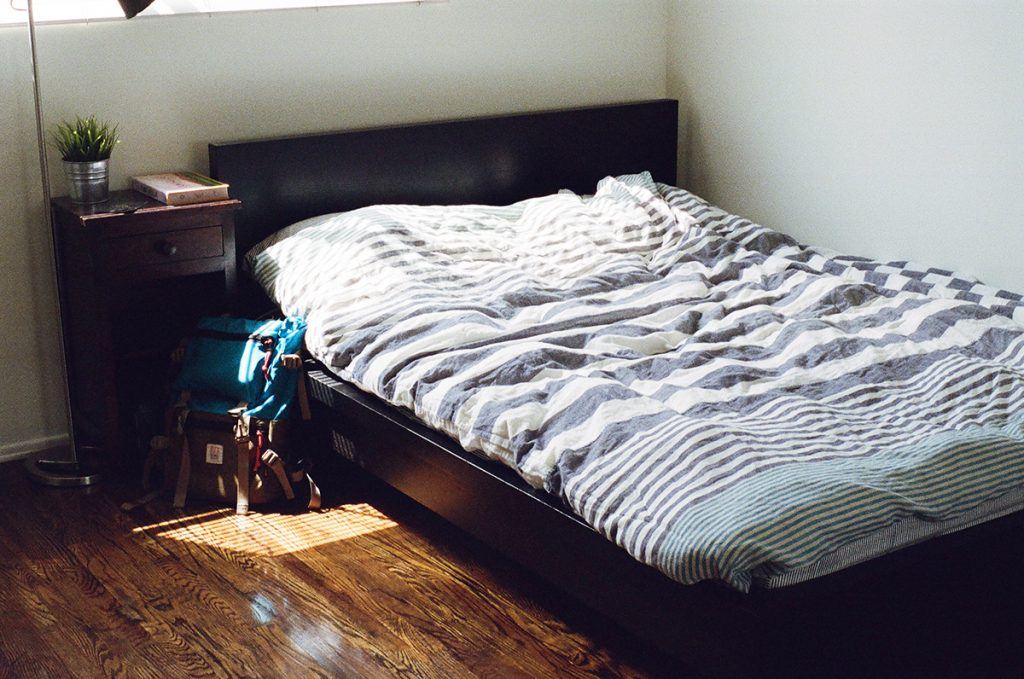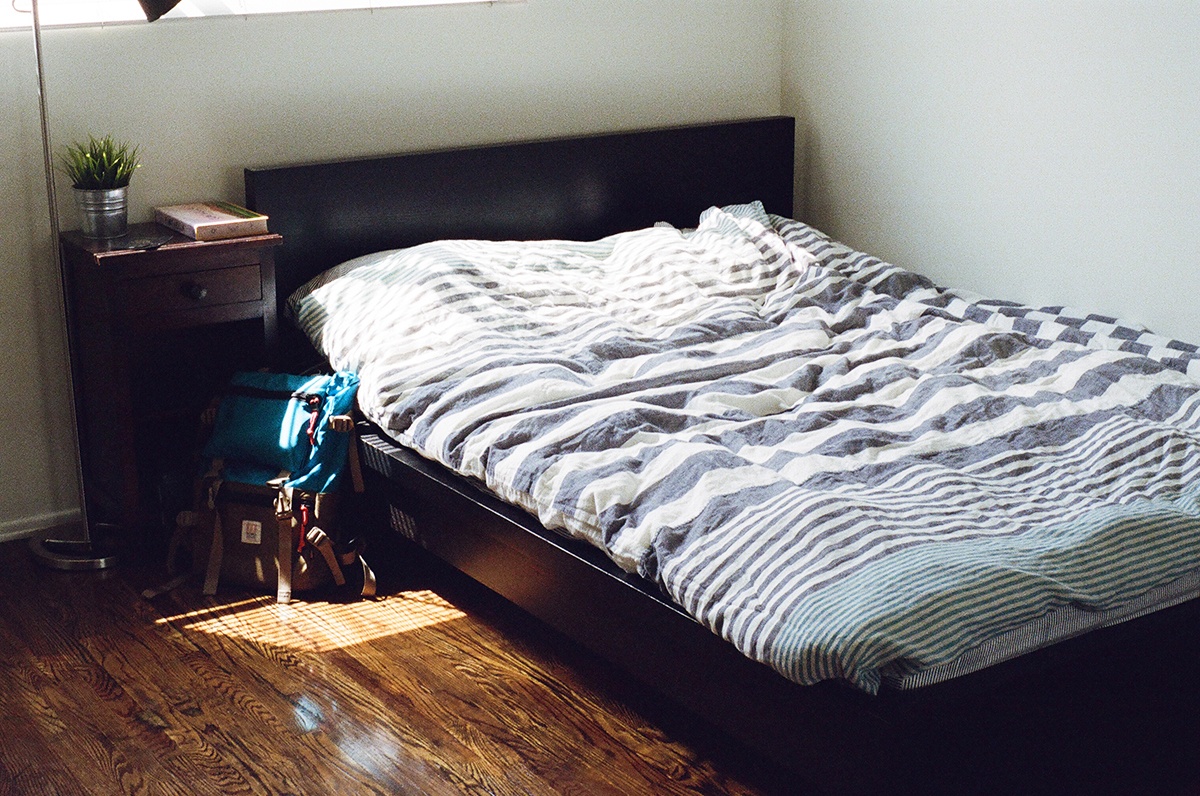 Canopy
Similar to a four poster bed, canopy bed frames have posts in each corner of a bed frame that are connected. Usually canopies will feature a type of fabric that is draped across these posts.
Adjustable
It's common for adjustable bed frames to be electric and come with remotes that have presets. Some settings include an anti-snore option, which elevates your torso to relieve some stress on your airways.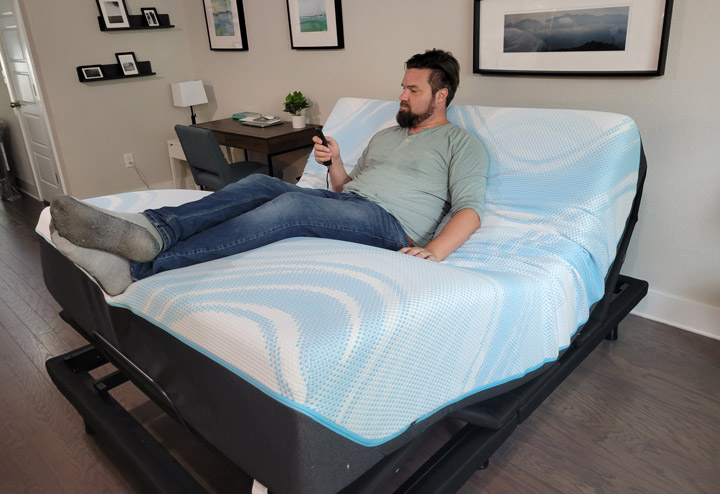 Other settings include helping you find a more comfortable position while you sleep. You almost always aren't limited to presets, too. Many adjustable frames, especially those on this list, have manual options that allow you to customize your experience.
Storage
Some people don't have the storage space in their living environment for everything, so utilizing the space under their beds is key. Many frames on this list should allow room for some small to medium-sized storage bins. But there are frames that include drawers specifically for storage.
Sleigh
This is where bed frames begin to get more elaborate. They contain several pieces and often include a headboard and footboard. Some sleigh bed frames might work as an outer "shell" of sorts to surround adjustable bed frames for those looking for the best of both worlds.
The Best Bed Frames FAQs
What is the best material for bed frames?

Wood or steel. All the options on this list include either material and that's because high-quality wood is very sturdy and supportive. Metal or steel is very durable, albeit hefty, that should keep your bed supported. Wood is better for light sleepers or people who toss and turn as it won't make noise after some time.
How much do bed frames cost?

A high-quality bed frame will run you, at least, about $200. The Purple Platform bed frame is one of the more affordable picks on this list and a queen is roughly $200. However, some bed frames can go upwards of $1,000 depending on the materials, certifications or features.
Is it worth buying a good bed frame?

In my expert opinion, yes. Lower-quality bed frames aren't as durable and might not support the combined weight of you and your mattress. I'm sure we've all experienced a cheap metal frame that starts to bend when too much pressure is applied. And low-quality wooden frames can splinter or break over time.
Is it better to have a higher or lower bed frame?

This boils down to personal preference. If you're looking for a minimalist look and prefer to be low to the ground, low-profile bed frames are the way to go. But if you need storage or just prefer to sleep higher off the ground, taller bed frames exist. Some of the bed frames on this list can be either low or tall as they come with adjustable legs.