If you're like me, the prospect of building a new bed frame is terrifying. All those tools and instructions – it's exhausting to think about. Thankfully, for those of us who are tool-challenged, Thuma has created a sleek, easy-to-set-up bed frame.
But, is it really that easy to build? My unbiased Thuma bed frame review will discuss its design, setup, and how supportive it really is. Keep reading to see if the Thuma bed is right for you!
Thuma Bed Frame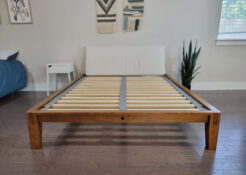 The Thuma is a sleek bed frame that is easy to set up and will give your room a hip, modern look.
Mattress Clarity Score
4.90 / 5
Read Full Review
Thuma Bed Frame Overview
Thuma is a popular new mattress and bedding brand that has been making the rounds on Instagram. Thuma offers a wide variety of products to outfit your stylish bedroom. You can choose from a mattress, nightstands, side tables, and even candles. However, Thuma's claim to fame is what is simply called The Bed.
Featuring high-quality materials and sleek Japanese construction, The Bed is designed to take your bedroom to the next level without the need for tools. And, that's one of the best parts about this frame! In my experience, the Thuma Bed is easy-to-build and features an attractive, modern design. Still, the Thuma is going to work better for certain types of sleepers.
Who Should Get The Thuma Bed Frame?
Eco-conscious shoppers
Those looking for a bed that is easy to set up
Fans of beds with a low-profile, minimalist design
Who Shouldn't Get The Thuma Bed Frame?
Those who want an inexpensive platform bed
People who need to store items under their bed
Fans of a more traditional bed design
RELATED: Best Bed Frames
Thuma The Bed Construction
The frame of the Thuma Bed is made from repurposed wood. Each piece of wood has slight imperfections and unique grain so that no two Thuma Beds will look the same. This also helps create a rustic look.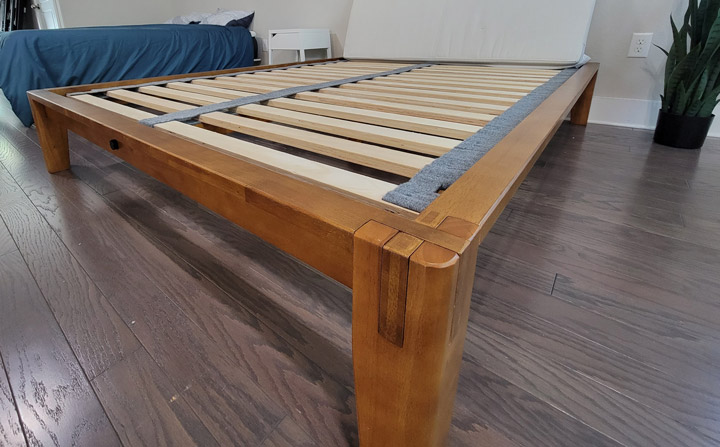 The legs are made from this same repurposed rubberwood and feature cork padding on the bottom. This will prevent you from scratching your floor if you need to move or reposition The Bed.
The frame and legs are held together by a unique Japanese joinery technique. Simply put, the long side, short side, and leg fit together like puzzle pieces, with no screws or screwdrivers required. It also adds some durability to the bed, as it won't fall apart or weaken at the joints. Read below for my experience building the Thuma.
The double-strength slats are spaced 3-inches apart for a balance of support and breathability. They are held together by eco-felt material. Notches at the top and bottom of the frame help hold the slats in place.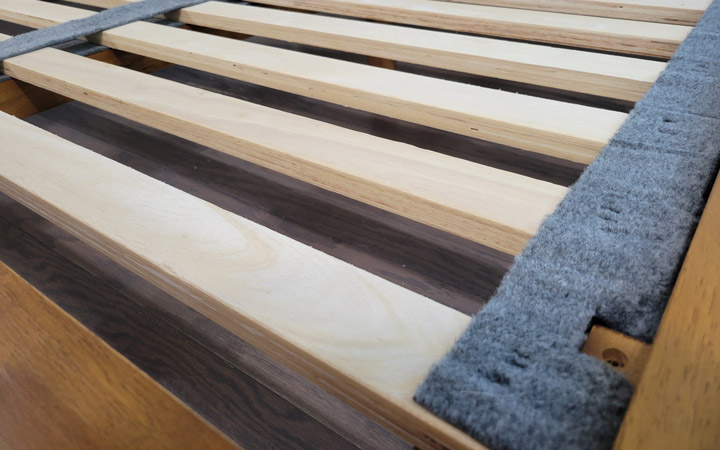 You can also choose between a headboard or pillow board. The headboard is made from the same wood as the bed, and the pillowboard is made of foam and covered with a polyester light linen material. We received the pillowboard for review, and it adds a plush, homey look to the bed. I'll just note that the pillowboard does not actually attach to the bed and is held in place by your mattress.
In addition, you have color options – Walnut, Natural, and Espresso. Finally, the Bed is GREENGUARD Gold Certified, meaning that it adheres to the highest standards for organic, eco-friendly products.
RELATED: Best Organic Mattress
How Do You Put The Thuma Bed Together?
Thuma boasts that The Bed has an extremely easy assembly process. I am one of the least handy people, so I was prepared to really put this claim to the test.
First off, the Thuma came in three separate, numbered boxes. Before I even saw an instruction manual, I saw that Box 1 featured the words "Open First." From the outset, I could tell that they were really going to walk me through this.
When I opened Box 1, I found the long and short pieces of the bed frame. The instructions told me to lay these pieces out where I wanted the bed to be. I then laid out the legs as well.
Now, here was what I thought was going to be the tricky part – actually putting these pieces together. The short sides, long sides, and legs all featured grooves. With the help of my coworker, corner by corner, I pushed the grooves of the long side, short side, and leg together. There was some resistance but, once everything came together, the corner felt like one solid piece of sturdy wood.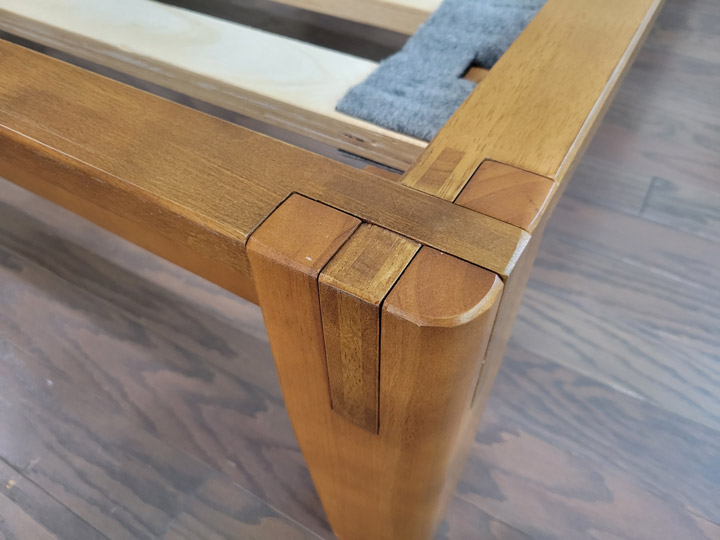 When the main frame was together, I screwed in the final leg to the center beam piece and set this into the frame. While the bed does not come with metal screws, there were two plastic pegs. These screwed into the head and foot of the frame, keeping the center beam in place.
Then, I rolled the wooden slats across the bed. The Thuma features some helpful notches toward the head and foot of the bed. These engage with the slats and keep them tight and evenly spaced across the bed.
The final piece was the Thuma pillowboard. I was surprised that it simply rested against the wall, and did not join to the bed in any way. According to the brand, the weight of your mattress is designed to keep the pillowboard in place.
I have gone into explicit detail, but the whole process took less than 10 minutes to complete. I was honestly surprised at how easy the Thuma was to construct. I would just suggest that you ask a friend for help. This is heavy wood, and the corners are a bit tricky to line up without someone's help.
Thuma Mattress Compatibility
A platform bed frame is only as good as its support. Thuma offers its own mattress, but it is more of a slim memory foam affair. I wanted to really run the Thuma Bed through the gauntlet and test it out with a heavier mattress.
I employed the Avocado Green mattress, one of the bulkier, heavier mattresses I have ever reviewed. I figured if the Thuma could support the Avocado, it could support anything.
After I lugged the Avocado onto the Thuma, I tried it out in all three sleeping positions. Lying on my back, side, and stomach, I did not feel any sagging in the bed frame. If the Avocado lacked support, I would have felt some dips in the mattress.
I also sat near the edge and hopped up and down. I didn't hear any squeaks or groans from the bed. I'm a bigger guy and weigh 270 lb, so this was impressive.
For good measure, I also tested the Thuma out with a hybrid, innerspring, and memory foam mattress. Unsurprisingly, the Thuma supported these mattresses and me with no issues.
Thuma Bed Sizes & Price Options
Check out the following chart for up-to-date Thuma size and price info.
| | | |
| --- | --- | --- |
| Size | Dimensions | Price |
| Twin | 44″ x 80″ | $795 |
| Full | 59″ x 80″ | $995 |
| Queen | 65″ x 85″ | $1,095 |
| King | 81″ x 85″ | $1,195 |
| California King | 77″ x 89″ | $1,1995 |
| Daybed | 44″ x 80″ | $995 |
Note: These prices reflect the Walnut model. The other models may cost a bit more.
Get Best Deal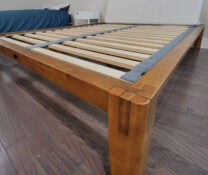 The Thuma Bed is a minimalist bed frame that is very easy to assemble. 
Thuma Company Policies
I'd like to take a moment to look at Thuma's fine print.
Warranty Info
The Thuma Bed comes with a Lifetime Warranty that covers manufacturing and defects.
Sleep Trial
You get a 100-night sleep trial period when you purchase a Thuma Bed.
Return Policy
Thuma offers free shipping and returns with their products.
FAQs
Do Thuma beds squeak?
In my experience, the Thuma Bed does not squeak. It is a very quiet bed and, even when I rolled around on my mattress, I did not hear squeaks down below.
How long does the Thuma bed frame last?
The Thuma Bed should last for at least 10 years. It features durable, solid wood and superior craftsmanship that should stand up to many years of use.
How much does Thuma cost?
A Queen size Thuma bed frame costs around $1,100.
Is the Thuma bed frame worth it?
The Thuma bed frame is worth it if you are a fan of low, modern beds, and you want something easy to set up. However, if you want something very cheap or need a bed with space for storage underneath, I would look elsewhere.
Do you need a headboard with the Thuma bed frame?
Yes, you do. The Thuma comes with your choice of a headboard or linen-weave pillow board. The headboard is connected to the frame, and the pillowboard is a separate piece.
Do you need a box spring with the Thuma?
No, you do not need a box spring with the Thuma. It is supportive enough to work without a box spring and is designed to be a lower bed.