Everyone knows how important a good mattress is for your best night of sleep. Anyone on the market for a mattress that helps them recharge overnight needs to know where to look. In this Zephyr Mattress review, we'll discuss why and how the Zephyr is meant just for that.
The Zephyr Mattress by Polysleep is a memory foam mattress that combines Nanobionic technology with comfort, and promises that you'll wake up the next morning feeling refreshed, recharged, and re-energized. Could this be the mattress for you? Keep reading to get our unbiased Polysleep Zephyr mattress review!
Polysleep Zephyr Mattress
Shipping Method
Free shipping
Firmness
Medium-firm: 6.5/10
Warranty
10-year warranty
Polysleep Zephyr Mattress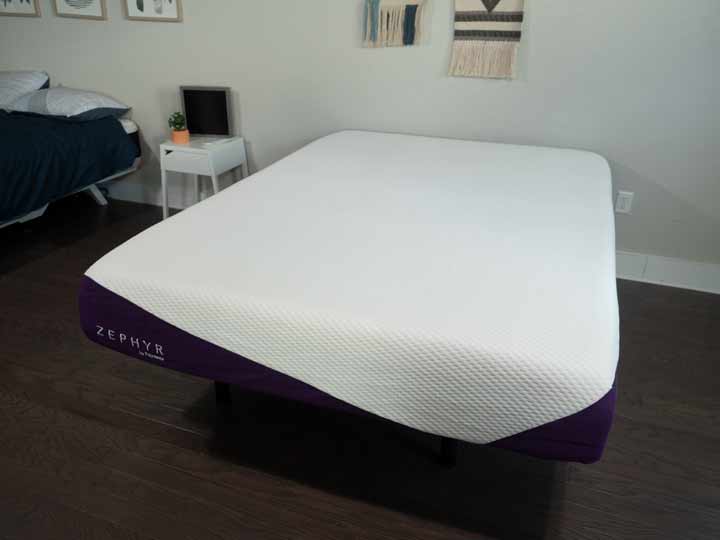 The Zephyr by Polysleep is a high-end, all foam mattress. It features a Nanobionic cover, with gel-infused foam, an antimicrobial foam layer, and targeted support.
Warranty
10-year warranty
Firmness
Medium-firm: 6.5/10
Shipping Method
Free shipping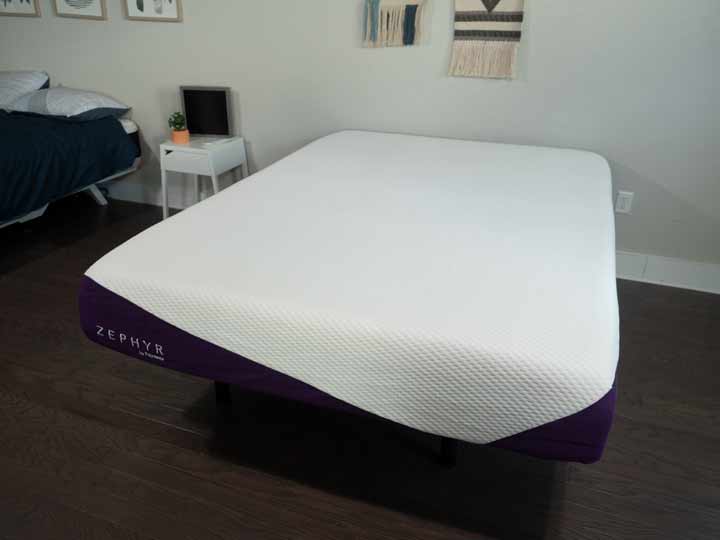 Polysleep Zephyr Mattress
The Zephyr by Polysleep is a high-end, all foam mattress. It features a Nanobionic cover, with gel-infused foam, an antimicrobial foam layer, and targeted support.
Firmness
Medium-firm: 6.5/10
Warranty
10-year warranty
Shipping Method
Free shipping
Zephyr Mattress Review Overview
The Zephyr is a Polysleep mattress from Canada that has been optimized for a rejuvenating sleep experience. This mattress integrates Nanobionic technology to help your muscles recover quickly, and it contains five layers of high-quality foam.
In our experience, the Zephyr is a good foam mattress for anyone looking for quality sleep and those who are looking for pressure relief.
Who Might Like the Zephyr?
Average-weight back and side sleepers who need pressure relief
People who love a classic, slow-moving memory foam feel
People who are in the market for beds that help regulate body temperature
Who Might Not Like the Zephyr?
Stomach sleepers
Those on the market for a mattress with a lower price point, as the Zephyr is Polysleep's most expensive mattress
Lovers of bouncy, responsive mattresses
RELATED: Best Canadian Mattresses
Overall Rating
Our team of Certified Sleep Science Coaches personally test each mattress in categories such as materials, comfort, cooling, and support. Hover over the icons to learn more about these different topics, or scroll down for a more detailed analysis on each one.
Zephyr Mattress Firmness and Feel
Now let's talk about one of the most important parts of a mattress: how it feels, and how firm the Zephyr Mattress is. Here's how the Zephyr held up in different sleeping positions.
How Firm is the Zephyr?
In our experience, the Zephyr feels like a 6.5/10, which happens to be the industry standard for medium-firm mattresses. Like typical foam mattresses, the five layers of foam start soft at the top, and progressively get firmer in lower layers. Comfort and support are pretty well balanced in the Zephyr mattress.
Sleeping On The Zephyr
Back sleepers resting on the Zephyr should feel comfortable and supported as the top layer conforms to their body's shape. The firmer base foam layers give solid support, and you should feel secure and comfortable.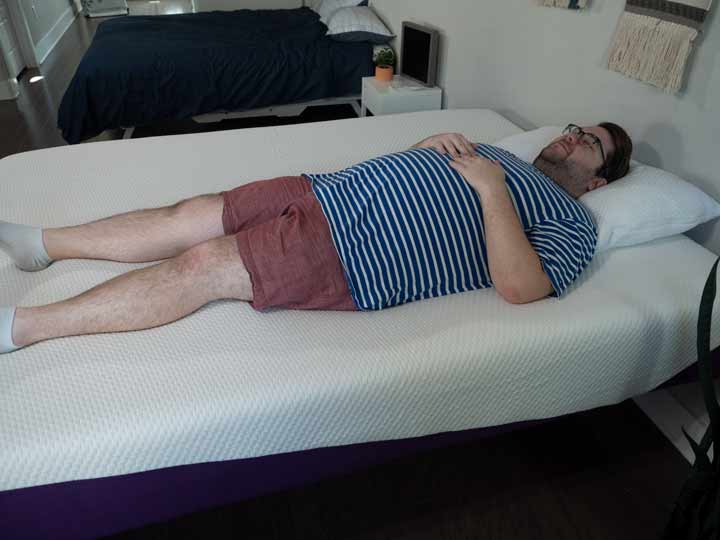 In our experience, the Zephyr will be a good pick for side-sleepers. The top foam layer provides nice pressure relief near the shoulders, and with targeted support layers, the mattress is designed to help support your body in different areas.
Of course, lighter sleepers and heavier sleepers will experience it differently, but overall, this should be a good pick for side sleepers.
As for stomach sleepers, after some time in this position, you'll feel your hips sink in the most, and there could be some pressure that could lead to back pain later on. The Zephyr's firmness level is just too soft. We wouldn't call this the best mattress for stomach sleepers.
What Does the Zephyr Feel Like?
The Zephyr has a wonderful soft top with a slow-moving feel. Even after you've settled, you might feel just a little bit more sinking. But once you're in place, the firm lower layers should keep you supported and will allow you to get in and out of bed with ease.
Average Weight Sleepers – 130lbs – 230lbs
The Zephyr is a good fit for average weight people who prefer back and side sleeping. With targeted support for hips and shoulders, side sleepers should find a good deal of pressure relief.
On the other hand, stomach sleepers won't find the hip support they need to keep the hips elevated. Look for a firmer, more supportive mattress.
Heavyweight Sleepers – Over 230lbs
Heavyweight sleepers should feel decently supported on their back. Side sleepers may feel like they sink too much into the top comfort layer. However, with the targeted support, heavier side sleepers should at least feel pressure relief in their shoulders.
Heavier stomach sleepers will ultimately face a lack of support for their hips, and in our experience, even a little bit of pressure in the general abdominal area.
Lightweight Sleepers – Under 130lbs
Good news for lightweight back and side sleepers: this should be an overall good fit for you. The top comfort layer won't compress too much, and again, the targeted support will aid in pressure relief. If you're a stomach sleeper, again, you might not compress the top comfort layer enough and your hips should be able to stay aligned, but most lightweight stomach sleepers should still look into the best mattresses for stomach sleepers.
Zephyr Mattress Construction
Let's peel back the cover of the Zephyr mattress and see what's inside. We'll discuss each layer and how they should impact your Zephyr sleeping experience.
Cover
The Zephyr Mattress has a thin cover that combines organic fibers with Nanobionic technology. This cover is cool to the touch and is designed to redirect infrared rays back into your body to help you feel energized when you wake up.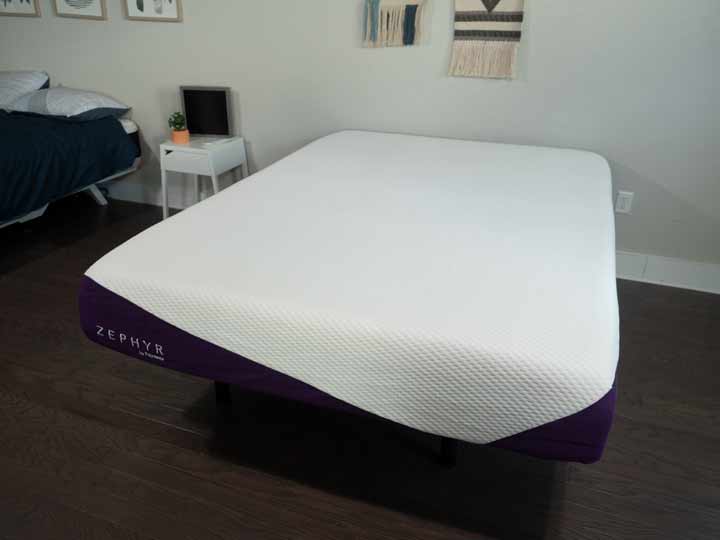 Comfort Layers
The Zephyr Mattress has five layers of polyurethane foam that all do different things. So let's peel back the cover and see what's inside.
The Zephyr Mattress's soft top layer is a hybrid gel-infused foam topper designed to cool you off when you get hot and keep you warm when you're cold. You really get that sinking feeling foam mattresses typically have with this top comfort layer.
Right underneath is a breathable, antimicrobial foam layer that conforms to your body. It also identifies pressure points and helps relieve that pressure. This second layer is also ventilated and provides for good airflow.
Support Layer
Further down into the Zephyr is a proprietary support frame. This helps prevent the mattress from sagging, offering solid edge support. It also offers targeted support. What this means is that the lower foam layers will feel firmer or softer in different parts of the mattress. This is to meet the different needs that your shoulders and hips have and should align your spine well!
At the bottom there is a supportive foam base layer that acts as a box spring, too.
Mattress Height
All Zephyr mattress sizes come in at 11.5" tall.
Zephyr Mattress Size Options and Price
The following chart gives buyers a good idea of Polysleep's up-to-date sizing and pricing for the Zephyr Mattress:
| | | |
| --- | --- | --- |
| Size | Dimensions | Price |
| Twin | 39" x 75" | $1695.00 |
| Twin XL | 39" x 80" | $1745.00 |
| Full | 54" x 75" | $2295.00 |
| Queen | 60" x 80" | $2495.00 |
| King | 76" x 80" | $2795.00 |
| California King | 72" x 84" | $2795.00 |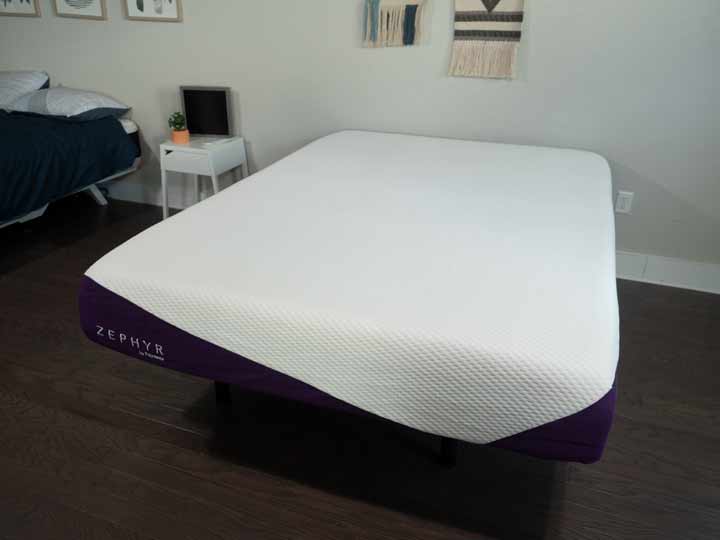 Polysleep Zephyr Mattress
The Zephyr by Polysleep is a high-end, all foam mattress. It features a Nanobionic cover, with gel-infused foam, an antimicrobial foam layer, and targeted support.

30% off America's best mattress
Zephyr Mattress Performance
We've talked a lot about the technical aspects of this mattress. But let's put this all together and see how the Zephyr mattress performs as a whole.
Sleeping Hot or Cold
The Zephyr is an all-foam mattress that is designed to help body temperature regulation. Hot sleepers should feel the effects of the cooling cover and gel infused top layer. Cold sleepers should also feel the warming effects of this layer, too. This is because the top layer was designed with body temperature regulation in mind, and should help keep you warm.
Motion Transfer
Polysleep proudly says the Zephyr Mattress has zero motion transfer. And in reality, it handles motion transfer well. Though the top layer is softer than the rest of the mattress, the layers of foam mattress absorbs motion. This mattress for motion isolation should help you feel less disturbances while you sleep.
Edge Support
Because the Zephyr has a support frame designed to fight sagging, you should feel secure when sitting or sleeping near the edge.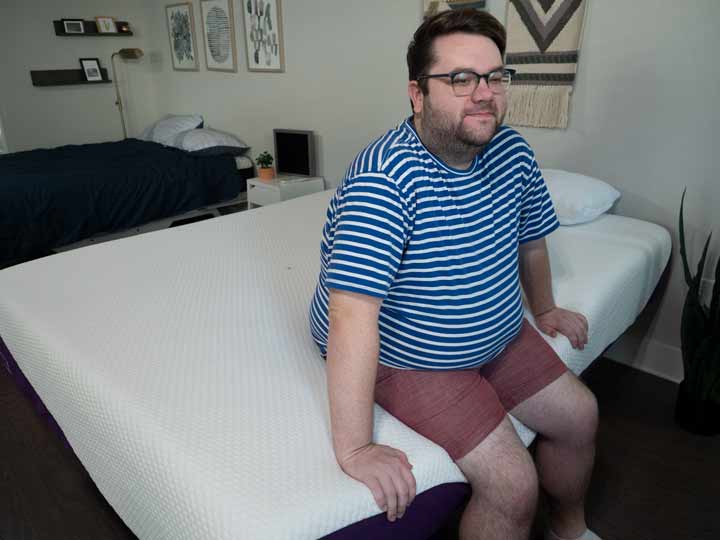 Durability
Polysleep has put in an incredible amount of thought into the construction of this mattress. All of the layers are CertiPUR-US certified foams, and the cover is made with organic fibers. We fully expect this to last the 10 year warranty.
Off-Gassing
Because the Zephyr is a bed-in-a-box mattress, there may be some off-gassing. Polysleep crafts mattresses that are certified by the CertiPUR-US, and the Zephyr is no different. This means they create mattresses that are made without too many chemicals, but typically if you do smell a chemical smell, it should dissipate after 24-48 hours.
Noise
As an all-foam mattress, the Zephyr was quite soundless when getting in and out of the bed and as we changed positions. The only noise you're going to hear is yourself changing positions against the sheets!
Sex
The Zephyr's top layer is quite soft, and there is a sinking feeling as you lay on the top of it. Because of this, it could be difficult to change positions. And couples who are looking for the best mattress for sex should look for a more responsive mattress.
Company Policies
When shopping for a new mattress, it's always smart to read the fine print. Here's a quick overview of Polysleep's customer service terms.
Warranty Info
The Zephyr comes with a 10-year limited warranty.
Sleep Trial
Polysleep offers a 100-night trial period for the Zephyr. This should give you a good amount of time to decide if it's the mattress for you. During this time, you can make an exchange for a bigger mattress if you need one. You just need to pay the difference.
Return Policy
Polysleep offers exchanges only during the 100-night sleep trial. In addition, returns can be coordinated with the Polysleep team for a full refund.
Common Zephyr Mattress Complaints
The most common complaint across all mattresses from Polysleep is that they appear to be too firm for a memory foam mattress, and the Zephyr is no exception. If a firm mattress isn't for you, look at our best soft mattresses to find the fit for you.
How Does the Zephyr Compare to Other Mattresses?
Any mattress shopper should be comparing models for a variety of factors. The Zephyr is no different, so let's dive into how it compares with some of its main competitors.
Zephyr vs Casper Original Mattress
Both the Zephyr and Casper mattresses are all-foam mattresses. Let's see how they compare.
Starting with the cover, the Zephyr's cover is designed to redirect infrared rays back into your body to help you recharge while sleeping. The Casper's cover is thin, breathable, but other than that, it doesn't offer much else.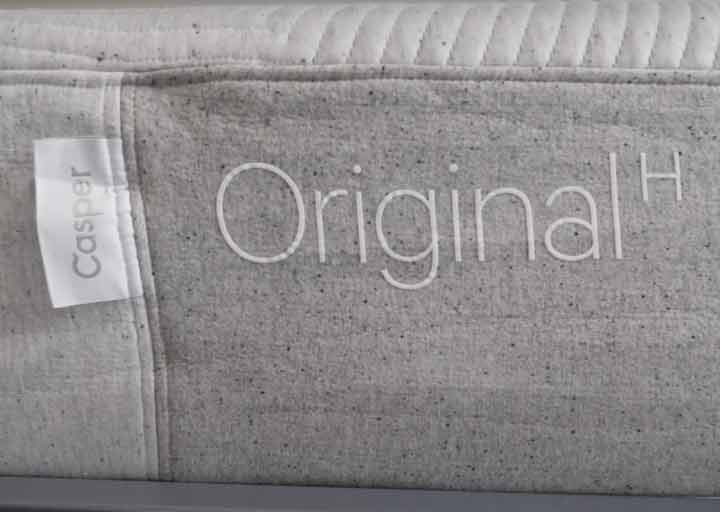 Both mattresses feature zoned or targeted support for shoulders and hips. The difference here is that the Zephyr is just a bit softer, coming in at a 6.5/10 as opposed to Casper's 7/10.
The Zephyr features a gel-infused foam top layer called GelFlex Plus. This material is designed to help hot sleepers cool off and colder sleepers warm up. Casper's top layer contains AirScape, which primarily won't trap heat.
And finally, the Zephyr mattress is almost two and a half times the price of the Casper.
Who Should Get the Zephyr Mattress?
The Zephyr is designed to recharge you while you sleep, so for a higher quality sleep, we suggest the Zephyr
Hot sleepers
Back and side sleepers
Who Should Get the Casper Mattress?
Mattress shoppers with a budget
Side sleepers
Those who want more of a responsive feeling mattress
Read our full Casper mattress review.
Zephyr vs Purple
The Purple Mattress is another incredibly popular bed-in-a-box brand, and it's worth looking into the differences.
The most obvious difference between the Zephyr and the Purple Mattress is construction. The Zephyr is an all-foam mattress, where the Purple is composed of the brand's signature, proprietary hyper-elastic gel polymer grid.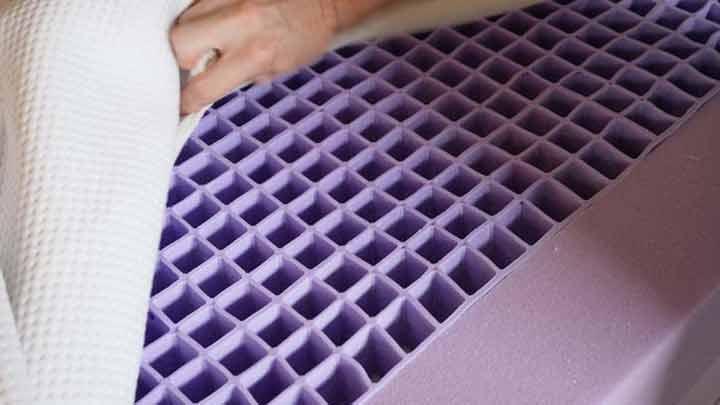 This massive construction difference will produce very different feels for the mattresses. Zephyr's top gel layer allows for some sinking, and the targeted support will offer different feels for the shoulder and the hips. Purple has a squishy-yet-firm feel that's both bouncy and responsive.
In terms of firmness, they are going to be relatively the same, and the Zephyr will again be a bit pricier than the Purple.
Who Should Get the Zephyr Mattress?
Anyone looking for an all-foam mattress with a contouring top cover
Those looking for more rejuvenating sleep
All-foam mattress lovers
Who Should Get the Purple?
Lovers of a hybrid mattress
Those looking for a more responsive, bouncy mattress
Heavier-weight side and back sleepers
Take a look at the Purple Mattress Review!
FAQs
Let's take a moment to answer some of the most frequently asked questions about the Zephyr mattress.
Does the Zephyr need a box spring?
The Zephyr Mattress shouldn't need a boxspring. The supportive base foam layer acts as a boxspring within the mattress. However, if you'd prefer to use one, you can. Polysleep also recommends you can pair the Zephyr with their Polysleep Foundation.
Where can I get a Zephyr Mattress?
Zephyr Mattresses are sold in select retailers. However, since this bed does come in a box, you can have it shipped directly to you to try for the 100-night trial. Polysleep currently ships to all Canadian Provinces and Territories as well as all of the United States.
Is the Zephyr a good mattress?
The Zephyr mattress is a good mattress, but it also depends on what sleeping position you prefer. If you're a back or side sleeper, then the Zephyr will provide you with the pressure relief necessary for your back, shoulder, and hips.
Tony Klespis
Tony is a staff writer at Mattress Clarity where he analyzes sleep products and appears in review videos. He earned a B.A in English from Sam Houston State University and a M.A in Mass Communication from Texas State University. When he isn't writing about sleep products, Tony loves to unwind with a good book or can be found playing Pokemon Go outside with his friends, or cuddling with his cat, Penguin. He's always down to try a new, local restaurant and try new foods.