Recently, more and more mattress companies are making mattresses designed just for larger people. Most of these mattresses contain coils, high-density foams, and are very supportive.
The Big Fig has been one of the most popular mattresses for larger people. If you spend much time researching mattresses for plus-sized sleepers, the Big Fig will undoubtedly pop up.
Now, Brooklyn Bedding is getting into the game. They just released the Titan, their mattress for heavier sleepers. As a fan of Brooklyn Bedding's other mattresses (which include the Signature, Aurora, Bloom Hybrid, and Plank), I was very excited to see how it would stack up against the Big Fig.
Which of these mattresses will offer you the support you need? Read on for my full Brooklyn Bedding Titan vs Big Fig mattress comparison.
Get 20% Off

Titan

Click the button to save 20% on a Titan mattress. 
A great match for stomach sleepers. 
A supportive mattress with an innerspring feel

CHECK PRICES

Big Fig

Click the link to get a great discount on Big Fig. 
A supportive match for heavier back sleepers. 
A durable, longer-lasting mattress.
Key Similarities
Both mattresses are designed to handle heavier weights and both are also hybrid mattresses.
They are two of the best mattresses for heavy people.
They have a similar feel and are both breathable mattresses that should keep you from sleeping hot.
They are both very durable mattresses and should tremendous long-term investments.
Key Differences
The Titan is more affordable than the Big Fig, so the question of best value is a little difficult to ascertain.
They contain some different materials that give the mattress a slightly different feel overall.
The Big Fig has more layers than the Titan, is softer, and has a taller profile as well.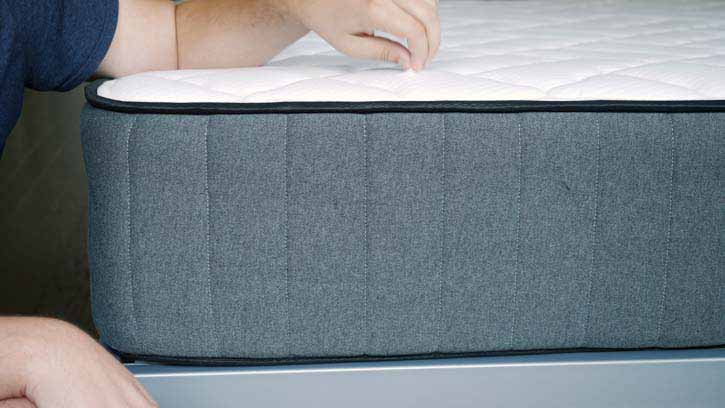 Titan Construction
The Titan is 11" tall and consists of four distinct layers if the quilting layer is included.
The cover of the Titan is made of polyester and is quilted with 1" of gel memory foam, which adds some softness and pressure relief to the mattress.
The first layer is 2" of TitanFlex foam, which is a soft material that has a lot of the qualities that latex has.
Then, the support layer consists of 6" of TitanCaliber coils, which are supportive, durable, and fairly breathable.
Finally, the base layer is 2" of high-density foam, which the steel support coils are able to rest on.
Read the full Titan mattress review, available here.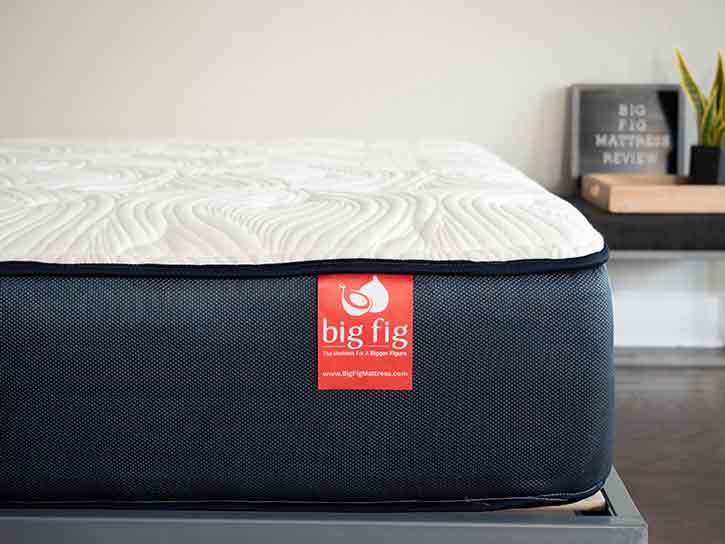 Big Fig Construction
The Big Fig is 13" tall and features seven separate layers.
The cover is soft and quilted with 1" of ThermoGel foam, which adds some nice softness and pressure relief to the mattress.
Then, you have 0.5" of gel-infused latex foam, which gives the mattress some bounce, responsiveness, and breathability. See our roundup of the best latex mattresses for more bouncy mattresses like this.
Next, you have three 1" layers of polyfoam, which act as transition layers and prevent sleepers from bottoming out and hitting the firmer coils underneath.
Below this is 7" of individually wrapped coils, which are highly supportive and durable.
1.5" of high-density polyfoam makes up the base layer and allows the coils to rest and be stable.
Read the full Big Fig Mattress review, available here.
Construction Differences/Notes
As I stated above, both the Titan and Big Fig are made with heavier people in mind. They both contain extra-supportive coils that are rated for heavier weights. Also, they feature high-density foams in their top layers. The Titan contains TitanFlex foam, while the Big Fig contains latex foam and multiple layers of high-density polyfoam. Both the Titan and Big Fig should be able to support weights between 300 and 500 lb.
These high-density materials also make these mattresses quite durable. They should stand up to many years of use. That being said, the Big Fig should be the longer-lasting mattress. It features more layers of high-density foam as well as latex foam. Latex is one of the most durable comfort materials out there, so while it does cost more, the Big Fig should be a better long-term investment. See our top picks for the best mattress that won't sag.
Both of these mattresses should be very breathable. The coils in both mattresses should promote a good amount of airflow. The Big Fig's latex foam layer is also ventilated for airflow.
The Titan's gel memory foam layer should keep the top of the mattress cooler. While memory foam is known for trapping heat, this shouldn't be an issue with the Titan. Also, you can add a cooling panel to the top of your Titan. As larger people have greater issues with sleeping hot, this is a great extra feature.
Brooklyn Bedding offers many other mattress models. Read our Brooklyn Bedding Signature mattress review, Brooklyn Bedding Aurora mattress review, and Brooklyn Bedding Spartan mattress review.
Firmness/Feel Differences
When we speak about firmness, it is very subjective. The firmness of a mattress really depends on your weight. Since these mattresses are made for people in the 300 to 500 lb weight range, it is worth noting that I am only 230 lb. If you are larger than me, you could have a different experience on these two mattresses.
That being said, I found the Titan to be firmer than the Big Fig. The Titan felt close to an 8.5 or 9/10, and the Big Fig felt closer to an 8/10.
Here is how it feels while sleeping on the Titan:
Back sleeping on the Titan, the mattress is actually too firm for me. Back sleepers should look for a mattress with a balance of comfort and support. Since Titan is more on the supportive side, my hips are not allowed to sink in too much, and I feel like I am being pushed out of the mattress. Again, much larger people might have a different opinion because they may feel firmness and support a little bit different.
When I move to my side, the Titan is, again, too firm for me, and I believe people of most weights will agree. The comfort layer is not too thick on the Titan, so I press right through to the coils. I am feeling some firmness on my shoulders and hips and need some more pressure relief.
On my stomach, the Titan is a great match for me. It is indeed a supportive mattress, so I feel like I am well aligned, my hips don't bow into the mattress, and my entire body is supported.
Here is how it feels while sleeping on the Big Fig:
When I am back sleeping on the Big Fig, I feel more comfortable than I do on the Titan. My hips are able to sink more into those top foam layers, but I also feel well supported. I will say the Big Fig is still a bit firm for me on my back, but it is a better match for back sleeping than the Titan.
Side sleeping on the Big Fig, the mattress still feels quite firm. However, I do feel better pressure relief than I do on the Titan. With its thicker comfort layer, much larger side sleepers should feel better pressure relief on the Big Fig.
Stomach sleeping, the Big Fig is also a good match for me. I don't bow in at the hips at all. However, I will say I feel better support when I am on the Titan.
While these are both hybrid mattresses, they are going to have a different feel.
The Titan has a thinner comfort layer, so I press through to the coils quite easily. This gives the mattress more of an innerspring feel.
The Big Fig has thicker comfort layers but still has the support of coils. This gives the mattress a balanced hybrid feel. You feel a bit of softness from the foams on top, and then you get that deep support from the coils.
See more of what I thought of the Titan's firmness and feel in the video below.
See what I thought of the Big Fig's firmness and feel in the video below.
Motion Transfer Differences
If someone is a larger person and they sleep with a partner, they should definitely keep motion transfer in mind. Basically, people want to know if someone or their partner move around at night, will they disturb one another or will motion transfer across the mattress or not?
To test out how well these mattresses handle motion transfer, I used a glass of water, and I placed it on top of the Titan and pushed into the other areas of the mattress. I saw just a bit of disturbance, and when I performed the same test on the Big Fig, I saw even less disturbance.
While the Big Fig does contain latex, there are also some high-density foam layers toward the top. The comfort layer is thicker than what people will find on the Titan mattress.
In the end, the Big Fig handles motion transfer a bit better than the Titan and could be a better mattress for couples who don't want to be disturbed by their partner's movements.
See how the Titan dealt with motion transfer in the video below.
Now, compare this to the motion transfer of the Big Fig in the video below.
Edge Support Differences
Those who sleep with a partner should also think about edge support, which is especially important if someone is a larger person. Since they may take up more room, people want to make sure they and their partner can use every square inch of the mattress surface.
While sitting down near the edge of the Titan, it does not collapse too much, and when I lie down near the edge, I don't feel like am going to roll off.
When I sit and lie down on the Big Fig, I feel even more secure and would say the Big Fig features better edge support.
You can see the edge support differences in the photos below.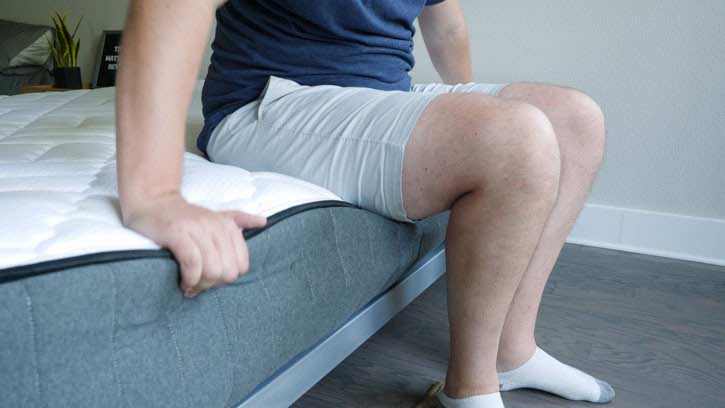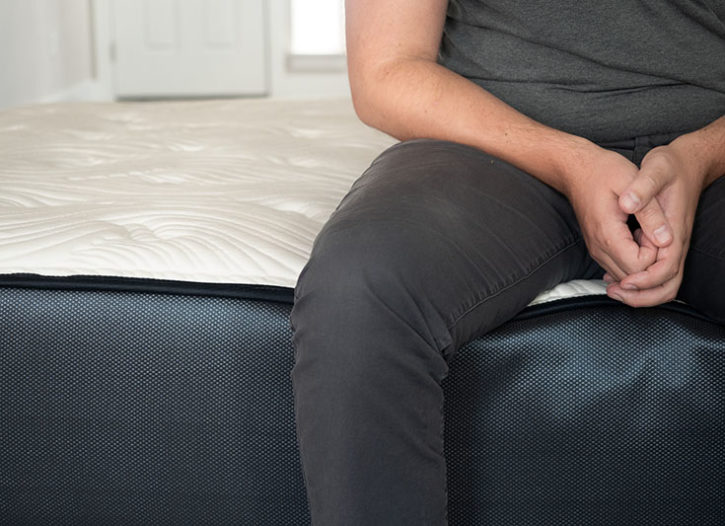 Pick Titan If …
You are a heavier stomach sleeper- If you are larger and sleep mostly on your stomach, the Titan should be the better choice for you. In my experience, it is the firmer mattress, so I felt better support when I was on my stomach. Heavier stomach sleepers should feel properly supported on the Titan.
You want something more affordable- Between the two mattresses, the Titan is more affordable. The Titan and Big Fig have quite a bit in common. If it's a close call between these two mattresses, it might be smart to go with the Titan. You could save almost $800 on your purchase.
You like an innerspring feel- Both of these mattresses contain coils. However, the comfort layer on the Titan is thinner than the comfort layer on the Big Fig. While lying down on the Titan, it is easier to feel the coils. If you like the feel of an innerspring mattress, the Titan should be the better choice.
See our best innerspring mattresses.
Pick Big Fig If …
You are a heavier back sleeper- Back sleepers should always be looking for a balance of comfort and support. Heavier back sleepers should definitely find that on the Big Fig. Your hips should sink into the top layers while the coils offer the support you need. Between the two, it is the best mattress for back sleepers.
You want something more luxurious and durable- While the Big Fig costs more than the Titan, it should be worth the extra money. It contains high-quality materials like latex and high-density foams, and it should be a longer-lasting mattress and a good long-term investment.
You prefer more of a balanced hybrid feel- If you are a larger person and you like the feel of a hybrid mattress, the Big Fig should work for you, because it features supportive coils and some softer foam layers on top. This will give you that balanced hybrid feel while still being able to support heavier weights.
RELATED: Best Luxury Mattress
Overall
It really shouldn't be too hard to choose between Titan and Big Fig, because the differences should be quite clear.
These are both very supportive mattresses that could be a good match for a variety of heavy sleepers,  but if you pay close attention to the information above, one of them should stand out.  Consumers should read through this article multiple times, assess their own needs and preferences, and then they can make a more informed decision.
The following two tabs change content below.
Marten Carlson
Marten is Senior Editor at Mattress Clarity. He covers the mattress industry as well as sleep science news. He is specifically interested in the connection between sleep and overall health.Marten has written for media publications like Consequence of Sound and received a master's degree in Film Studies from Emory University.He comes from Franklin, Indiana, and spends all the time he can writing, directing, and acting in films. He has directed genre short films and features. His newest film, Starlets, recently premiered at the River Town Film Festival in Clinton, NJ. He also stars in the upcoming thriller, Sour Bear. His next film, At The Hop, is a hot rod actioner with a horror twist.
Latest posts by Marten Carlson (see all)