Update – Nest Bedding has retired the Love Bed, but has relaunched a very similar (and in my opinion improved) version called the Love & Sleep mattress.  Check out my Love & Sleep mattress review for more info!
After a few weeks on The Love Bed, honestly I was surprised at how much I liked it.  I've slept on much more expensive mattresses that offer the same pitch/comfort guarantees, so I was impressed by this mattress for this price point.  The Love Bed is made by Nest Bedding, a string of mattress stores in California focused on (truly) eco-friendly mattresses.
The Love Bed isn't for everyone (and doesn't claim to be like some mattress companies), but overall I think it's perhaps the perfect option for a number of mattress shoppers, depending on their preference.
Read my Love Bed review to learn more about the bed and my sleeping experience.
My Love Bed Video Review

Click to see Love Bed compared to other leading brands HERE
Who Should Like The Love Bed?
You're interested in a bed that's heading towards organic/eco-friendly– If you're looking for a mattress that's actually organic (there are a lot of scammers in this industry) then this is an amazing option.  There are a few other companies that make a truly organic mattress (SavvyRest, OMI, Naturepedic), but they're priced very high – think like $5k-$10k.  Love Bed isn't entirely organic, but it's much closer than most, especially at the price point.
You're value-conscious but want to upgrade your mattress– Nest Bedding designed the Love Bed and sells it directly to customers (through the store and its website).  They also don't do a lot of paid marketing, mostly just word-of-mouth.  Because of this they're able to bring down the cost substantially compared mattresses sold in stores, and even some sold online.
You love foam with "bounce" – Energex has some properties similar to memory foam, but has more "spring" to it.
You want a comfort upgrade– I found this mattress tremendously comfortable.  First off I'm a latex mattress lover, but something about the construction really stands apart, even from mattresses that are priced substantially higher.
You hate sex on memory foam– I'll keep the comments to a minimum here but yeah…very good haha, the extra bounce is fun.  See related article best mattress for sex.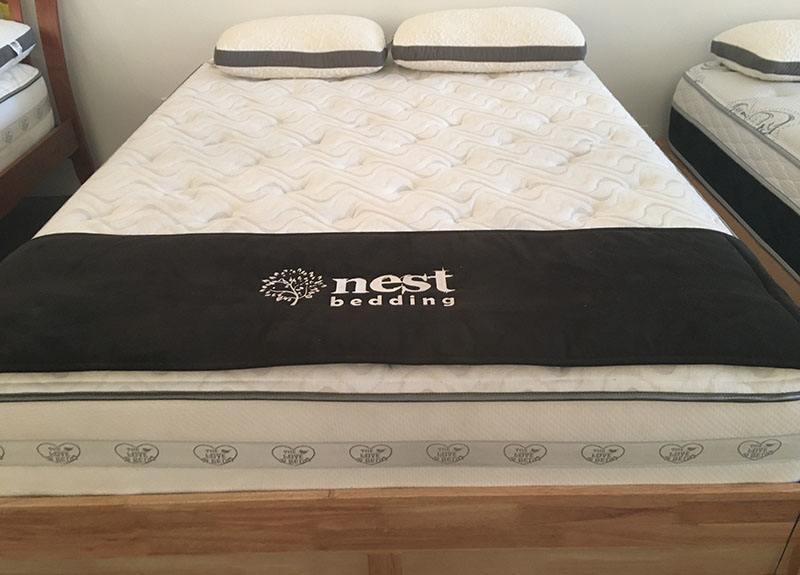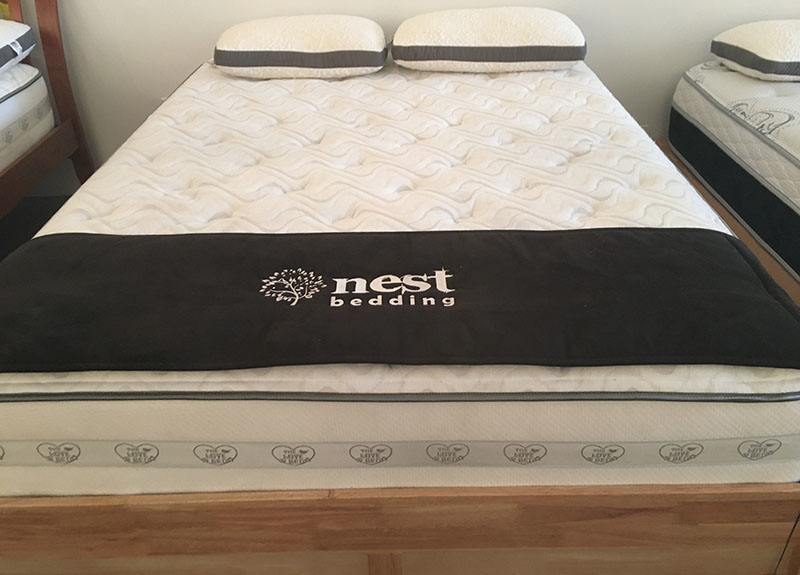 Who Will Not Want The Love Bed
You want to try it out beforehand– Like a number of mattresses these days, The Love Bed is available mostly online (if you're out in California, you can stop by a Nest Bedding location to try it out in person).  I don't think that sitting on a bed for a few minutes in a store is the best way to find your mattress, but for some that's what makes them feel comfortable.  The Love Bed has a 100 night risk free trial (returns accepted, no questions asked) to try to offset the in-store issue. Make sure to read our piece on how to buy a mattress online.
You don't like Energex foam– If you just prefer a great innerspring mattress or memory foam mattress feel in general, The Love Bed will not change that.  Don't make the mistake of thinking that because this is a great mattress that it will suddenly change your core preferences (though if you've only tried a low-quality foam mattress, you may want to give it a second chance).
You want social proof– The Love Bed is a relatively new brand, and it doesn't have the millions of marketing dollars that other companies do – even some of the new online-only mattress companies are spending big money to get their message out.  Nest Bedding has a loyal following in California, but this is a smaller brand that is betting on word of mouth on a quality product.  If you want a mattress with thousands of previous reviews, The Love Bed is not the best one for you.
The Love Bed
Summary
The Love Bed is a great introductory mattress to the Nest Bedding brand. It's great value at the price, and just clearly made by someone that spends all of their time in mattresses (unfortunately a lot of the new startups can't match the design expertise). The Alexander remains my favorite Nest Bedding mattress, but if your budget matches this price point, I definitely recommend the Love Bed mattress.
Return Policy/Warranty
4.8
Overall Sleep Experience
4.4
My Two Week Experience on The Love Bed
I slept on The Love Bed mattress for two weeks and had a really good experience.  I slept on a medium firmness model and found it to be very comfortable, giving a nice plush feeling while still being supportive.  I have some lower back pain in general, but didn't wake up a single time in two weeks with pain (unusual for me).  I'd recommend getting at least a medium, and maybe a firm mattress if you also have back pain issues.
My partner is a tosser and turner on any mattress, and I felt the tiniest bit of motion transfer from that – more than a pure high quality memory foam mattress, but certainly less than a spring mattress or lower quality mattress.
I'm in NY and tried the mattress out in early summer, so the weather is pretty hot.  I had no issue with the mattress sleeping hot, which is a big concern for me.  If it sleeps hot it's just not an option for me, so Love Bed passes that test.
Related: best mattress protectors
Firmness and Feel
The Love Bed offers two firmness options, medium and luxury firm.  I went to the Nest Bedding showroom in New York to show the difference:

The medium option is best for most sleepers, and is fine for side sleepers, only consider the firm option if you are a stomach sleeper or much prefer a firmer mattress.
Motion Transfer Test

As expected the Love Bed performs very well in the motion transfer test. This will be a good mattress if you are sleeping with a partner, especially if one of you is frequently moving throughout the night.
How do we know Love Bed is eco-friendly?
Organic, natural, eco-friendly – these words don't mean much in the mattress industry.  Unfortunately there's no standard or governing body that holds mattress makers or retailers to their claims, so there's a lot of misinformation (is a bed that is 5% natural latex and 95% synthetic latex a natural mattress?  Not in my mind…).  Nest Bedding is known to be focused on beds that are actually organic, and more importantly they don't offer false promises.  Love Bed isn't entirely organic, but with its specs, any other mattress company would be screaming from the rooftops that they have the ultimate organic experience.
The mattress is made in the same factory as Brooklyn Bedding (made in USA), which is a unique facility capable of actually making a truly organic mattress.
What Are The Important Construction Aspects?
Nest Bedding does a good job detailing the Love Bed construction on its site, but the highlights in my mind are:
10″ or 11″ of foam (height depends on firmness level)
2″ of Energex foam on top, which is great for support as well as not sleeping hot (one of the big perks of Energex foam)
1″ of SmartFlow foam as the next layer
Convoluted support base layer of 6″ of 1.8 lb density foam (unique compared to other lower-quality foam used by many other online mattress companies)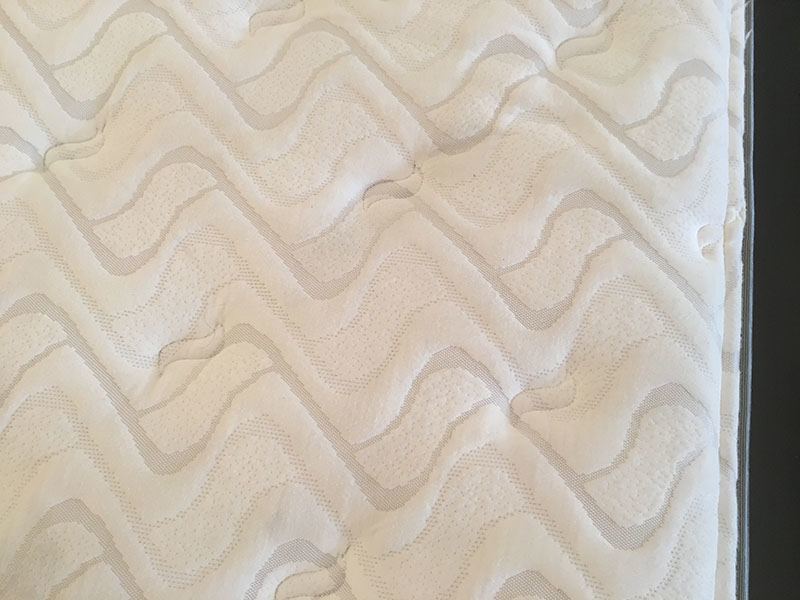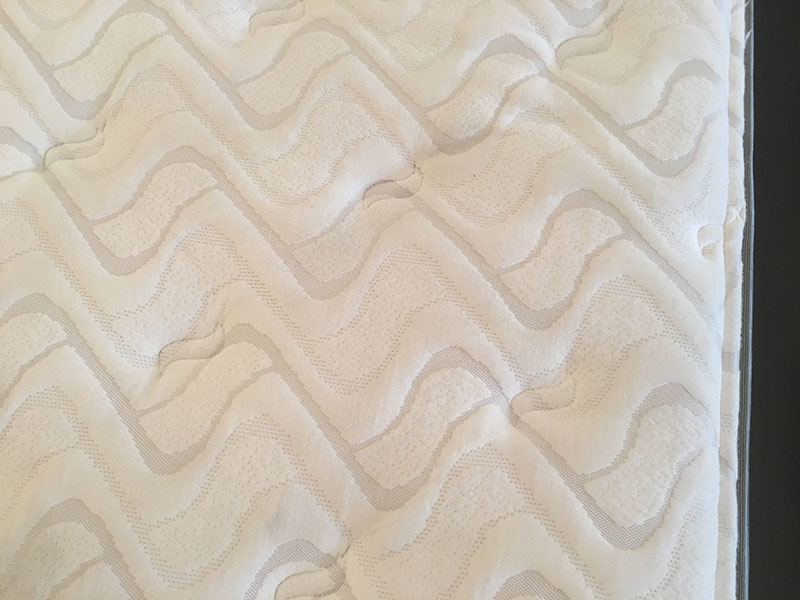 Isn't Buying A Mattress Online Risky?
No.  You can always send it back – all of the online-only mattress companies have great return policies (30 days, 75 days, 100 days, etc), and The Love Bed is no different (100 days).
Do you recommend the mattress?
Definitely.  If you're an organic/natural lover like I am, or even have a slight concern about sleeping on chemicals, there is no better mattress (at the price point).  I daresay that the Love Bed may be my go-to mattress at this point (in between trials), though I am anxious to try out Nest Bedding's Alexander Signature Select mattress as well (higher end compared to Love Bed).
If you don't like latex or want a bed that thousands of others have already slept on, look elsewhere.  But if you like the concept, I think Nest Bedding is in a great position to really deliver on its promises.
Note: now that the Love Bed is discontinued, check out some other options on my mattress reviews page.