Between Sleep Number's vast range of beds and Purple's unique mattress, these two could not be more different.
Sleep Number is all about letting people control the firmness and support of their bed using air chambers in their mattress. They offer different options to meet most needs. Meanwhile, Purple is a creative and exciting new sleep brand that offers one mattress, made with a unique material, that focuses on pressure relief at an affordable price.
There are many reasons to love both but we're here to help people decide which one should be in their bedroom. Here is everything people need to know about each mattress so they can compare them side by side.
Up To $800 Off

Sleep Number

Click the button to save up to $800 on Sleep Number
A great match for couples with different preferences
Adjustable for any sleeping position

Free Accessories

Purple

Click for free accessories 
Offers a unique balance of comfort and support 
A great match for hot sleepers 
What They're All About
Sleep Number:
Sleep Number may be best known for its adjustable air beds, which allow people to change the firmness and support of the bed to meet their needs via a remote.
There are four different types/series of beds, starting with the Classic Series and ending with the 360 Smart Beds. There are numerous models that offer different comfort options within each series.
The beds tend to be popular with couples because they can be made with dual air chambers, so each person can adjust to their preferred setting without compromising.
Prices range depending on the series and model of each bed. The most basic model (c-2) retails for $899 for a Queen while the i-10 360 SmartBed will run consumers $4,999 for a Queen.
Sleep Number mattresses come with a 100-night sleep trial (read the fine print for exclusions).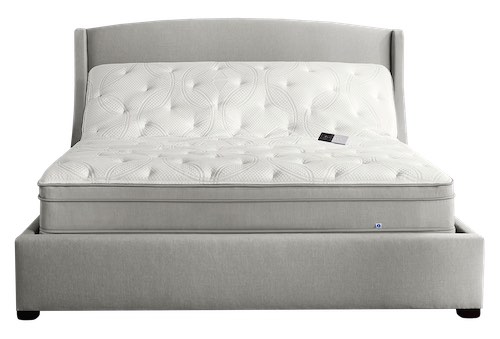 Sleep Number's popular p-5 model (for a full review of this mattress, click here.)
$500 Off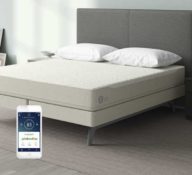 The Sleep Number 360 p5 is part of the company's Performance Series and is comfortable, supportive, and adjustable. Click the button for $500 off!
Purple:
Purple has become one of the more familiar names in the world of bed-in-a-box mattresses. This has a little bit to do with the unique materials they use and because of their creative marketing and successful Kickstarter campaign.
The top layer of the mattress feels very different from other foam beds it's made with 2" hyper-elastic polymer material in Smart Comfort Grid design. Based on our experience, it's both a supportive and highly pressure relieving material unlike anything else we've tried.
The mattress dimensions are 59.5″ x 79.5″ x 9.5″ and  Queen size retails for $999. The Purple mattress is made in the US and comes with a 100 night "no pressure" guarantee.
Related: Best Mattresses For Side Sleepers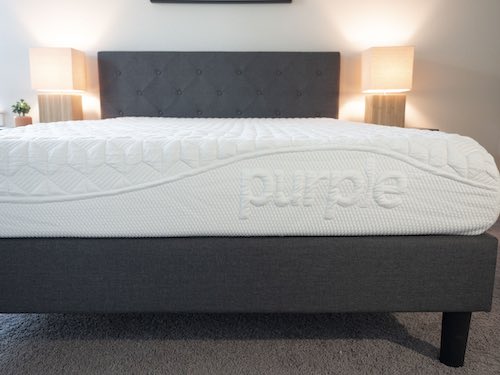 Construction Differences
Sleep Number:
Sleep Number offers several models organized into four categories: Classic Series, Performance Series, Innovation Series and 360 Smart Beds.
The air chamber/dual air chamber option with adjustable settings and the personalized Sleep Number will be incorporated into all beds and make up the base of the Sleep Number bed.
Each series essentially builds off the other. The Classic Series beds, the c-2, c-4 and cse, offer the most standard options while the Innovation Series and 360 Smart Beds will have the largest, thickest layers and most added features.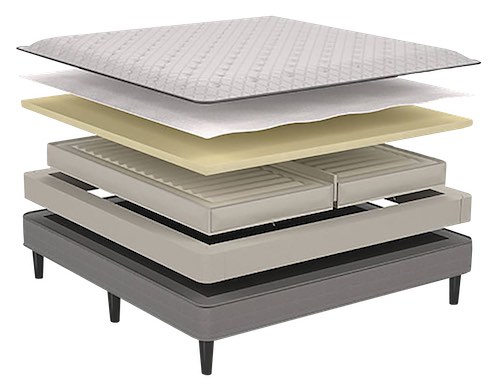 Sleep Number c-2 model 
To see a breakdown of the most basic Sleep Number bed, the c-2, click here.
Purple:
The dimensions of the mattress are: 59.5″ x 79.5″ x 9.5″. It is made up of three layers:
2" of hyper-elastic polymer
3.5"of 1.8 lb polyurethane foam
4.0" of 2.0 lb polyurethane foam

Screenshot of layers from OnPurple.com
The top layer (hyper-elastic polymer) is really the story of Purple, with a unique material that accounts for the bounciness, pressure relief, and sleeping cool.
Below is the cover, made of viscose (27%), polyester (69%), and polyester-lycra (4%). I found the mattress cover to be nice to the touch and very breathable.
Up To $800 Off

Sleep Number

Click the button to save up to $800 on Sleep Number
A great match for couples with different preferences
Adjustable for any sleeping position

Free Accessories

Purple

Click for free accessories 
Offers a unique balance of comfort and support 
A great match for hot sleepers 
You will love Sleep Number If…
You want options
Sleep Number models start with the same basic construction but they come in a range of styles and materials, so there is basically something for everyone.
You're a couple.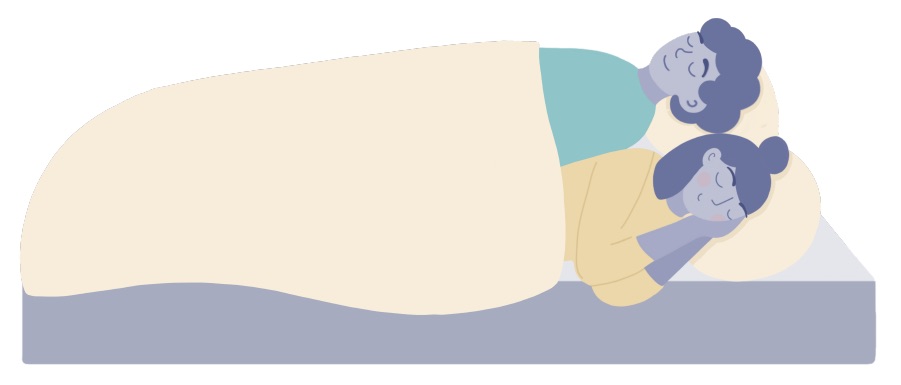 One of the reasons this bed is so popular with couples is because it can come with dual air chambers, so each person can adjust the comfort level (also known as the Sleep Number) on their side of the bed. No more having to compromise!
You want to see the bed for yourself, first.
Sleep Number has showrooms across the country where people can go and test out different mattresses. They'll even walk people through finding their personal Sleep Number and make suggestions on the type of mattress that could work for them.
You will love Purple If…
You're looking for pressure relief.

Purple designed their mattress with pressure relief in mind – their top layer of hyper-elastic polymer is a pressure-releasing material. Based on our experience it hits the mark.
We tried our own version of their raw egg test – see how it turned out here.
You sleep in multiple positions.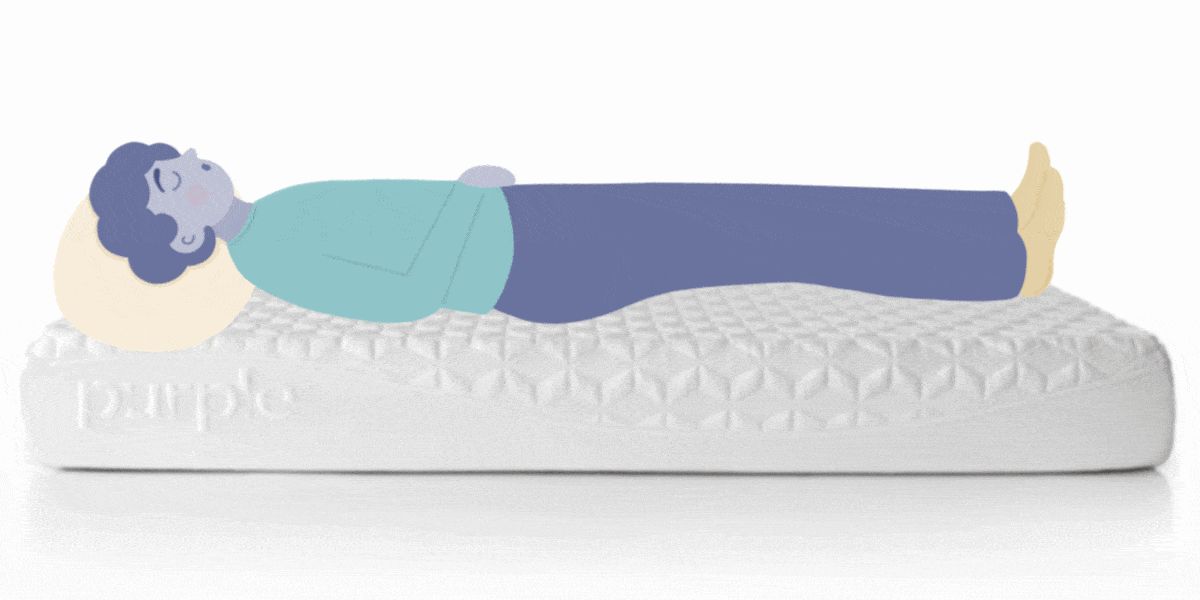 From our experience, we think Purple's patented technology and mattress construction supports the body in a way that makes it comfortable when sleeping on the back, side, and stomach.
You're a hot sleeper.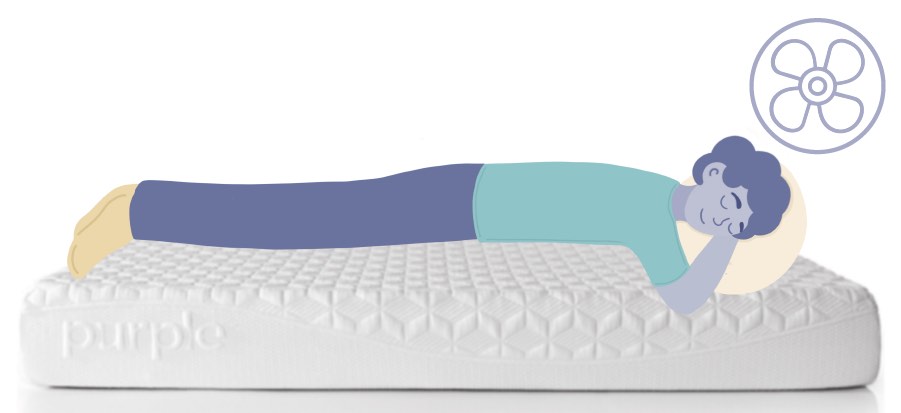 With polymer materials and a design that promotes airflow, the Purple mattress definitely sleeps cool. We would say cooler than almost any other mattress we have reviewed (and we tried it during the NYC summer).
Firmness Comparison
Sleep Number:

What makes Sleep Number beds so popular is that people can adjust the firmness and support of their mattress (or their side of the mattress) at any given time using a remote that comes with the bed.
Your Sleep Number number (also called your Sleep Number setting) corresponds to your ideal firmness and support. Numbers range from 0 to 100 and the higher your number, the more air/firmer your Sleep Number bed will be.
Sleep Numbers are super personal and can change. The model you choose will also affect your firmness and support. Picking a model with plush layers between the mattress top and the air chamber will feel different than a more standard model.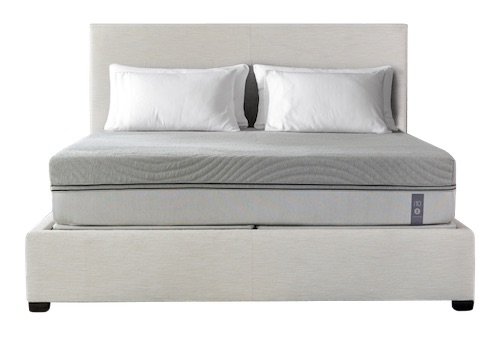 Sleep Number i-10 360 Smart Bed
Purple:
Since the Purple mattress has a unique comfort layer material – the hyper-elastic polymer layer – it's no surprise that it has a unique feel. Similar to latex mattress, the Purple mattress springs back very quickly and sleeps cool.

Based on our experience with the mattress, it's probably a 7 out of 10 on the firmness scale. The mattress is really pressure-relieving as well, so the normal "firmness scale" isn't as useful as it can be with other mattresses.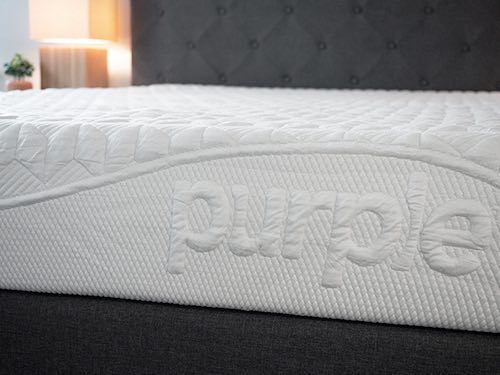 Purple cover
Bottom Line
The main takeaway here is that if you want options in terms of how soft/firm it is, you'll want to take a look at Sleep Number. However, if you're intrigued by the promise of a bed-in-a-box that provides total pressure relief, Purple could definitely be the way to go.
Luckily, both company's offer 100-day trial periods, so you can check it out for yourself before committing. To learn more, check out our review of the Sleep Number beds here and Purple's mattress here. Before making a final purchase decision, you should also check out our mattress comparisons page for other popular Sleep Number and Purple comparisons like Sleep Number vs GhostBed and Purple vs Bear. I hope this has been helpful.
Katie Golde
Katie manages the day to day operations of the Mattress Clarity news site and reviews sleep products in addition to writing and editing sleep news. She hails from Austin, where she lives with her growing family. She is a Certified Sleep Science Coach and has a master's degree in Journalism from Northwestern University and has a background in health and science content. Her work can be found in print and online publications like Discover Magazine, USA Today and The Huffington Post.