When I was younger, all I wanted was a spaceship bed. While I pleaded and pleaded, alas, my parents never got me one. Now, I'm a full-time sleep product reviewer, and guess what? I finally got my spaceship bed. 
While it's not shaped like a spaceship, the Sleep Number Lifestyle Upholstered bed frame features enough tech to make you feel like you're sleeping on a bed from the future. How does it all work? My in-depth Sleep Number bed frame review will go over all its features, how they work, and who should buy. 
Sleep Number Lifestyle Upholstered Bed Frame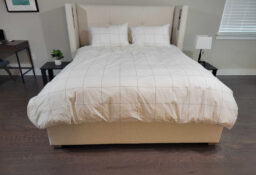 With built-in lights and bluetooth speakers, the Sleep Number Lifestyle Upholstered Bed Frame will be a high-tech addition to any bedroom.
Mattress Clarity Score
4.90 / 5
Sleep Number Bed Overview 
If you've spent any time shopping for a new mattress, you have undoubtedly heard of Sleep Number. They are the most popular smart beds on the market. What makes them so smart? Well, they sense your movements and other sleep data and automatically adjust the firmness to help you get the best sleep possible. The beds also feature trackers to let you know just how well you are sleeping. 
To pair with its high-tech mattresses, Sleep Number has created the Lifestyle Upholstered bed frames. With a backlight, reading lights and Bluetooth speakers, it is easily the most high-tech bed frame I have ever reviewed. However, while some people are going to love this Sleep Number bed frame, it won't work for everyone.
I will also note that the Sleep Number bed frame does not automatically come with a center base. However, the brand offers many platforms and adjustable bases to pair with the bed frame. I'll also note that I reviewed this bed frame using a standard mattress, not a Sleep Number mattress. I will be focusing on the bed frame itself and its functionality.
Who Should Get the Sleep Number Bed Frame?
People who want a high-tech bed frame. If you have the money to spend, and you want all the bells and whistles, the Sleep Number frame will be the way to go. It boasts built-in lights and Bluetooth speakers for a true luxury experience.
Couples will both get what they want with the Sleep Number. Each partner can control the lights and sounds of their side of the bed, so both parties should be sleeping comfortably.
Who Shouldn't Get the Sleep Number Bed Frame?
People on a tight budget should steer clear. This bed frame costs over $3,000 for a queen-size, which might be too much for budget shoppers. 
Anyone who needs under-the-bed storage. If you have limited space in your apartment or house, you might need to store items under your bed. Unfortunately, the Sleep Number is a low-slung bed with no room for storage. 
Sleep Number Bed Frame Construction
Before we talk tech, let's talk about the bed itself. The Sleep Number is an upholstered bed with a plush headboard. You can choose from different tufting patterns on the headboard, including box tufting, diamond tufting and horizontal split channels. I personally reviewed the model with box tufting.
You can also choose from a variety of fabrics, such as Pearl Tweed Boucle, Sand Basketweave, Mist Basketweave and Pewter Basketweave. I tried out the Pearl Tweed Boucle, and it offered a subtle cream color that meshed well with my minimalist bedroom design.
But, of course, the bed's tech is what makes it stand out. The headboard features wings on both sides, and you'll find some nifty gadgets right there. First, each headboard wing has reading lights with adjustable color temperature. You can also pair your phone or other devices to Bluetooth speakers built into the headboard wings.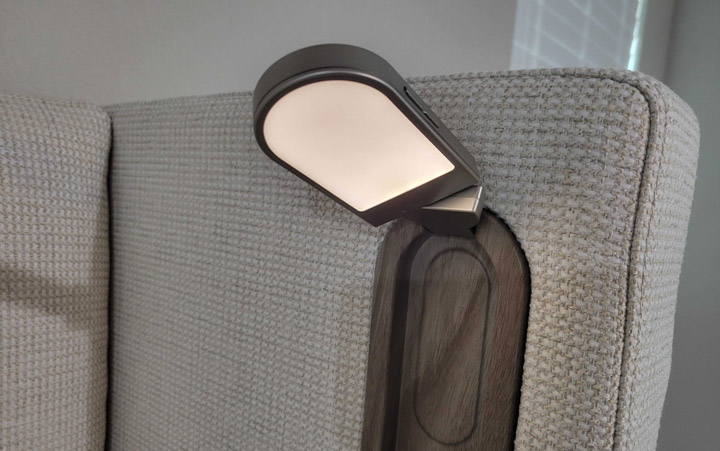 On both sides of the frame, you'll also find wireless charging pockets. You can slide your phone into these pockets, and it will charge while you sleep.
The real standout feature is the backlight, however. A large ring light runs behind the headboard, and you can control its intensity and color temperature using the included remotes. Below, I will get into how these features work.
How Do You Put the Sleep Number Bed Frame Together?
When you order a Sleep Number bed frame, the company will send technicians to set it up in your house. However, as a reviewer, I wanted to see if I could set this bed up by myself. All I can say is that I recommend you let the technicians do it for you.
That being said, it wasn't impossible for me, with the help of my coworker, to set up the Sleep Number in my bedroom. You don't need tools to put the pieces together, as metal hooks link the side boards and footboard. The headboard and wings also connect with hooks, but they did not play nice when we put the bed together. We had trouble lining up the hooks so that the headboard and wings would connect to the rest of the bed frame at the same time. If that sounds confusing, that's because it was.
The other headache came when I tried to pair the remotes with the bed frame. I followed the instructions, but it wouldn't connect at first. Thankfully, I called a brand representative, and they were able to help me.
Again, I would recommend you let the fine people from Sleep Number set up your new bed frame for you. 
RELATED: Best Sleep Number Alternatives
How Do You Use the Sleep Number Bed Frame?
Once I finished connecting the remote, the Sleep Number bed frame was easy to use. First off, let's talk about the Bluetooth speakers. I pressed the "Sync" button on the remote and the device appeared on my phone's Bluetooth menu. My phone connected easily, and I was soon listening to Depeche Mode through the speakers. I used the remote to pause and play my connected music and control the volume as well.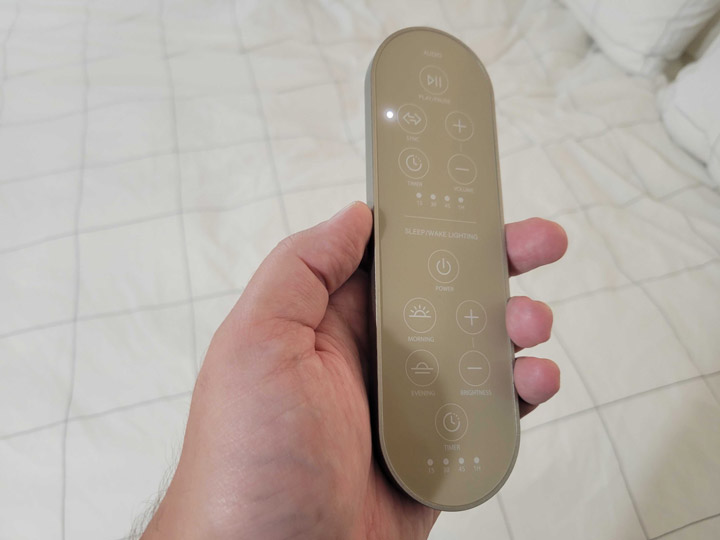 One cool feature was the remote timer. I was able to set a timer to turn my music off after a certain amount of time. If you like to listen to white noise until you fall asleep, this is a great feature.
The remote also controlled the backlight behind the headboard. This was intuitive to use, and I easily switched the light between "Morning" and "Evening" settings. The Morning setting was brighter and its color temperature was designed to help me wake up. The Evening setting was more soothing, intended to help me fall asleep. Overall, both settings were effective, and I like how I could use the timer to set when the light would turn off.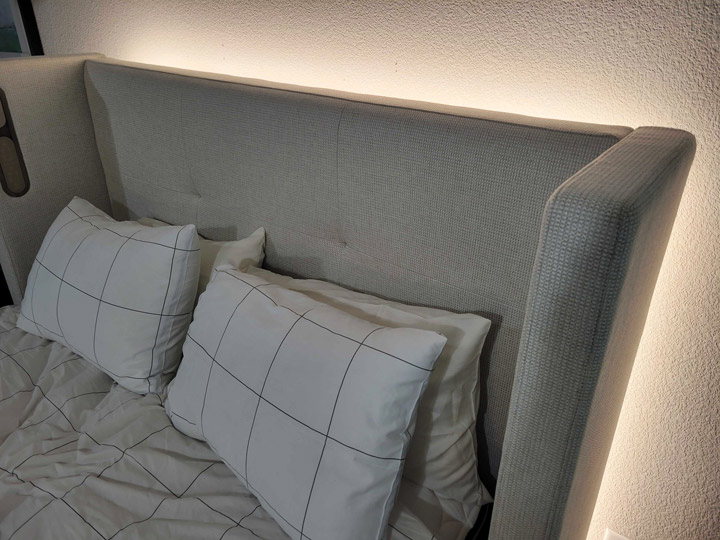 Sleep Number Bed Size & Price Options 
| | |
| --- | --- |
| Size | Price |
| Queen | $3,499 |
| King | $3,999 |
| California King | $3,999 |
Sleep Number Company Policies
Let's take a quick look at Sleep Number's fine print.
Warranty Info
The Sleep Number bed frame comes with a two-year manufacturer warranty. For the first year, if there are any defective parts, the brand will replace the frame at no cost to you. In the second year, you may have to pay a fee for the replacement parts. 
Return Policy
You cannot return or exchange any of the Sleep Number bed frames.
How Does the Sleep Number Bed Frame Compare to Other Bed Frames?
It's always smart to do some comparison shopping when you're looking at a new bed frame. Let's see how this bed frame stacks up.
Sleep Number Bed Frame vs Nectar Claremont Bed Frame 
Nectar Claremont Bed Frame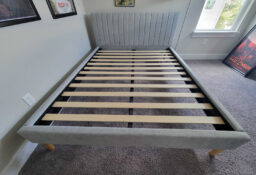 The Nectar Claremont is a sleek, modern bed frame that is sold for a value price.
At first glance, the Nectar Claremont has a very similar design to the Sleep Number bed frame. It too has an upholstered construction with a padded headboard. 
The main difference is that the Sleep Number frame features additional tech, while the Nectar does not. You won't find any lights or Bluetooth speakers in the Nectar mattress. In addition, it does not have headboard wings, while the Sleep Number does.
However, the Sleep Number doesn't have slats or a center base to support a mattress, so you will have to purchase one separately. The Nectar comes with slats, so this is something to keep in mind.
And, while the Nectar is overall a simpler base, it costs significantly less than the Sleep Number.
Who Should Get the Sleep Number Bed Frame? 
Those who want added tech
Shoppers on the hunt for luxury
Who Should Get the Nectar Claremont Bed Frame? 
Sleep Number Bed Frame FAQs
Can you get a bed frame for a Sleep Number bed?

Yes, you can get a bed frame made especially for a Sleep Number bed. The Sleep Number bed frames and bases are designed to work with your Sleep Number bed and its unique technology. 
What type of frame is needed for a Sleep Number bed?

Anything with a flat, supportive design will work for a Sleep Number mattress, but the brand's own bed frames and bases are designed to pair with your mattress.
How long will the Sleep Number bed frames last?

The Sleep Number bed frames are high-quality and durable. They are good long-term investments and should last for at least 15 years.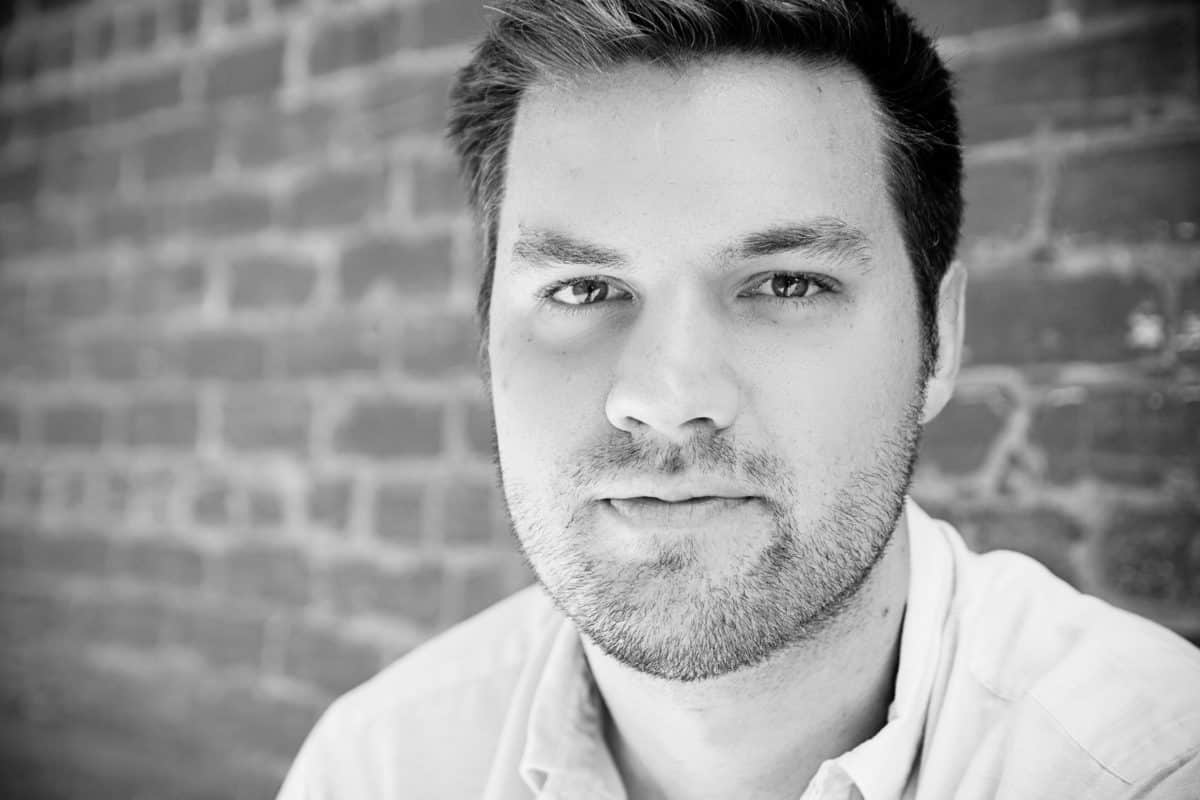 Marten Carlson
Marten is the Lead Reviewer at Mattress Clarity. He is a Certified Sleep Science Coach and covers the mattress industry as well as sleep science news. He is specifically interested in the connection between sleep and overall health. Marten has written for media publications like Consequence of Sound and received a master's degree in Film Studies from Emory University. He comes from Franklin, Indiana, and spends all the time he can writing, directing, and acting in films.