If you want to change the look of your bedroom, finding the right bed frame is a great place to start. And, if you want to give your bedroom a sleek, modern look without breaking the bank, the Nectar Claremont should be at the top of your list.
In my Nectar Claremont bed frame review, I will discuss its construction and my experience putting it together. My the end of this review, you will know if the Nectar Claremont is the right fit for your bedroom. 
Nectar Claremont Bed Frame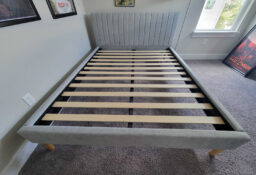 The Nectar Claremont is a sleek, modern bed frame that is sold for a value price.
Nectar Claremont Bed Overview
Nectar is an extremely popular bed-in-a-box brand that offers a slew of different mattresses. I have personally tested the brand's entire line, including the Nectar Original, Nectar Premier Copper and Nectar Hybrid. In my experience, these beds offer a slow-moving memory foam feel along with some nice cooling features as well. 
To pair with these mattresses, Nectar also produces a series of bed frames. I already reviewed the Nectar adjustable bed frame, and I thought it was a particularly good fit for heavier people. When I received the Nectar Claremont bed frame, I was interested to see if it was just as high-quality as the other Nectar frames and mattresses.
Overall, the Nectar Claremont is a nice, modern-looking adjustable base, but it does have its drawbacks as well.
Who Should Get The Nectar Claremont?
Shoppers who want a good value
Fans of mid-century modern style
Who Shouldn't Get The Nectar Claremont?
Sleepers who need a bed to store things under
You prefer a bed with a more traditional design
Nectar Claremont Bed Frame Construction
The Nectar Claremont bed frame belongs to the mid-century modern aesthetic. Mid-century modern beds are simple and sleek in design, and the Nectar Claremont is definitely that. It is low-slung and takes up very little vertical space. You'll sacrifice storage space, but you can't beat the stylish look.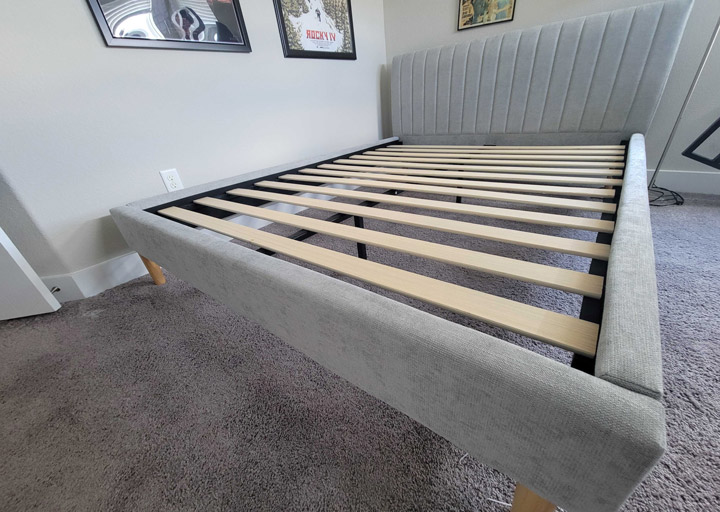 It is made with natural wood that is covered with environmentally-dyed fabric. You can choose from two fabric colors, slate and linen. Both these hues adhere to the mid-century muted color scheme.
The bed also features an attached padded headboard. It is padded and designed to keep you comfortable while you are sitting up. The corners of the bed are also padded, which is a great feature if you have kids running through your bedroom. It's not exactly babyproofed, but the corners aren't as sharp as what I've seen on some other bases.
Wooden supportive slats also run across the surface area of the bed. These appear similar to the slats I've seen on most of the bed frames that I've reviewed. Finally, durable wooden legs hold up the entire bed frame. These appear to be sturdy and they did not shift or wobble when I moved around on the bed. 
RELATED: Best Bed Frames
How Do You Put The Nectar Claremont Bed Frame Together?
According to Nectar, the Claremont bed frame is easy to assemble. However, I have heard this before, and I'm always a little worried when I start a new build.
Overall, this wasn't the easiest bed to put together, but it wasn't the hardest either. First off, the guide instructed me to screw the legs into the headboard and bottom panel of the bed frame. I'm the least handy person in the world, and even I couldn't mess this step up.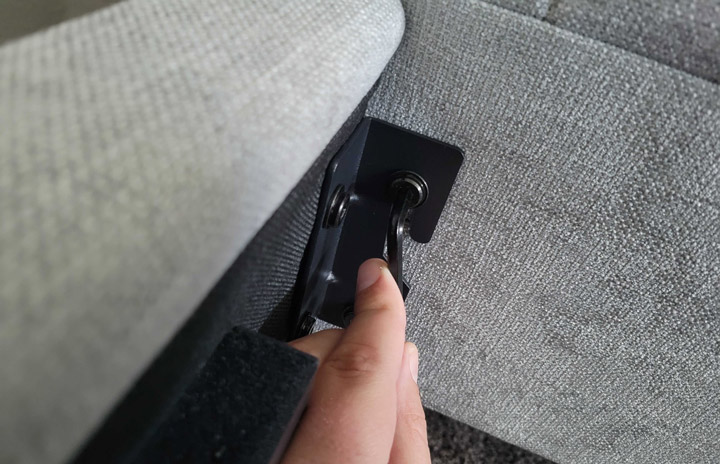 Next, I lined up the side panels and screwed them to the headboard and top panels using the included hex screws. This is where things got difficult or at least time-consuming. It took me over 20 minutes to screw this all together, and you can see by this photo that I had to take a quick break before I finished.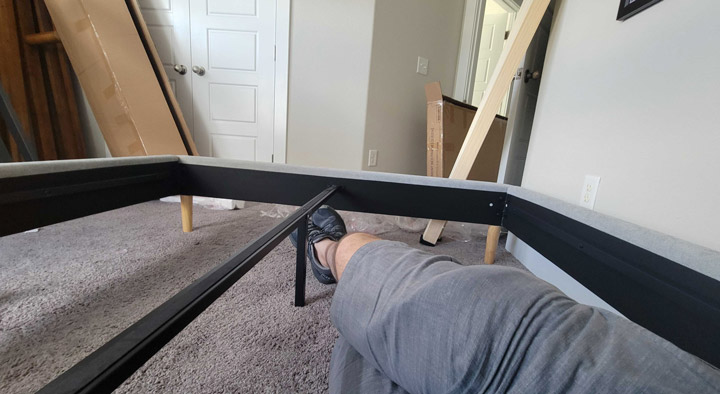 But, once the frame was completed, it was easy to roll out the slats. I had to adjust them slightly, but after a few moments, the whole bed was ready to go.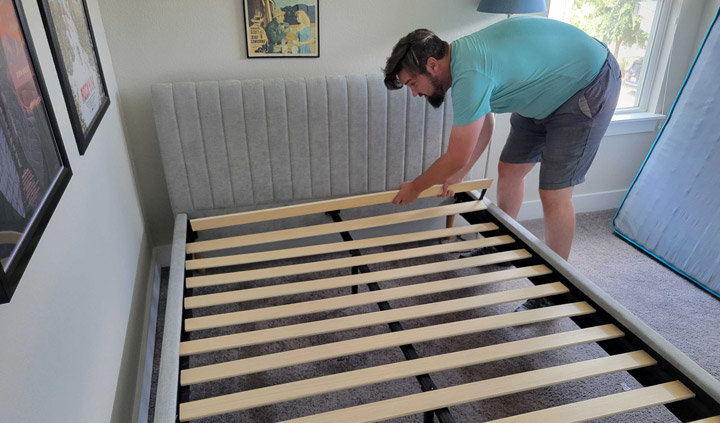 Nectar Claremont Mattress Compatibility
A bed frame is only as good as the mattress it supports. Based on my research, the Nectar Claremont can support any type of mattress, including latex, innerspring, hybrid and memory foam. 
But to test the Nectar Claremont out for myself, I paired it with a hybrid mattress, the Brooklyn Bedding Essential. When I rolled around on the mattress, I did not hear the mattress squeak or creak, and I didn't feel a lack of support. 
I also tested the bed frame out with a heavier latex mattress, the Avocado Green, and the bed frame was up to the challenge. Again, I didn't notice the bed frame sag under my weight or the weight of the mattress.
Nectar Claremont Bed Size & Price Options
Check out the following chart for the most up-to-date pricing:
| | |
| --- | --- |
| Size | Price |
| Full | $799 |
| Queen | $899 |
| King | $949 |
Nectar Company Policies
Let's see how what the fine print looks like for the Nectar Claremont.
Warranty Info
You get a 3-year warranty with the Nectar Claremont.
Sleep Trial
The Nectar Claremont comes with a 50-night sleep trial.
Return Policy
Nectar offers free shipping and returns with the Claremont.
Nectar Claremont Bed Frame FAQs
Are Nectar bed frames quiet?

In my experience, the Nectar bed frames are very quiet. They do not make any noise, even when I roll around and change positions on them. 
How long will the Nectar bed frame last?

The Nectar Claremont bed frame should last for at least 10 years. It has a durable construction and should not have any issues for many years. 
Is the Nectar bed frame worth it?

The Nectar bed frame is worth it if you want a good value and you prefer a bed with a mid-century modern look. However, if you like a different look or want some more room for storage under your bed, I would look elsewhere.