The Serta iSeries Hybrid series mattresses all incorporate cooling foam layers as well as contouring individually wrapped coils. The iSeries Hybrid mattresses are built for a balance of comfort and support.
The 300 Plush model is the softest of this line, but it is not the softest mattress that Serta offers. That being said, it is still designed for side sleepers or those who prefer a softer mattress.
This review will go over the construction details of the mattress and key takeaways consumers should be aware of before making a purchasing decision.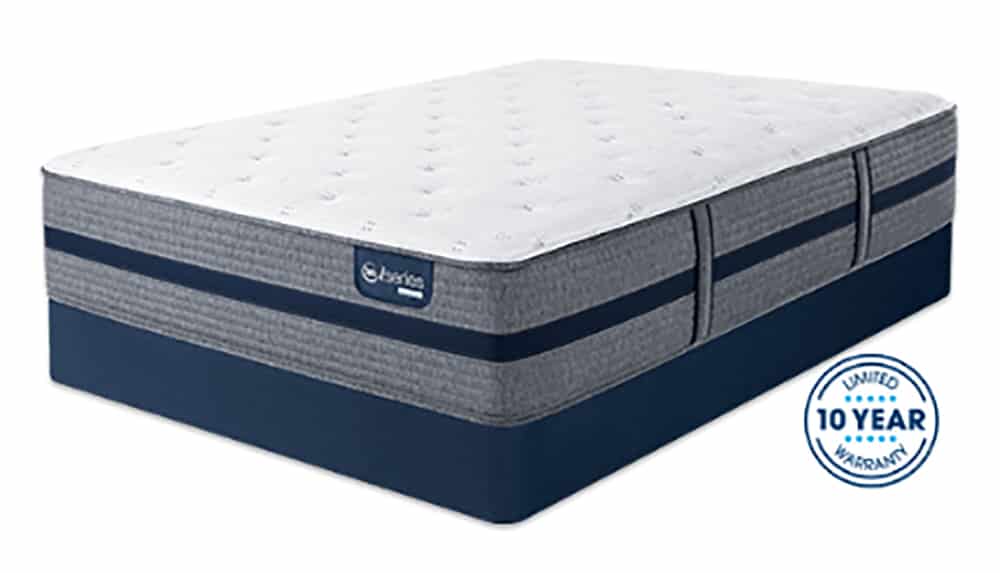 Who Will Like This Mattress…
Side sleepers. Soft beds are ideal for people who sleep on their side, as they relieve pressure on shoulders and hips. The 300 Plush features an extra thick layer of EverCool Fuze Gel Memory Foam. This foam is very plush and adds another level of pressure relief.
Hot sleepers. The HyperFeel Surface Design and Cool Reaction Gel Memory Foam are both designed to dissipate heat. In addition, the coil system allows for more airflow. All these elements work together to ensure people won't be sleeping hot.
People who want a mattress that's easy to get in and out of. The innerspring components of this mattress make sure it doesn't collapse as people move toward the edge. Also, there is a layer of foam encasement around the mattress, which further enhances the edge support. People should be able to get in and out of this mattress easily, and they shouldn't feel like they are going to fall off.
Check out our overview of Serta's Perfect Sleeper line, which incorporates many mattress styles, HERE.
Who May Not Like This Mattress…
Back or stomach sleepers. Back and stomach sleepers often need more support to make sure their spine stays aligned during sleep. This is a soft mattress, so people may require a firmer mattress to give them the proper support on their back or stomach.
People who don't like a memory foam feel. This mattress contains a layer of Cool Reaction Gel Memory Foam and a layer of EverCool Fuze Gel Memory Foam. If people don't like the soft, sinking feeling of memory foam, this might not be the best choice for them.
Construction and Materials
The Serta iSeries Hybrid 300 Plush is approximately 13.5" high and contains:
HyperFeel Surface Design
0.5" Cool Reaction Gel Memory Foam
2" EverCool Fuze Gel Memory Foam
1" Serta Balanced Support Foam
886 Pro-Support Coil System with Best Edge Foam Encasement
Feel and Firmness
This mattress is towards the soft end of Serta's firmness scale; however, it is not the softest mattress they offer.

Most Common Praise: What Makes This Mattress Stand Out
Some buyers are happy with the temperature control technology. One wrote that the mattress "keeps you at a comfortable body temperature all night long."
Buyers are pleased with Serta's new HyperFeel Surface Design. "The top has a cotton top which makes it very comfy and soft to sleep on rather than the standard mattress top that is silky and plastic-feeling," one review says.
Due to motion transfer control technology, buyers say they aren't disturbed by their partner or pets moving around in the bed. One wrote, "If you move a lot in your sleep, roll, etc. this is the one for you! We can't tell when each other are moving around."
People find the mattress supportive and comfortable. One reviewer wrote, "I now get a better night sleep and no longer have back and neck pain when I wake up."

Most Common Complaints And Other Things to Note
Some buyers found the mattress felt very hard when it arrived, and it took a while to break in and feel comfortable. "When my mattress arrived it was super firm and cold (it was February after all) but within a few hours it softened up," one person wrote.
The temperature control technology does not work for everyone. One reviewer explained, "Even though it is supposed to have some cooling gels in the foam it still gets warm, but I wouldn't say hot. I did find myself rolling over for a cooler spot in the bed."
Due to a normal process called "off-gassing," some reviewers said their brand-new mattresses gave off a chemical smell. This is nothing to worry about, and the odor should go away after a couple of days.
Why Pick This Over Other Serta models
This model is a soft, cushiony mattress, and while it is not the softest in Serta's full line of mattresses, it is still very plush and a great choice for side sleepers.  
This is a hybrid mattress containing both memory foam layers and individually wrapped coils. Other Serta mattresses may be pure memory foam or pure innerspring coil technology, rather than a combination of the two.
This mattress is part of the iSeries Hybrid collection, which means it has the new HyperFeel Surface Design. The website explains this is "a touchably soft cover fabric design that brings the cooling, comforting and supportive feel of memory foam right to the top of the bed."
Overall
The mattress is approximately 13.5" high and contains a HyperFeel Surface Design, 0.5" Cool Reaction Gel Memory Foam, 2" EverCool Fuze Gel Memory Foam, 1" Serta Balanced Support Foam, and 886 Pro-Support Coil System with Best Edge Foam Encasement.
The 300 Plush is the softest of the iSeries Hybrid line and is a good match for hot sleepers, side sleepers, or those who prefer a softer mattress.  
Check out our comprehensive review of the Serta iSeries Hybrid series HERE.
All images from Serta
The following two tabs change content below.
Marten Carlson
Marten is Senior Editor at Mattress Clarity. He covers the mattress industry as well as sleep science news. He is specifically interested in the connection between sleep and overall health.Marten has written for media publications like Consequence of Sound and received a master's degree in Film Studies from Emory University.He comes from Franklin, Indiana, and spends all the time he can writing, directing, and acting in films. He has directed genre short films and features. His newest film, Starlets, recently premiered at the River Town Film Festival in Clinton, NJ. He also stars in the upcoming thriller, Sour Bear. His next film, At The Hop, is a hot rod actioner with a horror twist.
Latest posts by Marten Carlson (see all)