Stomach sleepers often think mattress toppers aren't useful for them. After all, these sleepers need firm mattresses to feel comfortable at night. But mattress toppers can do more than make your mattress feel softer! The right mattress topper will refresh your old mattress and make it feel more supportive and comfortable.
If you're a stomach sleeper who wants to make your lumpy bed last a few more months, or you just want to make your mattress feel more luxurious, this article can help. We've selected the best mattress toppers for stomach sleepers to help you choose one that meets your needs.
Best Mattress Toppers for Stomach Sleepers: Our Top Picks
How We Chose Our Top Picks
Our team of bedding reviewers and Certified Sleep Science Coaches has reviewed dozens of mattress toppers using proprietary analysis and hands-on testing. When choosing these products, we paid special attention to things stomach sleepers need in a topper: quality, durability, responsiveness and support. We've broken down our favorite toppers for stomach sleepers below so you can choose one that works for you.
PlushBeds Natural Latex Mattress Topper – Best Cooling Mattress Topper
Our Expert's Take
Hot sleepers and eco-friendly shoppers should really like this natural latex mattress topper. The Extra-Firm model of this topper is bouncy and supportive, and will keep you lifted on top of your bed. It's also very easy to move around if you're a combination sleeper.
The natural latex in this topper is perforated to create extra airflow, which should prevent you from overheating at night. Plus, latex is naturally cooling and does not trap body heat, making it a popular pick with hot sleepers.
Pros of PlushBeds
Breathable and naturally cooling
Made of high-quality materials and super durable
Comes in five different firmness options
Cons of PlushBeds
This topper costs more than other options
Like the sound of this latex foam mattress topper? Check out the full PlushBeds Latex mattress topper review.
Avocado Organic Latex Topper – Best Mattress Topper for Lower Back Pain
Our Expert's Take
The firm model of Avocado's latex mattress topper is made of supportive, responsive Talalay latex. Stomach sleepers should get the necessary hip support to prevent their spine from sinking out of alignment, which is what causes back pain.
As a bonus, this topper's breathable cover is organic and machine-washable! The Avocado topper also features a layer of moisture-wicking, antimicrobial wool which helps it feel warm in the winter and cool in the summer.
Pros of Avocado
Made of natural materials
Very durable and supportive
The Firm model helps stomach sleepers alleviate back pain
Cons of Avocado
Doesn't isolate motion very well
Read our full Avocado mattress topper review for more info.
TitanFlex – Best Budget Mattress Topper for Stomach Sleepers
Our Expert's Take
The TitanFlex topper is made of durable hyper-elastic foam. Unlike body-contouring memory foam, which would cause back pain for stomach sleepers, the TitanFlex topper's firm model uses foam that is durable and supportive. Even better, this topper costs under $150, which makes it a great pick for shoppers looking to get a lot of bang for their buck.
Pros of TitanFlex
Affordable but still supportive
Made of durable foam
Can choose between two different washable covers
Cons of TitanFlex
Not as durable as latex toppers
Tuft & Needle – Best Mattress Topper for Back and Stomach Sleepers
Our Expert's Take
If you cycle through a few different sleeping positions at night, the Tuft & Needle topper is a great pick for you. It's made of responsive foam that offers comfort while back sleeping and support while stomach sleeping. It also comes with a three-year warranty and 100-night trial period!
Pros of Tuft & Needle
Prevents motion transfer and offers pressure relief
No-skid cover keeps the topper secure on your bed
Sleeps cool
Cons of Tuft & Needle
Want to know more? Check out the full Tuft and Needle mattress topper review.
Parachute Down Topper – Best Luxury Mattress Topper
Our Expert's Take
This luxury topper adds a fluffy, luxurious feel to any bed. You'll feel like you're sinking into a nice feather pillow, but the topper won't make your mattress feel soft. If you already sleep on a firm mattress, you'll still get the necessary support you need while stomach sleeping.
This luxurious topper also has OEKO-TEX® and Responsible Down Standard certifications, which means it is ethically sourced and free of harmful chemicals. Real down feels cooler than many down alternative options, so the Parachute topper is also a great choice for hot sleepers.
Pros of Parachute
Adds a luxurious, fluffy feel
Does not trap body heat
Has a soft, silky cover
Cons of Parachute
Down toppers are not hypoallergenic
Interested in a luxurious sleeping experience? Read our full Parachute Down topper review.
Helix Plush – Best Pillow Top Mattress Topper
Our Expert's Take
The Helix topper is made of cooling bamboo and fiberfill. It's a lightweight topper that's constructed like a fitted sheet. It has deep pockets, so it stays secure to the bed throughout the night. It's a great choice for stomach sleepers who want a washable topper that can help reduce allergens.
The Helix Plush topper is more like a mattress pad than a topper, so it doesn't significantly alter the overall feel of the bed. If you currently sleep on a soft mattress, this topper won't offer the hip support you need when resting on your stomach. Take a look at our list of the best mattresses for stomach sleepers for some other options.
Pros of Helix
Hypoallergenic and slip-proof cover
Machine-washable
Sleeps cool
Cons of Helix
Will not significantly alter the feel of your bed
Read our full Helix mattress topper review to learn more.
What to Look for in a Mattress Topper for Stomach Sleeping
If you sleep on your stomach, you'll need a firm sleeping surface that keeps your head, neck, shoulders and hips aligned. If your bed or mattress topper is too soft, your hips may sink out of alignment, which can lead to lower back pain.
Here are a few things stomach sleeper should look for when buying a mattress topper:
Responsive materials
Durable materials that won't sag over time
A firm feel that will help keep the hips in the proper alignment
What Type of Mattress Topper is Best for Stomach Sleepers?
The best mattress toppers for stomach sleepers are made of firm latex foam. This material helps elevate the hips and prevent lower back pain. High-density polyfoam toppers also work well for stomach sleepers, but they may not last as long as latex toppers.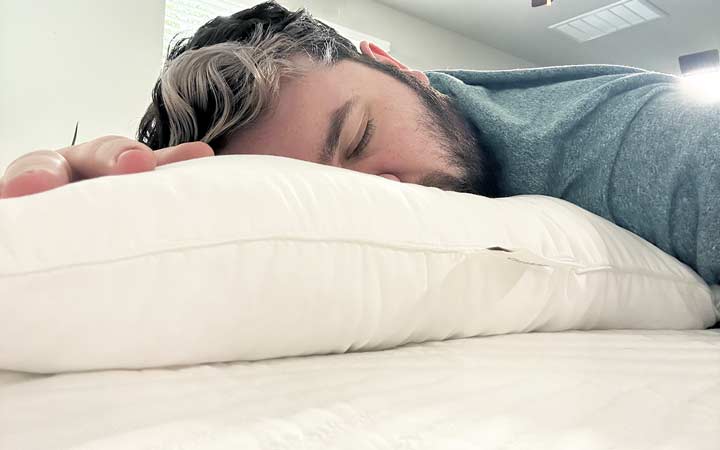 Stomach sleepers should avoid memory foam mattress toppers because they contour the body and can lead to back pain.
FAQs
Are mattress toppers good for stomach sleepers?

Mattress toppers can work for stomach sleepers who sleep on worn out and uncomfortable mattresses. A firm, high-density mattress topper can help support the hips and keep the spine in the proper alignment. That said, it may not be the best long-term solution.


Traditional memory foam and polyfoam mattress toppers are not great options for stomach sleepers, because they don't offer the optimal amount of hip support. 

 
What firmness do stomach sleepers need?

Stomach sleepers need firm mattress toppers. Unlike side sleepers who need cushioning and pressure relief, stomach sleepers need their hips to be lifted in line with their shoulders. This will help them alleviate pain along pressure points. 
How can I make sleeping on my stomach more comfortable?

If you normally sleep on your stomach but feel uncomfortable on your current bed, you probably need a firmer mattress. Soft or even medium-firm mattresses can cause stomach sleepers' hips to sink out of alignment, which often leads to back pain. If you're not ready to invest in a new mattress, the right mattress topper can help you get the support you need.