Dr. Loth's SpineAlign Pillow was created to help back and side sleepers find a comfortable – and healthy – way to sleep. Could the contoured pillow work back and side sleepers as suggested? With a little bit of patience, it just might! Read on for my full review of the pillow.
Key Features
Shape: Contour pillow
Two outer chambers for side sleeping and a middle chamber for back sleeping
Customizable to fit an individual's correct posture in both the back and side sleeping positions
Cover: Soft Tencel blended fabric with strips of mesh built in the sides (37% Lyocell – also called Tencel, 61% Polyester and 2% spandex)
Filling: blend of shredded internal fill (foam and fiber) accessible through zippers on the back
Has "one size fits most" design
Fits in a queen size pillowcase
Approximately 23" x 17" x 6"
100% money-back guarantee and 90-nights free trial 
Do not wash the pillow; spot clean only
Made in the USA with imported materials
related: best pillow for side sleepers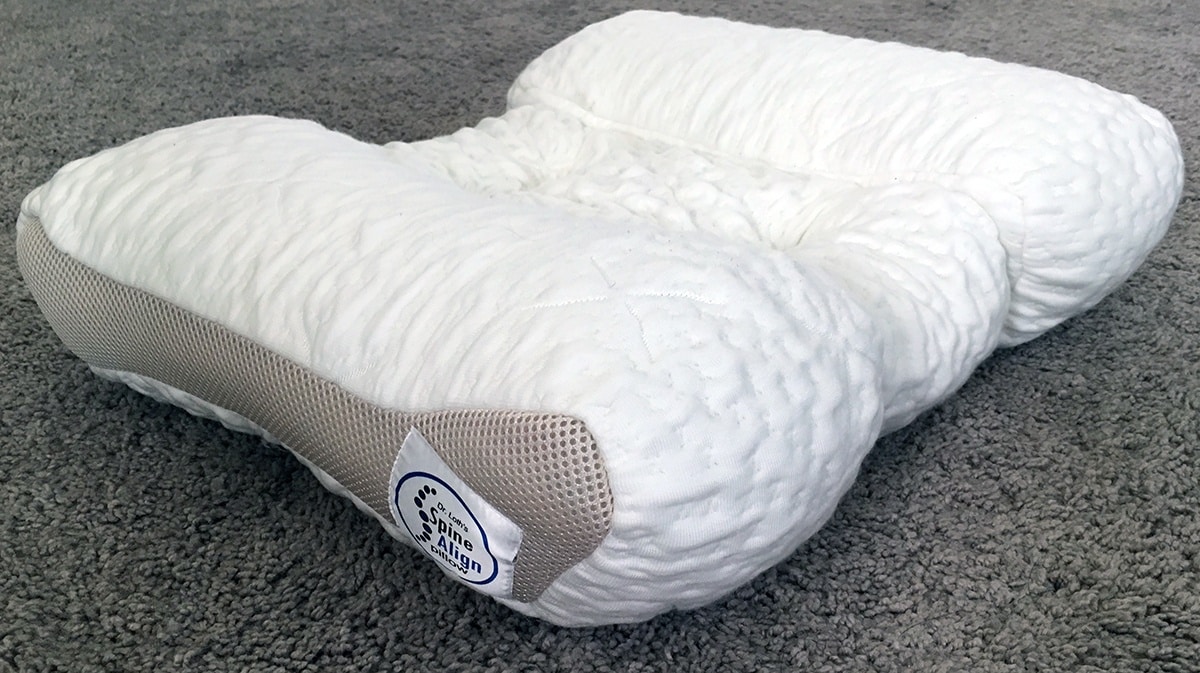 Who Makes It?
The full name of the SpineAlign Pillow is Dr. Loth's SpineAlign® Pillow. It was created by Dr. Jason Loth, a sports chiropractor,  with more than 17 years of experience in the field.
Dr. Loth says he designed this cervical contour pillow because he couldn't find a pillow that kept him in the correct head, neck and spinal posture both on his side and sleeping on his back. The filling is adjustable so it should work for a variety of body types and sizes.
Pillow Construction
The pillow is uniquely designed as it tries to work as a "one size fits most" design.
It has two outer chambers that are used for side sleeping. The middle of the pillow is flatter and more of a valley, made for back sleeping.
Both contoured ends of the pillow are size differently – those who are 5' 7" or taller should rest on the side that features the SpineAlign pillow logo, while smaller individuals should use the side opposite the logo.
The outer pillow is covered in a soft textured fabric made with Tencel (Lyocell) blended fabric with strips of mesh built-in the sides (specifics are 37% Lyocell, 61% Polyester, and 2% spandex).
The bottom of the pillow features zippers around several pillow chambers; individuals can unzip the pillow to access the filling – which is a proprietary blend of fiber and foam.
The pillow is adjustable, so people can remove and/or manipulate the filling to get the right loft and height so their necks, heads, and spines are all neutral and aligned.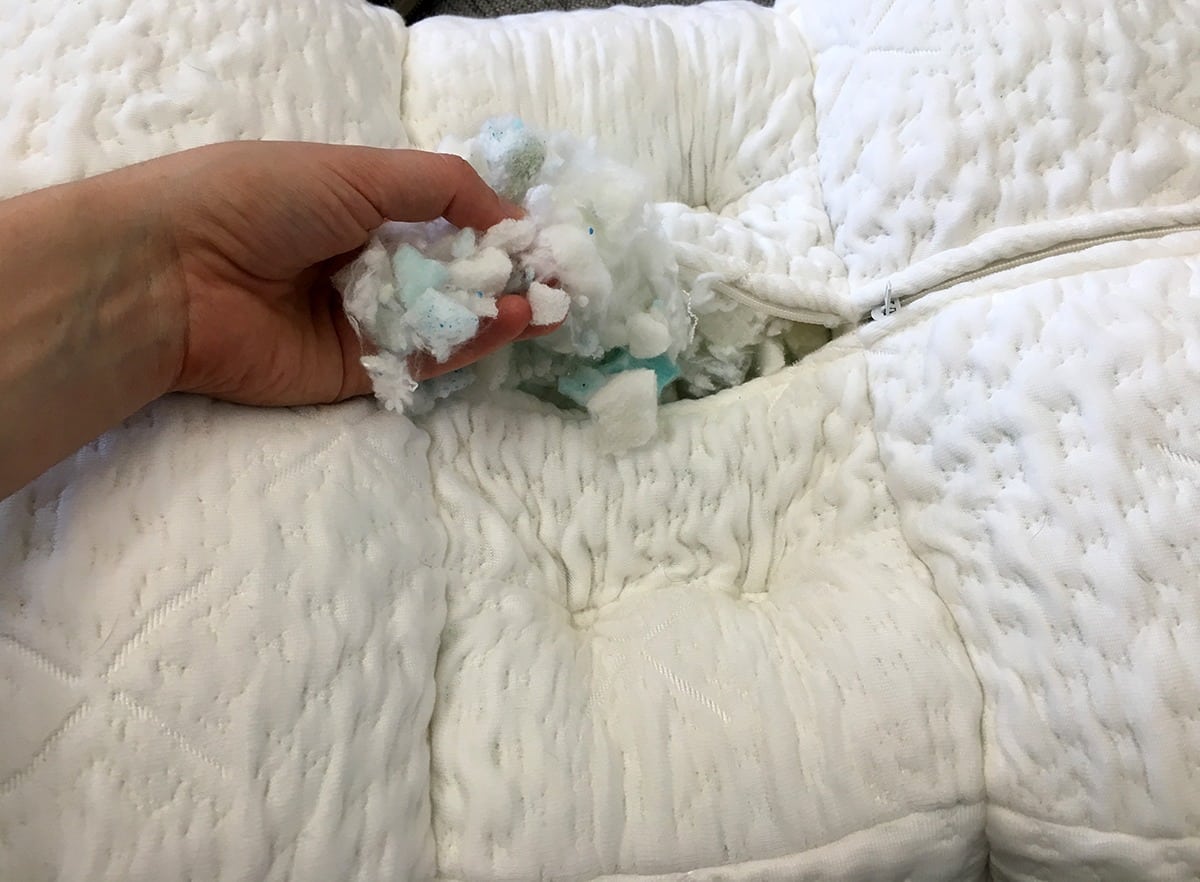 For more information on how to set up the pillow, I highly recommend viewing the instructional videos on the SpineAlign website.
Pros
Adjustable filling
Soft breathable cover made with Tencel fabric
One size fits most design suits most body types
Comes with a trial period offer (minus cost of S&H)
Cons
Can only spot clean; not machine washable or dryer friendly
Not designed for stomach sleepers
The filling can be messy
Takes time to find the right loft/support for proper sleep posture
My Experience
The SpineAlign Pillow is focused on providing the proper sleep posture for both back and side sleepers. The pillow is as customizable as possible, trying to take into consideration that people have different head and neck sizes and overall body types.
The pillow is raised slightly higher on one end than the other, so one of the first things I did when I got the pillow was to determine which side I should sleep on.
There are mesh panels on the side of the pillow and one of them features a SpineAlign logo sewn into the fabric. That side of the pillow is designed for those 5' 7" and taller (but this is not a hard or fast rule).
I just so happen to be 5' 7.5" so I faced that end of the pillow closest to my neck.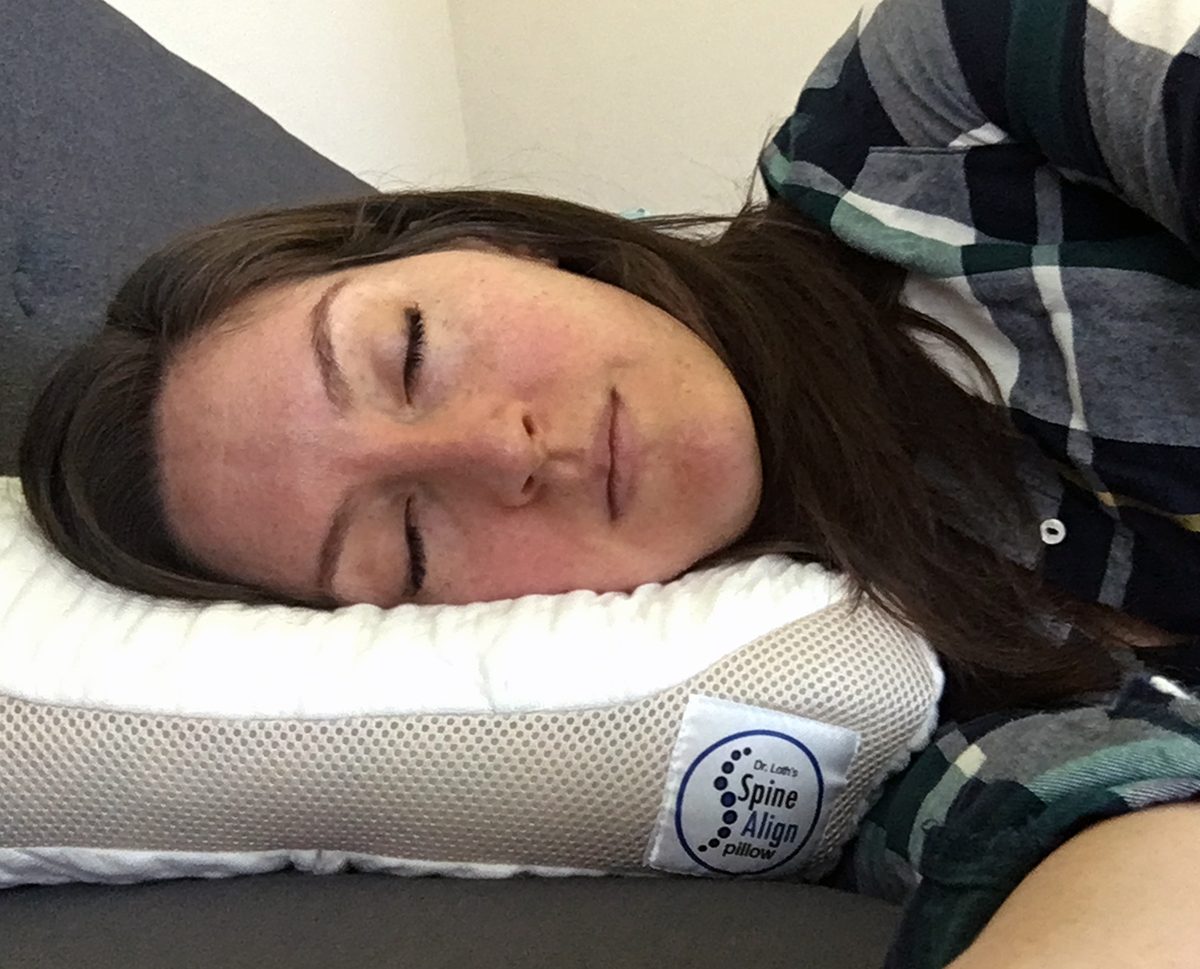 In order to get all of the benefits of the pillow, sleepers will need to take their time adjusting the filling levels and manipulating it until they can see that their heads and necks are in a neutral alignment.
Because of this, I highly recommend watching both of Dr. Loth's videos on his website – he will demonstrate with a model how your head and neck should look.
Side sleepers should sleep on one of the two outer chambers of the pillow. These are raised and fuller, with more support for underneath the neck.
To create the right support level for back sleepers, the middle chamber of the pillow is much thinner and it may take some getting used to when moving back and forth between the two positions (something I often do at night).
It took about 2-3 nights with some filling adjustment to finally feel that my head, neck, and spine had acclimated to the pillow. I had no issues with strain, tension or headaches and I think the pillow did a good job of supporting my neck properly.
The outer cover is textured and soft thanks to the breathable Tencel fabric – but individuals may want to put a pillow cover over it if the texture bothers them.
Those who just can't seem to get comfortable with a traditional pillow may want to consider trying out the SpineAlign.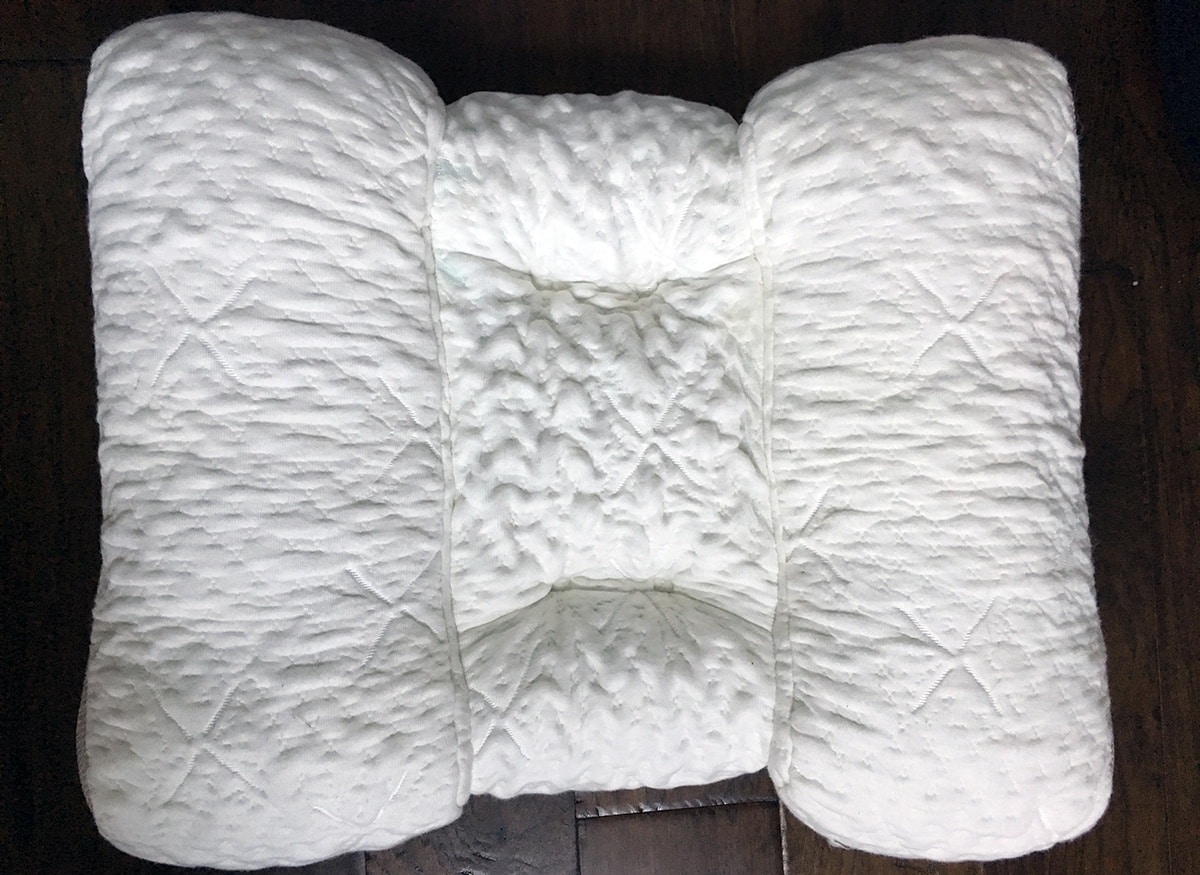 Overall
With some patience and willingness to manipulate the pillow until it's in the correct position for the sleeper, I think this could really benefit back and side sleepers.
Those who are hesitant about the price should consider the 90-day trial period, but be aware that customers will have to pay the cost of shipping and handling.
The following two tabs change content below.
Katie Golde
Katie manages the day to day operations of the Mattress Clarity news site and reviews sleep products in addition to writing and editing sleep news.She hails from Austin, where she lives with her growing family. She is a Certified Sleep Science Coach and has a master's degree in Journalism from Northwestern University and has a background in health and science content. Her work can be found in print and online publications like Discover Magazine, USA Today and The Huffington Post.
Latest posts by Katie Golde (see all)