Purple's Plush Pillow is distinctive, quirky and adjustable in a way that I haven't seen in another pillow. The Purple Plush gives individuals the ability to make it firmer or plusher (softer) by zipping or unzipping the sides of the pillow. It has some other great features, like being non-toxic and machine washable.
So with all of that in mind, who do I think it's a good fit for? Check out my full video review below and keep scrolling to read for my full review.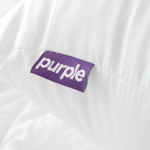 The Purple Plush Pillow is a simple but innovatively designed pillow that features a Lyocell and Nylon blended cover and is filled with "Smart Fluff" which is interlocking polyester fibers. The pillow is adjustable, machine washable and non-toxic.
Key Features
Currently comes in one size (26″ x 18″) and weighs 3.6 lbs
The cover is 60% Lyocell and 40% Nylon with a moisture-wicking treatment
The filling is what Purple calls "Smart Fluff," or  interlocking, denier poly-fiber puff balls
Feels like polyester fibers that won't fall flat or lose a lot of air when pressing down
Adjustable in that sleepers can unzip to make it softer and zip it to make it firmer. Two zippers allow sleepers to combine for maximum firmness or do half and half for even more preciseness with no mess
100-night trial
1- year warranty
Care: Machine wash in cold water, gentle cycle. Tumble dry low heat with a clean dryer or tennis balls
Who Makes It?
Purple has been one of the most successful online retailers of bed-in-a-box mattresses since its founding in 2015.
The brand now offers four mattresses as well as two pillows and other accessories. The company's Original pillow uses its Smart Comfort Grid technology, while the new Plush Pillow is filled only with polyester fibers.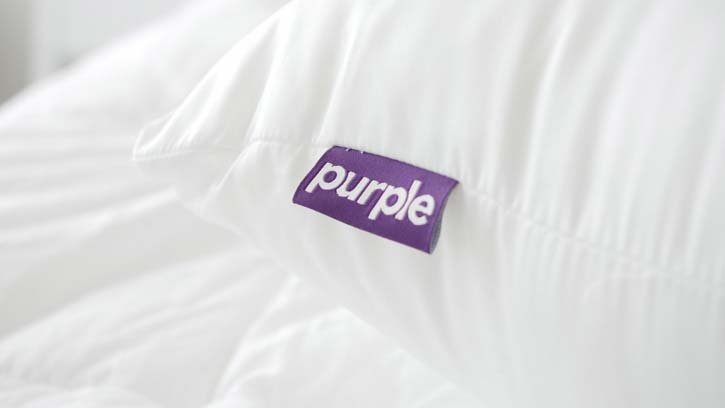 Check out our review of the Purple Original mattress. 
Pillow Construction
The Plush Pillow is a traditional pillow shape, meaning it will work with most pillowcases. It comes in one size with the dimensions 26″ x 18″ and weighs 3.6 lb.
The outer cover is a soft, smooth combination of 60% Lyocell, a synthetic fabric known for its breathability and 40% Nylon – it also has a moisture-wicking treatment.
The filling is "Smart Fluff," or interlocking, denier poly-fiber puffballs that feel a lot like down alternative, which it basically is.
There are two zippers, one on each of the longer sides of the pillow, and when they're completely zipped, the pillow is at its firmest. When they're unzipped, a mesh gusset will unveil itself, all designed to enhance breathability and soften the pillow.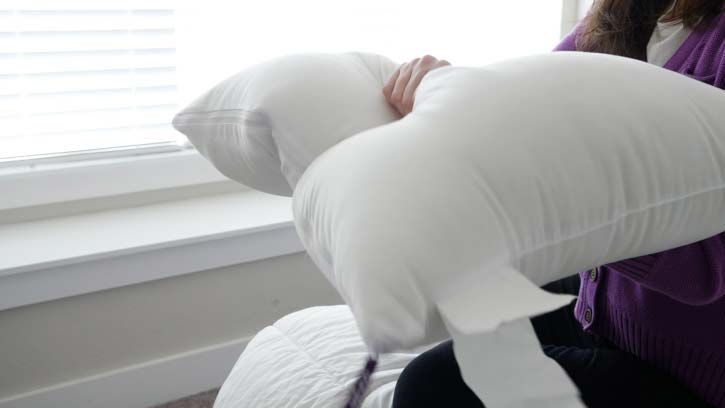 Pros
Smooth and breathable outer cover
Easy to adjust; no mess with filling
Easy to clean; machine washer- and dryer- friendly
Affordable ($49) and offers a good trial period
Filling level and firmness make it best for side and back sleepers
Best for those who like a down or down alternative-type feeling and want something adjustable
Good for hot sleepers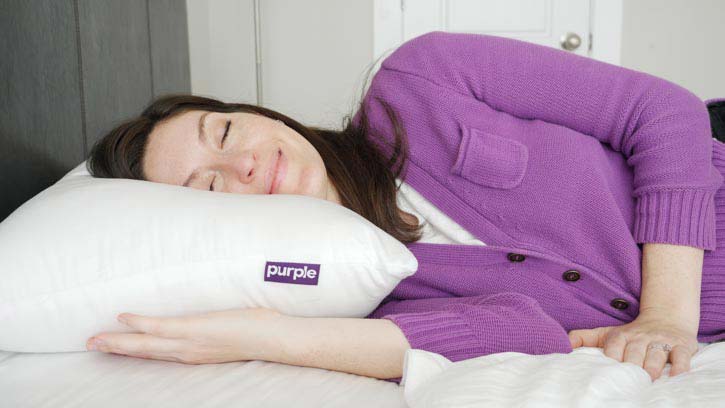 Cons
It may be too firm for stomach sleepers
The pillow is adjustable but only to a degree; the filling can't be removed
Will need to fluff about once a week to maintain proper loft and firmness
Will change shape; those who like solid foam pillows may not love this newer option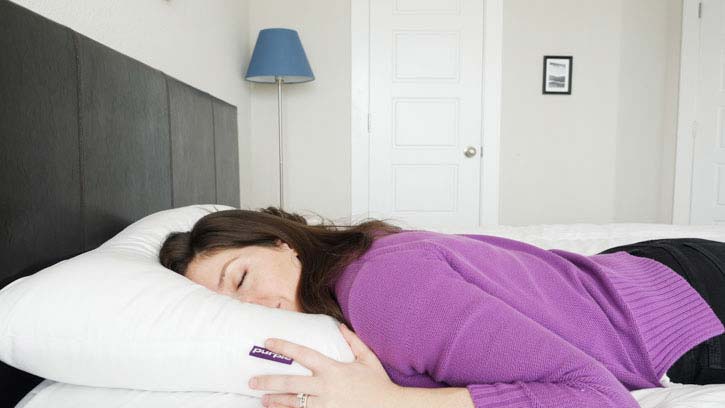 My Experience
I've had the chance to review a lot of different pillows and I'll be the first to admit that when Purple created its Plush option with adjustable zippers, I was a little skeptical initially. How could zippers change the firmness of a pillow? But kudos to them, because it is a very innovative design and it does work efficiently and effectively.
The cover is smooth, soft, and breathable and the inside feels like some sort of polyester fiber system. It essentially feels like a down alternative pillow and it will fall a little flat after a week of use, so I would recommend fluffing it.
The real highlights of this pillow are the zippers that are lengthwise along both sides of the pillow that truly elevate its versatility. When sleepers zip both sides, the pillow loses its gusset and firms up. I liked the maximum firmness best when I was on my side, which is when one typically needs the most loft and firmness.
Otherwise, sleepers can unzip one or both of the sides and a mesh gusset will be revealed that promotes airflow and softens the pillow. I liked unzipping the sides when I slept on my back because it helped the pillow conform to my head a little better.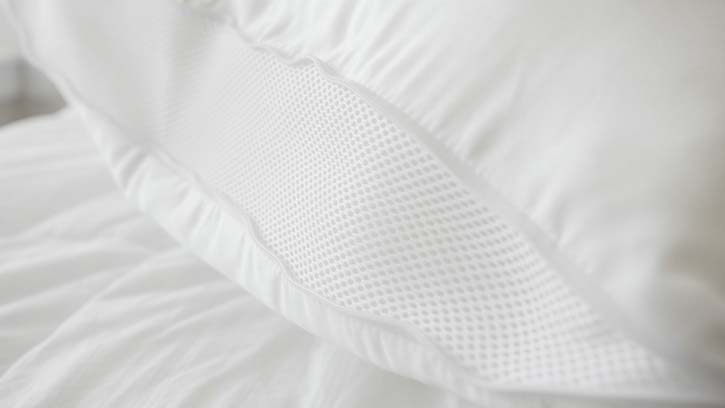 In terms of care, the pillow is very easy to wash. Just follow the care instructions and wash it on cold on a gentle cycle. In order to get the polyester filling super dry, put a tennis ball into a sock and throw that into the dryer with it. It'll help break up the fibers so they dry faster.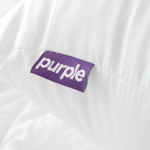 The Purple Plush Pillow is a simple but innovatively designed pillow that features a Lyocell and Nylon blended cover and is filled with "Smart Fluff" which is interlocking polyester fibers. The pillow is adjustable, machine washable and non-toxic.
Marten's Take
Marten is another reviewer and staff writer for Mattress Clarity. One of the reasons I love inviting him to test pillows and toucho n his experience is that he has a different body type than me: He is 6'7″ and weighs around 230 lb, while I'm only 5′ 7″ and about average body type – here's what he thought of the pillow:
As Katie said, the Purple Plush pillow has a very interesting design; individuals can zip or unzip the two sets of zippers in order to make the pillow firmer or softer. When it is zipped up, the pillow will feel firmer and when it is unzipped, the pillow will feel a bit softer.
Being a larger person, I put the pillow into its firmer configuration. When I was on my back, I felt a good amount of support without any neck strain. My head did not bottom out, which is an issue I have when back sleeping on many pillows. On my side, I also felt very comfortable.
However, even in the softer configuration, the Purple Plush was still too firm for me. I think heavier stomach sleepers might need a softer pillow overall.
Heavier back and side sleepers who like a somewhat lofty feel should enjoy the Purple Plush pillow.
Final Thoughts
Back and side sleepers who prefer the feel of a fluffier down alternative pillow will gravitate toward something like Purple's Plush pillow. It is especially attractive to those looking for an adjustable option who doesn't want to deal with the hassle or mess of scooping out filling to adjust their pillow.
The Plush Pillow is about half the price of Purple's original pillow (coming in around $49) and on the more affordable side compared to some other newer adjustable pillows on the market.
The following two tabs change content below.
Katie Golde
Katie manages the day to day operations of the Mattress Clarity news site and reviews sleep products in addition to writing and editing sleep news.She hails from Austin, where she lives with her growing family. She is a Certified Sleep Science Coach and has a master's degree in Journalism from Northwestern University and has a background in health and science content. Her work can be found in print and online publications like Discover Magazine, USA Today and The Huffington Post.
Latest posts by Katie Golde (see all)