DISCLAIMER: The Purple Plush pillow is no longer available for purchase. Instead, check out the Purple Harmony pillow, which is made with the brand's proprietary Purple Grid to give a "floating on air" sensation. Read our Purple Harmony pillow review for more information!
Well-known mattress brand Purple is known for its creative undertakings with both their products and their marketing presence. The brand's mattresses have a one-of-a-kind feel and the commercials often feature different characters and silly concepts. Despite that more casual and relaxed vibe, Purple produces an impressive set of mattresses and other sleep products, including pillows.
The first pillow Purple debuted, their original pillow, features the same hyper-elastic SmartGrid system as their mattresses. The signature Purple pillow has a solid core featuring squishy but supportive gel-like material surrounded by a knit cover that is removable and simple to clean. Later, Purple launched its Purple Plush, a more traditional-looking pillow with a supportive and luxurious down alternative feel with some innovative adjustability features.
Which pillow should make it onto a wish list for Santa this year? Check out my video comparison below that puts Purple vs. Purple Plush to the test or keep scrolling for my in-depth written review. Of course, comment below with any questions or a request for a personal recommendation!
Purple Pillow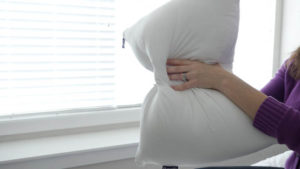 Purple's original pillow is made with their signature Smart Comfort Grid polymer material that gives the pillow a plusher feel but without losing the support.
Mattress Clarity Score
3.80 / 5
Read Full Review
Dying to know even more about Purple's signature pillow and the Purple Plush pillow? Keep reading below for details on what these pillows have in common, their main differences and who they're each a good fit for based on primary sleep positions!
The Similarities Between Purple and Purple Plush
Both pillows are – surprise – made by popular mattress brand, Purple
Each pillow comes with a 100-night trial period to let customers decide if it's the right fit for them
The brand offers free shipping with a pillow purchase
There is a 1-year warranty with each pillow
Based on my experience both pillows are breathable and will work well for hot sleepers
People who like to clean their pillows can rejoice – both pillows can be machine washed and dried (the Purple inner fill must be hand-washed)
Purple Pillow: The Basics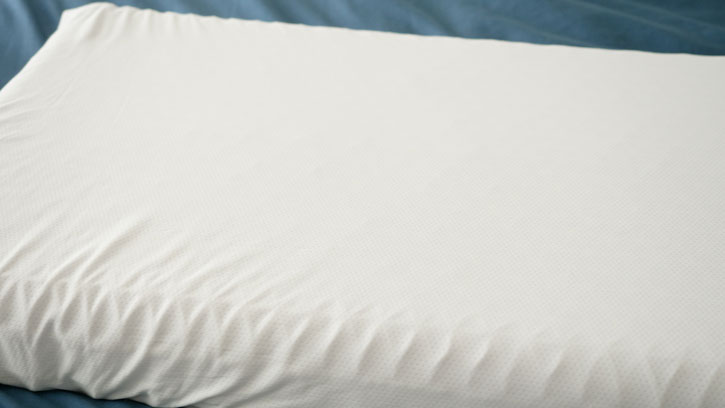 The Purple pillow offers a soft but squishy feel and provides pressure relief to the head and neck
The pillow comes in one Standard size: 24″ long, 16″ wide, and 3″ tall and weighs an incredible 10 lbs
The pillow's filling is made out of their Smart Comfort Grid which is a Hyper-Elastic Polymer or a gel-like material that Purple is known for
The cover is called Hyperstretch Mesh and it's made up of  88% Polyester, 3% Nylon, and 9% Spandex Mesh
The pillow is hypoallergenic, which makes it a great option for those struggling with challenging allergies
Care: Here's Purple's recommendation on cleaning the pillow

Cover: Machine Wash cold. Tumble dry low. Do not bleach; do not iron.
Filling: For the Smart Comfort Grid, hand wash in warm water with mild detergent (eg: dish soap), air dry.

$99 at full price
Learn more in my full review of the Purple pillow. 
Purple Plush Pillow: The Basics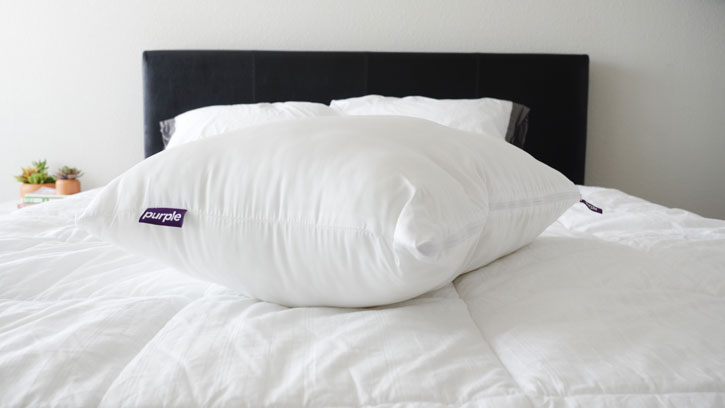 The pillow comes in two sizes: Standard and King; Standard is 26″ x 18″ and weighs 3.6 lbs
The cover is 60% Lyocell and 40% Nylon with a moisture-wicking treatment; gives the pillow a soft but cooling feel
The filling is what Purple calls "Smart Fluff," or interlocking, denier poly-fiber puffballs that keep the pillow lofted and firmer compared to other down alternative pillows
The Purple Plush pillow feels like polyester fibers that won't fall flat or lose a lot of air when compressed
Adjustable – can be unzipped to make it softer and zipped to make it firmer. Two zippers make it the firmest or do half-and-half for even more precision with no messy filling to deal with
To care for the pillow, machine wash in cold water, gentle cycle. Then tumble dry on a low heat setting with a clean dryer or tennis balls
Check out the full Purple Plush pillow review for more details.
Main Differences Between Purple and Purple Plush
Covers: The signature Purple pillow cover is 88% Polyester, 3% Nylon, and 9% Spandex Mesh, while the Purple Plush is a combination of 60% Lyocell (this synthetic fiber is known for cooling) and 40% Nylon
Fillings: The original Purple has its unique Smart Comfort Grid made with their gel-like polymer and the Purple Plush is "Smart Fluff," which is interlocking poly-fiber ball technology
Adjustable features:  Purple's original pillow offers no adjustable options and will stay put as is, while the purple Plush can be adjusted via zippers that lay along each side of the pillow
Sizes: Purple comes in just Standard size and the Purple Plush comes in Standard and King sizes
Price: Purple is $99 for a Standard at full price; Purple Plush is $49 for a Standard and $64 for a King at full price
Best Sleeping Positions For Purple and Purple Plush
A person's primary sleep position is the one they find themselves in when they wake up in the morning. Let that position be a guide for determining which pillow may be the best choice.
Purple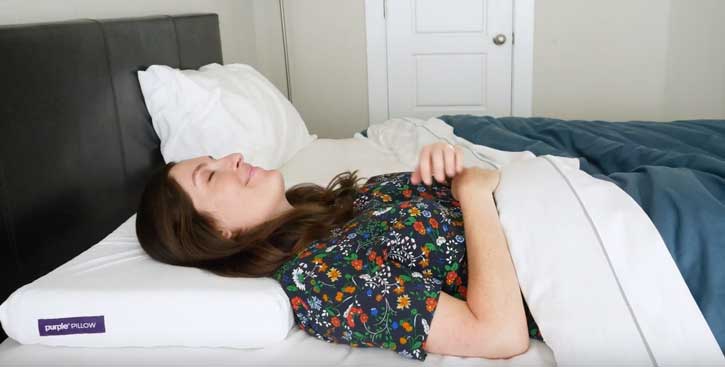 This pillow has a solid gel-like core and stands 3″ tall which means it won't move or go flat overnight. Purple says their pillow will work for all sleep positions but that it's especially popular for average-sized back and stomach sleepers.
Based on my experience, I agree that it's a better fit for average-sized back and stomach sleepers than side sleepers. I'm a combo back and side sleeper (and 5′ 7″ and average weight) and I felt that the pillow's height and medium-firm feel made it the perfect fit when I slept on my back but didn't like it as much on my side. When I moved to my stomach, I was pretty comfortable, except that I didn't care for the texture of the Smart Comfort Grid against my face. Aside from that, I think it's a good height for stomach sleepers.
Purple Plush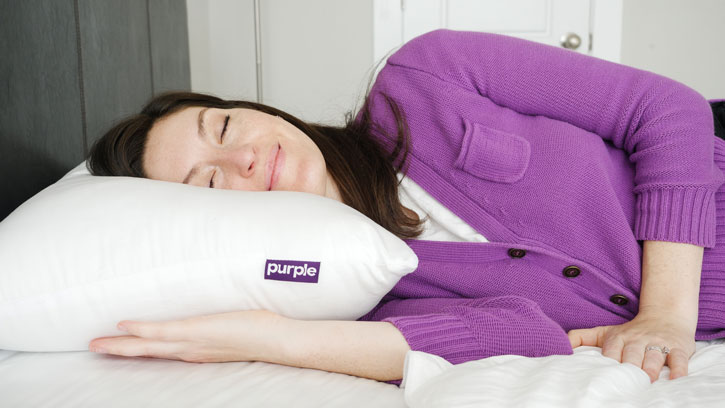 Purple Plush holds its own on with support and loft, and for that reason, I think it's the perfect height and firmness for average-sized back sleepers and side sleepers. The Smart Fluff interlocking poly-fiber balls are designed to keep the pillow fro from falling flat. This makes it a nice down alternative for side sleepers who tend to need more than just the average amount of firmness in a down alternative pillow.
One of the coolest features about the pillow is the two zippers on the side that create a firmer or softer feel depending on the person's preference. At its firmest, I thought it was great for side sleepers and I unzipped one of them to lay on my back and felt comfortable with that, as well. However, even with both sides unzipped (the softest option), it was still too firm when I slept on my stomach and caused too much neck strain.
Marten's Take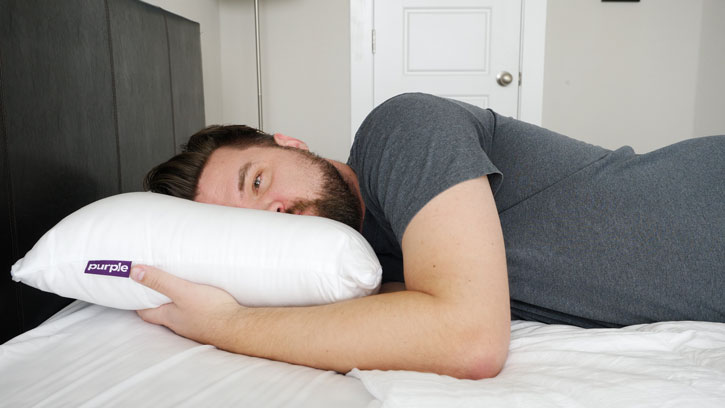 So, I'm a bigger guy. Size and weight are always something to consider when shopping for a pillow. Katie's review is based very much on her experience, so I wanted to give my thoughts on both the Purple pillow and the Purple Plush.
Purple
Purple Pillow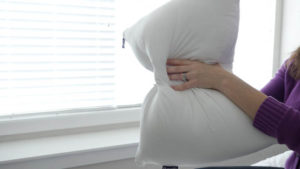 Purple's original pillow is made with their signature Smart Comfort Grid polymer material that gives the pillow a plusher feel but without losing the support.
Mattress Clarity Score
3.80 / 5
Read Full Review
First off, looking at the Purple pillow, I agree with Katie that it has a very interesting design. The gel grid stays flat and supportive until a certain pressure threshold is reached. When that happens, it collapses in that specific area.
While I like back sleeping on the Purple pillow, it does feel a little weird when I am on my side. That gel grid has a somewhat bumpy, uneven feel, and I usually like side sleeping on something plusher. Also, I'm the first to admit that I have a big head. I feel like my big noggin sinks in just a bit too far, and I don't feel like I am in proper alignment. On my stomach, the Purple pillow is a good match, however.
Purple Plush
The Purple Plush is a unique pillow in its own right thanks to the zippers on both sides that allow me to adjust the firmness of the pillow. In its firmer setting, the Purple Plush is a great match for me when I am on my back and my side. However, even in its softest setting, the Plush is still too, well, plush.
I believe heavier back sleepers should like both pillows and that heavier side sleepers are probably going to prefer the Purple Plush. Heavier stomach sleepers should look toward the Purple pillow with its 3″ tall height and medium firmness.
Overall
There's no denying it, the Purple and the Purple Plush pillow are different in so many crucial ways. Hopefully, this makes it easier to decide between them. Both pillows offer innovative designs and new technology that is a hallmark of the Purple brand.  Back and stomach sleepers who are unsatisfied with foam or other solid core options may want to consider what the original Purple is offering. Meanwhile, those who prefer the soft and fluffy feel of down alternative but need a little more support and loft (side sleepers and back sleepers) should consider the Purple Plush.