Last year online mattress retailer Layla introduced an update to its signature pillow. The pillow – sometimes referred to as the Layla Kapok Pillow – is still filled with a unique mix of memory foam pieces and natural, pesticide-free Kapok fibers, but the inclusion zipper on the side makes the whole pillow adjustable. The soft-knit cover also has a new design but still includes its unique copper infusion.
What else is there to know about the new and improved Layla pillow? Read on for our full Layla Pillow review.
BOGO Half Off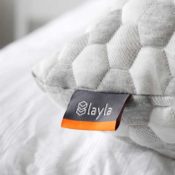 The Layla Pillow features a zipper on the side that lets you access the Kapok fiber and shredded memory foam mixed filling. It has a soft knit cover that includes copper-infused yarn and a pattern that matches the mattress cover. 
Layla Pillow Overview
The Layla Pillow or Layla Kapok Pillow comes in two sizes, Queen and King. Each is filled with natural, organic, and pesticide-free Kapok fibers plus pieces of responsive memory foam for a smooth but supportive overall feel. A zipper along the side lets sleepers access the filling to add or remove their desired amount.
The super-soft cover is a knit mix that combines 66% polyester, 30% viscose, 4% poly/lycra woven with CuTEC Yarn (copper-infused performance fiber). The pillow is entirely hypoallergenic, made in America and comes with a 120-night trial period. Prices start at $99 for a Queen.
Who Might Like the Layla Pillow
Combination sleepers
Those who like the feel of memory foam
People interested in new technologies
Who Might Not Like the Layla Pillow
Customers on a budget
Those who prefer the feel of down or down alternative
Stomach sleepershttps://www.mattressclarity.com/pillow-reviews/best-pillow-for-side-sleepers/side
RELATED: Best Pillows 2020 – Our Top 10 Favorites!
Layla Pillow Video Review
To see the pillow in action and get a more detailed view of its overall response and feel, check out the full video review below.
Layla Pillow Firmness & Feel
The Layla Pillow feels different from other foam hybrid pillows, namely because of the unique Kapok fibers included in the mix. Learn more about how the pillow feels and its firmness levels in the sections below.
How Firm is the Layla Pillow?
The combination of materials that create the filling in this pillow keeps it from being overly firm but definitely supportive enough for sleepers of all body types. The pillow is primarily memory foam, and I'd place it at a 6 out of 10 on the firmness scale. However, the more fill that is removed from the pillow, the less firm it'll feel overall.
Sleeping On the Layla Pillow (Sleeping Positions)
At its fullest, the pillow looks and feels nearly overstuffed and is probably the best fit for most back and side sleepers. That being said, the filling is removable so it will truly work for all sleep positions, including stomach sleepers and even combination sleepers who like to change things up.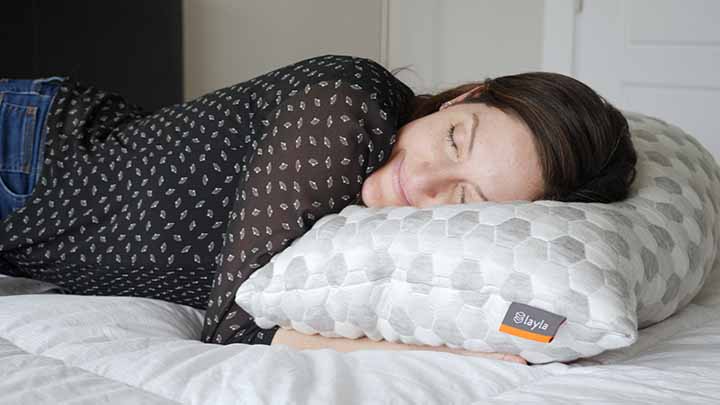 Without a doubt, the polyester/lycra/CuTEC yarn cover is incredibly soft and would make any sleeper want to remove a pillowcase just to get a little closer to it. There's something for everyone with this pillow, making it a true crowd-pleaser.
What Does the Layla Pillow Feel Like?
For those who are not familiar with Kapok fibers, they add a cozy and natural element to a pillow. The addition of another material, shredded foam, helps bump up the support and loft and gives the Layla Pillow a "best of both worlds" feel.
To be specific, the pillow has about 70% memory foam pieces and 30% Kapok fibers in it, according to the manufacturer's tag. As a result, it definitely feels more like a memory foam pillow over a Kapok-fiber pillow. At the same time, it stays lightweight and is not as "chunky" as it could be thanks to the smoothness of the Kapok fibers.
RELATED: Best Memory Foam Pillows
Average Weight Sleepers – 130lbs – 230lbs
When the pillow is completely filled and expanded, it has a significant amount of firmness and loft, making it probably the best fit for back sleepers and side sleepers. Katie, who personally tested and reviewed this pillow, needed to take at least a few quart-sized Ziploc bags of stuffing out to get it comfortable on her back; she would need to take probably half the filling out (at least) to be comfortable on her stomach.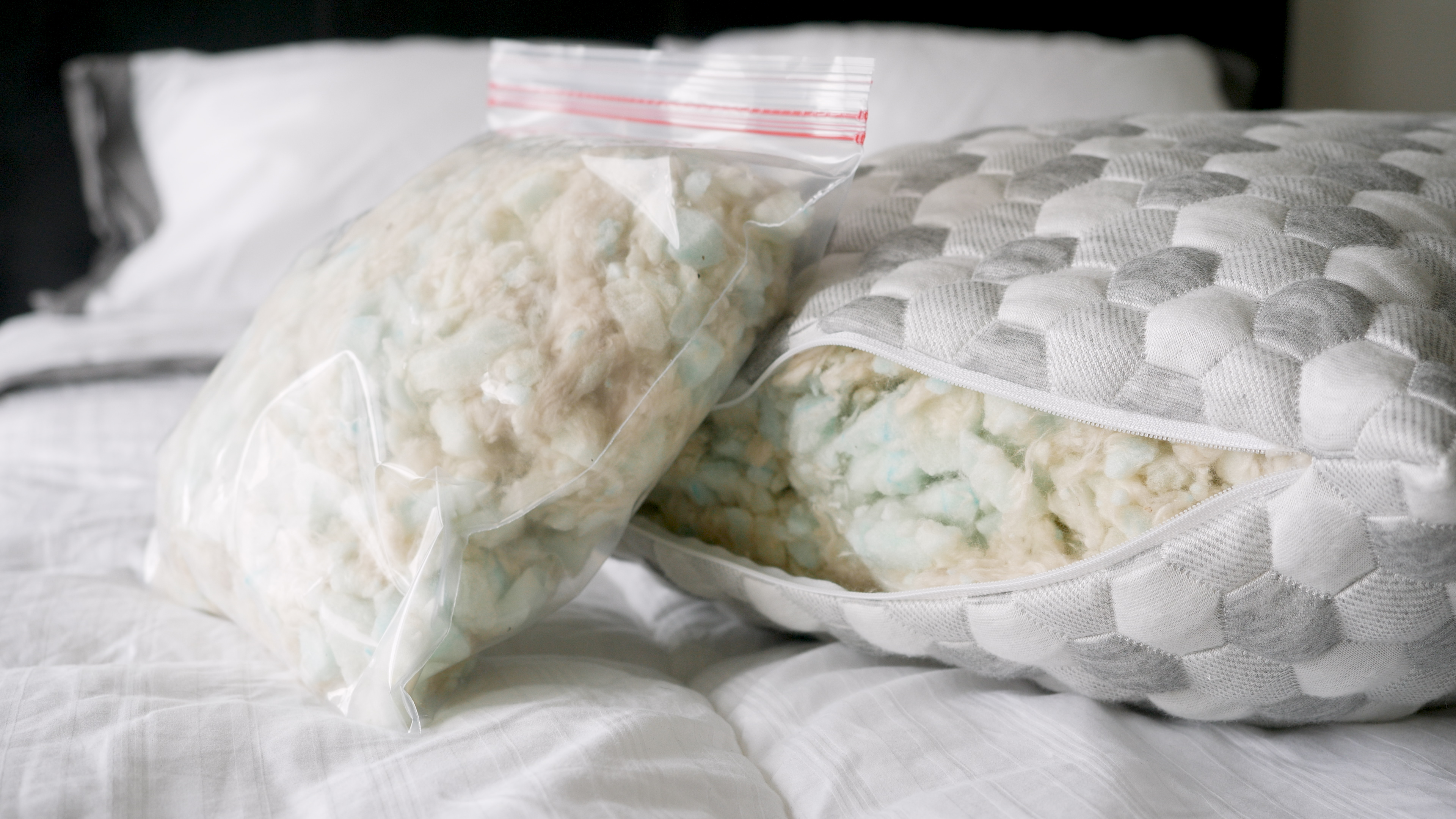 We do want to note that after a few days of sleeping on the pillow, a small indentation will stay where the foam and fibers have been pressed down. The pillow may need to be thrown in the dryer on a low tumble dry to get it back to its original loft and support.
Heavyweight Sleepers – Over 230lbs
Marten is one of our (favorite) staff writers. He has a different body type than Katie; he's 6'7″ and weighs around 230 lb. He had a chance to review the Layla pillow as well and wanted to share his take as a heavier person – he had a slightly different experience with it than Katie did.
Marten was able to find the right amount of fill to fit his body type when he was on his back and side. On his back, Marten said his head sunk in just the right amount. When he was on his side, the pillow did not smother his face. If Marten wanted to use the pillow for stomach sleeping, he would need to take out a good amount of fill.
In terms of feel, the pillow is responsive with a bit of that slow, memory foam feeling as well. There is also a decent amount of loft. In the end, Marten said he really enjoyed his experience on the Layla pillow.
Lightweight Sleepers – Under 130lbs
Without removing any filling, the Layla Pillow may be overwhelming for lightweight sleepers, or those with a more petite body frame. More than half the pillow is chunks of memory foam, which offers good loft and firmness, which can at times be a detriment to lightweight sleepers who don't need that much support.
Our advice for petite individuals would be to remove a good amount of the filling. There are still so many benefits to get from the pillow – a great level of support and comfort and it's hard to beat the silky softness of this Layla cover – it's delicious!
Layla Pillow Construction
The Layla Pillow may appear simple initially, but there is a lot going on in both the outer cover and the inner fill of this pillow.
| | |
| --- | --- |
| Dimensions | Queen: 18.5″ x 28.5″; King: 18.5″ x 36.5″ |
| Weight | Queen: 4 lbs; King: 5 lbs |
| Cover Material | 66% polyester, 30% viscose, 4% poly/lycra woven with CuTEC Yarn |
| Core | Pieces of responsive memory foam and Kapok fibers (70% foam and 30% fibers) |
| Loft/Height | 5.5″-6″ for both sizes |
Dimensions
The Layla Pillow comes in two sizes: Queen and King. The length and width of the Queen size is 18.5″ x 28.5″ and the King is 18.5″ x 36.5." The height of this pillow is fairly variable because it's adjustable and the foam will compress with consistent use. With all of that said, the loft is about 5.5″ -6″ – a tall pillow, no doubt!
Weight
Fully stuffed, the Layla pillow weighs roughly 4 lbs in a Queen size and 5 lbs for the King size. Of course, removing the fill to adjust to a person's particular sleep needs will make the pillow lighter in weight.
Cover Material
The pillow cover has a hexagon shape in heather grey shades and is a soft-knit blend of 66% polyester, 30% viscose, 4% poly/lycra woven with CuTEC Yarn (copper-infused performance fiber).  The CuTEC Yarn means the cover has copper fibers woven into it – this is similar to the copper-infused mattresses, and/or other pillows, that promise to help draw heat and provide coolness to a bed as well as improve hygiene.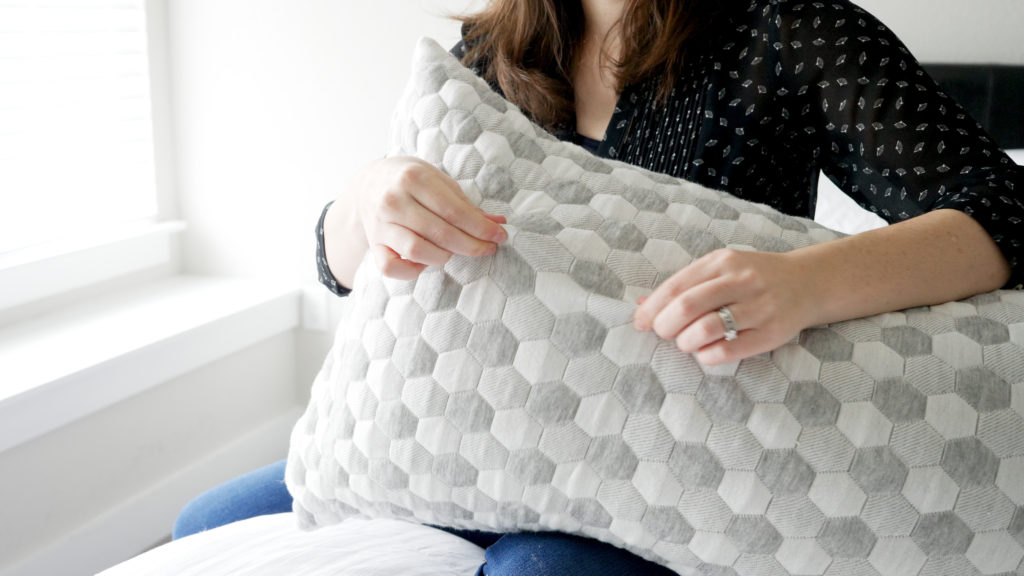 Layla says these copper fibers add coolness and antimicrobial protection to the pillow. A representative from the company told me that people can put a pillowcase over the pillow and still receive the benefits of the copper. In fact, they recommend a pillowcase.
Core
The pillow is filled with a mix of pieces of responsive memory foam and Kapok fibers (70% foam and 30% fibers). The foam is CertiPUR-US® certified, which means it's made from materials that are more environmentally friendly than conventional materials.
Kapok fibers are the seed pod fluff of a rainforest tree. The fibers are naturally buoyant and hypoallergenic. They have a down-like feel and may be preferable for people who have down allergies. The fibers are lightweight and soft, but pillows filled with them should be fluffed on occasion to help maintain their shape.
The Kapok fibers mixed with the memory foam give the pillow a soft, lightweight but adaptable feel. The Kapok fibers do help give a down-like feel, but sleepers can also feel the chunks of foam within the pillow.
Loft/Height
As we mentioned in the Dimensions section of the review, the Layla Pillow stands around 5.5″ to 6″ tall. When the pillow is completely filled and fresh out of the dryer from being fluffed, it will definitely be closer to 6″. After a few days of use, a person's head will compress the foam and fiber and lower the overall loft and height to closer to 5″.
This height and loft are why we tend to recommend the completely filled pillow for side sleepers and back sleepers, who typically need the support and height to maintain that neutral head and neck alignment.
Layla Pillow Size Options, Price & Care
The Layla Pillow comes in two sizes: Queen and King and at full price, the Queen is $99 and the King is $119. I'd highly recommend checking back during major holidays – like Memorial Day, Fourth of July or Labor Day, to access discounts or sales on the pillow.
The pillow comes with a 120-day trial, which is quite generous and comes with a 5-year warranty. Always follow the care instructions (the next section) to ensure the pillow is performing as it should and the warranty isn't voided from accidental misuse.
Care Instructions
We always recommend following the care instructions provided by a pillow maker as closely as possible, if provided. This is because no one knows how the pillow should feel or perform like the brand itself and because this will help keep it in good shape and make sure the warranty is in good standing, should another issue come up.
With all that said, here is how Layla instructs customers on cleaning the pillow:
Sleepers can remove all the filling and machine wash and dry the pillow cover. It will be hard to remove all of the Kapok fiber since it tends to stick to the fabric. The best bet will probably be to spot-clean the pillow and try to keep it as clean as possible.
Try to keep the pillow as clean as possible, because removing Kapok fibers from a pillowcase will be tedious work. We would recommend trying to spot clean first to avoid the hassle and remove the filling to wash the cover only if necessary.
Layla Pillow Performance
The phrase "best of both worlds" comes up again and again with the Layla Pillow because of the memory foam and Kapok fiber core and the sense of support but smoothness that it brings. There is more to the pillow than just how it feels, let's dive into how the pillow performs overall.
Sleeping Hot or Cold
Unlike solid memory foam pillows, utilizing chunks of foam in a pillow allows for airflow promotion and enhanced breathability. This works in conjunction with the Kapok fibers to stay smooth but not trap too much heat; the Layla Pillow does not sleep hot but it's not a super cooling pillow, either. Those who want foam but struggle with sleeping hot should consider this as a decent option.
Responsiveness
Because 70% of the pillow is memory foam, there is absolutely some response to the pillow. It's in line with the characteristics of memory foam, slower to respond but will still retain most of its shape with time.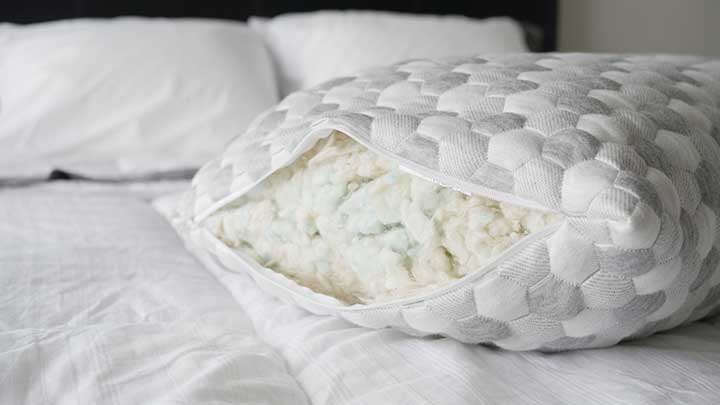 The responsiveness of the pillow will subside with consistent use; the pillow should be fluffed occasionally in the dryer to keep the foam pieces fully expanded and able to respond to pressure from a person's head and neck.
Durability
A 5-year warranty for a pillow is pretty solid; this essentially means that the pillow should be able to perform well for at least five years, as long as the sleeper takes proper care of it. This makes it a very durable pillow, both with the foam and the nature of the Kapok fiber.
We spot cleaned and washed the pillow during our review and felt that the cover held up nicely during the cleaning process. Keep the pillow fluffed so the memory foam can be fully expanded and response and supportive as possible.
Off-Gassing
During our time reviewing the pillow, we did notice an initial off-gassing from the majority memory foam filling. A slight off-gassing from a foam pillow is not abnormal and is not a cause for concern. The smell should dissipate with time and ventilation; if customers have the option, we would encourage them to unpack the pillow and then allow it to ventilate outdoors or in a room with an open window or a fan to help reduce the smell associated with off-gassing.
Additional Features
There are a few additional things to note about the Layla Pillow. First, the pillow is completely hypoallergenic and its also made in the U.S. For those who have not looked at the pillow in a couple of years, last year it was re-designed to include a zipper that allows the filling to be added/removed to the sleeper's desired loft and support levels.
How Does Layla Pillow Compare to Other Pillows?
Layla is a well-known mattress brand, perhaps known best for its flippable design. Many mattress brands, Layla included, also make pillows. We looked at how some of these brand's signature pillows stacked up to the Layla Pillow and also compared another shredded foam pillow to the Layla, too.
Layla vs. Bear Pillow
The Layla Pillow and Bear Pillow are both the namesake signature pillows of established mattress brands, Layla and Bear. This is where their similarities end pretty much, as both are geared towards different types of sleepers. The Layla Pillow is for those looking for something different than the standard shredded foam pillow, while Bear has more of an athletic, cooling and overall "performance" feel to the pillow.
Layla's cover is a mix of a soft-knit blend of 66% polyester, 30% viscose, 4% poly/lycra woven with CuTEC Yarn (copper-infused performance fiber). It features the same colors and patterns as the cover of the Layla mattress itself and it's truly a super soft fabric. Bear's Pillow, meanwhile, has a cool-to-the-touch almost slippery feel to it, thanks to the inclusion of the brand's "cool yarn" in the cover. It has blue mesh panels and looks highly futuristic overall.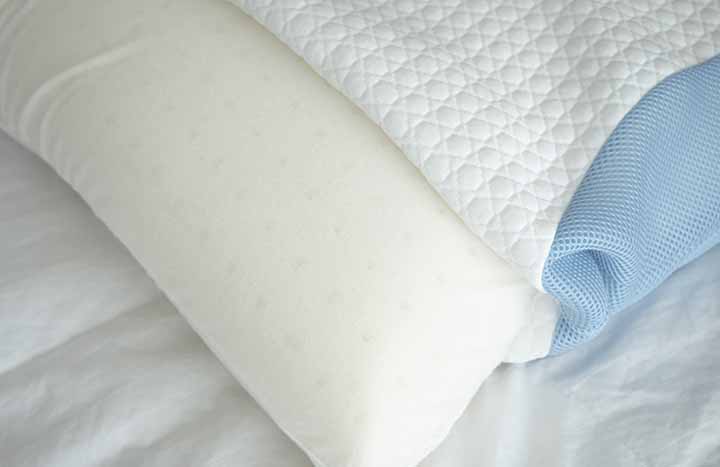 The core of the Layla Pillow is a mix of responsive memory foam and Kapok fibers (70% foam and 30% fibers). This gives it a feel that is both supportive and smooth all at the same time. The pillow unzips and is adjustable, meaning sleepers can add or remove as much of the filling as they want. On the opposite end of the spectrum, the Bear Pillow is a solid piece of ventilated LOFT-X Foam, which is a hybrid of latex foam and memory foam. This gives the pillow a lightweight but also bouncy and highly responsive feel.
When it comes to the best sleeping positions for these pillows, they will both work well for back sleepers. Because it's adjustable, Layla will work well for nearly any type of sleeper but Bear's pillow is truly best for mostly back sleepers and some stomach sleepers. There may just not be enough support for stomach sleepers.
Layla vs. Casper Pillow
There are two things that the Layla Pillow and the Casper Pillow have in common – they're both plush and adjustable! Their covers are very different, Layla's cover features 66% polyester, 30% viscose, 4% poly/lycra woven with CuTEC Yarn (copper-infused performance fiber) and Casper's pillow is 100% straight Supima long-staple cotton, giving it more of a classic "hotel sheet" feel.
Layla's core is a mix of 70% shredded memory foam pieces and 30% Kapok fibers that can be added or removed through a zipper on the side of the pillow. Casper's pillow is adjustable in that it features an Inner Pillow and an Outer Pillow – both covered with cotton and filled with polyester microfibers. Sleepers can use either pillow or combine them for the most loft and firmness.
Because of their customizable natures, both these pillows will work for most sleepers. We would say the extra firmness from the memory foam puts the Layla Pillow over the edge for side sleepers and the softer feel of the Casper Pillow is a better match for stomach sleepers.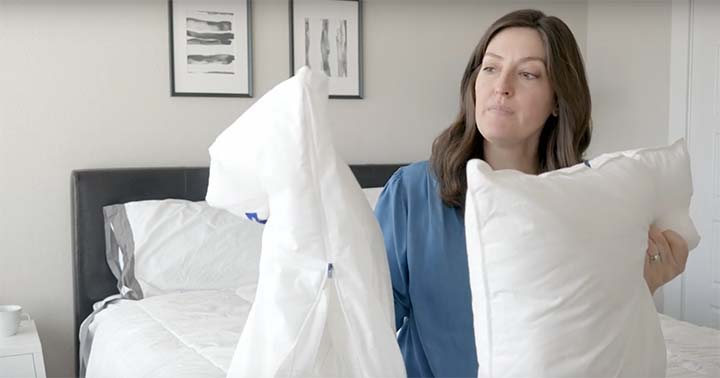 In terms of price, the Queen size Layla Pillow is $99 at full price, and the Casper's is $65. Both come with 120-night and 100-night trial periods!
Layla Pillow FAQs
Here we'll address some of the commonly asked questions that come up about the Layla Pillow.
Can you wash the Layla pillow?
Here is what the team at Layla suggests in terms of care instructions for its pillow:
You can spot clean your Kapok pillow. You can also wash the cover if needed, but I would recommend removing the fill and placing it in a temporary bag until it is dry.
Machine wash delicate on the cool cycle.
Hang dry or place it in the dryer on the no-heat setting.
Is the Layla pillow good for side sleepers?
The combination of memory foam and Kapok fibers gives this pillow a lofty and full feel – making it ideal for side sleepers. Side sleepers tend to need the most height and support when it comes to pillows. This particular pillow could work well for average-size and heavier-size side sleepers.
Does the Layla pillow sleep hot?
The Layla pillow did not sleep hot when I reviewed it. There is enough airflow promotion within the core of the pillow. The super-soft cover is also breathable and the CuTEC yarn also helps it to sleep cool.
How much does the Layla pillow cost?
At full price, the Queen size is $99 and the King costs $115 per pillow.
BOGO Half Off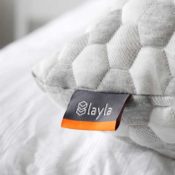 The Layla Pillow features a zipper on the side that lets you access the Kapok fiber and shredded memory foam mixed filling. It has a soft knit cover that includes copper-infused yarn and a pattern that matches the mattress cover. 
Company Info
Layla is a mattress company that makes two super unique beds. The signature memory foam Layla mattress is soft on one side and firm on the other, while the Hybrid is also flippable. It offers a soft side and a firmer side with a set of pocketed coils in the center for extra support and durability. The company also uses copper-infused foam in its mattress, and it brought some of that technology to its pillow.