In 2019, online mattress retailer Layla introduced an update to its pillow. The pillow is still filled with a unique mix of memory foam pieces and natural, pesticide-free Kapok fibers, but a new zipper on the side makes the whole pillow adjustable. The soft-knit cover also has a new design but still includes its unique copper infusion.
What else is there to know about the new and improved Layla pillow? Read on for my full review.
Layla Pillow Deals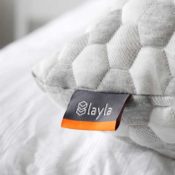 The Layla Pillow has been recently updated and now features a zipper on the side that lets you access the Kapok fiber and shredded memory foam mixed filling. It still has the same soft knit cover that includes copper-infused yarn and a pattern that matches the mattress cover. 
Key Features
Dimensions: 18.5″ x 28.5″ and 4 lb (Queen), 18″ x 36″ and 5 lb (King)
Filling: natural, organic, and pesticide-free Kapok fibers plus pieces of responsive memory foam
Zipper along the side lets sleepers access the filling to add or remove their desired amount
Cover: 66% polyester, 30% viscose, 4% poly/lycra woven with CuTEC Yarn (copper-infused performance fiber)
Hypoallergenic
Suitable for all sleep positions
Made in the USA
5-year prorated warranty
120-night trial
Price: $99 (Queen) or $119 (King)
Who Makes It?
Layla is a mattress company that makes a super unique bed. The Layla mattress is soft on one side and firm on the other. The company also uses copper-infused foam in its mattress, and it brought some of that technology to its new pillow.
Pillow Construction
The Layla pillow comes in two sizes that are 4 lb and 5 lb each, respectively.
The pillow is filled with a mix of pieces of responsive memory foam and Kapok fibers (70 percent foam and 30 percent fibers). The foam is CertiPUR-US® certified, which means it's made from materials that are more environmentally friendly than conventional materials.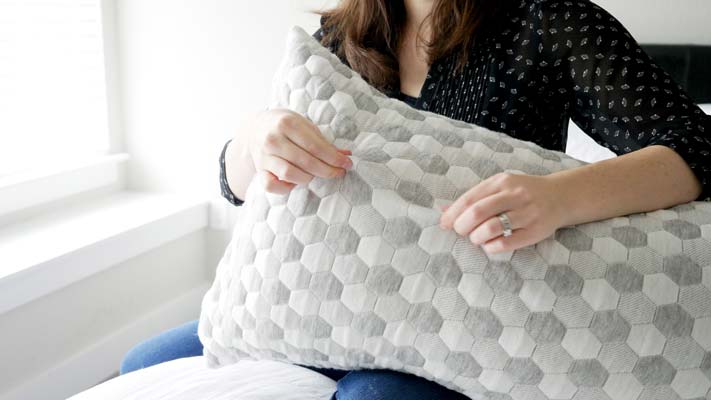 Kapok fibers are the seed pod fluff of a rainforest tree. The fibers are naturally buoyant and hypoallergenic. They have a down-like feel and may be preferable for people who have down allergies. The fibers are lightweight and soft, but pillows filled with them should be fluffed on occasion to help maintain their shape.
The Kapok fibers mixed with the memory foam give the pillow a soft, lightweight but adaptable feel. The Kapok fibers do help give a down-like feel, but sleepers can also feel the chunks of foam within the pillow.
The pillow cover has a hexagon shape in heather grey shades and is a soft-knit blend of 66 percent polyester, 30 percent viscose, 4 percent poly/lycra woven with CuTEC Yarn (copper-infused performance fiber). Layla says these copper fibers add coolness and antimicrobial protection to the pillow.
Pros
Super-soft cover with a modern aesthetic
Unique filling (mix of foam and Kapok fibers) that gives a good balance of support and softness
Hypoallergenic and made in the U.S.
Access to the filling allows the individual to control the overall loft, thickness, and firmness of the pillow
At its fullest, the pillow is probably the best fit for back and side sleepers
Cons
Slight off-gassing from foam (This isn't uncommon; let the pillow breathe for a while before using it)
Kapok fiber is a little dusty and sticks to the fingers, so removing the filling can be very messy
Not affordable at every budget level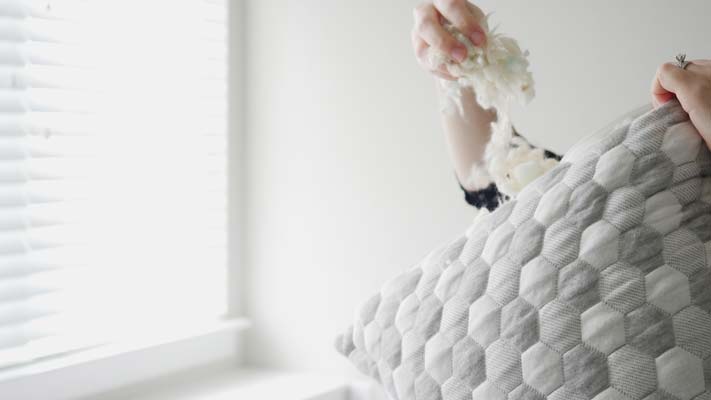 My Experience
It's always fun to review a pillow that's the product of a mattress company. The company has usually done a lot of research and reviewed customer feedback to see not only what worked for its beds, but also what elements will be well-suited for a pillow. This is definitely the case for Layla; customers will see several similar elements and materials that are found in both their bed and pillow.
The main things that stand out with the Layla pillow are both the unique filling combination and the copper-infused CuTEC Yarn used in the soft-knit cover.
For those who are not familiar with Kapok fibers, they add a cozy element to a pillow. The addition of another material, shredded foam, helps bump up the support and loft and gives the "best of both worlds" feel.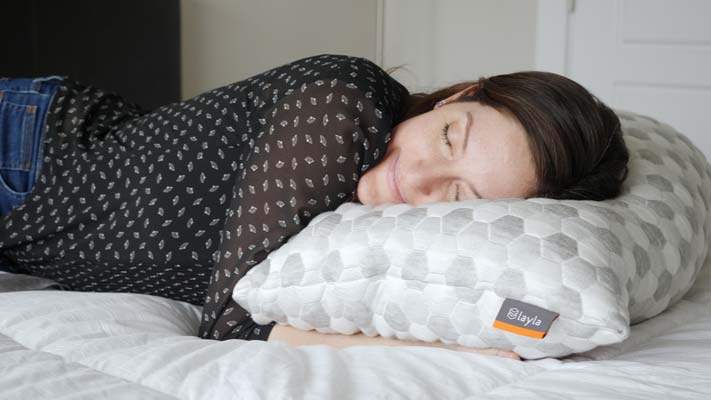 The Layla pillow has about 70 percent memory foam pieces and 30 percent Kapok fibers (according to the manufacturer's tag), which means it definitely feels more like a memory foam pillow over a Kapok-fiber pillow. At the same time, it stays lightweight and is not as "chunky" as it could be.
The biggest update to this pillow is the addition of a zipper that allows the sleeper to adjust how much filling is in the pillow. Yes, this makes a mess and individuals will want to do it in an open area or a well-ventilated area since the Kapok fibers have a dusty component, but it does mean sleepers have more control over how tall and firm the pillow is.
When the pillow is completely filled and expanded, it has a decent amount of firmness and loft, making it probably the best fit for side sleepers or those with larger body types. I needed to take at least a few quart-sized Ziploc bags of stuffing out to get it comfortable on my back and would need to take probably half the filling out (at least) to be comfortable on my stomach.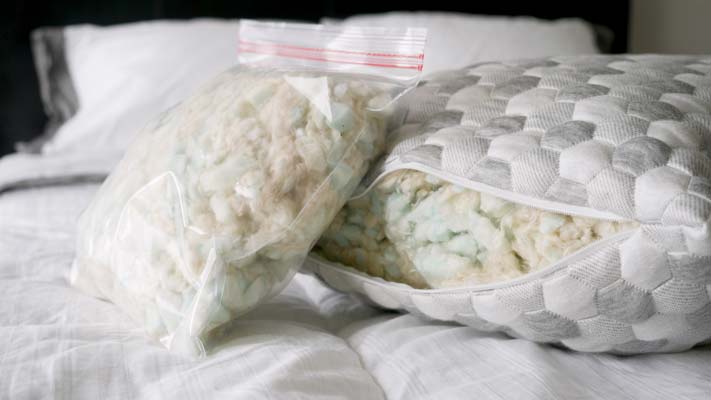 I do want to note that after a few days of sleeping on the pillow, a small indentation will stay where the foam and fibers have been pressed down. The pillow may need to be thrown in the dryer on a low tumble dry to get it back to its original loft and support.
The pillow's cover is a very soft knit with an aesthetically pleasing design featuring heather grey hexagons. It also matches the updated Layla mattress cover.
The cover has copper fibers woven into it – this is similar to the copper-infused mattresses (or maybe other pillows) that promise to help draw heat and provide coolness to a bed as well as improve hygiene. These are some of the functions of the copper in this pillow, according to Layla.
A representative from the company told me that people can put a pillowcase over the pillow and still receive the benefits of the copper. In fact, they recommend a pillowcase.
Sleepers can remove all the filling and machine wash and dry the pillow cover. It will be hard to remove all of the Kapok fiber since it tends to stick to the fabric. The best bet will probably be to spot-clean the pillow and try to keep it as clean as possible.
Layla Pillow Deals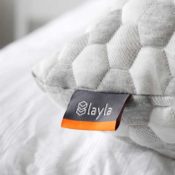 The Layla Pillow has been recently updated and now features a zipper on the side that lets you access the Kapok fiber and shredded memory foam mixed filling. It still has the same soft knit cover that includes copper-infused yarn and a pattern that matches the mattress cover. 
Marten's Take
Marten is one of our staff writers. He has a different body type than me; he's 6'7″ and weighs around 230 lb. Here's what he thought of the Layla pillow:
As a larger person, I had a slightly different experience with the Layla pillow. As Katie said, the new Layla pillow is adjustable. People can take out or add more fill to create that perfect height for them. I was able to find the right amount of fill to fit me when I was on my back and side.
On my back, my head sunk in just the right amount. When I was on my side, the pillow did not smother my face. If I wanted to use the pillow for stomach sleeping, I would need to take out a good amount of fill.
In terms of feel, the pillow is responsive with a bit of that slow, memory foam feel as well. There is also a decent amount of loft. In the end, I really enjoyed my experience on the Layla pillow.
Overall
In general, my experience with the Layla pillow was positive. The interesting mix of foam pieces and Kapok fibers is supportive and can be manipulated slightly to meet most needs. Now that the pillow is adjustable, it technically will work for any type of sleeper, but stomach sleepers will need to take a decent amount of filling out to be comfortable (in my opinion!).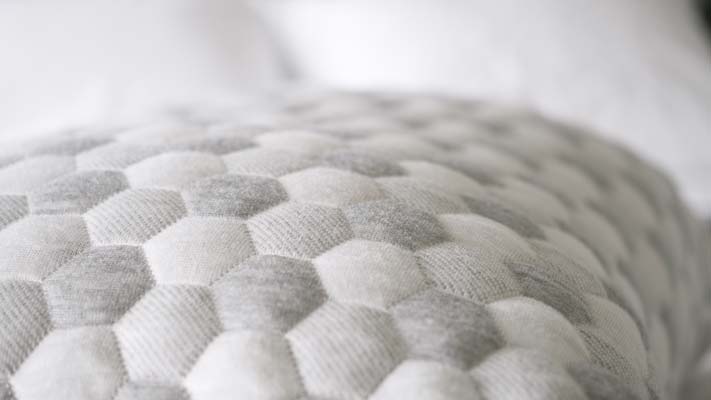 The cover is super soft and comfortable. The addition of the copper fibers is very interesting, and while I can't prove that the anti-bacterial properties work, it stayed very breathable for me and I think it gives this pillow an edge over other shredded memory foam-type pillows.
Thepillow is on the pricier side at $99 and $119 at full price (depending on size). However, the 120-night trial takes away most of the risk if customers decide it's not right for them.
The following two tabs change content below.
Katie Golde
Katie manages the day to day operations of the Mattress Clarity news site and reviews sleep products in addition to writing and editing sleep news.She hails from Austin, where she lives with her growing family. She is a Certified Sleep Science Coach and has a master's degree in Journalism from Northwestern University and has a background in health and science content. Her work can be found in print and online publications like Discover Magazine, USA Today and The Huffington Post.
Latest posts by Katie Golde (see all)