Eli & Elm's signature pillow features a soft-knit, removable cover and an adjustable filling that is a combination of two types of memory foam plus polyester fibers. With the support of two different kinds of foam and the softness of a down-like fiber, what's not to like, right?
Watch our in-depth video Eli & Elm Pillow review and keep scrolling to see who we think will love it (and who might not).
Editor's Note: The Eli & Elm Memory Foam Pillow is no longer available. For a good alternative, take a look at our best memory foam pillows.
Key Features
Sizes available:

Standard: 20" x 26"
Queen: 20" x 30"
King: 20" x 36"

The cover is made from a blend of cotton, nylon, and polyester
The pillow's adjustable nature allows sleepers to access the filling through a zipper
The pillow's adjustable fill is a combination of polyurethane foam, gel memory foam, and fiberfill
The cover is moisture-wicking and antimicrobial
Hypoallergenic
Care: Cover can be machine washed on cool with low heat (do not wash filling)
45-day return policy
Made in the USA
RELATED: Best Pillows 2023 – Our Top 10 Favorites!
Who Makes It?
The pillow is made by bedding brand Eli & Elm – the company currently makes several types of cotton and bamboo sheets, two different pillows, and a variety of mattress protectors and duvet covers.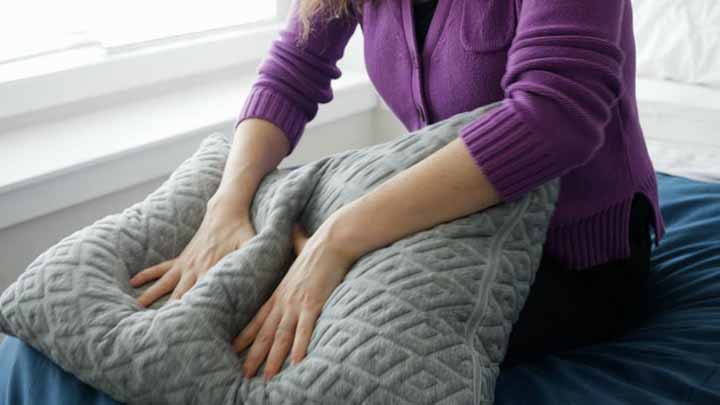 Eli & Elm also make an organic cotton pillow designed exclusively for side sleepers; check out our review of the side sleeper pillow if interested.
Pillow Construction
The Eli & Elm pillow is a traditional shape that should work with most pillowcases and all three sizes are 20″ wide. The outer cover is a charcoal grey knit made up of cotton, nylon, and polyester with a little bit of texture.
Sleepers can remove the cover of the pillow and care for the cover separately by following the care instructions. There is a lining with a zipper that allows individuals to access the filling, which is a mix of two different types of foam (polyurethane foam pieces and blue gel memory foam pieces) as well as fiberfill (or polyester fibers that give a down alternative feel).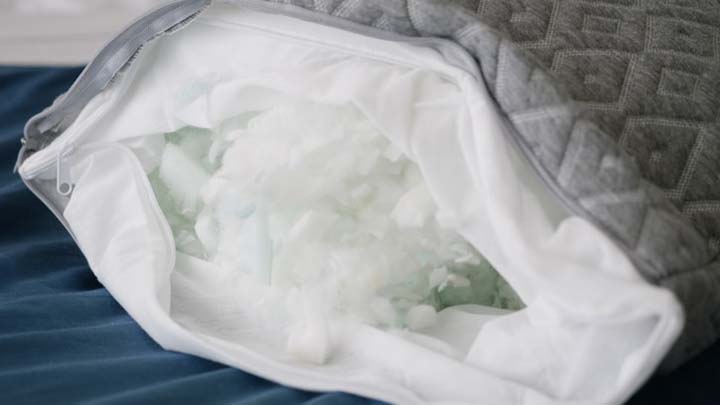 Pros
Adjustable nature makes it suitable for nearly all sleeping positions
Easy to remove cover and machine wash/dry
Aesthetically pleasing knit design on the cover
Foam pieces provide support while fiberfill adds down-like feel
Budget-friendly (all sizes are under $50)
Cons
The filling can become messy when adding/removing
Larger sleepers or those with broad shoulders who sleep on their side may not have enough loft or firmness
The pillow does not come overstuffed, so there's not a ton of fill to work with
My Experience
Eli & Elm's original pillow is a foam- and fiber-filled pillow that generates support from the mix of memory foam and gel memory foam pieces, breathability from the airflow promoted between the foam pieces, and from the added smoothness of the polyester fiberfill.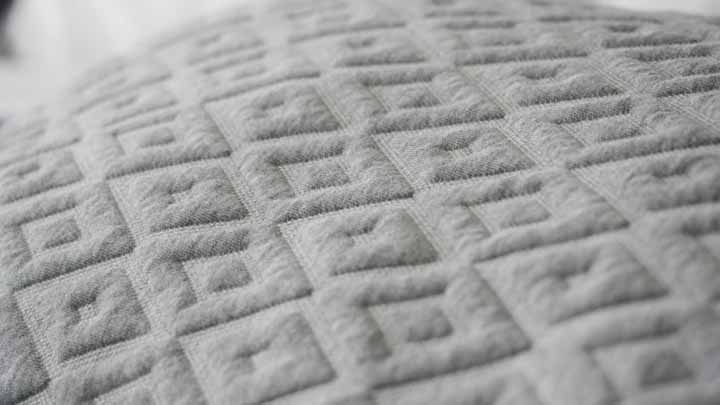 The outer cover is an appealing and modern-looking in a dark charcoal grey, it has a soft-knit feel. Sleepers can remove the cover and easily wash and dry it – see tag for care instructions.
The pillow is adjustable, meaning sleepers can access the filling to add/remove as much as is desired. There is a pillow lining and another zipper that lets one access the mix of foam and fibers but be careful when pulling chunks out because it could get messy. We recommend having a big plastic bag handy in case the sleeper wants to add more filling to the pillow later on.
The pillow isn't super firm or exceptionally tall, but the foam gives it enough support to work well for the average-sized side and back sleeper (in our opinion, at least!). Stomach sleepers may want to consider removing more of the filling so there is no strain to the head and neck.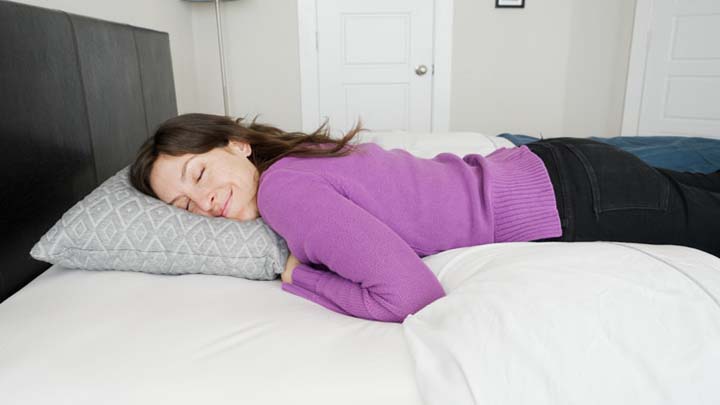 We'll share Marten's take on the pillow next, but we do think that broader shouldered individuals who sleep on their sides may feel like the pillow is not full or firm enough for them. Larger back sleepers may like it, however!
Katie personally reviewed and tested this pillow and one of her favorite things about it is how affordable it is. It comes in three sizes, and all are under $50 at full price. It's hard to find a quality, shredded foam and fiber combination pillow — let alone an adjustable one — at that price point!
Marten's Take
As a heavy person, Marten had a slightly different experience on the Eli & Elm pillow. While lying on his back, the pillow is a great match. Even though he has a larger body type, he reported feeling the right amount of support when he slept on his back; his head sank in just the right amount, and he didn't feel any back strain.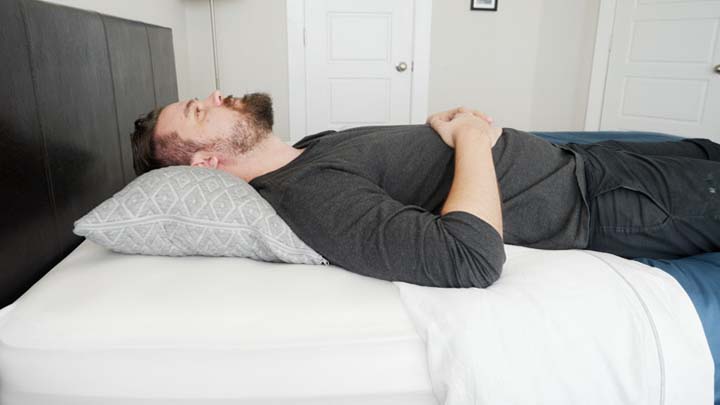 When Marten moved to his side to sleep. he said he felt somewhat smothered by the pillow. The Eli & Elm pillow was not giving him the proper support when side sleeping, even with all the fill inside.
After taking out some of the pillow filling he did feel comfortable while sleeping on my stomach.
Overall Marten was a fan of the pillow's feel and its mix of fluffy fiberfill and responsive shredded foam. It has a nice, soft feel, but it is also easy to move around.
FAQs
Here's where we'll answer the most commonly asked questions about the Eli & Elm Premium Shredded Foam Pillow.
Does the Eli & Elm foam pillow sleep hot?
No, the pillow does not sleep hot. This has to do with both the breathability of the shredded foam pieces that promote airflow from within and the knit blend cover. Neither Katie or Marten reported any issues with hot sleeping and this pillow.
How do I wash the Eli & Elm shredded foam pillow?
The pillow features a liner separate from the cover, which allows sleepers to remove the cover and machine wash and dry separately, following the care instruction on the pillow's tag. The cover can be machine washed on cool with low heat (do not wash filling).
What is the return policy on the Eli & Elm shredded foam pillow?
Eli & Elm says they accept returns and exchanges on their products within 45 days of purchase. Please be aware that the brand says the buyer is responsible for return shipping costs for returns and exchanges.
Is the Eli & Elm shredded foam pillow good for side sleepers?
Katie and Marten both agree that this Eli & Elm pillow is better suited for back sleepers - those with both average and heavier body types - over side sleepers. Don't fret because Eli & Elm makes an excellent organic cotton pillow designed especially for side sleepers with a unique curved design.
Overall
I think Eli & Elm's pillow could be a great option for those looking for a pillow that is a mix of supportive foam pieces and smoothing fibers and if the individual is on a budget.
The pillow is designed well for an average-sized person who sleeps on their side or back. Stomach sleepers will need to remove some of the filling. Larger individuals who sleep on their backs may enjoy the pillow, but it may not be firm enough for larger side sleepers who tend to need the most firmness and loft.