If you're a fan of that cushy, slow-moving feel, you may fall in love with the GhostPillow. This soft and luxurious product creates tons of pressure relief, but unlike many memory foam pillows, it doesn't trap heat.
Does it all sound too good to be true? Check out our GhostPillow review below and see for yourself! This could end up becoming the pillow of your dreams.
GhostPillow Memory Foam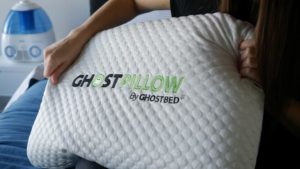 The GhostPillow Memory Foam offers a variety of cooling features, starting with its aerated gel memory foam core with a layer of Phase Change Material. It also has a Ghost Ice Fabric cover that is cool to the touch.
Mattress Clarity Score
4.70 / 5
Read Full Review
GhostPillow Review: An Overview
In addition to their supportive foam mattresses, GhostBed sells sheets, adjustable bases, and pillows. If you love fluffy and malleable pillows, the GhostPillow Faux Down will hit all of the right notes. Looking for something customizable? In that case, check out the GhostPillow Shredded.
But if you really want to relax into your pillow at night, the GhostPillow Memory Foam is the one for you. Even though it boasts some impressive features, it may not work for every sleeper. Here's a quick overview of its pros and cons.
Who Might Like the GhostPillow
Back sleepers
Hot sleepers
Fans of slow-moving memory foam pillows
Who Might Not Like the GhostPillow
Side sleepers
People who don't want to wait for their pillow to off-gas and expand
Those who are on a budget
GhostPillow Video Review
For an up-close view of the GhostPillow, check out our video review below.
GhostPillow Firmness and Feel
Not sure whether this pillow is right for you? To help you find out, we'll go over its firmness and feel.
How Firm Is the GhostPillow?
The GhostPillow feels medium firm, which makes it a great choice for most back sleepers. Though it does create a bit of support, this pillow compresses easily. Because of this, lightweight and heavier people will have different experiences with it.
Sleeping on the GhostPillow
When shopping for a new pillow, it's especially important to make sure you maintain a neutral alignment. Wondering what this means? If you're side sleeping, you'll want your ears to align with your shoulders. When resting on your back and stomach, you'll want to make sure your chin lines up with your sternum.
Overall, the GhostPillow works well for back and stomach sleepers. Larger side sleepers might not get the necessary support, but some lightweight people may reach neutral alignment in this sleeping position.
What Does the GhostPillow Feel Like?
Because the core consists of classic memory foam, this pillow feels especially slow-moving. When you press into the pillowcase, you'll notice it takes a long time for the pillow to snap back into place. You'll feel your head sink into the material quite a bit, and this may not work for every sleeping position.
Average Weight Sleepers – 130 lbs – 230lbs
If you're a back sleeper that weighs between 130 and 230lbs, you should feel super comfortable on the GhostPillow. When your head hits the pillow, it will sink deeply into the foam. Soft material will surround your shoulders and ears in this sleeping position.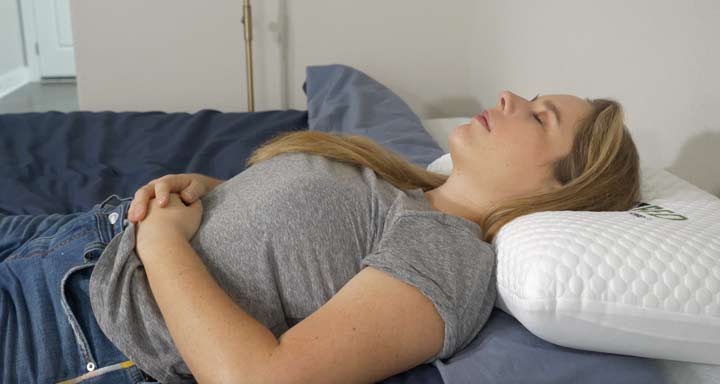 If you're a side sleeper who weigh closer to 230lbs, you may not get the necessary support from the GhostPillow. Because your head will sink deeper into the pillow, this could cause your neck to crane out of neutral alignment. Lighter side sleepers may find this pillow is a good match.
Stomach sleepers, in general, should sleep on a pillow that is almost completely flat. Even though the GhostPillow compresses significantly with pressure, it still may not get flat enough for most average-weight stomach sleepers. If you fall in this category, we recommend considering the Casper Down pillow instead.
Heavyweight Sleepers – Over 230lbs
The GhostPillow works exceptionally well for heavier back sleepers. In this sleeping position, people should feel a great balance of comfort and support. Heavier side sleepers, on the other hand, may sink deeply into the memory foam layers. Because of this, it may be difficult to maintain a neutral alignment. If you're a larger side sleeper, look for something with more support such as the Purple pillow.
Heavyweight stomach sleepers should compress the memory foam a great deal, so they should have no issue maintaining a neutral alignment.
Lightweight Sleepers – Under 130lbs
On the GhostPillow, lightweight people should feel quite comfortable while back and side sleeping. Because they won't compress the pillow too much, people in this category should get plenty of support. However, this product won't work well for lightweight stomach sleepers.
GhostPillow Construction
Want to learn more about the GhostPillow's impressive cooling technology? To really understand it, we'll need to look closely at its construction.
Cover
Around the outside, you'll find the Ghost Ice zippered cover. On the front of the cover, GhostBed placed a Cotton Scrim. It feels soft and plush, so you don't even need to place a pillowcase around it.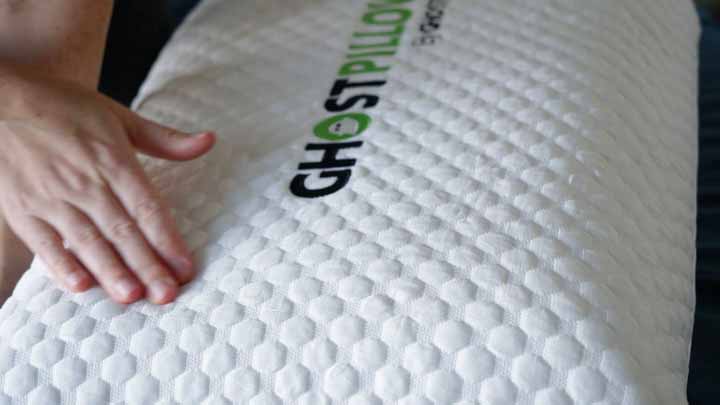 Turn it around, and you'll feel GhostBed's stretchy phase change material. By sensing your body heat, this high-tech fabric helps keep the pillow temperature neutral.
Core
Beneath the cover sits GhostBed's aerated gel memory foam. This material has tiny holes in it, which aids in breathability and airflow. The gel infusion also helps dissipate heat and keep you cool all night long.
Weight
The GhostPillow weighs 2.87lbs.
Height/Loft
The GhostPillow is 5.5" tall, but it will compress quite a bit when you apply pressure.
GhostPillow Size Options and Price
To learn more about size options and pricing, take a look at our chart below.
| | | | |
| --- | --- | --- | --- |
| Size | Dimensions | Weight | Price |
| Standard Size | 23.62″ x 15.75″ x 5.5″ | 2.87lbs | $85 |
GhostPillow Memory Foam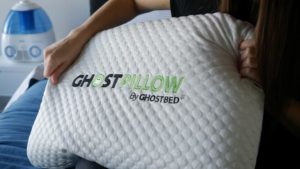 The GhostPillow Memory Foam offers a variety of cooling features, starting with its aerated gel memory foam core with a layer of Phase Change Material. It also has a Ghost Ice Fabric cover that is cool to the touch.
Mattress Clarity Score
4.70 / 5
Read Full Review
Need to refresh your bed, too? Check out our GhostBed mattress review.
GhostPillow Performance
It's also important to thoroughly review a pillow's performance features. Will it trap heat? Does it have a long off-gassing period? Keep reading the performance segment of our GhostPillow review to find out!
Sleeping Hot or Cold
Even though it's made out of memory foam, the GhostPillow shouldn't trap heat. On the outside, you'll find cooling phase change material. To make things even more breathable, the memory foam core is infused with gel and ventilated for airflow. If you tend to sleep hot at night, this pillow is a great choice.
Off-Gassing
Like their mattresses, this pillow requires 48 hours to off-gas. You'll notice a slight chemical smell when you first take it out of the box. For the best results, place the pillow in a well ventilated room and let it air out for two days.
Care Instructions
The outer cover is completely machine washable, but you don't want to get the memory foam core excessively wet. If you happen to get the core dirty, spot clean it with a slightly damp cloth.
Allergies
Because it's made with CertiPur-US certified memory foam, the GhostPillow is hypoallergenic and dust mite-resistant. You won't need to worry about this product sparking any allergic reactions.
Company Policies
Think this is the right pillow for you? Before adding it to your shopping cart, make sure to examine GhostBed's company policies.
Warranty Info
The pillow is backed by a 5-year warranty.
Sleep Trial
GhostBed offers a 101-night sleep trial.
Return Policy
If you're unhappy with your pillow during the initial sleep trial period, you can easily return it. GhostBed prides themselves in their free shipping and hassle-free returns.
Common GhostPillow Complaints
Most Amazon customers loved the pillow's slow-moving feel and body contouring, but many people complained about its off-gassing period. When it first arrives, this pillow does have a strong chemical smell. Before sleeping on it, we recommend placing the pillow in a well-ventilated area for several days.
GhostPillow Review: How Does It Compare to Other Pillows?
With so many different pillows on the market, it's always wise to check out several options before making your final purchase. If you want to learn more about our GhostPillow review in comparison to other products, read on!
GhostPillow Memory Foam vs. GhostPillow Shredded
At first glance, these two pillows seem extremely similar. They both have Ghost Ice fabric in the cover, and they're both fantastic cooling pillows. However, these two models vary significantly when it comes to feel.
Instead of a thick piece of memory foam, the GhostPillow Shredded is filled with tiny pieces of visco, microfiber, and memory foam. This makes the pillow feel more malleable than the all-foam option, and it's customizable! If the pillow feels too lofty, you can easily unzip the cover and remove the filling. Because of this, we think the GhostPillow shredded works better for combination sleepers.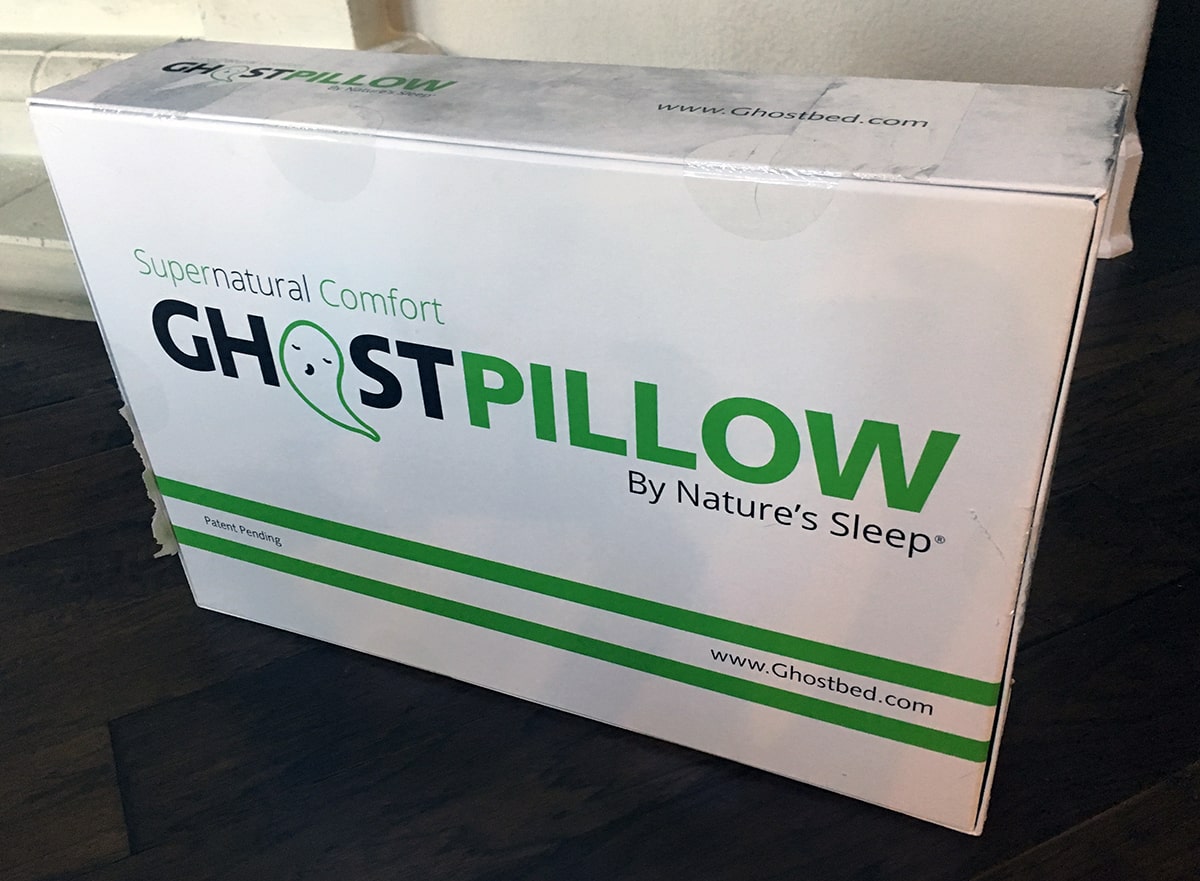 The GhostPillow memory foam has a classic slow-moving feel. It isn't customizable, but it works well for back sleepers.
When it comes to price, the two pillows cost exactly the same. The Shredded foam pillow is only available in a two-pack, however.
Who Should Get The GhostPillow Memory Foam
Back sleepers
Fans of a slow-moving memory foam feel
Who Should Get The GhostPillow Shredded
People who want to customize their pillow's loft
People who prefer a pillow that feels more malleable
Purple Harmony vs. GhostPillow
Because the Purple Harmony features a thin layer of the company's proprietary gel grid, it feels unlike any other pillow on the market. The moisture-wicking cover feels soft and stretchy, and the hex grid creates both comfort and support. The core, made out of ventilated Talalay latex, feels naturally breathable and responsive.
The Purple Harmony pillow works well for many different body types because it comes in three loft sizes. Thanks to its versatile nature, it's great for combination sleepers as well.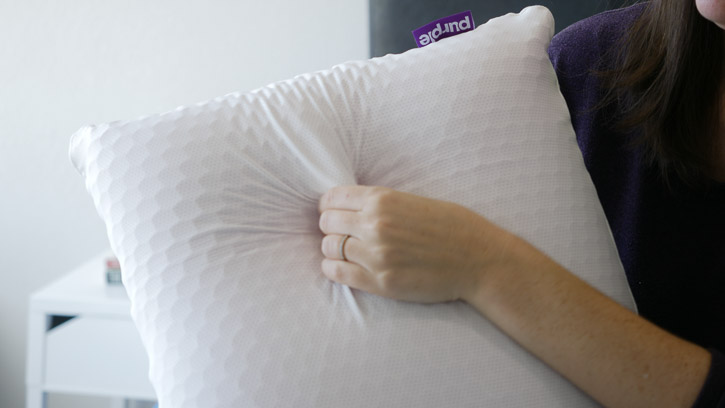 The GhostPillow isn't as responsive as the Purple Harmony, so it's a better pick for people who love a traditional memory foam feel. The GhostPillow compresses under pressure, so it's better suited for back sleepers. The GhostPillow also boasts impressive cooling technology, so it shouldn't trap heat at night.
The Purple Harmony costs significantly more than the GhostPillow, so it's not the best choice for people on a budget. However, the Purple pillow should last a long time, so we think it's a good investment.
Who Should Get The GhostPillow
Fans of a traditional memory foam pillow
People who want to save money
Back sleepers
Who Should Get The Purple Harmony
Those who want a pillow made with Purple's gel grid
Combination sleepers
Those who want an especially long-lasting pillow
Read our full Purple Harmony pillow review.
Our GhostPillow Review Ratings
Check out the final tallies below!
FAQs
If you still have questions about the GhostPillow, take a look below.
Are GhostBed pillows good?
Our answer - yes! Of course, they won't work for every type of sleeper. If you rest on your back or stomach and love a slow-moving memory foam pillow, this product is top-notch. The GhostPillow by Nature's Sleep may not be supportive enough for side sleepers.
What is the best pillow for neck pain?
If you suffer from neck pain, you'll need a pillow that can help you maintain a neutral spinal alignment. This greatly differs depending on your body type and sleep position. If you're an average-weight back sleeper, the GhostPillow could help alleviate neck pain. If you're a larger side sleeper, we recommend the original Purple pillow.
What size is the GhostPillow?
The GhostPillow's dimensions are 23.62" x 15.75" x 5.51."
Does a cooling pillow exist?
Absolutely! The GhostPillow Memory foam performs well when it comes to temperature regulation. It has cooling gel infused into the foam, which helps pull heat away from the body. The pillow cover features phase change material, which adapts to your body temperature and helps you stay cool. All in all, it's a fantastic choice for hot sleepers.
Elisa Regulski
Elisa is the Editor of Mattress Clarity, where she analyzes sleep products and appears in review videos. A certified sleep science coach, Elisa's sleep tips have appeared in Readers Digest, Homes and Gardens, and 21 Oak. She earned a M.A in Mass Communication from Texas State University and a B.F.A in acting from Oklahoma City University.