Just when I think I've seen – and reviewed – every type of pillow imaginable, Casper debuts its "pillow in a pillow" design. The outer pillow is designed to be soft and breathable, and the inner pillow is firmer and more supportive.
I found the entire thing perfectly comfortable and breathable but of course, there are always things to consider. To discover what they may be, watch my in-depth video review or read on for my full written review.
Key Features
Two sizes: Standard and King
The Standard pillow is 18" x 26" with a 2" gusset
The King Size is 18" x 34" with a 2" gusset
Inner and Outer Cover Fabric: 100 percent Supima Cotton, percale weave
Outer Filling: Polyester fibers
Inner Filling: Nearly one billion coated fibers
Care: Separate inner and outer pillows and machine wash and dry (more details below)
Price: $55 Standard, $65 King
Who Makes It?
The pillow is a product from Casper, a pioneer in the mattress and bedding world that was one of the first brands to start selling memory foam mattresses direct to customers online.
Casper now offers other bedding products in addition to pillows, including sheets, multiple mattresses, and a duvet. Check out our review of the original Casper mattress to learn more.
Pros
Soft and breathable fabric
Can machine wash and dry the entire pillow
Unique fiber filling that doesn't lump or clump
Designed to work with all sleep positions
Cons
Cannot adjust filling
May need consistent fluffing to avoid falling flat
Filling may not be as firm or dense as desired by some
Pillow Construction
Imagine taking a firm pillow and wrapping it around a soft duvet cover. This is one way to describe the Casper pillow's construction. I've broken down the parts to highlight them individually.
Covers: The fabric of the inner and outer pillow is made with 100 percent Supima cotton. This is the same cotton used in their sheets as well.
The cotton has a percale weave, which makes it breathable and is designed to give a crisp feeling overall.
RELATED: Best Pillow For Side Sleepers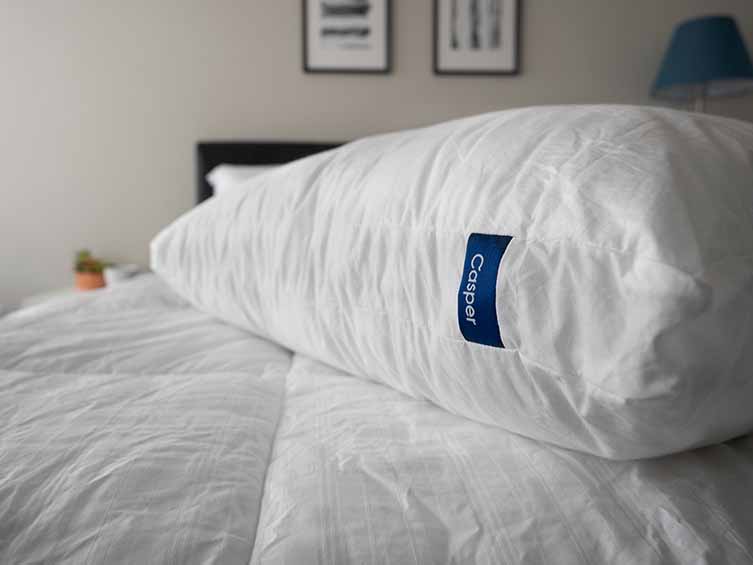 Inner Pillow: The inner core of Casper's pillow is filled with low-friction, silky fibers designed with contouring and responsive support in mind. Per the company, this is supposed to give the pillow an "adaptive, liquid-like feel that responds to your movements through the night."
The fibers are blown into the pillow, and Casper says this will prevent them from clumping so the pillow can easily be brought back to its original loft with a quick fluff.
Outer Pillow: The outer layer is filled with the same fibers as the Inner Pillow core. This is designed to give protection to the inner layer and provided added cushion, according to Casper.
Gusset: A gusset is an extra piece of material that helps expand or give structure to a pillow, according to Casper. This gives their pillow a side panel in addition to a top and bottom. Casper added a 2" gusset to give the filling more space to move around and to provide neck support and better spine alignment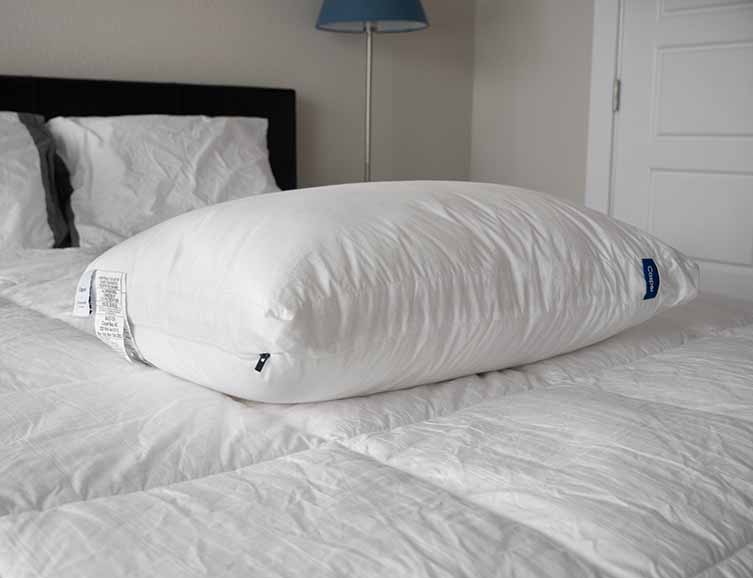 Care
One of the best features of the Casper pillow is that customers can wash the entire thing. Here's how Casper recommends caring for the pillow:
Step 1: Unzip the outer pillow and remove the inner pillow.
Step 2: Zip the outer pillow back up.
Step 3: Place both the inner and outer pillow in the washing machine.
Step 4: Wash with warm water and a mild detergent on the gentle cycle. Run the rinse cycle twice. Tumble dry low with dryer balls (or clean tennis balls).
I had a good experience washing and drying the pillow. It's easy to get the outer cover on and off. When I pulled the inner pillow out of the dryer, I was expecting the filling to feel heavy and lumpy. But it stayed really well distributed and didn't feel bulky at all.
My Experience
I received two standard pillows in nice packaging that resembles how Casper packages all their sleep products. It came with a card with information and two pillows wrapped in an individual plastic casing.
The first thing I did was wash and dry the pillows. The instructions indicate to separate the outer pillow from the inner pillow. Do this by unzipping three of the outer pillow's four sides and removing the smaller and firmer inner pillow.
I put everything in the washer on a cool and gentle cycle. When I went to move the pillows to the dryer, I noticed the filling wasn't clumpy or overly heavy.
I highly recommend following Casper's instructions by adding tennis balls or dryer balls to a low tumble dry setting. I think this helps the filling stay distributed throughout the pillow during the drying process.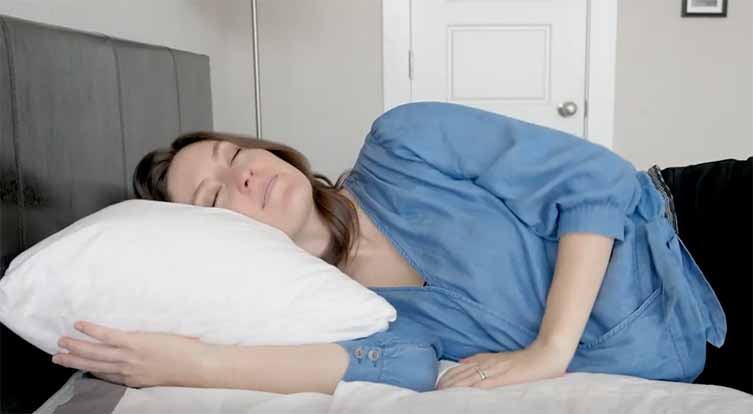 The pillows came out with a crisp and clean feeling thanks to the percale weave in the cotton outer fabric. This matches the feeling of Casper's sheets.
I am often a side sleeper and found that in this position both the outer and inner pillows were comfortable in terms of feel and firmness. To me, it felt middle-of-the-road in terms of firmness level when it's fresh out of the dryer.
Sleepers will not sink into the pillow initially because the filling in the outer layer is minimal compared to the density of the inner pillow. (It has sort of a down-duvet-type feel).
Casper says it makes its pillow for any sleep position. I sleep primarily on my side and on my back, and I can say the pillow was comfortable in both of those positions for the first night.
During the second night of sleep, I woke up with a feeling that the pillow had gotten a little flat. I tried to fluff it up by hand but didn't have much success. Ideally, re-fluff it in the dryer on a regular basis.
I received two pillows and gave the second to my husband, who is a stomach sleeper. He shared a similar experience.
This sentiment was echoed by other customers as well. Casper also recommends fluffing the pillow daily. In order for me to enjoy sleeping on it every night, I think I'd have to follow their recommendation.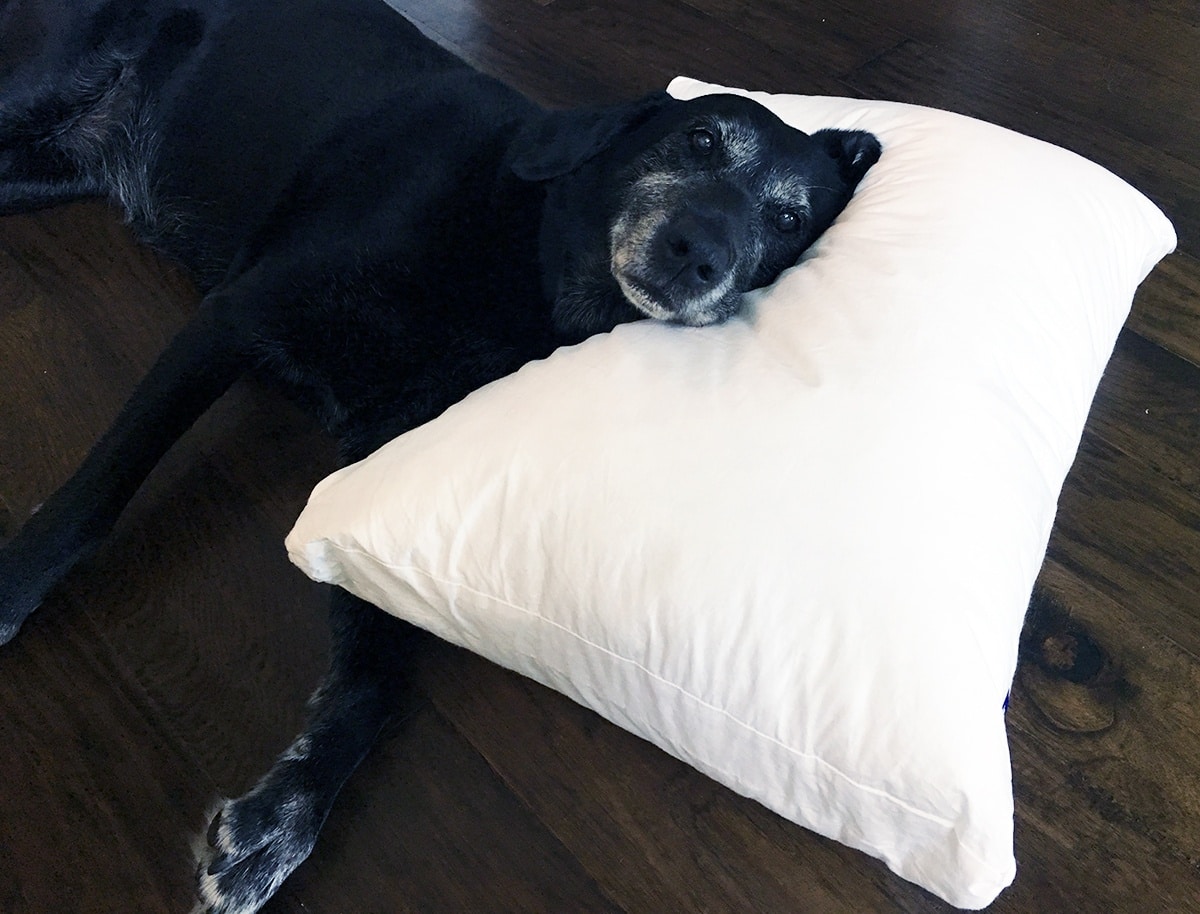 Overall
I think Casper's pillow is creative and provided a very comfortable night's sleep. It may take consistent fluffing to ensure it's able to sustain that comfort each night.
I think this pillow could be a good fit for people who enjoy the feeling of crisp cotton sheets like to sink into their pillows a little bit, and don't need a lot of support or firmness.
Standard pillows will cost around $55 for a set, which is a pretty good price for what the customer get. Casper offers a 100-night trial and free returns, so if it ends up not being a great fit, returns are an option.
The following two tabs change content below.
Katie Golde
Katie manages the day to day operations of the Mattress Clarity news site and reviews sleep products in addition to writing and editing sleep news.She hails from Austin, where she lives with her growing family. She is a Certified Sleep Science Coach and has a master's degree in Journalism from Northwestern University and has a background in health and science content. Her work can be found in print and online publications like Discover Magazine, USA Today and The Huffington Post.
Latest posts by Katie Golde (see all)