Just when we think we've seen – and reviewed – every type of pillow imaginable, Casper debuts its "pillow in a pillow" design in its Original Casper Pillow. The outer pillow is designed to be soft and breathable, and the inner pillow is firmer and more supportive – an innovative concept that has undoubtedly boost it to fame as Casper's most popular pillow. Our Casper Pillow review will cover the literal ins and outs of the pillow and who is going to want to bring it home today.
Casper Pillow Deals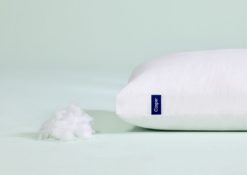 The brand's most popular offers a "pillow-in-a-pillow" design that with a crisp cotton cover and down alternative feel.
Casper Pillow Overview
The heart of Casper's signature pillow is actually a smaller, firmer "baby" pillow that is nested inside an outer pillow, which also acts as the pillow's cover. Both inner and outer pillow covers and fillings remain the same materials, just their support levels (firmness) and size differ.
The Casper Pillow cover resembles that of a nice crisp hotel sheet – the premium high-quality Supima cotton with a percale weave is not only smooth and lightweight but it's also breathable and easy to clean. Meanwhile, the inner-fill is polyester microfiber fill – also known as a down alternative – but this is manufactured in a way that avoids clumping as much as possible.
With a more supportive core enveloped by soft fluffy down-like material, the Casper Pillow won't bottom out but stays plush and fluffy, especially compared to foam pillow options. It comes in two sizes: Standard ($65) and King ($85) and a 100-night risk-free trial offer.
Who Might Like the Casper Pillow
Hot sleepers
Those who like a more traditional down or down alternative pillow feel
Combination sleepers and those who like to make adjustments when needed
Who Might Not Like the Casper Pillow
Those who want the extra pressure relief and contouring support of memory foam of latex foam
Heavier back and side sleepers
Those who want a pillow with zero consistent maintenance
RELATED: Best Mattresses 2020 – Top Brands Reviewed
Casper Pillow Video Review
We can share all the details on Casper's Original Pillow, by why not show it off in a video as well? Check out the in-depth video review to see the pillow in action.
Casper Pillow Firmness & Feel
The firmness and overall feel of the Casper Pillow really set it apart from other down alternative options. Let's break down each component and how it feels to actually rest one's head on this popular pillow.
How Firm is the Casper Pillow?
The Casper Pillow is not overly firm – we'd put it closer to a 4 or 5 out of 10 on a firmness scale. This has to do with the fill; polyester microfibers can trap some air to help plump up the pillow but with consistent use, they will flatten out and the pillow will lose some support and loft. This is why sleepers may want to toss it in the dryer for a quick fluff daily if not weekly.
Sleeping On the Casper Pillow (Sleeping Positions)
Sleepers will not slowly sink their heads into this pillow the way they would a memory foam, but they will instantly fill the crisp cotton fabric cover and the down-like softness of the microfiber filling in the outer pillow.
Casper says it makes its pillow for any sleep position and we'd have to agree with them. Katie, who personally reviewed the pillow herself, sleeps primarily on her side and on my back. Based on her experience, the pillow was genuinely comfortable in both of those positions for the first night.
During the second night of sleep, she reported waking up with a feeling that the pillow had gotten a little flat. She tried to fluff it up by hand but didn't have much success. Casper also recommends fluffing the pillow daily and in order for her to enjoy sleeping on it every night, she thinks she'd have to follow the brand's recommendation.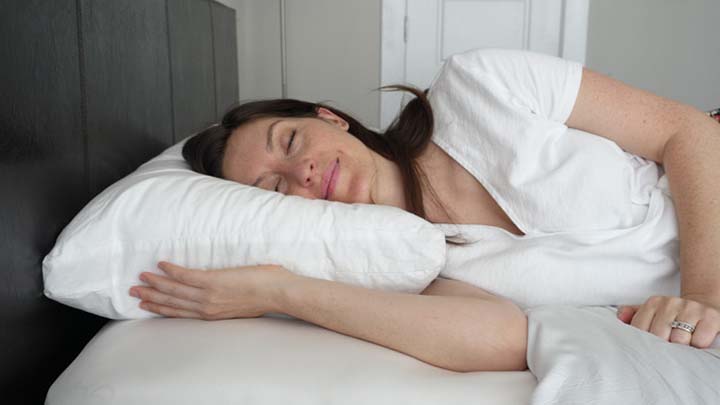 What Does the Casper Pillow Feel Like?
This pillow feels very similar to a down or down alternative pillow but with a noticeably more supportive core. One can't easily push his or her hand all the way into the pillow until it reaches the bottom.
Because of the way the pillow is designed, each of the down alternative fiber clusters is hand-blown into the cover, according to Casper. The brand says that this helps keep the pillow from clumping easily and allows it to bounce back quickly once it's been fluffed in the dryer.
Average Weight Sleepers – 130lbs – 230lbs
Katie is 5′ 7″ and about average body weight and found that this pillow was ideal for her on her side when it was fully fluffed and worked well on her back. Over time, she could feel the microfibers compress and it became flat with continued use. The pillow still worked for her back but no longer gave her the support she needed for side sleeping.
Stomach sleepers can use just the firmer inner pillow and find that to be enough support; it's even worth trying just the outer pillow as well to see what's the best fit.
Heavyweight Sleepers – Over 230lbs
We asked Marten to spend some time with this pillow as well. Marten is a work colleague who is 6′ 7″ and over 230lbs; he said that when he was lying on his back he could feel his head sink through the pillow and nearly hit the mattress. There was just not enough support for his heavier head and shoulders.
When he moved to his side he felt he was missing the support he needed and could feel the sides of the pillows rise up and envelope his face in an uncomfortable way. This pillow absolutely has a downy feel to it and he personally prefers something with enhanced support, like foam.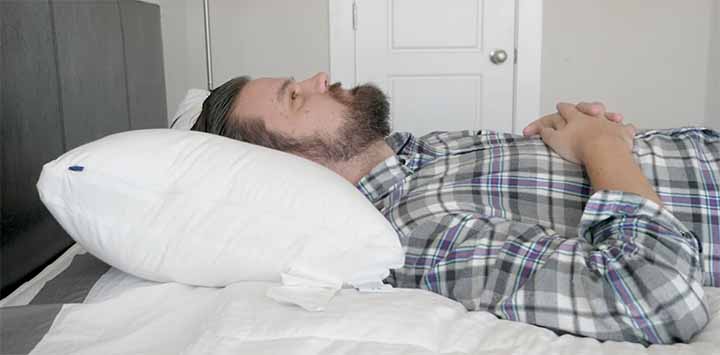 Overall, heavier back and side sleepers may find the pillow to be too soft but those who primarily sleep on their stomachs will find it the most enjoyable.
Lightweight Sleepers – Under 130lbs
More petite sleepers may find the Casper Pillow to be too much loft and support when it's at its fullest (straight out of the dryer). When it's slightly less full, it should work for back sleepers and some side sleepers. Stomach sleepers will still want to remove the inner pillow from the outer pillow and use one or the other.
Casper Pillow Construction
Imagine taking a firm pillow and wrapping it around a soft duvet cover. This is one way to describe the Casper pillow's construction. We've broken down the parts to highlight them individually.
| | |
| --- | --- |
| Dimensions | Standard: 18″ x 26″ with a 2″ gusset; King: 18″ x 34″ with 2″ gusset |
| Cover Material | 100% Supima cotton in a percale weave |
| Core | Coated polyester microfibers |
| Loft/Height | 2″ gusset; slightly more height when fully fluffed |
Dimensions
Casper's Original Pillow comes in two different size options: Standard and King. Please keep in mind that these are the dimensions of the pillow with both the inner and outer cover in place – the inner pillow will be slightly smaller.
Standard
18″ x 26″ with a 2″ gusset
King
18″ x 34″ with 2″ gusset
Cover Material
The cover of both the inner and outer pillows is 100% Supima cotton in a percale weave. Supima cotton is known for being a long-staple fiber, very lightweight and – perhaps best of all – durable. The percale weave is essential to getting that "new hotel sheet" feel; this crisp more structured feel makes the pillow feel so nice and clean, and the white color doesn't hurt.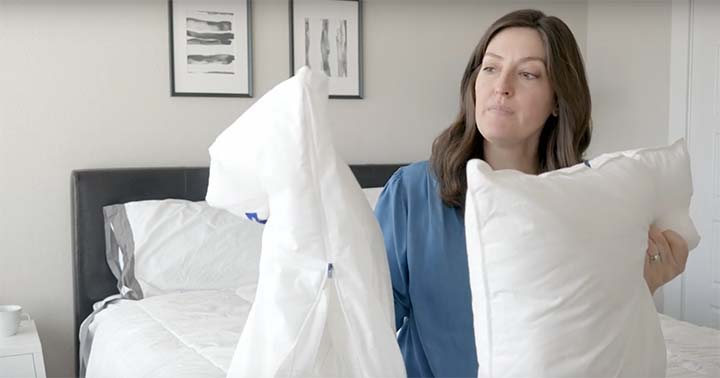 Core
The inner core of Casper's pillow is filled with low-friction, silky fibers designed with contouring and responsive support in mind. Per the company, this is supposed to give the pillow an "adaptive, liquid-like feel that responds to your movements through the night."
The fibers are blown into the pillow, and Casper says this will prevent them from clumping so the pillow can easily be brought back to its original loft with a quick fluff.
Loft/Height
Gusset: A gusset is an extra piece of material that helps expand or give structure to a pillow, according to Casper. This gives their pillow a side panel in addition to a top and bottom. Casper added a 2" gusset to give the filling more space to move around and to provide neck support and better spine alignment
Casper Pillow Size Options, Price & Care
Casper's pillow comes in two different sizes, both priced at under $100. This pillow is also extremely easy to clean – follow the company's care instructions and the pillow should last as long as the warranty, if not longer.
Size Options, Pricing & Trial Periods
The Casper Pillow comes in two sizes: Standard and King; at full price the Standard is $65 and the King size is $85 although the pillows will occasionally find themselves on sale. All pillows come with a 100-night trial period, one year warranty and free standard shipping, a well.
| | | |
| --- | --- | --- |
| Size Options | Pricing | Trial Periods |
| Standard | $65 | 100-night trial |
| King | $85 | 100-night trial |
Care Instructions
One of the best features of the Casper pillow is that customers can wash the entire thing. Here's how Casper recommends caring for the pillow:
Step 1: Unzip the outer pillow and remove the inner pillow.
Step 2: Zip the outer pillow back up.
Step 3: Place both the inner and outer pillow in the washing machine.
Step 4: Wash with warm water and a mild detergent on the gentle cycle. Run the rinse cycle twice. Tumble dry low with dryer balls (or clean tennis balls).
During Katie's review and pillow testing, she had a good experience washing and drying the pillow. It's easy to get the outer cover on and off. When she pulled the inner pillow out of the dryer, she was expecting the filling to feel heavy and lumpy. But instead, she said that it stayed really well distributed and didn't feel bulky at all.
We would recommend throwing the pillow in the dryer with tennis balls every few days to keep the pillow lofted and supported – especially those who side sleep and need the additional height.
Casper Pillow Performance
There's a reason this is Casper's most popular pillow; it's breathable, durable and adjustable which makes it ideal for combination sleepers or those who are still figuring out what they need to sleep comfortably.
Sleeping Hot or Cold
The Casper Original Pillow absolutely sleeps cool; its construction is designed to promote airflow and breathability. Cotton with a percale weave, like the kind found on the covers of both the inner and outer pillows, is lightweight known for allowing air to flow between the threads. The polyester microfiber core also allows for air to flow in and around the pillow in a way that solid foam pillows just can't.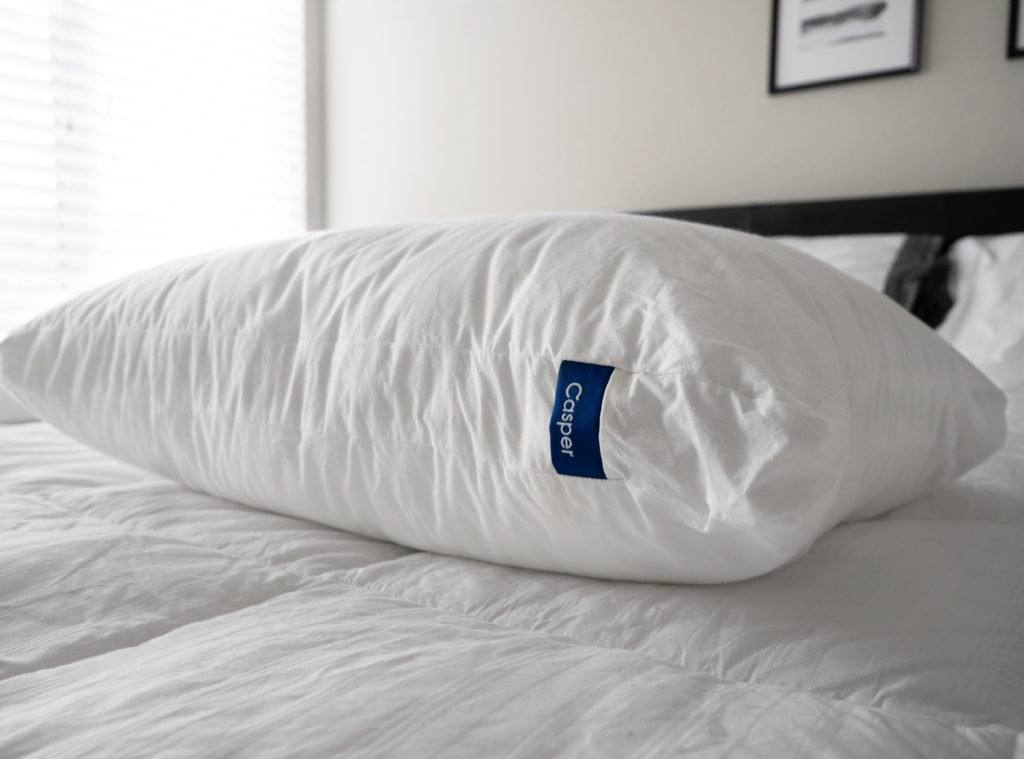 Responsiveness
The pillow is fairly responsive when it comes straight out of the dryer after being fluffed. Sleepers can push their hands down on the pillow and feel it rise back up. That being said, after about a week or so of consistent use enough air will be removed from between the microfiber filling. As a result, the pillow will no longer respond the way it did initially and it will lose its loft and some of its fluffy nature overall.
Durability
The construction of this pillow translates directly to its durability. Cotton is an incredibly durable fabric and polyester microfibers, while synthetic, are also built to last. The pillow comes with a 1- year warranty; at the one year mark, we'd encourage anyone to make sure their pillow is still working for them as sleep habits change and environmental factors play a role in a pillow's performance. When it comes to this specific pillow, if it's been taken care of properly it should last longer than a year with ease.
Off-Gassing
There is no off-gassing with this pillow. We would recommend letting it air out and breathe when it arrives in its packaging, but there is no "new mattress" or "new pillow" smell here. Individuals are more likely to find notable off-gassing in pillows made with foams
Additional Features
The Casper Original Pillow can technically be called "adjustable" because people have the choice of using the outer pillow, the inner pillow or both to stay comfortable. More often then not, when a pillow is deemed adjustable the customer can usually access the filling itself to add or remove what's needed. There is no way to reach in and access the polyester microfibers on this pillow so it's more of a limited customization.
How Does the Casper Pillow Compare to Other Pillows?
Let's take a look at how the Original Casper Pillow stacks up among its counterparts within the Casper brand as well as other popular pillows on the market today.
Casper Original vs. Down vs. Foam Pillows
Casper currently offers three different pillows that are each suited for different types of sleepers.
The Original – the signature pillow is made with a crisp 100% Supima cotton cover and a unique "pillow-in a pillow" design that offers a smaller more supportive pillow inside a softer outer pillow. The filling is polyester coated microfibers that are more supportive in the inner pillow.
Down –This cover is 100% cotton as well but the core is down and feathers arranged in a 5-chamber design, where the ratio of feathers to down changes in each chamber.
Foam – The newest pillow available, this is a three-layer ventilated solid foam pillow with plusher outer foam layers and a supportive core. The cover is a smooth polyester and spandex knit.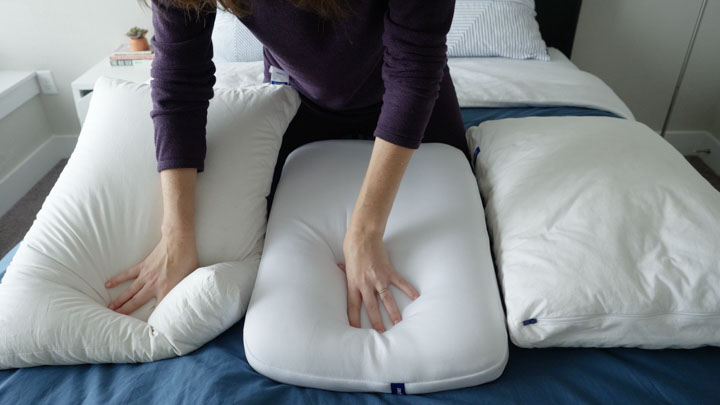 All three pillows share a common design element that is essentially a softer outer layer or layers and firmer cores for support. If we had to guess, we'd say this is Casper's way of ensuring that no pillow, no matter what the filling, goes flat.
In terms of the best sleeping position for each When it comes to sleeping positions, stomach sleepers are best off with the pillow-in-a-pillow design of the Original and back and side sleepers will like the Down or the Foam. Larger side sleepers will definitely want to look at the Foam option.
Casper Vs. Purple Pillow
The signature pillows from Casper and Purple are about as different as the brand's mattress offerings.
The design of each pillow is different as well as significant. Casper's pillow is centered around its "pillow-in-a-pillow" design, which means that sleepers can remove the other pillow and use each separately if desired. Purple's pillow offers a single rectangular block of their Hyper-elastic Polymer "Smart Comfort Grid" material, with no adjustable options.
The cover of the Casper pillow is 100% Supima cotton and Purple Pillow is their Hyperstretch Mesh, made up of 88% Polyester, 3% Nylon, and 9% Spandex Mesh. This translates to a more crisp traditional sheet-like feel for the Casper pillow and something closer to a knit performance fabric for the Purple.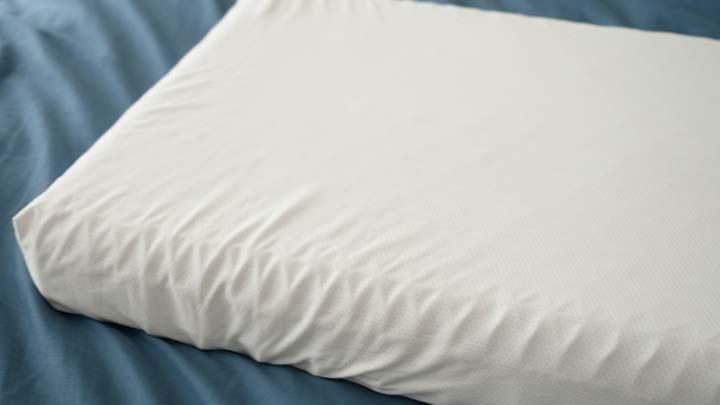 The core of each pillow really determines their overall feel and support level. Casper's pillow is coated fibers, giving the pillow a down alternative and "fluffy" feel. Meanwhile, Purple has its unique Smart Comfort Grid made with their Hyper-elastic Gel Polymer.
Casper's pillow comes in Standard and King sizes and Purple is currently only available in Standard size. In terms of pricing, the Casper Pillow is $65 for a Standard and $85 for a King and the Purple Pillow is $99 for a Standard.
When it comes to one's primary sleep position – the position a person wakes up in most often – here's what we'd suggest for each pillow:
Casper: Casper's pillow-in-a-pillow design gives it a level of customization and personalization and allows it to essentially work for all sleep positions.
Purple: The structure and support of the Purple Pillow – and its 3″ height profile – make this option a better fit for back and stomach sleepers over most side sleepers. Petite individuals may enjoy it when side sleeping, however!
Check out the in-depth comparison for the Casper vs. Purple Pillow
When it comes to similarities, both have covers that can be removed and cleaned separately from the core; purchasing either comes with a 100-night sleep trial. Casper and Purple also each sell three awesome pillows in addition to their mattresses and other sleep accessories.
Purple's Pillows
Purple Signature Pillow
Purple Plush
Purple Harmony
Casper's Pillows
Original Casper Pillow
Casper Down
Casper Foam
Casper vs. Coop Home Goods Original Pillow
Casper's signature pillow and the Original pillow from Coop Home Goods are two immensely popular pillows but both vary greatly in their details and who they're going to be a good fit for.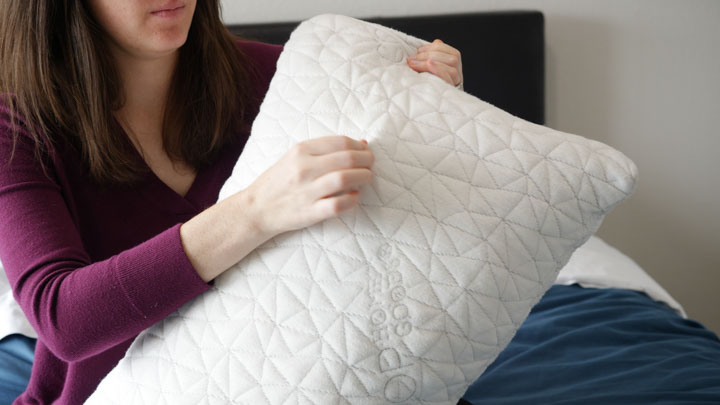 As we know, Casper's pillow cover is a 100% long-staple Supima cotton with a percale weave while Coop Home Goods Original pillow features a more modern mix of polyester and viscose derived from bamboo. This gives the pillow a super soft feel with a little bit of texture thanks to a geometric design on the cover.
Casper's inner pillow and outer pillow are both filled with polyester microfibers that give them that classic down-alternative feel but without any lumps and clubs. Meanwhile, Coop Home Goods' pillow features large chunks of memory foam inside. This promotes breathability but it's also highly focused on support.
Unlike Casper's pillow, the Coop Home Goods cover can be removed and there's a liner inside with a zipper to provide access to the chunks of foam. This allows sleepers to get an even more customized experience but it's also a little riskier when it comes to making a mess.
In terms of who each pillow is going to be a good fit for, they will both technically work for all sleep positions because of their adjustable features, but the overstuffed nature and supportive foam filling of the Coop Home Goods pillow make it a better match for side, back and heavier sleepers in general. The Casper Pillow will be better suited for back and stomach sleepers and those with a more petite body frame.
When it comes to pricing, the Coop Home Goods Original pillow is slightly more affordable. At full price expect to pay $60 for a Queen and $65 for a King, while Casper is $65 for a Standard and $85 for a King.
Coop Home Goods also makes their Eden pillow and Casper offers down and foam options as well.
Learn more about the Coop Home Goods pillow in our full review.
Casper Pillow FAQs
There are few commonly asked questions about the Casper Pillow that I wanted to be sure were addressed. Check out the questions and my answers below.
Is the Casper Pillow worth it?
The Original Casper Pillow may be "worth it" for some individuals if they love the feel of fluffy down or down alternative but want something that's a little more customizable and that is easy to care for. The pillow will need to be fluffed in the dryer occasionally to keep its loft and support but otherwise, it's pretty easy and comfortable!
How do you care for a Casper pillow?
Cleaning the Casper pillow is easy:
Step 1: Unzip the outer pillow and remove the inner pillow.
Step 2: Zip the outer pillow back up.
Step 3: Place both in the washing machine.
Step 4: Wash with cool water and a mild detergent on the gentle cycle. Run the rinse cycle twice. Tumble dry low with dryer balls (or clean tennis balls).
Which Casper Pillow is the best?
Casper currently offers three different pillows:
Casper Original Pillow
Down Pillow
Foam Pillow
Here are the primary sleep positions I'd recommend for each pillow.
Casper Original: All sleep types, combination sleepers and especially stomach sleepers
Down: Back and side sleepers
Foam: Primarily side sleepers and some back sleepers
How long does the Casper Pillow last?
There is a 1-year warranty on the Original Pillow but the customer service representative Katie chatted with said that, realistically, people can expect the Original Casper Pillow and the Down Pillow to last closer to 6 years and the Foam Pillow to last closer to 3 or 4 years.
Casper Pillow Deals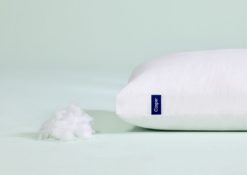 The brand's most popular offers a "pillow-in-a-pillow" design that with a crisp cotton cover and down alternative feel.
Company Info
Casper is known as one of the pioneers in the mattress and bedding world and was one of the first brands to start selling memory foam mattresses direct to customers online. Since the company's launch, they've expanded their product line greatly and now sell three different pillows, multiple sheet sets, several mattresses, and even a duvet and a pet bed.
Casper's sleep products are available online at Casper's website or on Amazon but can also be found in Target stores or brick and mortar Casper stores.
Katie Golde
Katie manages the day to day operations of the Mattress Clarity news site and reviews sleep products in addition to writing and editing sleep news. She hails from Austin, where she lives with her growing family. She is a Certified Sleep Science Coach and has a master's degree in Journalism from Northwestern University and has a background in health and science content. Her work can be found in print and online publications like Discover Magazine, USA Today and The Huffington Post.