Research already suggests that short naps may help improve memory, boost mood, and increase alertness. And a 2007 review suggested that naps might even reduce the risk of heart disease. Now, a new study suggests a possible explanation for naps' heart-healthy benefits: People who enjoy a midday nap may experience a drop in blood pressure.
"[It] seems that blood pressure decreases not only during [the] night, but also during the midday sleep," study co-author Manolis Kallistratos, MD, a cardiologist at the Asklepieion General Hospital in Voula, Greece, told Mattress Clarity via email.
While more research is needed, the study suggests that daytime napping might help lower blood pressure as effectively as other lifestyle changes (such as limiting salt or alcohol intake) or even low-dose antihypertensive medication. This is the first study of its kind to evaluate midday sleep's impact on blood pressure in participants who already had reasonably controlled blood pressure levels.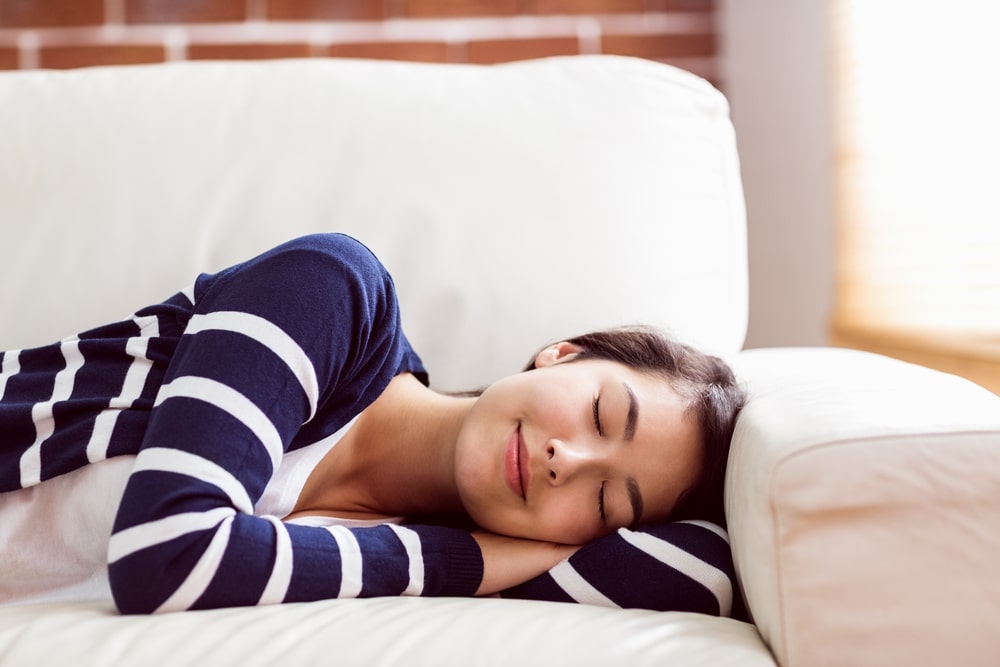 wavebreakmedia/Shutterstock
The Effects Of Napping On Blood Pressure
The observational study, which will be presented at the American College of Cardiology's 68th Annual Scientific Session and was published in Journal of the American College of Cardiology, examined the effect of midday sleep on blood pressure (bp) levels among 212 participants.
"All patients underwent an echocardiographic assessment, laboratory exams, 24 hours [of] ambulatory bp measurement, as well as pulse wave velocity and central bp measurement," Kallistratos said. Participants were also asked to provide information about their lifestyle habits (such as physical activity levels and alcohol consumption).
After adjusting for factors that have been shown to affect blood pressure (such as age and medications), the researchers found that a daytime nap was associated with an average 5.3 mm HG drop in blood pressure compared to participants who did not nap. The higher the participants' starting blood pressure, the more significant the drop. Kallistratos told us that smokers and participants with diabetes or other cardiovascular risk factors experienced drops in blood pressure just as positive as their counterparts with fewer risk factors.
To put that in perspective, limiting salt or alcohol intake typically results in a blood pressure drop of 3 to 5 mm HG, while low-dose antihypertensive medication may drop blood pressure by an average of between 5 and 7 mm HG.
Anywhere close to a 5 mm HG drop in blood pressure is significant, the study authors reported, because even a 2 mm HG drop can reduce the risk of cardiovascular issues (such as heart attacks) by up to 10%.
RELATED: Too Little And Too Much Sleep Could Affect Heart Health
Why might midday napping lower blood pressure? "Practically the same mechanisms that decrease bp during [the] night occur also during midday," Kallistratos says, pointing specifically to a decrease in sympathetic nervous system activity. That system is typically responsible for the release of adrenaline and the body's "fight or flight" response. When its activity is decreased, a person's body is less likely to experience arousal.
In spite of the potential benefits of napping, Kallistratos cautions against sleeping the day away in pursuit of better heart health. "The duration of the midday sleep must not be extreme," he says. "Forty-five to 60 minutes are more than enough. We don't want our patients to be lazy, since decreased physical activity is associated with worse metabolic profile and prognosis."
While more research is needed, it's possible that short daytime napping might provide one management tool for nearly half of American adults who currently have high blood pressure.
[Editor's Note: The content provided on this site is for general informational purposes only. Any information provided is not a substitute for professional medical advice. We encourage individuals to consult with the appropriate health expert if they have concerns.]
Featured image: aijiro/Shutterstock
The following two tabs change content below.
Laura Newcomer
Laura Newcomer is the Editorial Controller at Mattress Clarity, where she occasionally writes sleep news. She's worked as a professional writer and editor for over a decade and has been published in or on outlets such as TIME, Washington Post, Inc., Entrepreneur, Huffington Post, Women's Health, and many more. Her primary areas of interest include sleep, fitness, nutrition, eco-friendly living, education, and all things wellness.
Latest posts by Laura Newcomer (see all)