When it comes to luxury linens, Frette joins an elite few at the top of the list. The Italian linen brand has been around since 1860 and is known for its high-end bedding. The Doppio Ajour cotton Sateen sheet set is straight out of their Classic Collection and features their handsome double-open hemstitch on the top sheet, pillowcases, and pillow shams.
What else is there to know about these silky sheets before handing over the credit card? Read on for my full review.
Key Features
The sheets come in Twin, Queen, King, and California King. (I reviewed the King.)

King dimensions

Top sheet: 106" x 126"
Bottom fitted sheet: 79" x 80", depth is 18"
Two King shams: 20" x 40"

They're made in Italy.
Multiple colors are available. (Mine are Cliff Grey.)
The sheets are machine washable and air-dry only. Ironing is recommended.
They're 100 percent cotton Sateen — a soft, light, and lustrous fabric with a silky smooth feel, luminous sheen, and inviting touch. Frette Sateen has a thread count of 300 to 500.
The price is $1,275. (This price includes one fitted bottom sheet, one top sheet, and two pillow shams.)
Who Makes It?
Frette 1860 is a luxury linen and home furnishings company that has been around since, well, 1860. Frette's bed linens can be found in some of the world's most prestigious hotels and (according to the company) in the most "discerning private homes, yachts and aircraft."
Frette's Doppio Ajour is part of the company's Classic Collection of linens. Per Frette, the sheets feature "Frette's signature double open hemstitch, creating an elegantly understated border on soft, smooth and lustrous cotton Sateen."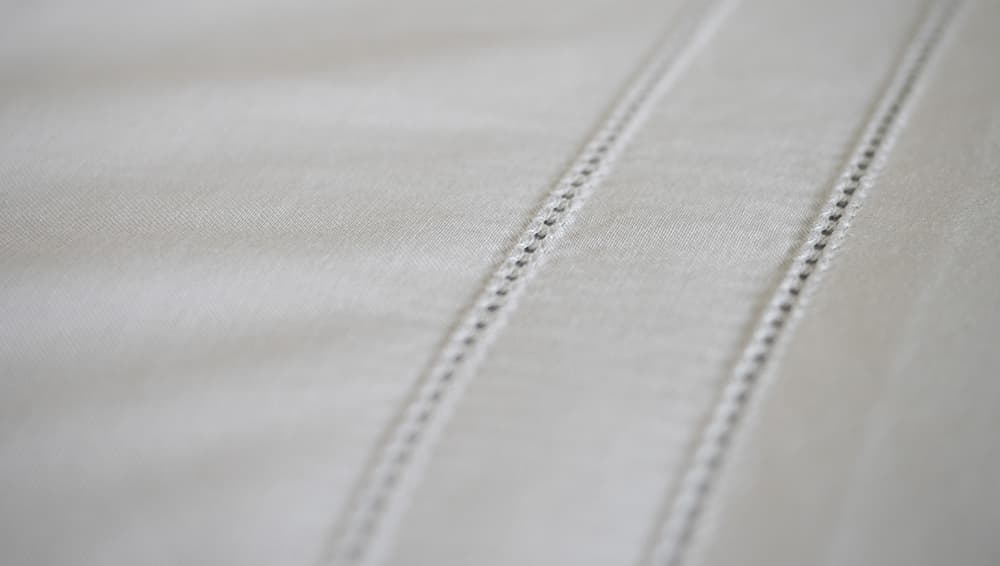 What Is Cotton Sateen?
The Sateen aspect of these sheets is what gives them their silky-smooth feel and appealing sheen.
The phrase "Sateen weave," it refers to two things: First, the way the cotton fibers were treated before they were turned into sheets. And second, the way those fibers are woven together to create the sheets.
In order for sheets to qualify as Sateen, the cotton fibers are soaked in lye and then acid in order to "seal off" the fibers. This makes the fibers smoother, more durable, shinier, and longer-lasting. It also helps the fibers absorb dye effectively.
Once the fibers are treated, they're woven in a satin weave — meaning different types of threads are woven together so they overlap in the same direction. The result is what appears to be a diagonal weave pattern and a drapey and delicate — yet durable — set of sheets. Sateen sheets also tend to have a high thread count. One downside of this weave style is that it may be vulnerable to snags and pulls.
RELATED: Best Sheets of 2022
Care
Sleepers will want to enjoy these sheets for as long as possible, so I recommend that adhering to the care instructions provided on Frette's website and the care tag on the sheets set.
On Frette's website, the care instructions for the Doppio Ajour sheets say they may be machine washed in cold water with mild, liquid, biodegradable detergent and without added bleach or whiteners. Dry on a low setting and remove before completely dry to iron and fold.
The sheets will definitely wrinkle in the dryer; I would recommend observing them closely and removing them before they're completely dry so one can iron them sufficiently.
There is an incredible amount of detailed information about caring for all of the Frette linens and other products on the company's website. I would recommend reading it through, and following their guidelines based on the washing and drying system at one's own house; check out their Care Guide here.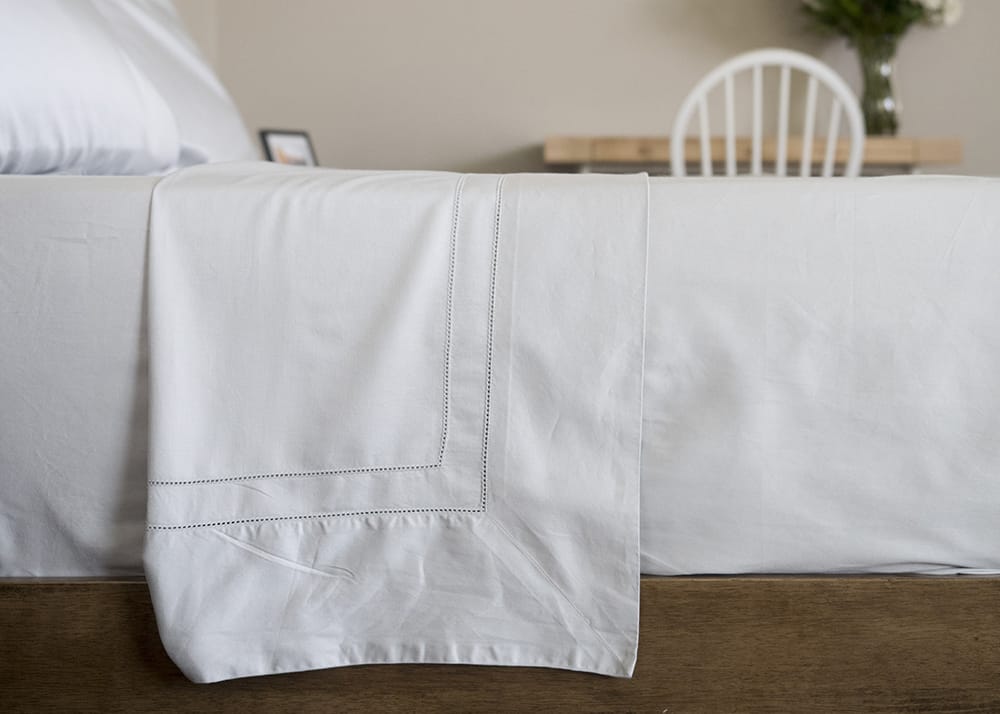 Pros
Extremely high-end and luxurious, silky feel
Sateen sheen gives them a really glamorous and expensive look
Fits mattresses up to 18" deep; the elastic band is snug for a good fit with any size mattress
Comes in a wide variety of gorgeous colors (nine options)
Durable and long-lasting; won't pill or lose softness easily
Cons
Higher maintenance compared to other sheets
Tend to wrinkle easily; ironing is recommended
Expensive
My Experience
These sheets are really nothing short of elegant. They are 100 percent cotton with 300 to 500 thread count and a sateen weave, which gives them a really smooth and silky-soft feel.
I reviewed a King-size set in Cliff Grey, one of eight color options available. The grey has this attractive sheen to it thanks to the Sateen weave. The sheet set comes with a fitted bottom sheet that will work with mattresses up to 18″ thick, a top sheet with the company's signature double open hemstitch embroidery, and two King pillow shams. (Pillowcases appear to come separately.)
I very carefully washed the sheets following the care instructions provided on Frette's site. I used a natural, mild detergent and put them on a low/delicate cycle. To dry, I used the "air-dry only" feature on my dryer, but I think my first choice would be to line-dry if I had the capacity. (King-sized sheets are big!) Just be very careful not to overdry these in a hot heat setting, as it has the potential to damage the fabric.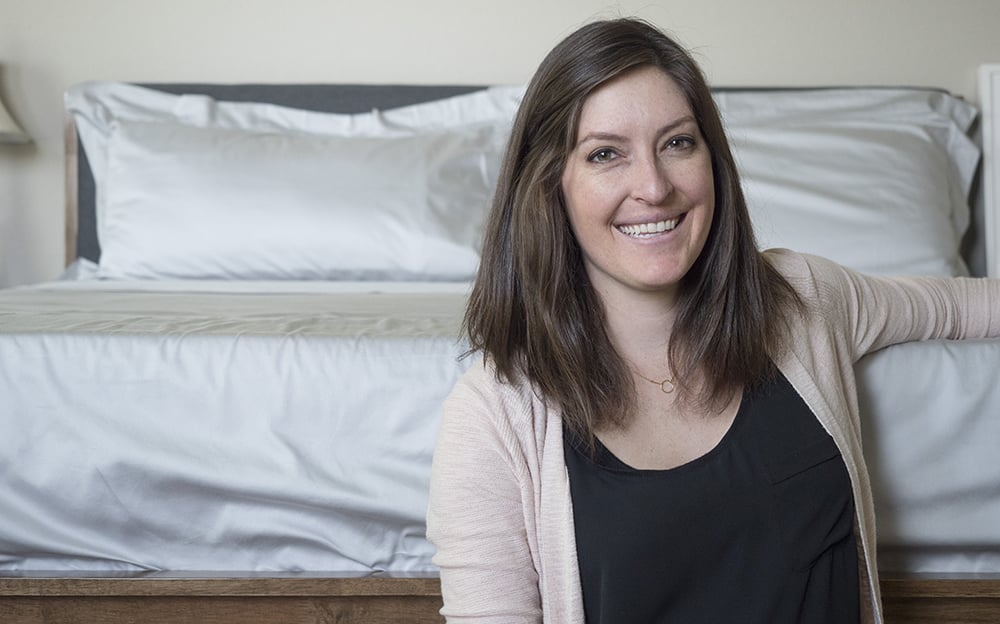 I did pull the sheets out of the dryer when they were slightly damp and ironed them. The wrinkles came out really easily — although it did take me some time to iron the whole King set. I would highly recommend ironing them because the final result with the sateen "glow" is really stunning when the sheets are entirely winkle-free.
There is no doubt these sheets are high-quality and supple — but they're not the "soft" a person may think of when he or she is used to jersey-knit sheets or even bamboo sheets. They have a silky cotton feel that is smooth and more lightweight. The extra-long staple cotton and the finishing process used by Frette make them highly durable and give them a really nice, high-end feel.
I washed the sheets twice during my review and had absolutely no indication of pilling or wear. They remained in fantastic condition the whole review process, plan to encounter a little wrinkling as a person sleeps on them.
I think my favorite aspect of this particular sheet set is the color and the shine of the fabric. Aside from the overall superb feel of the fabric, they just look regal and luxurious. My whole bedroom is elevated with these sheets and I think the double open hemstitch embroidery is classy but also works well with most design aesthetics.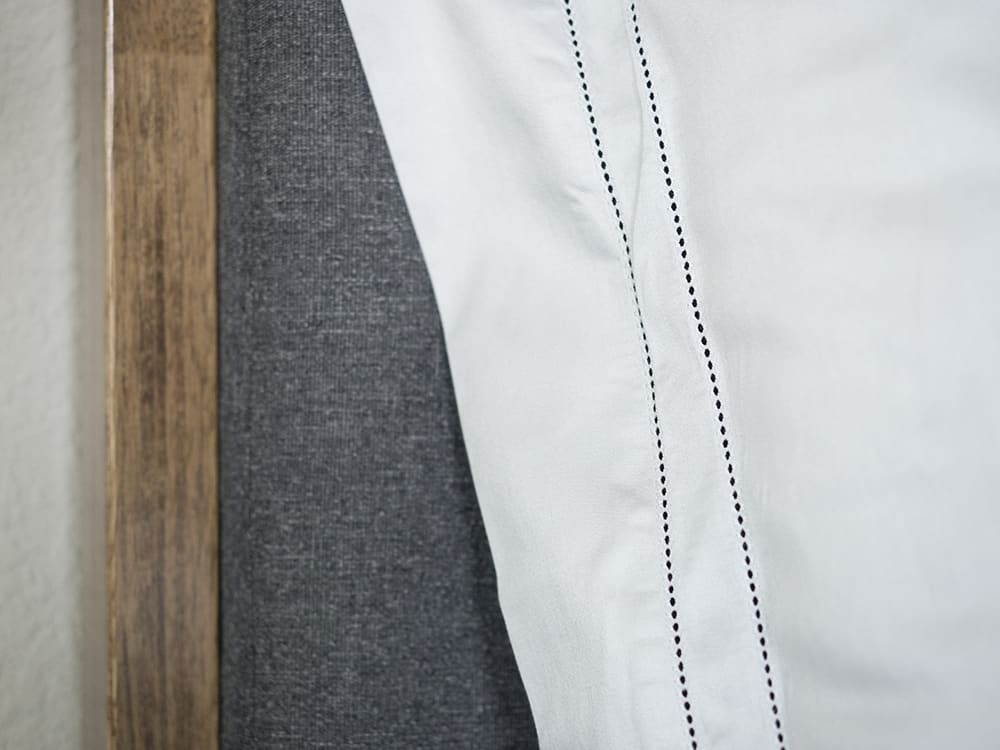 Overall
The Doppio Ajour sheet set (including two pillow shams) will run $1,275 for a King set on Frette's website at full price. They're $1,225 for a Queen set. I will admit these sheets are out of my personal budget, but I thoroughly enjoyed the opportunity to review them and to experience the high-end luxury of Frette's linens, they did not disappoint.
Those with a bigger budget for sheets and a preference for a little sheen or shine in the bedroom should consider the silky and luxurious nature of the Doppio Ajour sheets. Keep in mind that one may need to spend a little extra time caring for them, but with all the different color options and the high-quality fabric, one will surely have these for a long, long time.
Check out our other sheet reviews HERE. 
Katie Golde
Katie manages the day to day operations of the Mattress Clarity news site and reviews sleep products in addition to writing and editing sleep news. She hails from Austin, where she lives with her growing family. She is a Certified Sleep Science Coach and has a master's degree in Journalism from Northwestern University and has a background in health and science content. Her work can be found in print and online publications like Discover Magazine, USA Today and The Huffington Post.