Dr. Loth's SpineAlign Pillow was created to help back and side sleepers find a comfortable – and healthy – way to sleep. Could the contour pillow work for back and side sleepers, as suggested? With a little bit of patience, it just might! Read on for our full review of this thoughtfully designed pillow.
SpineAlign Pillow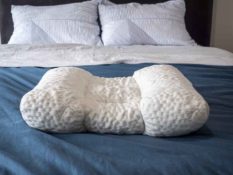 The pillow is customizable to fit an individual's correct posture in both the back and side sleeping positions and was created by a chiropractor, Dr. Jason Loth.
Mattress Clarity Score
4.30 / 5
Read Full Review
SpineAlign Pillow Overview
The SpineAlign Pillow is a contour-shaped pillow with two outer chambers for side sleeping and a middle chamber for back sleeping. The pillow is customizable to fit an individual's correct posture in both the back and side sleeping positions and was created by a chiropractor, Dr. Jason Loth.
The SpineAlign pillow features a soft Tencel blended fabric with strips of mesh built in the sides. The exact breakdown is 37% Lyocell – also called Tencel, 61% Polyester, and 2% Spandex. Meanwhile, the filling is a blend of shredded internal fill (foam and fiber) accessible through zippers on the back. One side of the pillow is meant for taller sleepers, those 5′ 7″ and taller and the other for more petite individuals.
The pillow currently comes in two sizes – a Standard size (fits in a Queen size pillowcase) and a Queen size (roughly 24" x 17" x 6") fits in a King-size pillowcase. In terms of caring for the pillow, it must be spot cleaned only. The pillow comes with a 60-day trial but shoppers are responsible for the cost of shipping any returns.
Who Might Like the SpineAlign Pillow
Side and back sleepers
Those struggling with neck pain
Sleepers who like customization
Who Might Not Like the SpineAlign Pillow
Stomach sleepers
Those looking to spend less than $100 on a pillow
Customers who want to be able to machine wash and dry the pillow
RELATED: Best Pillow for Side Sleepers
SpineAlign Pillow Video Review
We've lined up a detailed look at the SpineAlign pillow and how it actually feels to rest one's head on it – check it out below! Please note that the pillow now comes in two sizes!
SpineAlign Pillow Firmness & Feel
The overall firmness and the feel of the SpineAlign Pillow are unique for two main reasons. First, it's a contour-shape pillow that promotes support around the body's cervical curvature – also known as the back of our necks. Second, its core is a mix of chunks of foam and polyester fiber with the added ability to add/remove pieces of the fill, which means the feel and support can change for each individual.
How Firm is the SpineAlign Pillow?
The SpineAlign pillow is on the firmer side and a lot of that has to do with the contour-shape and intention of the pillow's design. The contour shape needs to be identifiable and, as a result, there is a lot of filing stuffed into each chamber (except the middle which is purposefully designed with no fill), providing that firmer feel. On a scale from 1 to 10 with 10 being the firmest, I would put the firmness at around a 7.5 out of 10 for an average-sized sleeper.
Sleeping on the SpineAlign Pillow (Sleeping Positions)
The SpineAlign Pillow is focused on providing the proper sleep posture for both back and side sleepers. The pillow is as customizable as possible, trying to take into consideration that people have different head and neck sizes and overall body types. There are mesh panels on the side of the pillow and one of them features a SpineAlign logo sewn into the fabric. That side of the pillow is designed for those 5' 7" and taller (but this is not a hard or fast rule).
Regardless of size, side sleepers will want to use the outer chambers to rest their heads – facing away from the pillow for easy breathing and back sleepers will have their heads cradled by the middle chambers, which feature less fill but are designed to promote the neutral neck alignment for that sleep position.
Stomach sleepers will need to look elsewhere for a pillow as nothing about this shape or design will be comfortable to them. In fact, the team at SpineAlign suggests putting a stop to stomach sleeping all together, as its the least healthy sleep position for the body.
What Does the SpineAlign Pillow Feel Like?
The SpineAlign pillow feels highly textured – the Tencel blended fabric on the outside is not smooth (but it is soft) and feels a little bumpy without being uncomfortable. The filling is a mix of foam pieces and polyester fibers, which also creates a slightly lumpy feel as the two materials combine in separate chambers.
The pillow is a contour-shape pillow, which means that it has hills and valleys as opposed to the linear rectangular shape of a traditional pillow. With all of that being said, it's really a terrific shape and overall feel for those dealing with neck pain or who want designated neck support.
Average Weight Sleepers – 130lbs to 230lbs
In order to get all of the benefits of the pillow, sleepers will need to take their time adjusting the fill levels and manipulating it until they can see that their heads and necks are in a neutral alignment. Because of this, we highly recommend watching both of Dr. Loth's videos on his website – he will demonstrate with a model of how your head and neck should look.
Average size side sleepers should sleep on one of the two outer chambers of the pillow. These are raised and fuller, with more support for underneath the neck. To create the right support level for back sleepers, the middle chamber of the pillow is much thinner and it may take some getting used to when moving back and forth between the two positions.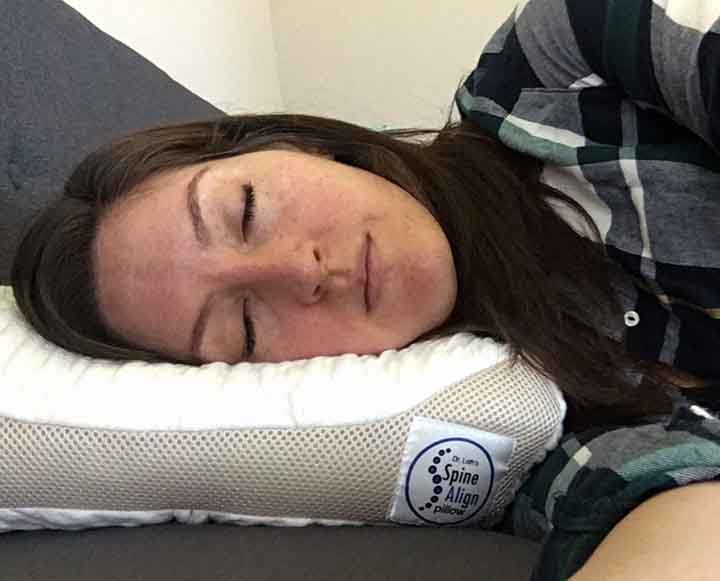 Katie personally reviewed and tested this pillow. She said it took about 2-3 nights with some filling adjustment to finally feel that her head, neck, and spine had acclimated to the pillow. Katie had no issues with strain, tension, or headaches and said the pillow did a good job of supporting her neck properly.
The outer cover is textured and soft thanks to the breathable Tencel fabric – but individuals may want to put a pillow cover over it if the texture bothers them. Average size sleepers who just can't seem to get comfortable with a traditional pillow may want to consider trying out the SpineAlign.
Heavyweight Sleepers – Over 230lbs
Heavier sleepers will naturally place more pressure onto their SpineAlign pillows. Those who are over 5′ 7″ and/or have broader shoulders naturally will want to use the side with the SpineAlign logo, which offers an enhanced curvature that supports the neck more height and support. Aside from that, we think that heavier sleepers will enjoy this pillow in the same ways an average-sized sleeper would. The outer chambers will be ideal for side sleepers and the center chamber should still work well for back sleepers.
Lightweight Sleepers – Under 130lbs
The customizable part of this pillow will truly come in handy for petite sleepers. If either side sleepers or back sleepers feel that their head and/or neck are strained because there is just too much filling – or it's too firm – they can simply unzip the chamber and remove as much as is needed.
Smaller sleepers should plan to use the side of the pillow that does not feature the SpineAlign logo, this side is designed for those 5′ 7″ or taller. More likely than not it will be too lofty and too supportive for a smaller body frame.
SpineAlign Pillow Construction
The SpineAlign pillow comes in two sizes, Standard and Queen, and both cost $149 at full price. While the weight of the pillow is unknown, there are additional details about the pillow that we'll share below.
| | |
| --- | --- |
| Dimensions | Standard: 21″ x 17″ x 6″; Queen 24″ x 17″ x 6″ |
| Weight | N/A |
| Cover Material | Tencel fiber blend; 37% Lyocell, 61% Polyester, and 2% Spandex |
| Core | A proprietary mix of memory foam chunks and polyester fibers |
| Loft/Height | 6″ |
Dimensions
The SpineAlign pillow comes in two sizes, a Standard and a Queen size. They vary only in terms of length. Both are 17″ wide and 6″ tall but the Standard is 21″ long and the Queen is 24″ long. Their labeling is a bit confusing, as the Standard pillow fits most Standard/Queen pillowcases while the Queen pillow will fit a King-size pillowcase.
Cover Material
The cover of this pillow has sort of a bumpy/lumpy but generally soft feel; something akin to a performance fabric. We can attribute this to the Tencel blended fiber, also known as Lyocell. This is a synthetic fiber that is known for being both durable and breathable. The whole knit blend is 37% Lyocell, 61% Polyester, and 2% Spandex.
Core
There is no single core with this pillow, there are several cores broken up into different chambers. Each chamber is filled with a combination of foam pieces and polyester fibers, with the exception of the center chamber in the middle of the pillow – which is done on purpose.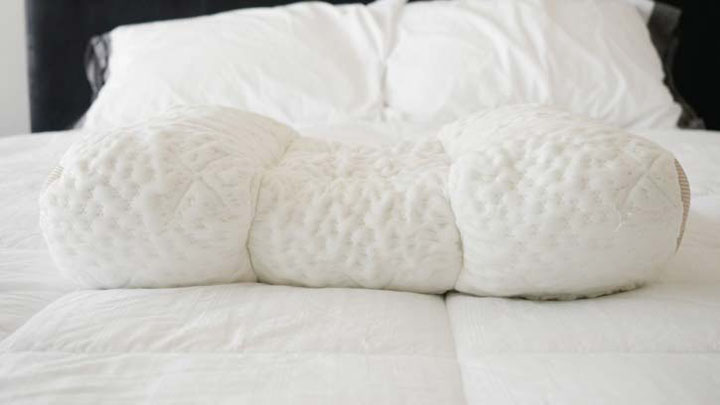 The filling levels in each chamber provide not only sufficient support for the head and neck but the addition of smoothness from the fibers. Another plus of adding fiber to the foam is that removing the filling isn't quite as messy as pure foam chunks, the polyester fibers almost act like a spider web to hold the small pieces together in a single handful.
Loft/Height
At its tallest point, the pillow is 6″ in height in both the Standard and the Queen size. The SpineAlign is a contour pillow, which means it will dip and become lower in the center, where back sleepers will rest. These individuals typically need less height than side sleepers, who will sleep on the outer edges facing outward so there is nothing obstructing their airways.
As we've mentioned, the pillow is adjustable, so both back and side sleepers have the advantage of taking out filling and lowering or adjusting the loft and height of the pillow to meet their specific needs.
SpineAlign Pillow Size Options, Price & Care
Let's dive into the details on the SpineAlign pillow when it comes to sizes, pricing, and of course, how to care for this pillow! These details are all important to consider before making a pillow purchase.
Size Options, Pricing & Trial Period
The SpineAlign comes in two available sizes, both a Standard and a Queen size. The pillows only vary in length by a couple of inches, so it may come at no surprise that they're priced the same and have the same trial period available.
| | | |
| --- | --- | --- |
| Size Options | Pricing | Trial Periods |
| Standard | $149 | 60-night trial |
| Queen | $149 | 60-night trial |
A few things to note about the trial policy – SpineAlign urges customers to give the pillow 30 days before deciding if it's a good fit or not. People can return the pillow after 30 days of using and up to 60 days after delivery. Customers are responsible for the shipping and handling costs, so the returns are not free.
SpineAlign Pillow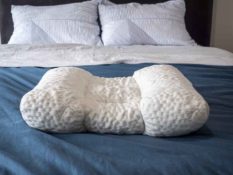 The pillow is customizable to fit an individual's correct posture in both the back and side sleeping positions and was created by a chiropractor, Dr. Jason Loth.
Mattress Clarity Score
4.30 / 5
Read Full Review
Care Instructions
It's always extremely important to follow the care guidelines provided by any pillow maker. This way the sleeper ensures that his or her warranty is in good standing and that the pillow is performing as it was intended to.
Here is what SpineAlign says when asked if its pillow is machine washable and dryer friendly:
The short answer is no. Most pillows that are machine washable and dryable are made with very cheap and uncomfortable materials and we wanted to make sure that we used the finest materials available for the finest pillow available. We recommend that you use a pillowcase to protect your pillow and wash the pillowcase on a regular basis. If you happen to spill something on your pillow, you can spot treat those areas with soap and water.  
SpineAlign Pillow Performance
What's it like to actually rest one's head on the SpineAlign pillow? Will it work for hot sleepers and how long will it last? Keep reading below for all of the details on this pillow's performance.
Sleeping Hot or Cold
The SpineAlign pillow does not sleep excessively hot, but it's not a cooling pillow by any means. The Tencel fiber is synthetic and known for breathability, while the pieces of foam within the core allow for air to flow through in a way that a solid foam pillow would not. With this combination, the pillow does not sleep hot but it doesn't feature any specific cooling features, per se.
Responsiveness
When pressure is applied to this pillow, the foam core will respond and the pillow should regain its shape relatively quickly. Keep in mind that there are polyester fibers intertwined with the foam pieces, so it may not have that classic response feel that typical memory foam pillows would have.
Durability
The materials in this pillow are known for their durability, both with the inclusion of Tencel in the outer cover and the memory foam pieces. The SpineAlign website does not have a set warranty for their pillow (the mattress gets 10 years) but we can assume that the pillow should last for at least one year if kept in good condition.
Off-Gassing
Minimal off-gassing may be noticed upon unpacking the SpineAlign pillow. This is due to the memory foam pieces in the filling, which are inclined to off-gas. For those with sensitive noses, leave the pillow out in a well-ventilated area and let the smell dissipate for about 24 hours.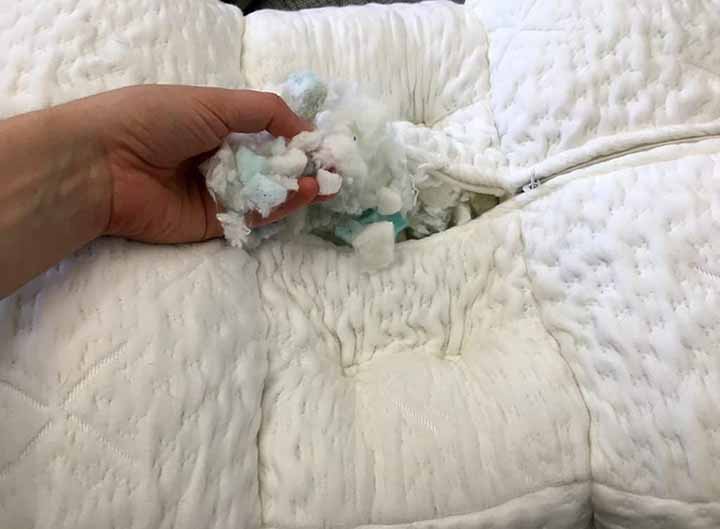 Additional Features
Fun fact: The pillow is designed by Dr. Jason Loth, a sports chiropractor. Dr. Loth is featured in the SpineAlign website's instructional video on the best way to use the SpineAlign pillow as a side or back sleeper.
How Does SpineAlign Pillow Compare to Other Pillows?
SpineAlign vs. TEMPUR-Cloud Pillow
TEMPUR-Pedic is one of the most well-known brands in the mattress and the pillow industries. They focus on the use of TEMPUR-material, which is a really gorgeous pressure-relieving proprietary memory foam. The TEMPUR-Cloud is a solid piece of this TEMPUR-material and the most popular pillow in TEMPUR-Pedic's lineup.
SpineAlign is also a pillow used to combat neck pain, it just takes a different approach with its contour-shape and combination filling. Let's take a look at what these two have in common and what makes them different for sleepers in all positions.
The TEMPUR-Cloud is a traditional rectangular shape and filled with a solid piece of plush TEMPUR-material. The outer cover is a 100% polyester knit that's removable and can be machine washed and dried. The pillow's height goes up to 5″ and it's the best match for most back sleepers and stomach sleepers. Smaller individuals may be able to find enough support on their sides as well.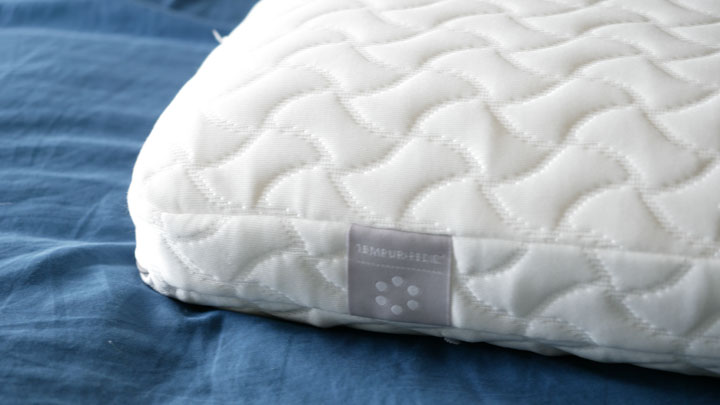 The SpineAlign, on the other hand, is designed just for back and side sleepers, thanks to its specific shape. Nothing about this pillow is machine washable and the cover has Tencel fibers plus polyester fibers and some spandex woven in for more of a synthetic and stretchy feel.
Where the TEMPUR-Cloud is plush, the SpineAlign is on the firmer side and is adjustable, so each chamber provides access to the memory foam and polyester fiber filling, making it more customizable than the TEMPUR-Cloud.
When it comes to price and trial period, the SpineAlign offers a 60-day trial and returns where TEMPUR-Pedic has none. However, the TEMPUR-Cloud costs $79 at full price and expect to pay $149 for the SpineAlign.
The bottom line is they're both great for pressure-relieving and contouring support and they both feature memory foam (or something similar) in their filling. It'll really come down to personal preference on the pillow shape and the cost. Side sleepers may want to lean towards SpineAlign while stomach sleepers will need to stick to the TEMPUR-Cloud.
SpineAlign vs. Nest's Easy Breather Pillow
The SpineAlign pillow and the Easy Breather pillow from the mattress and bedding brand Nest have a few things in common, including their core fillings. They both utilize memory foam chunks and polyester fibers to provide that "best of both worlds" feelings to their pillows. They also both share a cover that is blended with Tencel fiber and has a textured feel (almost identical, actually!).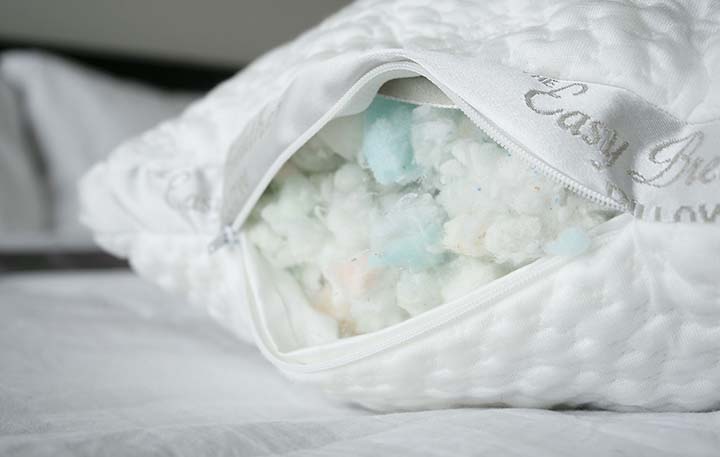 Their shape and sizing differ, SpineAlign offers two sizes and Easy Breather has four, including a "side sleeper" version with a curvature on one long side to leave room for one's shoulder. There's also a "Jr." size for smaller sleepers, like kids. The SpineAlign remains a contour shape that's ideal for back and side sleepers, while the adjustable nature and traditional shape of the Easy Breathers mean it can really work well for all sleep positions.
SpineAlign costs $149 and comes with a 60-night trial; the price of an Easy Breather ranges from $99 for a traditional Standard to $119 for a Side Sleeper option and $149 for a King. All the Easy Breather pillows come with a 30-night trial.
Both of these pillows are on my list of the Best Pillows for Neck Pain!
SpineAlign FAQs
Is the SpineAlign Pillow washable?
No, the folks at SpineAlign recommend using a pillowcase over the pillow to avoid needing to wash it. If something happens and it needs to be cleaned, it can be spot cleaned with soap and water.
Does the SpineAlign Pillow sleep hot?
No, the pillow does not sleep exceptionally hot. This is primarily because the Tencel fibers that are woven into the cover and the chunks of memory foam within the chambers help promote airflow.
Is the SpineAlign Pillow good for side sleepers?
Yes, the contour-shape of the SpineAlign pillow makes it a good fit for both side sleepers and back sleepers. Side sleepers will want to use the outer chambers of the pillow.
Is the SpineAlign Pillow good for neck pain?
Yes, the contour-shape of the SpineAlign pillow makes it ideal for supporting the cervical curvature of the neck. This should help alleviate neck pain, although the pillow is not considered a medical device.
Company Info
The full name of the SpineAlign Pillow is Dr. Loth's SpineAlign® Pillow. It was created by Dr. Jason Loth, a sports chiropractor,  with more than 17 years of experience in the field.
Dr. Loth says he designed this cervical contour pillow because he couldn't find a pillow that kept him in the correct head, neck, and spinal posture both on his side and sleeping on his back. The filling is adjustable so it should work for a variety of body types and sizes.
In addition to the SpineAlign pillow, the brand also makes a 13.5″ hybrid mattress that costs $1,599 for a Queen and comes in three support levels. They also sell and two types of sleep aids: Essential oils, and sleep supplements.