Casper and Purple are two of the biggest names in the mattress industry. They both offer different sleep experiences with their mattresses and it's no different with their signature pillows. Casper lends itself to the more traditional "fluffy" pillow route, while Purple is all about their patented Smart Comfort Grid.
How do these two pillows stack up, and which is going to be the right match? Check out my video comparison below or keep scrolling for more details. Don't hesitate to comment below if any questions pop up!
Let's take a side-by-side look at both the Casper pillow and the Purple pillow.
The Similarities
There are only a few similarities between these two pillows!
100-night trial periods to test the pillows out
Outer covers and inner cores can be washed
Both are the original pillows from two well-known mattress brands
Casper Pillow: The Basics
Two sizes: Standard and King
Pillow-in-a-pillow design features an outer pillow that opens up to reveal a smaller inner pillow
Inner and outer cover fabric: 100% Supima cotton, percale weave
Outer filling: polyester fibers
Inner filling: nearly one billion coated fibers (slightly firmer feel)
Care: Separate inner and outer pillows and machine wash and dry
Price: $65 Standard, $85 King
3-year limited warranty
Check out my detailed review of Casper's pillow!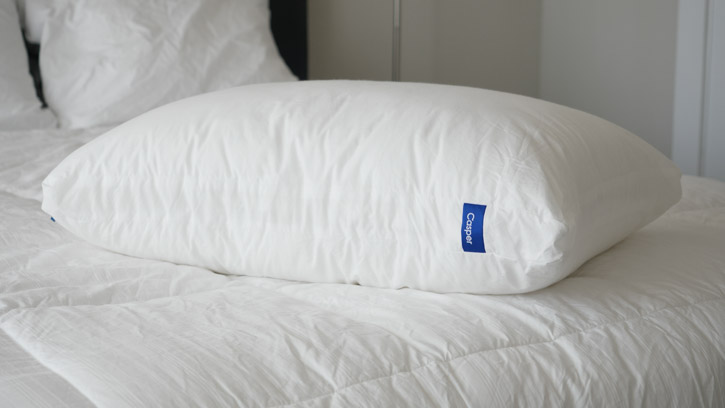 Purple Pillow: The Basics
A soft but squishy feel that provides pressure relief to the head and neck
One size: 24″ long, 16″ wide, and 3″ tall and weighs about 10 lbs
Filling: is made out of their Smart Comfort Grid which is a Hyper-Elastic Polymer
Cover: Purple calls it Hyperstretch Mesh but it's 88% Polyester, 3% Nylon, and 9% Spandex Mesh
Hypoallergenic
$99 at full price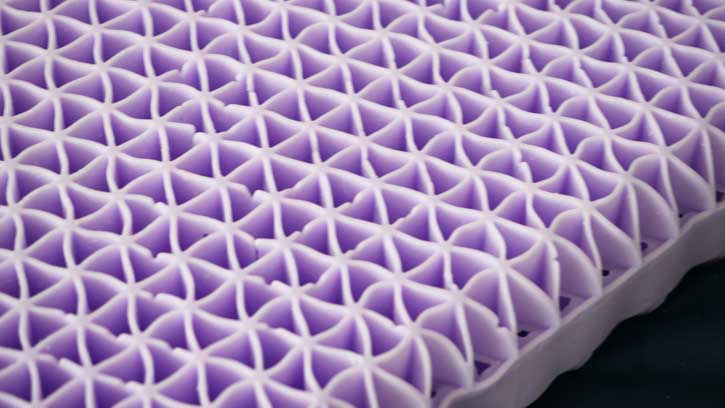 Learn more in my full review of the Purple pillow. 
Main Differences Between Casper And Purple
Covers: Casper is 100% cotton and Purple is 88% Polyester, 3% Nylon, and 9% Spandex Mesh for two very different feels
Fillings: Casper features coated fibers and Purple has its unique Smart Comfort Grid made with their gel-like polymer
Adjustable features: Casper is a pillow-in-a-pillow design, which means that sleepers can remove the other pillow and use each separately if desired. Purple's pillow offers no adjustable options.
Sizes: Casper comes in Standard and King; Purple comes in just Standard
Price: Casper is $65 for a Standard and $85 for a King; Purple is $99 for a Standard
Best Sleeping Positions For Each Pillow
Casper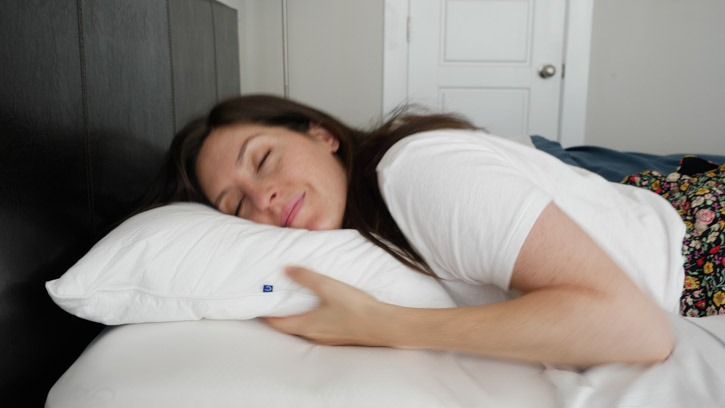 Based on my experience, I think Casper's pillow can work with all sleep positions. Thanks to the pillow-in-a-pillow design, sleepers can take out the firmer inner pillow and stomach sleepers can use a single pillow, or back and/or side sleepers can combine the two pillows for a better fit.
I will mention that larger people or those with broader shoulders who sleep on their side may find this pillow goes flat more frequently or isn't 100% supportive enough.
Purple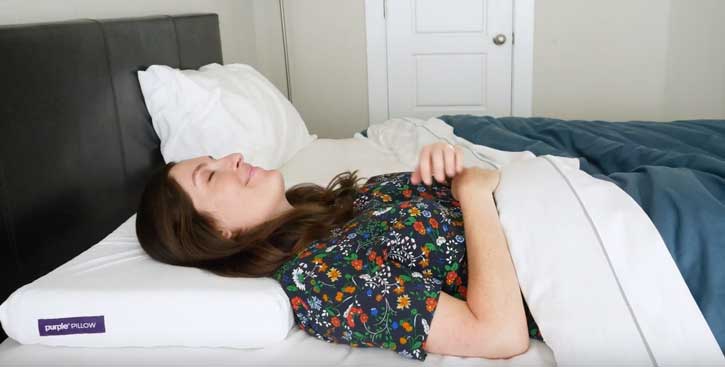 This pillow has a solid gel-like core and stands 3″ tall. Purple says their pillow will work for all sleep positions but that it's especially popular for average-sized back and stomach sleepers.
I agree that it's a better fit for average-sized back and stomach sleepers than side sleepers. I'm a combo back and side sleeper (and 5′ 7″ and average weight) and I felt that the pillow's height and medium-firm feel made it the perfect fit when I slept on my back but didn't like it as much on my side. When I moved to my stomach I was pretty comfortable, except that I didn't care for the texture of the Smart Comfort Grid against my face. Aside from that, I think it's a good height for stomach sleepers.
Larger body types will probably feel similarly about this pillow, it offers enough compression for both back and stomach sleeping without feeling neck strain, but there's just not enough loft and height for side sleeping.
Overall
Casper's signature pillow and Purple's innovative pillow offer two very different sleep experiences. Customers will get that more traditional crisp and clean feel with the white cotton cover on Casper and its down-like softness in the filling. Meanwhile, the supportive but gel-like and squishy feel of Purple is less familiar but still very comfortable. Even Purple's pillow cover offers a more performance wear-like feel that gives it a modern vibe.
Which one is best for each of us really comes down to sleep position and personal preference. Combo sleepers who end up in all positions may enjoy the versatility of the Casper. Tried and true back and stomach sleepers who haven't found success with foam options may want to give Purple a try.
Still stuck on which one to get? Leave me a comment below and I'll reply with my suggestion!