The GhostPillow and the Tempur-Embrace are both products sold by mattress retailers, namely: GhostBed (by Nature's Sleep) and Tempur-Pedic. These pillows may have similar fillings and weigh about the same, but their biggest differences lie in their shape and overall firmness.
Which of these two pillows is the best match? We're putting GhostPillow vs. Tempur-Embrace to test, so read on for my full comparison of these two foam pillows.
EDITOR'S NOTE: Hey, there! The TEMPUR-Embrace pillow has been discontinued and is no longer available for purchase through TEMPUR-Pedic. 
GhostPillow vs Tempur-Embrace Pillow: Top Similarities
Both come in one size only (Queen/Standard).
Both have memory foam fillings.
Both covers are removable and washable. (Both pillows should be line dried only.)
Both are made by mattress retailers: GhostBed by Nature's Sleep and Tempur-Pedic.
Both are covered under 5-year warranties.
Both are around the same weight (~2.5 lb).
GhostPillow vs Tempur-Embrace Pillow: Key Differences
GhostPillow
Dimensions: 24" x 16" x 5.5" (Queen size)
Weight: 2.86 lb
Filling: solid ventilated piece of gel memory foam
Performance Cooling Side: a proprietary layer of phase-change material
Exterior Cover Performance Side: high-performance, moisture-wicking material
Exterior Cover Reverse Side: 97 percent premium polyester, 3 percent spandex
Inner Cover: 100 percent soft cotton scrim
The brief scent of lavender that should dissipate after a few days
101-night trial
Price: $85 (one size)
Made in China
Good fit for back and side sleepers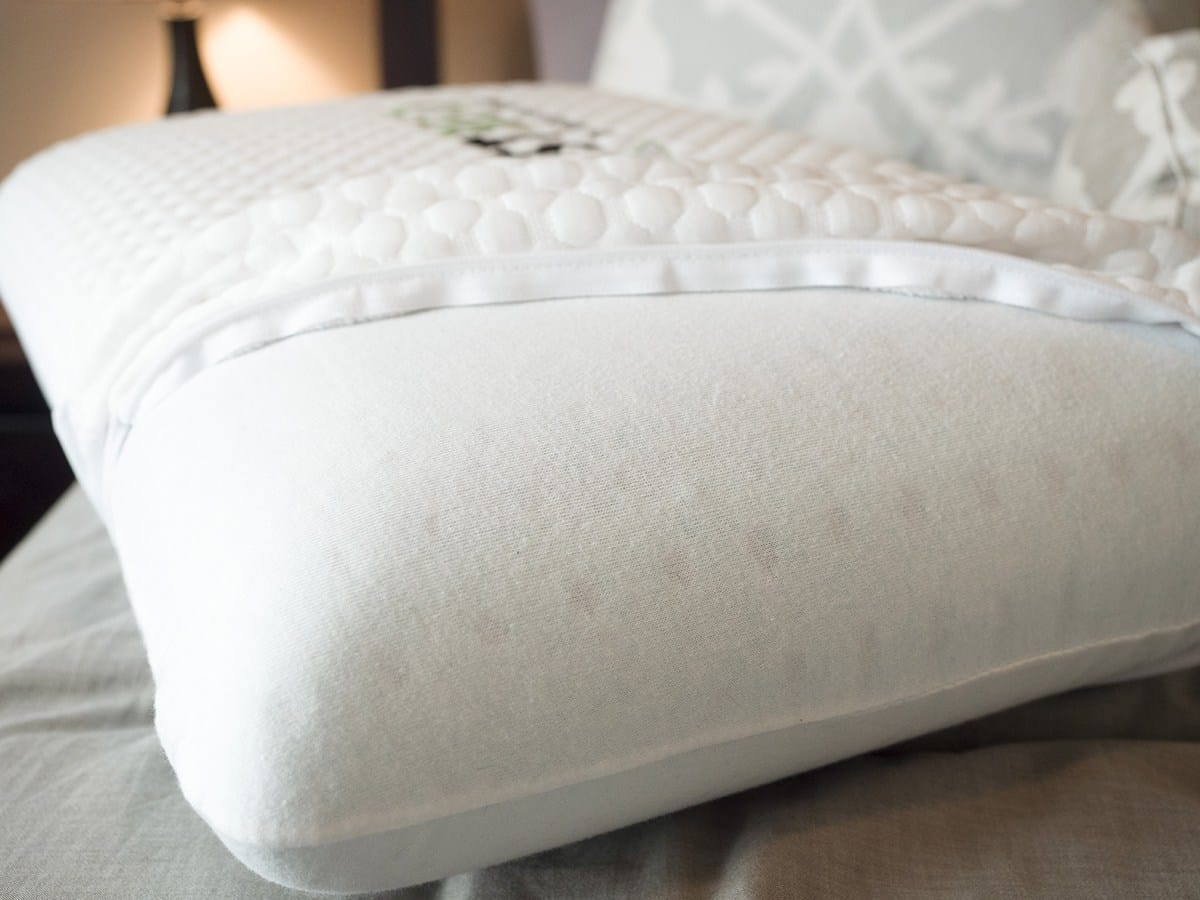 Read the full GhostPillow review, here.
Tempur-Embrace
Dimensions: 23.6″ x 19.7″ x 4.7″ (comes in one size)
Weight: ~2.5 lb
Filling: 69 percent Shredded Polyurethane Foam, 31 percent Polyurethane Foam Pad
Cover: 99 percent polyester, 1 percent elastane
Medium-soft feel overall
Designed to be compatible with all sleep positions
Unique design (an "X" shape with rounded corners) features indentations in the sides to facilitate comfortable breathing and a better sleep climate
Return Policy: No returns allowed
Price: $99 (one size)
Made in the USA
Good fit for stomach sleepers or those who sleep in multiple positions
Read the full Tempur-Embrace review, here.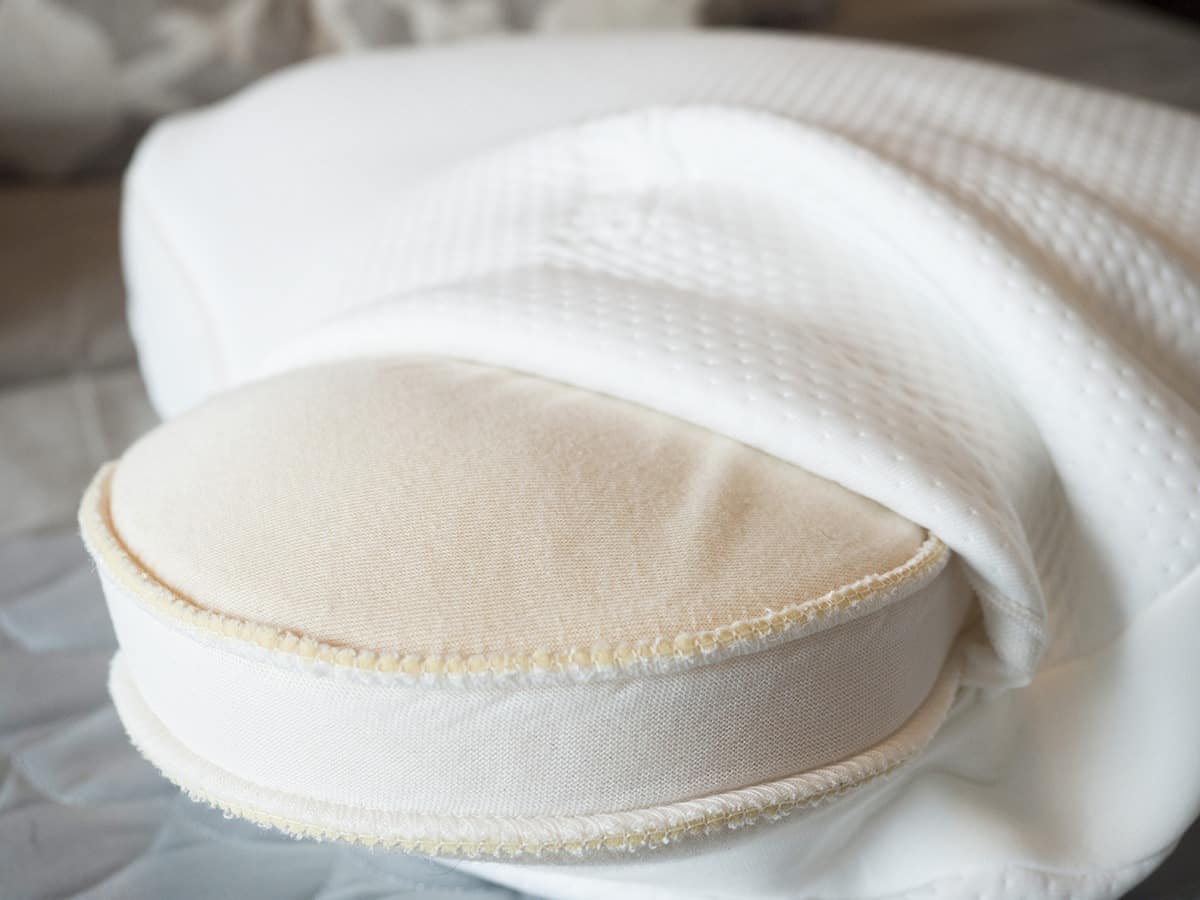 Who Might Choose GhostPillow …
 Back and/or side sleepers. The GhostPillow has a nice 5.5″ height profile and about a medium firmness level, which offers decent support for back sleepers or side sleepers.
Those who like the scent of lavender. Each pillow comes packaged with the scent of lavender in it. It was noticeable to me when I unboxed the pillow, but I've been told it should dissipate over time. I think the lavender can be pleasing, but sensitive noses may want to take this into consideration.
Customers who want the option of returning it. This pillow comes with a 101-night trial and warranty – those who don't like the pillow after using it for a little while can easily return it by following the instructions on the GhostBed website.
Check out the latest deals on the GhostPillow here!
Who Might Choose Tempur-Embrace…
People who sleep in multiple positions. The shape, firmness, and loft of the Tempur-Embrace make it a decent fit for all sleep positions. The pillow's unique shape is intended to help stomach sleepers be comfortable. That being said, I personally felt comfortable on my side and back as well.
Those who like a pillow with a unique shape. Sleepers will be able to see immediately that the pillow looks more like the letter "X" or "K" than a traditional rectangle. It is also filled with a mix of a foam pad and pieces of shredded foam. While individuals can't change the shape completely, they can move around the filling more easily as compared to the GhostPillow.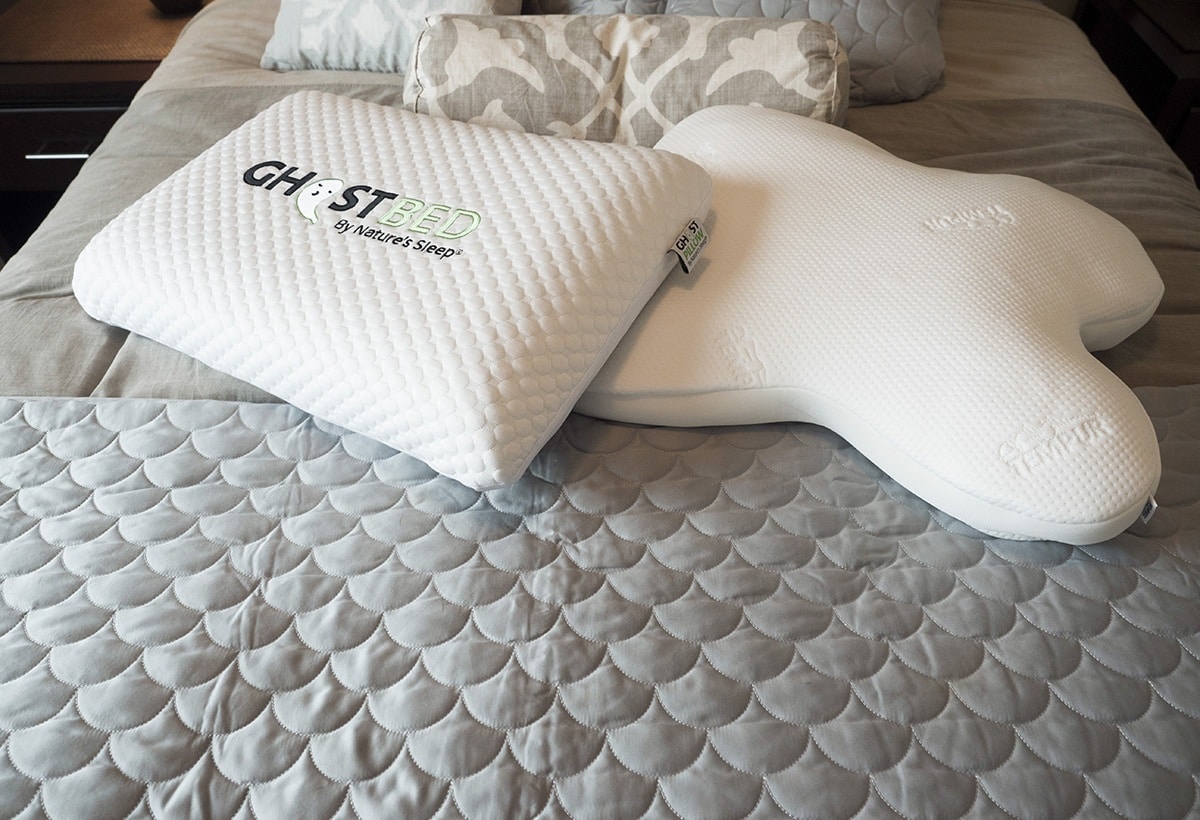 RELATED: Best Pillows for Stomach Sleepers
Who Might Choose Either Pillow…
Those who like the feel of memory foam. Both pillows have that memory foam feel to them (including a slower response), so one's head sort of sinks into the pillow as he or she lays down.
People have a flexible budget. The Tempur-Embrace comes in one size and retails for $99 at full price on the Tempur-Pedic website. The GhostPillow also comes in one size and costs $85 at full price. To consider either of these pillows, customers definitely need to have a decent budget.
Overall
The right pillow will really depend on a person's primary sleep position, that's the position that the person most often wakes up in. Based on my experience, the GhostPillow is better suited for back and side sleepers due to its medium firmness and taller height. The Tempur-Embrace may work well for any sleep position, but in my opinion, it's a comfortable fit for stomach sleepers who can utilize that unique shape.
Both pillows are under $100 (but just barely) – the GhostPillow comes with a trial period, while there are no returns on the Tempur-Embrace.
Katie Golde
Katie manages the day to day operations of the Mattress Clarity news site and reviews sleep products in addition to writing and editing sleep news. She hails from Austin, where she lives with her growing family. She is a Certified Sleep Science Coach and has a master's degree in Journalism from Northwestern University and has a background in health and science content. Her work can be found in print and online publications like Discover Magazine, USA Today and The Huffington Post.